Midwest MTB Report
by Jay Richards
May 14, 2019
A relatively quiet weekend on the racing front in the Midwest as events took a break mostly to observe Mother's Day. USA Cycling held it's first mountain bike National championships with the marathon classification in Canyon Texas. Also a handful of riders competed in the local off road event, the Fat Fish 40 in Webster, WI. This weeks report also takes a look at the opinions of the environmental impact of mountain biking and list of plethora of events taking place in Wisconsin.
USA Cycling Marathon National Championships
USA Cycling kicked off the National Championship season for mountain biking for the Marathon division in Palo Duro Canyon State Park, outside of Canyon, Texas.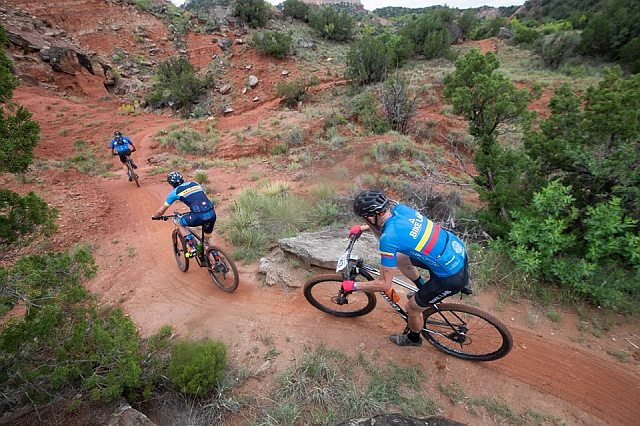 24 National titles were awarded in various age classes. In the Pro division stars and stripes went to Rose Grant in the female division and Russell Finsterwald in the male division. Wisconsin native Holly Lavesser competed recorded sixth place finish in the Pro Women class. I'm always impressed with the older age groups including the 60+ in female and a group of 6 in the 70-74 division! USA Cycling Recap.
Fat Fish 40
The Fat Fish 40 is a off road event that features gravel and forest roads near Webster, WI. and provides a great training opportunity in a competitive atmosphere. I wasn't able to get a first hand report and 2019 results hadn't been posted as of this report filing but last weekends MNMTB series winner, Corey Coogan Cisek posted on social media:
I love the course in the sand barrens of NW Wisconsin. There was a moment when I was desperately sucking a wheel, looked up and witnessed a pretty spectacular view of a ridge line off in the distance. I thought, "Heck, some day I am going to need to do this race slowly enough to see the view!" I was happy to stay with the chase group of men after spending some time mixed with the front group. These were faster wheels than I've ever stayed on before.
Mountain Biking's Environmental Impact
I have been mountain biking for around 30 years now and it's amazing the changes from bikes, equipment and probably the biggest noticeable, trails. Mountain biking in it's infancy in the Midwest was cross country ski trail riding, forest roads, and gravel before riding gravel with gravel specific bikes became a thing. There were some singletrack riding but it was mostly on dirt bike trails in state forests and maybe bushwhacking on a deer trail, to name a few. It really is an incredible sport not just for the thrills of technical trails or fast flowing fun bermy ones but also the ability to experience nature and wildlife in a way not many people have the opportunity to do so.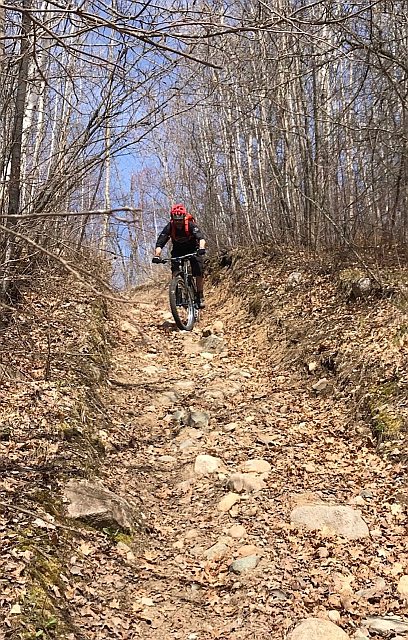 Fast forward 25-30 years and it's amazing the amount of trails now in existence in the Midwest. Most new trails are machine built flow trail, really exploding just the past 5-7 years. The word "sustainable" is interesting term to use when personally I think there is the potential for more erosion over time from such designated trails due to the exposure compared to natural, hand built classic singletrack trails. Those trails are usually the last to dry out due to the design of the construction that tend to hold more moisture and disrupt the nature drainage of an ecosystem, in my opinion.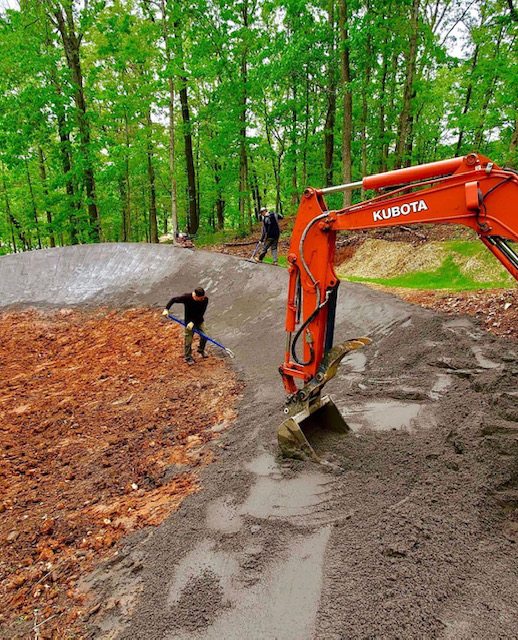 Although there are many studies on the economic impact of mountain biking, which are helpful to attain future grants and spending for more new trails, there is very little on the environmental impact. Many new trails are build without environmental impact assessments. With the explosion of new trails so recently, we might not know the impact all the new trails, especially those carved deep in a previously undisturbed area, affecting the plant life and local habitats will have many years from now.
Excerpt from How Stuff Works:
With all the fun and other benefits that mountain biking has to offer, many people will be surprised at how much controversy surrounds this sport. Critics argue that bikers can negatively influence the local environment. Some suggest that the environmental impacts of mountain biking may outweigh the benefits, particularly in terms of trail erosion. This erosion increases storm water runoff, destroys habitats and ruins the trails for other bikers, hikers and runners. Others worry that the behavior of the reckless mountain biker is also affecting trails. (Read more)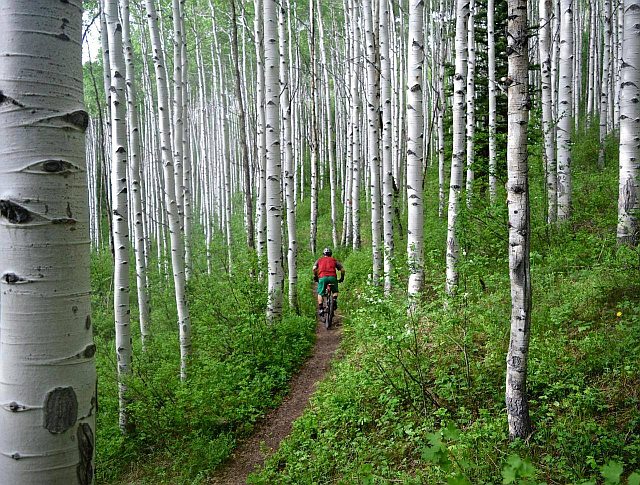 Related:
New York Times: article on biodiversity
Sacred Rides: How to minimize your environmental impact when mountain biking
Singletrack.com How bad is mountain biking for the environment
SAM Info: One example of year round nature outdoor themed experiences for all can be found at Gatlinburg
Kikkan Randall Joins the MSU Gran Fondo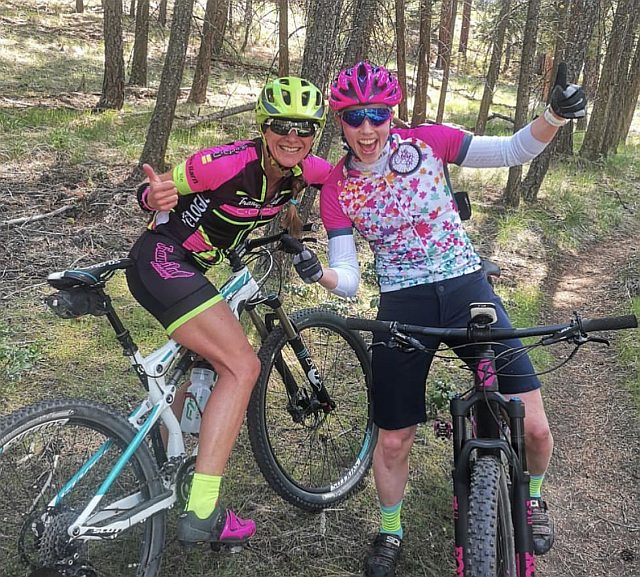 World Champion skier and cancer survivor Kikkan Randall is coming to Grand Rapids for MSU Gran Fondo 7. At the Pyeongchang Olympics in 2018, Kikkan made history winning gold in cross-country skiing. Just three months later, she was diagnosed with breast cancer. Despite a grueling treatment of chemotherapy, radiation and surgery, Kikkan remained very active – running, cycling, weight lifting, hiking and more. She finished treatment earlier this year.
Looking Ahead
The Iola Bump and Jump race course evolves a little each year based on racer input, rider and spectator safety, and the condition of individual sections of the track. However, the overall character that makes this course a favorite of many remains constant. The start loop that takes racers up and around the back side of Iola's 40 & 60 meter ski jumps and then drops back down past the lodge into the jump bowl may be the best lead-out in all of WORS. In addition, several minor singletrack modifications have been made to improve the racing experience for all. For the youngest novice racers, the Bump & Jump's Kids Race course provides an opportunity for them to expand their skills.
Back for the 6th year at the Washburn trails system the RASTA Rally offers over 8 miles of challenging single track, bridges, rock gardens, fast and fun flow trails, and a few whoops sections to boot. If you haven't ridden Washburn lately, you're in for a pleasant surprise as last fall we opened a new 1/3-mile section of trail with whoops, banked turns, and rock reinforced areas.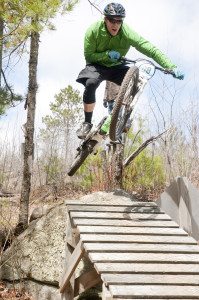 The Wisconsin Endurance Mountain Bike Series kicks off this weekend with the Jack Lake Crazy Eights race. The newly constructed Jack Lake mountain bike trails are located inside the fantastic Jack Lake Campground at Veterans Memorial Park in Langlade County.
We will have a group campsite reserved and there is swimming in beautiful Jack Lake just a short walk from the race pit area and group campsite, a disc golf course and a very nice shower facility. Race course is 8.4 miles long and 96% singletrack on fast flowing trails. The trails are not super technical, but definitely aerobic! Lap will be under an hour.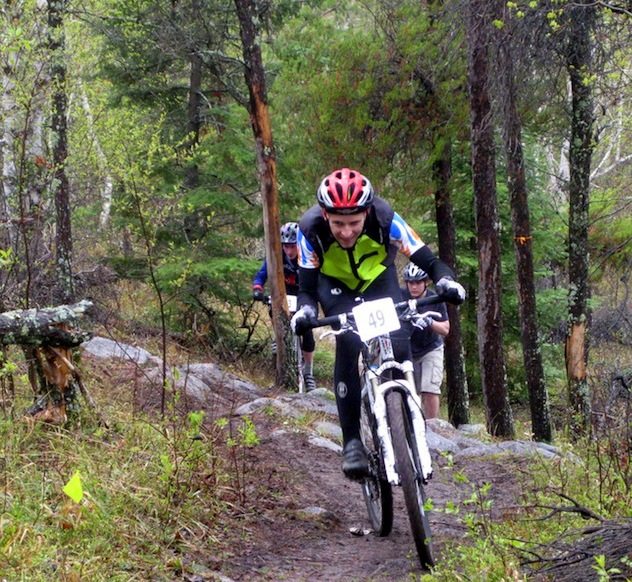 I always keep tabs on the mountain bike scene across the border because many of the races have been closer to attend than to the east! The vibe is always good, definitely fun to cross the border and network with the northern shredders. The Manitoba Cycling Association kicks off it's series with race #1 at the popular Grand Beach just north of Winnipeg
Keep the wheels moving!
About the author...

Jay Richards maintains a very active lifestyle. He somehow finds time between managing a full-time resort (Maplelag) and bringing up a family of four boys with his wife Jonell, to compete in both mountain bike and a few cross-country ski races. Jay rides for Maplelag Resort, manages the Maplelag mountain bike team and enters his 29th year of racing and promoting mountain bike races.

Have an event or mountain bike related information to share from the Midwest? Feel free to contact Jay at