Midwest MTB Report
by Jay Richards
May 28, 2019
A pretty solid Memorial day weekend in the Midwest leading to more favorable weather as far as warming and drying is concerned. This weeks report includes a special recap from Barrett Hall who reports from the opening Buck Hill midweek series and the JR race at Iola which was host to race #2 in the WORS. Also quick highlights from a couple gravel events mountain bikers participated in, strong US women World Cup finishes and a report from a road trip last week to northwest Arkansas and the "Oz Trails". Hard to believe we are already into June as series races kick off the summer months.
Thursday night at Buck
The Thursday night series at Buck Hill is as popular as ever as the World Cup style racing provides a great opportunity for racers and riders to get some fast riding in Midweek in a fun fill atmosphere for all ages. With changes in the bike shop scene, Freewheel Bike acquiring Penn Cycle which was the previous host of the series, riders were happy to see the series continue under the Freewheel name. The racing is always fast and furious and up and coming Junior rider Barrett Hall gives his take on his first efforts at the alpine area in Burnsville:
I am super glad that Freewheel Bike was able to continue the Buck Hill Thursday night race series. These races are always very high paced and always a good time. The race started out as usual pushing hard up the first switchback climb, we pushed hard up to the back side of the hill and into single track where the front group was formed of about 6 riders. Through the single track Dominic and Calvin slowly pulled away opening a gap between Brendan Moore, Brendan Bellew and I. The gap grew, Brendan Bellew bobbled and I took that opportunity on the front to try and close the gap that had been formed between us and the leaders. I closed about 15 seconds in the second half of the lap on Brendan Moore, I hung with him for the next few laps as his pace in the single track was very high. At the beginning of the final lap Brendan and I rolled up the hill to find Dominic with a flat tire, seeing this we knew now that we were fighting for second and third. Calvin was still a ways off the front and the pace began to rise between Brendan and I. He opened a slight gap and rolled into the finish about 6 second up on me. Final results were Calvin Sandberg (1) Brendan Moore (2) Barrett Hall (3). So glad to see the races continue and can't wait for more fun next week.
WORS #2 Iola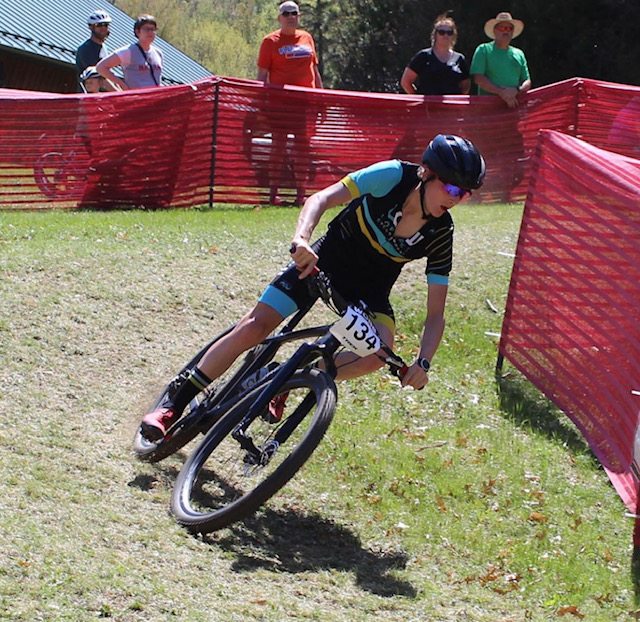 Hall continued his strong riding, hitting up WORS #2 in Iola, WI. and reports:
The second WORS race of the year happened in Iola, Wisconsin this weekend. Although this was my first experience of WORS racing. I raced the cat 1 Jr category. This being my first race in this category I was unsure of what to expect. The Jr racers ended up starting behind all of the cat 1 and pro racers, this means that there was a lot of traffic in the early parts of the race. The race began and I didn't have the greatest starting position as I was basically dead last in a huge field of riders. The start sent you up a wide path going up a hill that I was able to take advantage of and pass a lot of people early on. This was basically full gas for me trying to make up time and bridge in front of as many people as I can. The race was a time trial for the Jr riders because we had no real way of telling who we were racing against. I had a very good start with the circumstances at hand. I rode very hard the entire race to make sure that I could secure my win. The Loppet Cycle Works team represented very well at this race with all 7 racers making the podium. I am very excited for the future of this team. Iola didn't disappoint, can't wait for Camrock next weekend!
Le Grand du Nord
The Le Grand du Nord is a gravel event that features 110, 54 and 20 mile events in northeast MN along the rocky north shore in beautiful landscapes that . Although it is listed as a gravel event, many riders using mountain bikes for the event. Barr Buhr, fresh off some late season snow sports, tackled the event with a single speed mountain bike and stated on Strava along posting a sweet photo: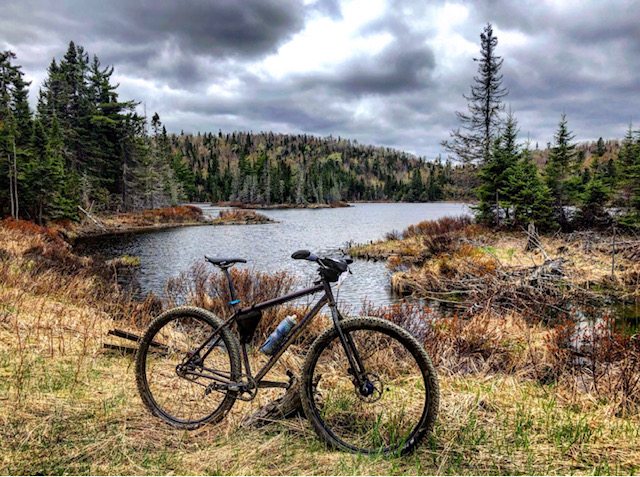 Badlands Gravel Battle
The Maah Daah Hey trail has become a hotbed of events for both gravel and mountain bike. The badlands of North Dakota kicked off the summer season hosting the Gravel Battle offering distances of 39, 77 and 120 miles. Like the Grand do Nord, may riders opted using mountain bikes including John Peter who was coming off a month of mono and recorded an solid 5th place finish considering after only riding five times the last six weeks. John used the event as part of preparation for the MDH 150 coming up in a few months and change, participating in the 39 mile event. JP sent in a report: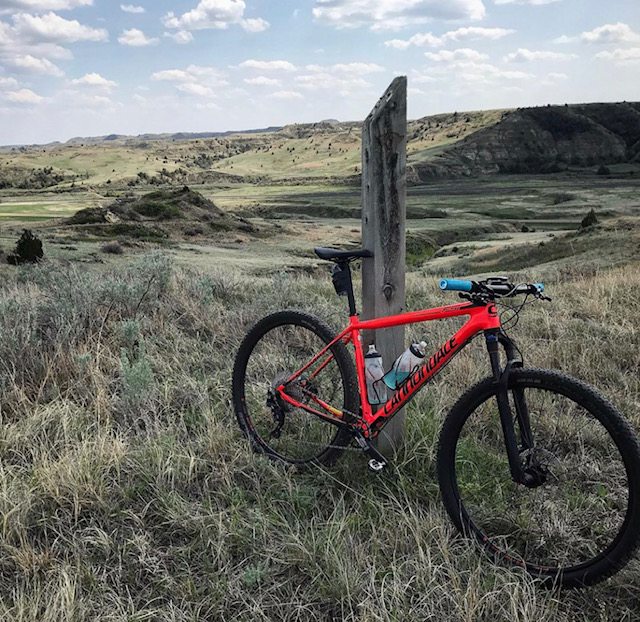 Ended up 5th...in hindsight a really good day...I am a monstrously competitive person so I have to remind myself I have ridden my bike 5 times in the last 6 weeks and was on a mountain bike. That said, I was within 20 seconds of 2nd place going into the final climb 6ish miles to go and all down hill from there...and then cracked spectacularly on the climb...got caught with a mile to go by 4th and got passed again within 100 meters of the finish...I haven't been that empty in a while...anna said she's never seen me in that place...getting passed at the finish and she said it looked like I didn't even notice he was there...so unresponsive. Fun to be back on a bike riding hard again and I didn't feel dead after!
World Cup #2
American female continue to shine on the World Cup circuit, this time grabbing the headlines first for American women was Chloe Woodruff, who took the top spot on the podium in the World Cup #2 short track in Nové Mesto, Czech Republic with a first ever win World Cup win. Woodruff posted on social:
Today I lined up believing I could win and then put my head down and rallied. Huge thanks to my team, my extended team, family, friends, sponsors, and all of you that just love the sport. I raced on a brand new bike, the Pivot Cycles Mach 4 SL with FOX Live Valve. And I took a little risk and ran Maxxiss MaxxLite tires on my Stans No Tube wheels. I had the best possible setup and knew it; and that's when it's the most fun to race. Huge thanks to my USA Cycling support crew here in Czech.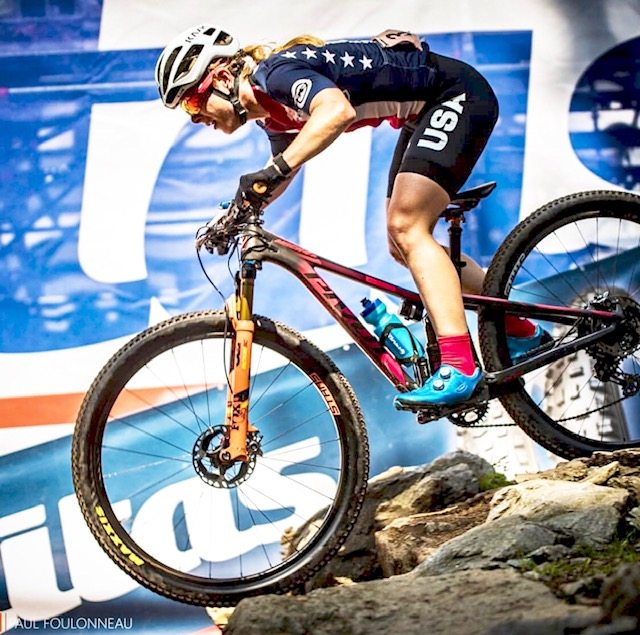 The strong results continued as U23 rider Haley Batten took the win in the cross country and Kate Courtney followed up with her second win in as many times on the World Cup series in the Elite female cross country.
Road Trip to Oz
The Bentonville, AR, region was an area that was added to the bucket list for areas to check out for mountain biking after reading, seeing and hearing firsthand from folks how good the riding was in the area. With an opening on the schedule last week to sneak away for a few days, Jonell and I went down to northwest Arkansas for a three day adventure with no set agenda on activities and where to ride. Of course, the immediate area in the Bentonville community was at top of the list but as it played out the best riding, personally, was in the Fayetteville and Eureka Springs area.
For the record, I hardly scratched the surface on the trails and areas to ride. It is pretty amazing the amount of trails and the rate of progression of new trails being built. Highlights from the four trail systems I checked out where I searched out more slow tech trails:
Great Passion Play Trails - Eureka Springs
The Great Passion Play trails were recently built the past few years and more trails were being built this spring and summer. The trails are located on the Great Passion Play property, a tourist attraction that features a area similar to the Holy Land where a play is held during the summer months in the community of Eureka Springs. There is also a large statue of Jesus that is obviously visible from the parking lot but also one of the trails. All the trails are named have biblical references which makes it very unique as well. I rode most of the trail system which was fast and flowy machine built rock built features. I found the most fun riding on the "west side" which featured the black trails "Ascension"
Lake Leatherwood Gravity-Eureka Springs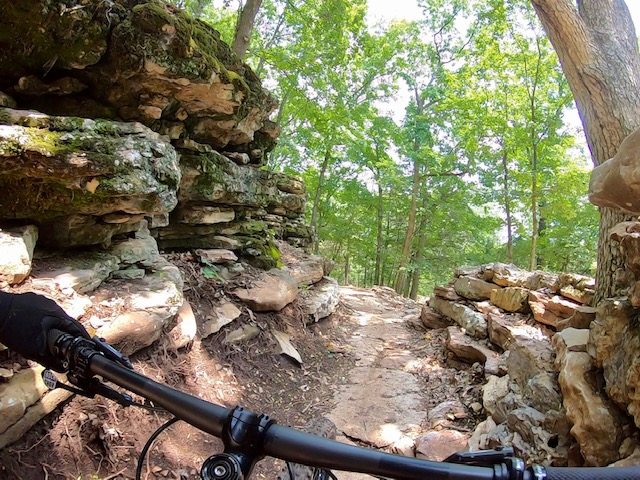 Lake Leatherwood is a park with a dam filled lake outside Eureka Springs that has a network of cross country trails that recently added a gravity project featuring 7 downhill runs each ranging around 1.25 miles in length. There is also a connector trail on each side to access the downhill runs for those opting out of the shuttle when it is running. I was there on a Thursday and surprisingly the shuttle was running from 12-6. However, I opted out of using the shuttle and rode up each time. I rode each run that was open, hitting up the favorite ones a couple of times. Riding up each time cut down the number of downhill runs maybe a few times but I like the keep the wheels moving and the access trail was fun to ride, didn't feel like I was fall line climbing the whole time with good flow. The downhill runs were all machine built and each trail feature even on the double black run, had a b line and nothing too crazy. Of course there were some big gap jumps and massive rock drops but riding cautious the first few runs allowed me to find the best lines and still feel challenged even when picking the speeds up. The area has been hammered by rain, including that morning, but the course drains well and just the usual creek/drainage crossings to manage the wet but definitely required heads up as the wet areas make the rocks slippery.
Kessler Mountain - Fayetteville
"One of the most technically challenging cross country trails in Arkansas" caught my attention about Kessler Mountain in a guidebook I picked up in Eureka Springs. After coming from chilly Minnesota temps near 90 were a bit of an adjustment but the trail was completely shaded and the cooling breeze took off the edge. This trail system did not disappoint as it turned out to be my favorite trail I checked out on the trip. The climb up to the top reminded me of the black trails at Lebanon hills in south metro of Minneapolis/St. Paul. Once at the top, the west trails were pure slow tech that was absolutely incredible riding. With the trail being hand built, how the rocks were ride weren't as predictable as the machine placed rock garden/features.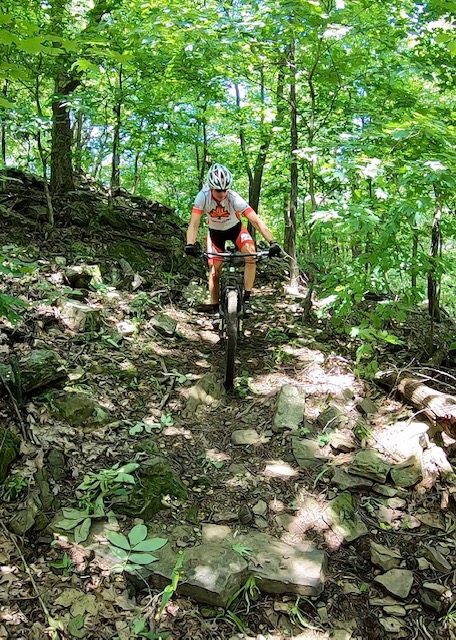 After riding on the west side I descended back down to the parking lot. I expected a quick ride down but the trail I took "Crazy Mary" seemed to go on and on. So much fun. Overall the trail reminded me a lot of the Piedmont trail in Duluth area. Definitely want to go back here!
Slaughter Pen - Bentonville
The evening of the same day I rode at Kessler, Jonell and I both checked out some of the trails right in Bentonville. What was most striking were the amount of people riding from all ages and abilities the flow trails with carefully structured rock features. The next morning I went over to the Coler trail. Located about a mile west of downtown Bentonville on land designated as a mountain bike preserve. The trails feature multiple flowy jump lines and challenging technical rocky sections that culminate at "The Hub" near the top of the mountain. From there you can choose which trail to take and the level of difficulty. The trail was a bit damp making the rocks on the black runs a bit more challenging but was really fun nonetheless. After an hour there, I rode back to Bentonville to hit up more trails at the Slaughter Pen which had everything for everyone, clean flow, major downhills, technical rocks, and huge berms. What I really liked was how the worked in slow tech trails in between the beginner and intermediate trails to satisfy all rider interests. Great stuff. Bottom line, fantastic trip the cycling community of Bentonville and general vibe is everything that it has been hyped up to be. Hope to make it back some day soon!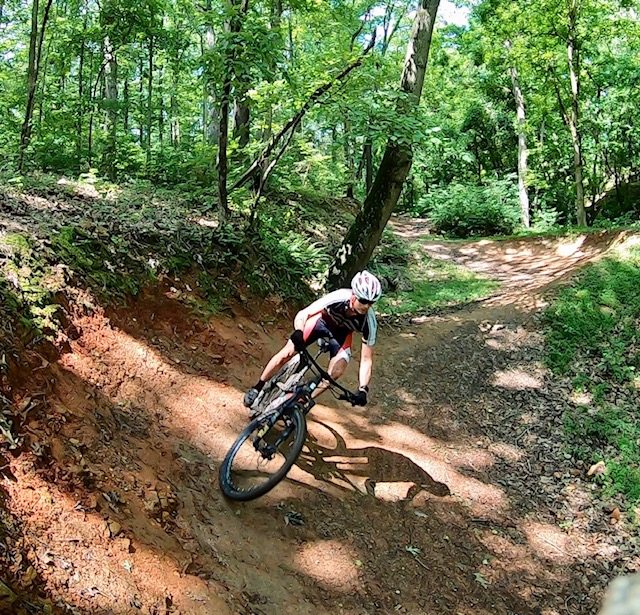 Photoset: Bentonville Exploration

11 photos (from Jay Richards)
Related:
OZ Trails
Oz Trails Off Road
Arkansas Enduro OZ Trails
Looking Ahead
Capital Off Road Pathfinders, CORP has partnered with Loft & Shove to bring: "the premiere WORS event of 2019. Loft & Shove is a MTB race team that is working to create the best experience possible for all in attendance. This is not a typical WORS event; it is so much more than that and it starts with *UNIQUE RACE START TIMES*. CORP is working to build CamRock Park into one of the true gems of Wisconsin mountain biking. CORP is an IMBA-affiliated volunteer organization that builds and maintains all of the off-road cycling trails in and around Dane County."

Detroit Mountain Shakedown MNMBS #2
The Minnesota Mountain Bike race resumes racing action after nearly a month break, heading northwest to Detroit Lakes and racing on the fast flowing trails of Detroit Mountain. Although new machine built trail is being constructed, the course will be similar to last years course and not utilizing the technical hand built singletrack to the south, Mountain View (check it out if you can, sweet slow tech riding!) Race promoters report "Our race course will be a mix of our on site offerings. optimized flow trails, along with switchback climbs that lead to flowy fast descents, mixing in our gravity trails and teasers of our custom built wood features to provide a unique race course to test and entertain all levels of riders."
Keep the wheels moving!
About the author...

Jay Richards maintains a very active lifestyle. He somehow finds time between managing a full-time resort (Maplelag) and bringing up a family of four boys with his wife Jonell, to compete in both mountain bike and a few cross-country ski races. Jay rides for Maplelag Resort, manages the Maplelag mountain bike team and enters his 29th year of racing and promoting mountain bike races.

Have an event or mountain bike related information to share from the Midwest? Feel free to contact Jay at