Midwest MTB Report
by Jay Richards
June 11, 2019
With a break in the Minnesota and Wisconsin mountain bike racing series, many mountain bikers competed in the challenging Borah Epic in Cable/Hayward, WI. or continued grinding the gravel as those events continue to grow in popularity. Dirty Benjamin was one of the latest editions and a handful of folks traveled south to Spearfish, SD. to partake in the "Gold Rush" and enjoy the plethora of mountain bike trails around the Spearfish area outside of racing. First hand recaps from Borah, quick highlight from the Gold Rush, and the look ahead as we move through June.
Borah Epic
It was hard to find many upbeating reports about the Borah Epic this year, not that the course wasn't sweet, but hot and steamy weather, tight and technical singletrack sections, a climb up the Seeley Fire Tower Hill all adding to the tough conditions. First hand reports from Cole Johnson in the Half Epic and Eleanor Bacso in the Full Epic.
Cole's Report:
The race started interestingly for me as a rookie mistake on missing my pedal put me in the woods sitting in 5th, and a quick mistake in a corner put me in 7th. Having not ridden the course before, I sat in for a while following wheels in a group before pushing past on a climb into 3rd position. I promptly began chasing full out in an effort to catch Barrett Hall and my teammate Andrew Shuros who had streaked off the front from the gun. My progress however, was momentarily halted by one of the most high speed OTB crashes in my life following a pedal strike on a rock. Miraculously I was up quickly with not a scratch or bruise on me and the bike was in top shape as well. After hopping back on and chasing for a few minutes I caught Shuros and moved into second. This was around the 30 minute mark of what I thought would be an 80 minute race, and from this point until 2 miles to go I was completely alone.
The super challenging singletrack and fan-favorite firetower climb made this race a challenge mentally and physically with the trails beating me up as it went on. After seeing a sign for north end trailhead (the beginning of the road finish) around the 80 minute mark I assumed we were close to the end, but 30 more minutes of single track followed and I paid the price for my lack of preparation on water and energy as my pace slowed significantly. This opened the door for my teammate to rejoin me as we exited the woods together and prepared race it out into town. He attacked early as he wasn't familiar with the finish, while I opted to grab his wheel to wait for a sprint to the line as my legs were in full cramp mode. Lucky I had enough in them to win the sprint for second, unluckily I was quickly relegated to third as LCW's Oliver Hunter had a flying race out of wave 2 to beat me on overall time. Major respect to their whole team which has come out swinging in the early season races laying down some pro level times. Hopefully they can keep riding the speed into races this fall!
The CAMBA trails are tight, technical, and mentally taxing as skill and smooth riding were the keys to success on Saturday
Eleanor's Report:
Finally, the first race of the season: The Mount Borah Epic. We were so excited! As Mason and I drove into Cable, we knew that the weather was going to be a hot day because it was already 77 degrees at 8:30AM! It a bit odd to go and pick our packets up at the 3 Rivers Eatery and not stick around and hang out in the typical starting area. We then drove down to fish hatchery and took the 00 detour. We saw a few folks frantically trying to bike up the steep 00 hills to make their way in time to the start. As we rolled into the big field it was already pretty packed with cars and people buzzing about. With lots of hellos and hugs to go around after not seeing some of our mountain bike friends since last summer, it was time to warm up. My good friend Jenny Beckman and I did a short warm up then finalized packing what we needed for the long ride back up to Cable. I was really excited this year for the wave starts and hoping that getting into the single track wasn't going to take as long. When the gun went off people raced down the bumpy ski trail right onto the dusty gravel road. I immediately felt that my legs had no snap in them as I had taken the last 4-5 days off due to being sick. I tried as best as I could to keep up with the group but was one of the last people into the woods. However, with the newly added wave starts I was pleasantly surprised it wasn't much of a wait to get into the woods at all! The first 10 miles I felt like I could not put any power into my legs and was soft pedaling a bit. I was starting to fall behind when I had some encouraging words from a woman who was right behind me. That helped to kick me into gear a bit more and I started trying to push the pedals harder.
Racing the Borah backwards for me was very tough. With the combination of heat and continuous climbing I was slowly wearing out. When we hit 00 I decided to pass on the water station which was a mistake. I was riding with a group of guys who were encouraging and flowing on the single track really well.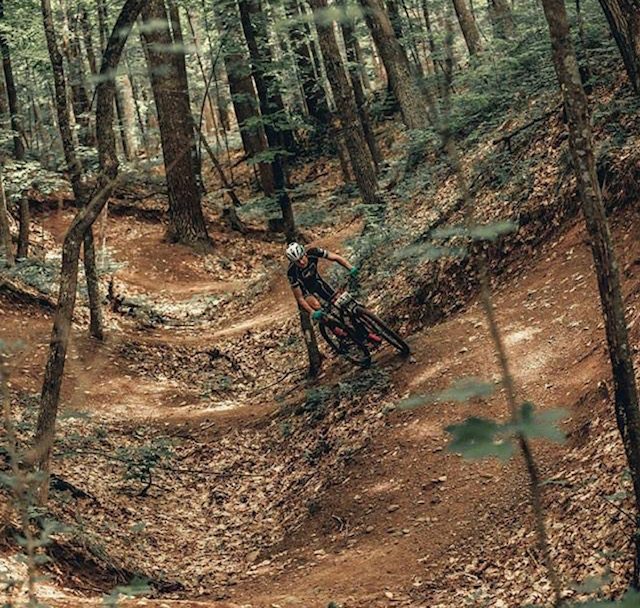 I knew that we were going to do the fire tower hill climb but I was not quite mentally prepared for it. It kept going up, up and up some more! I saw Mason at the top of the climb and was puzzled as I thought he was maybe done with the race. He said he didn't know what was going on and was feeling out of it. We rode together for a short bit until he had to stop as he was feeling off and told me to continue on racing. As I pedaled onward, I made sure to stop at the last rest station and fill up my bottle and drink as much as possible. The last 10 miles or so was the most difficult for me as with each turn on the single track it was another uphill with no end in sight. Finally, I saw signs for the North End cabin and was getting pretty excited. I hit the dirt road with as much energy as I had left available and shortly found out we had to take a left-hand turn into hand built single track and then to a long straight-away of double track. Eventually I could hear the announcer and sprinted with whatever I had left in the tank. A friend of mine met me at the finish line with two bottles of water which I drank immediately and I started noticing most everyone else downing water and laying down in the shade. When talking with others, I found out that lot of people had similar stories of battling the heat, the climbing and the length of the course. I waited for Mason to come through the finish line and I found he was still completely out of it and had to lay down to rest for quite a long time. He finally recovered a bit better with some food and water in his system.
Although this race was very difficult, I tried to think as positively as possible. I'm so thankful for all of the volunteers that helped out on that day, the race organizers, our friends and the general mountain biking community. Everyone throughout the race was very encouraging and supportive to one another. At the end of the day I am just so appreciative that I am able to be physically able to ride my bike and that I have the opportunity race on an amazing team and even better yet, have great friends who I can share these lifelong experiences with.
Gold Rush Gravel Grinder
With the Dirty Kanza grabbing headlines the past two weeks on social and what not, the Gold Rush Gravel Grinder quietly approached and featured as tough if not tougher course, especially for riders competing in the 210 mile event. The long distance event was a tour through both the Northern and Southern Black Hills of South Dakota. There was a total of approx. 185-190 miles of gravel, with the rest being pavement. It is a challenging course with about 13,000 ft. of climbing!! The gravel in the hills is unique in that there aren't a lot of rolling hills but instead long steady climbs and descents on roads that don't make many 90 degree turns that wind their way through the beautiful Black Hills landscape. During the ride, participants "enjoyed" a section of the famed Mickelson Trail and a "car free", winding path through the woods, crossing a multitude of bridges and going through 3 tunnels!
This years event was even more challenging due to a cold rain that not only affected the riders physically but surface conditions that challenged the riders. Outside of racing, members of the Maplelag team still snuck in some mountain bike rides the day before and after the event.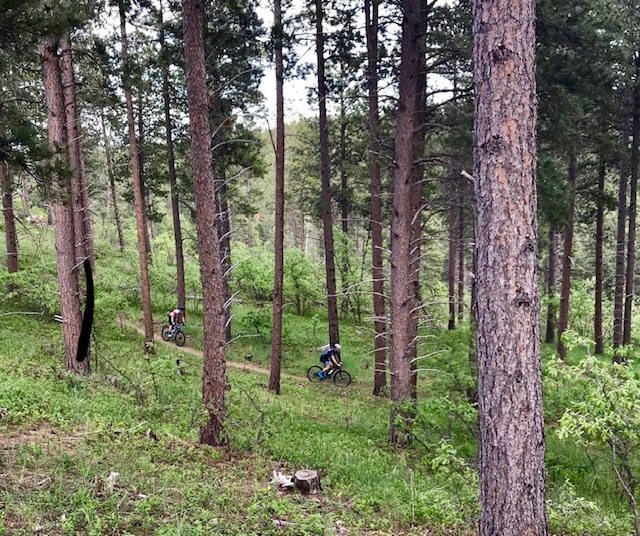 Women's Mountain Bike Skill Clinic
As the Duluth Enduro series kicks off this week at Lester Park, COGGS is also gearing up for one of it's key events of the season, the Women's Mountain Bike Skill Clinic. The weekend is designed for riders new to mountain biking (beginner) and riders who may have had time in the saddle but want to improve their riding skills (intermediate+). Registration will be limited to ensure quality, safe instruction. Full details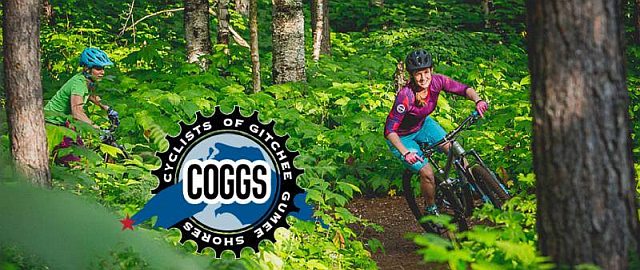 Bike Park Coming to Two Harbors
A new natural landscape bike park will be opening soon in Two Harbors thanks to the help of volunteers.
According to the Lake County News Chronicle, the new park is being spearheaded by Arete Outdoor Ministries and Crushing Mechanics, they got the City Council's approval to build the park late in May.
Park organizer Nate Eide told the Lake County News Chronicle, "the features will be progressive in that there might be a feature that has a little jump, a medium jump, and a big jump right in that same spot. You can choose which one you want to do or you can always go around it if all of those are too scary. As you start to feel more confident, you can progress your way over to the bigger jumps."
Upcoming Events

Featuring rolling hills, flowing singletrack and ripping downhills, WORS and the Waushara Area Mountain Bike Association (WAMBA) present the Mount Morris Challenge at the Nordic Mountain ski area. The trail work at Nordic began in spring, 2006 with shovels and rakes. WORS Director, Don Edberg and Dave Reich along numerous other volunteers logged approximately 1000 man hours over two summers to construct the original 5-mile loop and the first WORS race on the trail was held in August of 2007. As the trails developed, the site hosted regional championships and multiple national Pro XCT events.
Keep the Wheels Moving!
About the author...

Jay Richards maintains a very active lifestyle. He somehow finds time between managing a full-time resort (Maplelag) and bringing up a family of four boys with his wife Jonell, to compete in both mountain bike and a few cross-country ski races. Jay rides for Maplelag Resort, manages the Maplelag mountain bike team and enters his 29th year of racing and promoting mountain bike races.

Have an event or mountain bike related information to share from the Midwest? Feel free to contact Jay at