Midwest MTB Report
by Jay Richards
June 18, 2019
The summer portion of the mountain bike season is rolling along nicely with events not only on the weekend but also Midweek series racing action. Last week was no exception as Mother Nature played her card in the scheme of things. This weeks report includes highlights from the WORS race at Mt Morris, the Otter Creek 55, the Chain Drive Festival in the UP and a plug from John Wessling on the Wednesday Night at Wirth midweek mountain bike series as the venue prepares for the series race this coming weekend. A handful of other mountain bike related items to note and the look ahead caps off this weeks report.
WORS #4 Mt Morris
A good ol' fashioned mudder greeted riders for race #4, Mt Morris Challenge, in the Wisconsin series. "An absolute grinder in Mt Morris, WI Sunday. Rain turned the course into oatmeal and it became a battle of attrition" posted Rob Hall as his son Barrett competed in the Elite male class as part of a large group from the Loppet Cycle Works team. Either you like riding in mud or you do not. As usual with mudders, there are many DNF but the ones that thrive usually put on dominating performances as was the case in the Elite races at Holly Lavesser put in a dominating performance winning by over 10 minutes in one of the larger Elite women's field. Rob also stated "All 7 Loppet Cycle Works riders finished the Mt Morris mud fest Sunday. On a normal weekend, that's probably not worth noting. But when you consider that nearly half the field dropped out - it's a testament to the heart and desire of these athletes." 5 of the 15 elite female finishers were LCW riders.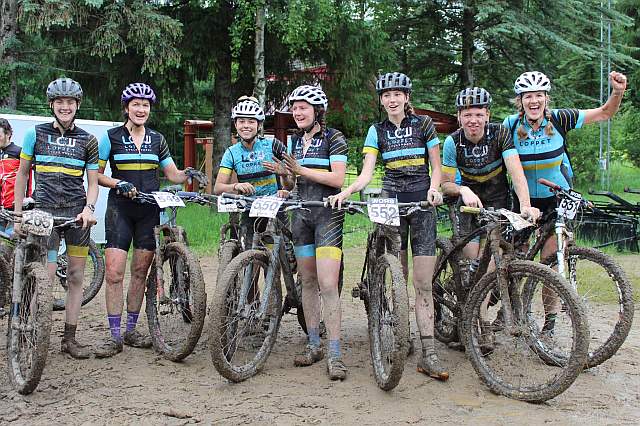 Year round all around rider and race Cole House was in his "element" as he also put in a crushing result, not quite the gap as Holly's but nearly 4 minutes over another seasoned vet, Tristan Schouten. With a 27 minute gap from Cole's time to the tenth place time is also a good indicator of the gnarly conditions. On a side note tip, back in the day when it seemed more common to be racing in the mud, we would spray cooking oil on the bikes to help shed mud.
Chain Drive Festival
The Keweenaw Chain Drive Festival featured two days of racing in Houghton/Hancock and returned to action after a 5 year break as one of the original point to point races in the UP. Day 1 was a challenging XC race using the Maasto Hiihto and Churning Rapids trail networks in Hancock, MI. Day 2 was new to the Keweenaw Chain Drive Festival featuring an Enduro on the Michigan Tech trails in Houghton, MI. Events concurred throughout the weekend for the whole family including team events for Dads and/or Moms with their kids.
The proceeds from the two days of biking will be used for bridge and trail repairs in the Maasto Hiihto and Churning Rapids trails that are needed after last year's Father's Day weekend flood. The Ben Olson family was one of the families to partake in the events and reports: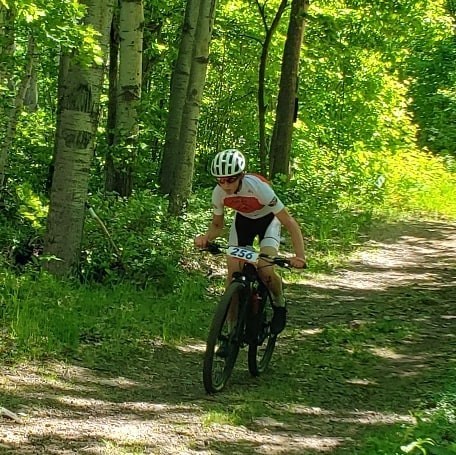 First full day in the UP was a blast! Heidi Jake and I raced in the Keweenaw Festival Chain Drive XC race. Mixed bag of rocky, rooty hand built singletrack and fast double track. Along with our solo races Jake and I signed up in the father/son team division. Heidi got first in her age group, Jake 2nd in age group/7th overall and I took 1st overall. Jake and I won the father/son div. We dropped Jake at Michigan Tech's MTB camp tomorrow led by Midwest legend Brian Matter. Heidi and I plan to check out some more sweet trails while Jake is at the Brian Matter Junior camp
Otter Creek 55
The 2019 Otter Creek 55 is a cross country mountain bike race that takes place in the heart of North Dakota at beautiful Harmon Lake north of Mandan, ND. The race provides an experience for everyone as it follows the contours of the beautiful lake on fast flowing trail but with tight turns to keep everyone on their toes. The trail provides everything from canopy covered technical to wide open fast and flowy singletracks. The Distances include- 14 mile(teener), 29 mile(29er) and 55 mile(55). There was also 2 person team relay options for the 29er & 55. Harmon also provides a beach and other family fun activities. The race was capped to 150 participants.
As he prepares for the big Maah Daah Hey 150 later this summer, John Peter used the Otter Creek 55 as preparation for the 150 and reports:

Had a fun weekend racing Otter Creek 55 in Mandan, ND. Super twisty course complicated by heavy rain Friday made for a muddy first lap but things racked up well thereafter.
Started to find my groove a bit more on lap 2 before crashing twice, the second time quite hard, when I washed out in a corner on a descent.
Soldiered on to finish 15th. Good learning experience on a technical course.
Aside from the report, my fitness seems to be improving, felt good climbing and of 120+ competitors my strava times on the climbs were top 10 on the day so that was reassuring that we are heading the proper direction with things. I will take a recovery week now and then focus for 6 weeks specifically on training for the MDH
Wednesday Nights at Wirth
Former Minnesota native John Wessling who now resides in California who owns and operates Wessling Fitness flew in to Minnesota for the week and of course had to race and hit up the Wednesday Night Races at Wirth! Wessling sent in a report:
Last year I raced the Minnesota Mountain Bike Series race at Wirth Park and it was awesome. That was before the new building was finished, before more trails (a lot more) were built, and before a week day race started on Wednesday's... What the Loppet Foundation has done with mountain biking in Minneapolis is truly amazing.
I showed up to the race venue about 45 minutes before the race started. Kids were ripping a pump track on Strider bikes, music was playing in the background, and a massive group of mountain bike enthusiasts were hanging out. The mountain bike culture in Minneapolis is thriving!
The race took off and a small lead group formed after about 15 minutes. The dirt was hard packed and the race was fast. By the last lap there were three of us pushing the pace up front, and I decided to attack on one of the climbs. As expected, 16 year old Tom Beyer was nipping at my heels the entire last half of the lap. I was barely able to inch away from him towards the end of the race and take the win. These Minnesota high school racers are no joke!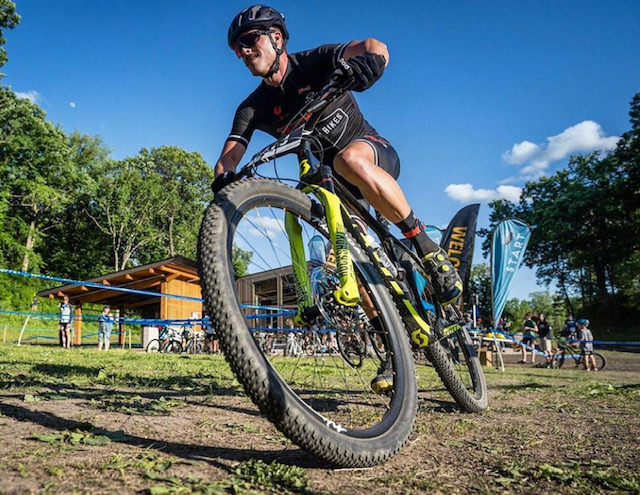 The best part about the race was being able to grab some food at the Cajun Twist afterwards (restaurant in the Trailhead), and hang out with a group of great people.
If you are ever around Minneapolis on a Wednesday evening, bring your mountain bike and go race. The race is about 45 minutes-1 hour, $15, and it is a complete blast! Keep up the great work Loppet Foundation!
Three River's Park Mountain Bike News
Even though no longer part of the series, the Big Woods Classic returns for mountain bike racing at Lake Rebecca. And input is sought on new trail at Carver.
Mountain Bike Myths Debunked
New Moon Ski shop in Hayward WI. recently posted an article on the perception of Mountain Biking: Mountain biking is misunderstood. There's a lot of misinformation out there, and many people are unwilling or even afraid to go for a ride because it will be hard, uncomfortable, scary, etc. While I guess those can be true, mountain biking can be a fun experience that even a beginner rider can enjoy. Here are 6 MTB myths debunked.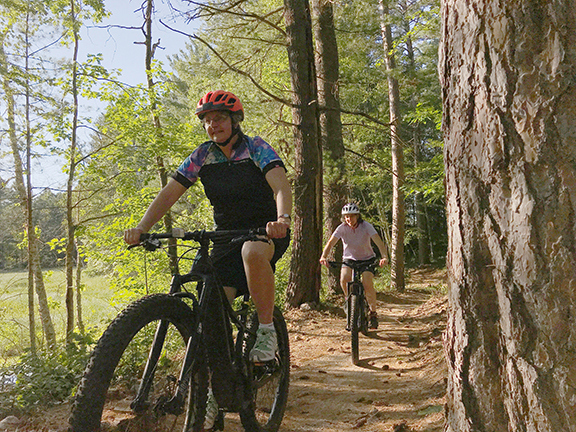 Trysil Mountain Bike Park
From a skiing perspective, many people look to Norway for their methods and approach to training and racing as Norway has long been a leader in Nordic for being such a small country. Norway has a special place in my heart having lived there on two different occasions, once for a year of school and second time working at the same school 5 years later with my wife Jonell and son Jake. The second time I was first getting into mountain biking and had a rigid to explore the incredible landscape and enjoy the "Right to Roam" law. A recent article in Singletrack caught my attention as it focused on the ski area of Trysil, (also a special place to me as I learned to Telemark ski there) and there approach to maintaining a bike park with a active bike patrol that
Excerpt: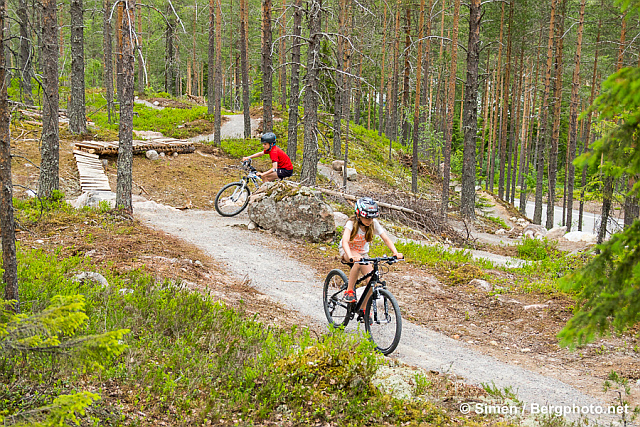 Expert skiers with first aid and avalanche training get paid to slide around all winter making sure everyone makes it to the bottom of the mountain safely. Norway's Trysil Bike Arena is taking that same safety service to the summer dirt this year, with their newly minted Trail Patrol.
Related: Visit Norway Website promoting Trysil
Looking Ahead
Typically held in July near the Fourth of July, the popular "Firecracker" among both Minnesota and Wisconsin riders, hits up this weekend. From the WORS website:
The first Firecracker was held in 2005 and we've been welcoming racers every year since. CORBA (Chippewa Off Road Bike Association) remains hard at work to bring you some of the best racing in Wisconsin. We utilize this event as one of our primary fund raisers, which allows us to continue trail development on no less than TEN trail systems in the region. Your participation is a big part of making these trails happen, so thank you!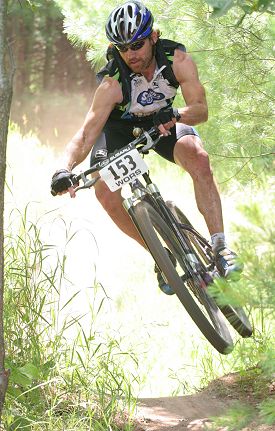 Catching some air, Chippewa Valley Firecracker, July 5, 2009
From the MNMBS website:
This race will be on the Loppet trails system based around the new Trailhead building. It will include Area 36, Conundrum, and the brand new 45 North trail!
This year laps will be 6 miles long with over 470ft of climbing per lap! The course has some flowy singletrack but lots of sweet tight twisty fun mixed in...including some swoopy berms and jumps in there. There are a number of switchback climbs, open areas with passing lanes on ski trails, and tight single track in wooded areas.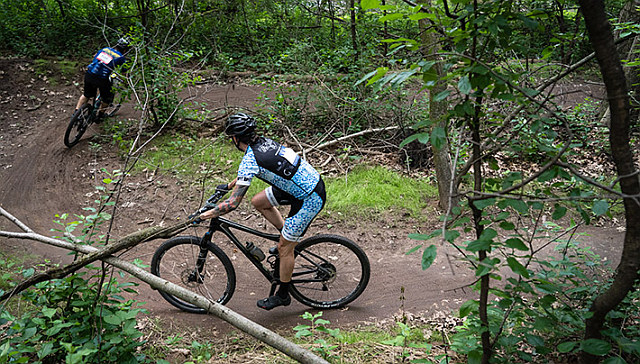 To be clear, this course will not be on the MORC/MOCA trail system. Please check out the Loppet Foundation and all the great events and programs they offer.
Keep the wheels moving!
About the author...

Jay Richards maintains a very active lifestyle. He somehow finds time between managing a full-time resort (Maplelag) and bringing up a family of four boys with his wife Jonell, to compete in both mountain bike and a few cross-country ski races. Jay rides for Maplelag Resort, manages the Maplelag mountain bike team and enters his 29th year of racing and promoting mountain bike races.

Have an event or mountain bike related information to share from the Midwest? Feel free to contact Jay at