Midwest MTB Report
by Jay Richards
August 13, 2019
Middle of August? Summer is flying by! This past weekend saw one of the major point to point races in the Midwest with the mighty Ore to Shore taking place in the UP Michigan. An in depth recap from Hard Rock winner Leia Schneeberger Rollins as well as a first hand recap from Cole Johnson at Mt Kato highlights this weeks report. A couple of mountain bike articles linked and the weekend ahead to the middle part of this busy month as the series in Minnesota and Wisconsin start to wind their series down.
Ore to Shore
Ideal conditions greeted riders in the Ore to Shore this year which celebrated its 20th Anniversary. The fast track made for fast racing for the big cash purse. The male lead group came down to a threesome, all with previous Hard Rock victories. In the end, Cole House came away with his sixth win, just edging out Brian Matter in the sprint. Those two put a small gap on third place finisher Jordan Wakeley. Rounding out the top five were Tim Coffey who won the sprint for fourth over Jeff Hall.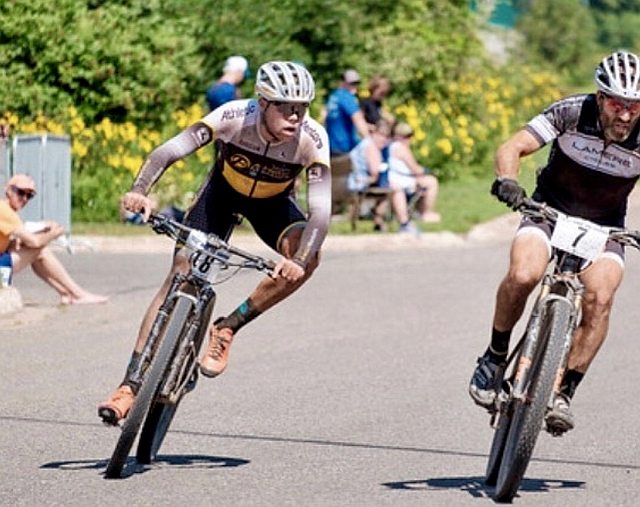 In the female division, Leia Schneeberger Rollins put on a dominating performance, taking the win by over 10 minutes to second place finisher Julie Momber. The battle for the top five podium spots were tight with Erica Stehouwer, Arielle Coy, and Erica Ohearn taking to the steps, respectively. Leia provides a awesome in depth recap, after highlighting previous years drama and attempts at the epic point to point race in upper peninsula Michigan including a message to event organizers regarding the start.
My Ore 2 Shore Epic Mountain Bike Race Tale began in 2013, my first attempt at this race. It was only my 3rd year Mountain Biking and probably should have started with the 28 miler. That year the group I was in got stuck at the railroad crossing because of a train. Then I crashed and nearly poked my eye out. I was seeing stars and knew it would only be a matter of time until my eye would swell shut. I shook it off as my legs felt good and got back on my way. Later in the race I got a flat and a trail angel helped me with a CO2 cartridge. I was able to ride a bit further but the gash wasn't sealing. I made it to the top of the 512 where a spectator had a pump. Pumped it back up and continued on. Another couple of miles and the tire was flat again. I started my march to the next aid station ready to pull myself from the race. After a hiking about a mile a guy had a hand pump and tossed it at me. I proceeded to pump the tire up and ride as far as I could and then pump it up again about every mile for the last 14 miles. I crossed the line just shy of 4 hours with a flat tire, one eye open and a group of medics waiting for me at the finish.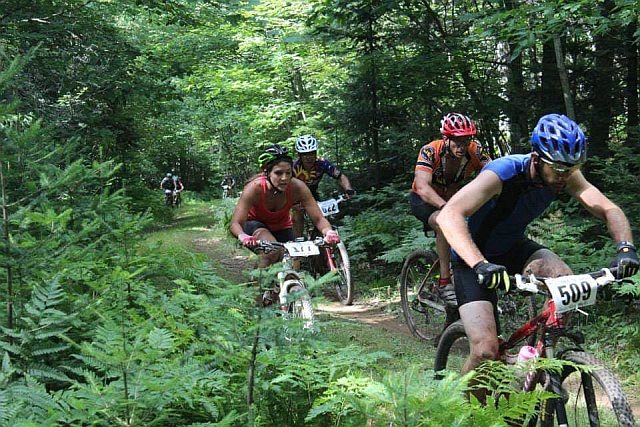 2014 I was out for the season with a shoulder injury. 2015 I didn't race as I didn't have anyone to go with. I made my return for attempt at redemption in 2016 only to be thwarted by another early crash. I was thrown into a fence and ran over by a few people. I suffered a minor injury on my arm, nothing to stop me from pedaling but my shifter had fallen off. I slow rolled to the closest aid station and was able to get it fixed. Once again I had strong legs so began to plow through the masses. With about 16 miles left I got another flat. I was so upset that I threw my camelback on ground. The puncture sealed up this time around and I put my camelback on to start again only to have the water leak all over me. The nozzle had busted off from the impact when I threw it. I started hyperventilating from the rage I was feeling. Twice now I've suffered a crash that I managed to recover from only to be cursed by flats. I had to dig deep to slow my breathing and just focus on riding it out.
The goal for 2017 was to make it through the entire race without a crash or mechanical so I played it super safe the entire race and ended up 3rd Overall.
I was gunning for a first place finish in 2018 as I felt I'd finally figured out how to race this one. That was the most exciting race of my career. Emma Swartz and I battled it out for the majority of the race. She grabbed hold of me a few miles in and asked if we were in the lead. I didn't think we were as I thought I had seen Lindsey Kriete up ahead. So the entire time we were working together, pushing the pace, making moves, trying to get our group to catch the pack in front of us in effort to close the gap on Lindsey. With 15 or so miles to go we passed who we thought was Lindsey only to find that it was a man in the same kit. We knew then that we were in a race for first and I started to make attacks. It was an epic battle for a few miles. We were in a strong group of about 20 riders clipping at over 20mph when I rolled over a stone and my butt hit the back of my saddle causing it to jack knife up. I tried to push the seat down while pedaling so I wouldn't loose the group. I couldn't get it to go down. I tried to just ride standing but it was to much. I stopped to try and get it to go down but couldn't. I had lost the group. I did what I could and came across a couple of volunteer fire fighters, pulled over and asked one to punch the seat as hard as he could. One hit and the seat was back in line and I was on my way. The damage had already been done. I was on my own for the last 10 miles, I kept giving it everything I had as my only hope was that Emma would get dropped and maybe I'd be able to catch her. She is such a strong rider that she never got dropped and won the race. I was able to hold a respectable 2nd place.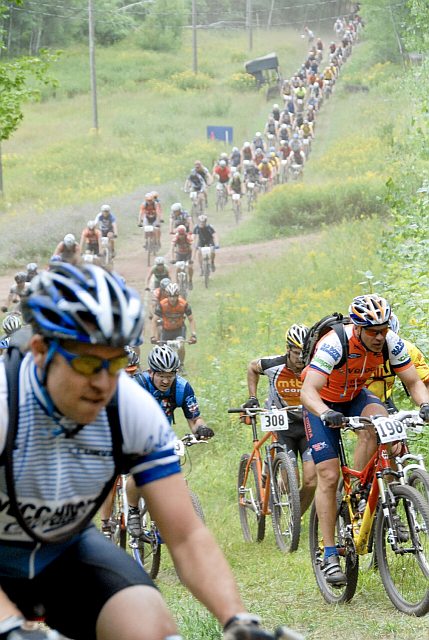 This year was the year to crack the curse. This is the race I have been training for all year. I normally mark riders at the start but it's really hard when there are 800 people lined up. Even when you mark it's tough to keep an eye out for them after the gun goes off as you need to watch out for what is going on around you. Early crashes are very common in the mass start races. I've learned to ride aggressively and defensively at the beginning. You need to burn a big match at the beginning in effort to link with the fastest group of guys you can yet you've also got to give a wheel in case there is a crash in front of you. So I do not hug wheels early in the race, I try to keep enough of a gap that I can respond when things go wrong. We hadn't even gotten off the wide open road section when a multi person crash happened right in front of me. I quickly yelled out, "riders down," and "Slowing" as I tapped the brakes and maneuvered around. Thing is, when you've got to slow or stop for a crash, the threat is from the masses at full speed behind you. You've got to be paying close attention, quick to respond and loud. Once we were in 2 single file lines on the first dirt road section there was another multi guy crash, yet again I was able to carefully make my way past them. Once the race spreads out a bit is when I start to hold tight to wheels. Drafting is key when going for a podium finish.
I latched onto a group that was much stronger then me but was able to hold on thanks to the draft until we hit the deep sand. The draft advantage is gone when in the sand and the stronger men dropped me as if I'd stopped for a snack break. Out of the sand and I was alone, rather then attempting to catch them, I sat up and waited for the next group to pick me up. It's important to save your energy so that you can grab hold of the next train that rolls through. I jumped on the passing train and was pushing hard. Before Misery Hill a few spectators said I was first lady and I felt that I didn't need to make any crazy moves to hold the lead so I played it cool for the entire sketchy section which is full of off camber descents, pot holes hidden by grass, sharp rock features and a few hike a bike climbs. There was a group of 4 of us working together once we hit the road section and were able to bridge the gap to a group in front of us. There was also a few behind us that caught on so there was a solid party of about 20 of us heading up the bridge. At about Mile 32 we take a right hand turn back into the jeep trails and it's sweeping downhills and all sorts of fun from there. The weather was a perfect 75 and sunny, couldn't have been better. Conditions were similar as usual, few big water holes in the beginning followed by dust and sand so you always look like burnt toast at the finish.
I've been training for the XC Marathon style races specifically this year so I do a lot of long days on the Mountain Bike during the weekends and interval sessions during the week. New this year is I hired a strength coach named Ethan Urban from the Princeton Club in Madison. We do a day of lifting heavy and a day of balance each week. This has been a game changer for me. I'm climbing faster and with less fatigue then ever before.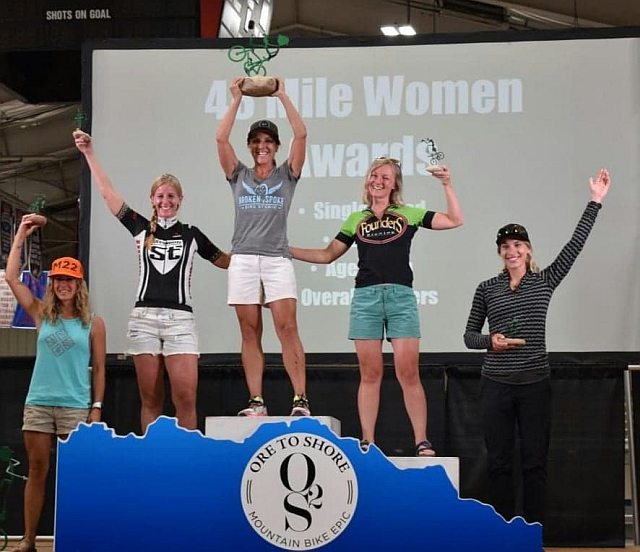 I use Hammer Nutrition products for fuel in every training session, ride or race. For this race I had two big bottles full of water and Heed to keep my hydrated, full of electrolytes and calories. I also took a Vanilla Hammer Gel every 35 minutes. They are quick and you don't have to waste energy on chewing. I also took two cups of water at every aid station.
I go with my Specialized S Works Hardtail for smoother races like this one. It's light, nimble, responsive, pretty and FAST. Fastest bike I've ever ridden. Weighs only 19.6 lbs. I race for Broken Spoke Bikes in Green Bay Wisconsin. They became a Specialized dealer last fall so I've also got an S Works Epic full suspension and I'll be getting the Fat Boy Fat bike. I am swimming in the specialized kool aid.
Very pleased to start my fall season off at the Ore 2 Shore with a win. I am planning to race at the Dakota 50, Chequamegon, Oz Trails Fest, Margi Gessick 50, and the Iceman Cometh. I'd like to continue advocating for separate starts for the females. Mass starts are fun but the races would be much closer and more tactical if we had our own start. We wouldn't be able to pin it like we do and rely on men for help. After the start this year I didn't even see another woman, it felt more like a super fast group ride. If we were able to start on our own you wouldn't have a woman or 2 just disappearing off the front, we'd need to work more among ourselves. This is why I am excited about the Chequamegon, Oz Trails Fest and The Iceman Cometh. I was even able to get the Fat Bike Birkie to commit to a separate start for the females in 2020. Hoping one day the Ore 2 Shore will consider this style as well.
Related: A Tire at the Wire - Mining Journal Report
MNMBS #6 MT Kato
Rescheduled due to wet conditions a few weeks ago, MT Kato served up a beautiful summer day for racers, typically known for blistering heat. Although the numbers were a bit down, strong fields were represented in all the classes.
The women elite race saw local star Jenna Rinehart toe the line and take a convincing win by 12 minutes over Corey Coogan Cisek. Rounding out the top four spots were Danielle Larson and Kristi Henderson.
The Elite men saw a exciting sprint finish as young gun Calvin Sandberg nipped Jeff Hall (who raced Ore to Shore the day before). Top five was Colin Freed, Sam Berkland and Tim Norrie who nailed down one of his best finishes in recent years. Racing his second Elite race, Cole Johnson rode another smart and tactical race to record a solid finish to 14th place and provides a first hand recap.
It was a great day for racing in Mankato with overcast and 75 degrees, much more pleasant than the times in past years with full sun and temps well in the 90s. The course was in great shape as well with only a little bit of grease that tacked up throughout the race. With 5 laps around the very up and down course, I was sure we were in for a super fun and hard race from the gun. I tried to sit in with some people and ride a decent pace up the first hill and around the first lap to get a feel for my legs and ensure I wouldn't blow up on the first lap, and got in around 20th place which was just close enough to see Calvin Sandberg, Jeff Hall and the rest of the leading pack fly off the front to never be seen again.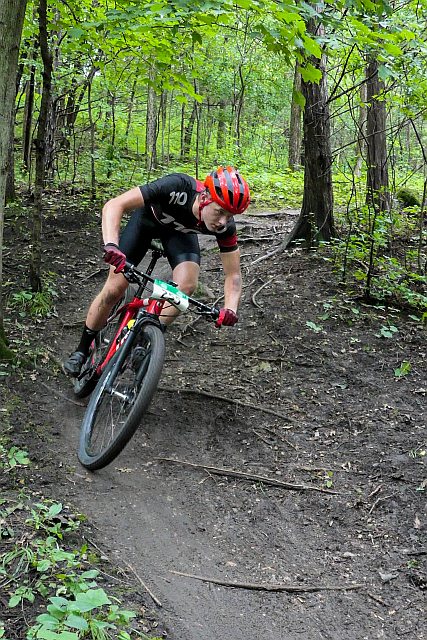 Around the second lap I moved up a few spots as my legs were coming around and got in with John-Eric Klecker and Marcus Rupnow for around a half a lap. As we ascended the ski hill together I was able to get some separation and chose to push on in pursuit of Hollywood who was around a minute up on me I think. I kept pushing and enjoying the super fun course but wasn't able to close the gap to anyone in front of me and held my position in 14th to the end. Mankato one of the best courses in the state in my opinion, with lots of climbing and some sweet descending as well, it was a blast chasing around some really fast guys out there! Calvin Sandberg and Jeff Hall took it all the way to the line with Calvin just edging him out. Colin Freed, Sam Berkland, and a super ride from Tim Norrie rounded out the podium.
Simmons Zany Ride at Leadville 100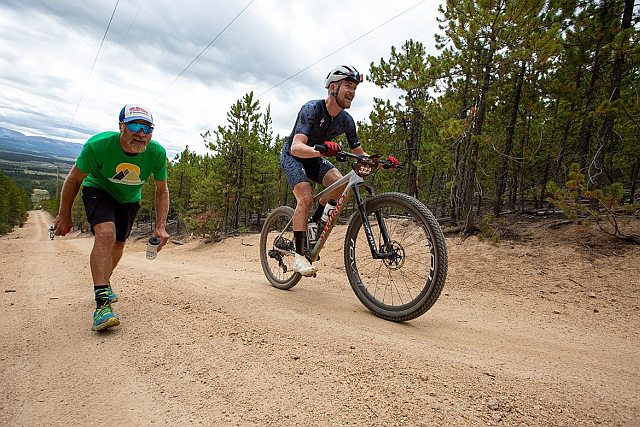 The Leadville 100 took place this past weekend in the thin air of Colorado with many Midwesterners toeing the line.
Quinn Simmons, the 18-year-old rising star of American road racing, finished second place at Saturday's Leadville Trail 100, out sprinting WorldTour road pros Peter Stetina and Lachlan Morton at the finish line.
That result on paper fails to capture the zany story of Simmons's ride at Leadville. Simmons is an accomplished road and mountain-bike racer, and in 2018 won the junior national title in both events. Yet this was his first stab at the iconic 100-mile race—previously he was too young to compete. He lacked the luxury of a call-up position, and started midway back in the 2,000-rider field.
Enduro Defined
Enduro racing has exploded in popularity around the world and here in the Midwest the growth is trending upward. The Duluth Hard Enduro, the Enduro events last weekend, UP events and even down southern MN in Welch last weekend are just a few of the events taking place in the area. If Enduro is still a foreign word for you and the bikes that are used, Bike Exchange has an article that helps clear the air a bit.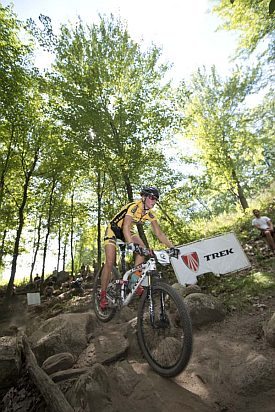 Related: CAMBA South Shore Enduro (postponed until Spring)
Looking Ahead
Fast, fluid, and fresh routes define the 2019 Refo Ramble. The same blast off start and shady kids course will be back in 2019. The course will be revealed at the noon pre-ride. Expect a fun mix of flowy single and double track for passing on sections of the fast draining sand hill terrain. No pre-riding during course marking for safety reasons! Ashwaubenon Nordic Ski Team (ANST) is happy to host this event again. A fundraiser for trail repair and improvement for summer bike use and more than match the dollars with skier sweat equity!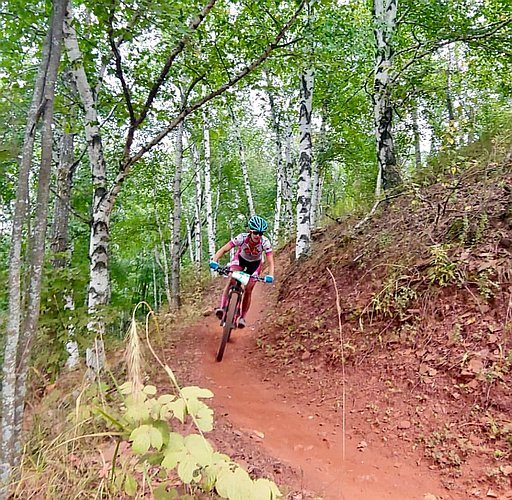 The Minnesota Series Race #7 takes place in the Mahnomen Unit of the Cuyuna Country State Recreation Area on Sunday, Aug. 18. New this year is permit required for parking. Vehicle permits can be purchased at the DNR office on 307 3rd Street Ironton, Online or 6 self-service kiosks. Saturday will feature the Crusher Happy Hour located on Cross Avenue in front of the Spalding House in Crosby on Saturday, August 17, 2019 from 5 to 8 p.m. – Pre-Registration and Crusher Happy Hour - Open to racers and the public, everyone welcome! There will be live music by lolah, and food provided throughout the evening.
Keep the Wheels Moving!
About the author...

Jay Richards maintains a very active lifestyle. He somehow finds time between managing a full-time resort (Maplelag) and bringing up a family of four boys with his wife Jonell, to compete in both mountain bike and a few cross-country ski races. Jay rides for Maplelag Resort, manages the Maplelag mountain bike team and enters his 29th year of racing and promoting mountain bike races.

Have an event or mountain bike related information to share from the Midwest? Feel free to contact Jay at