Midwest MTB Report: Chequamegon Preview
by Jay Richards
September 10, 2019
Fall is here! With cooler than average temps as of late, feels more like October than September. All good, as some of the best riding of the year on tap the next 4-6 weeks. This week report includes highlights from the World Cup final in West Virginia at Snowshoe Mountain with a first hand recap from Caleb Swartz, a circle the calendar notice for the World Cup final in Cross country skiing in Minneapolis next March, forest road riding in the White Earth State forest in NW Minnesota, Chequamegon preview and a look ahead to some sweet grass roots events this fall.
World Cup Final
With the world's best mountain bikers in North America from Worlds being held in Mount Saint Anne, Canada the week before, Snowshoe Mountain in WV was host to the World Cup final. Although some mountain biker fans had said reigning world champion Kate Courtney from United States had peaked to early in the season at the World Championships last weekend, Courtney put in a solid fifth place finish in the final World Cup final cross cross country to secure the overall World Cup title. Courtney was one of three riders from the United States to place in the top 10. Awesome.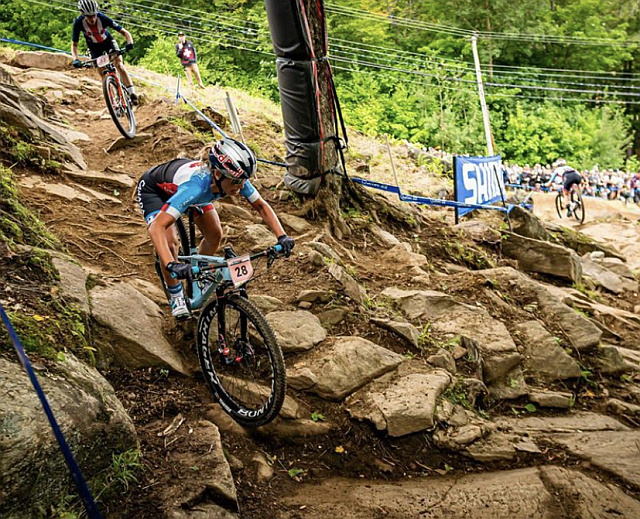 From Velonews:
"Wow, I think it'll sink in over time," Courtney said about the World Cup title. "It's a battle for this every race. You can't make a big mistake. You can't give up. You have to fight for every spot in every race and it's not over until it's over."
Courtney surged to an early lead in the World Cup standings by winning the three opening rounds, held in Albstadt, Germany, Nove Mesto, Czech Republic, and then Les Gets, France. Courtney endured a mid-season swoon, and lost the World Cup lead to Neff after the World Cup round in Lenzerheide, Switzerland.
Courtney came into the final World Cup round trailing Neff by 73 points in the overall.
Midwest rider Caleb Swartz from Madison, WI, who competed in the U23 World Championships in 2017, made the trek east and recorded a personal best 41st place.
Swartz provides a first hand recap:
The opportunity to race a World Cup on home soil was pretty thrilling to say the least. The course this year was very different from the National Championship courses of the last two years. The lap was about half as long time wise, fast paced and full of some new, gnarly descents and punchy climbs. It rode almost like a cyclocross course! I pre-rode with some hot laps Friday and Saturday, with my U23 at 10:15 Sunday morning.
Although this field size was approximately half the size of what I raced in Europe in August, everyone here was at the World Championships in Canada two weeks ago so it was a ripping fast field. When the light turned green we flew through up the cobbled ski village road and hooked a left into the first off-camber 180 and climb before the first drop. I got lucky and managed to work through the early carnage but it as still single file and almost at a standstill through the fylovers and into the first descent. I opted to stay on my bike, track standing as other riders ran and I got a clean run into the chute making up some time.
We bombed across the next traverse and into the faster, flowy descent before climbing almost all the way back to the top. The first few laps were absolutely flat out for me, with my heart rate well into the upper 180s and 190s. There was hardly anywhere to recover and with the altitude being almost 5000 ft, it was tricky to not overdo it.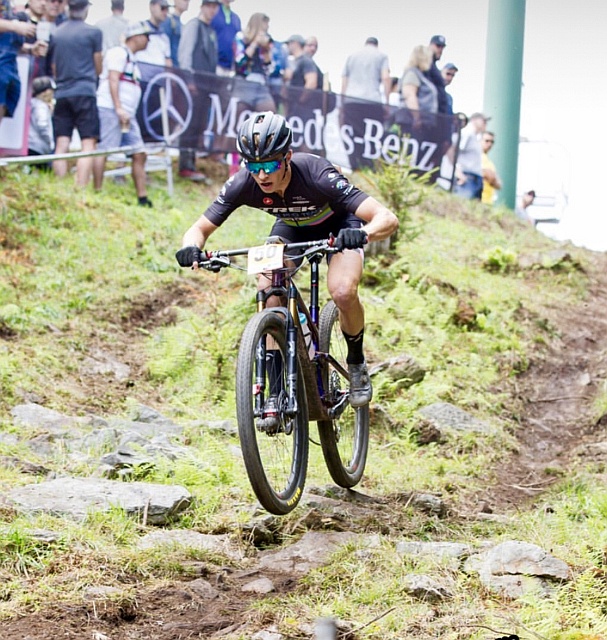 Eventually I settled into my rhythm and passed a few people each lap until I found myself inside the top 40. With 3 laps to go I started to fade some and I had to back it off a tad or risk wrecking myself on the demanding descents and rock gardens. I lost one spot on the second to last lap and crossed the line in 40th place. A solid improvement over my my previous best finish of 74th. Overall racing a domestic World Cup was a pretty sensational experience. I don't think I have ever raced in such a cool atmosphere. There were so many fans going absolutely nuts for all the U.S. riders and it pretty inspiring.
Chequamegon Preview
The Northwoods of Wisconsin, in particular the Chequamegon National Forest, is ready for nearly 3000 riders to descend on the forest roads and trails for the legendary Chequamegon Fat Tire Festival. The word legendary should not be taken lightly and is appropriate for the 37th year running of the event. There has been no shortage of rain the past six weeks and with rain forecasted days leading up to event a dry course won't be an issue.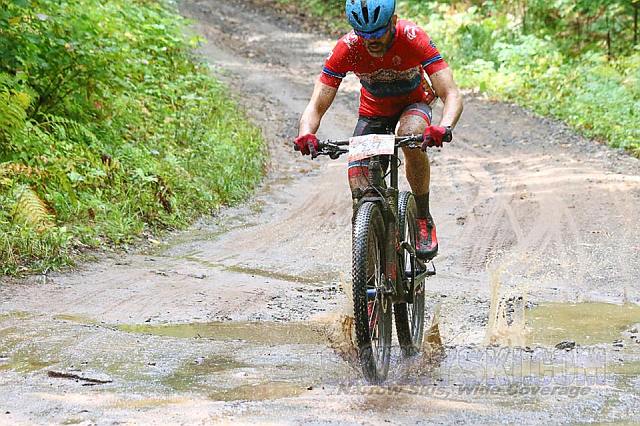 There will definitely be a different feel this year with long time race director stepping down after last year and Peter Spencer picking up the reigns. Another noticeable change will be a separate start for a Pro race. The Pro race will start after the 10am mass start at 1pm. A field of 43 men and 13 women will toe the line for a cash purse and no age categories. The usual suspects will be at the line and we've listed some of the favorites below. It could be a very interesting race, conditions wise, with the large field rolling out earlier in the day which might compromise the surface if wet weather forecasted this week continues to saturate the already wet ground.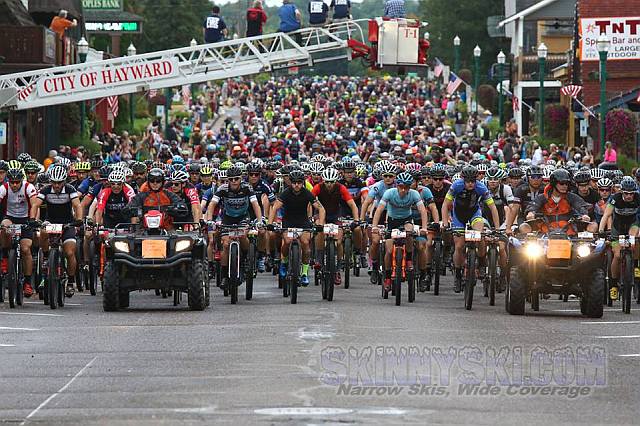 Men
Cole Hous - Cole has won a lot of bike races this year in all types of conditions. With last years winner Mr. Mustache Payson McElveen not listed on the start list, Cole gets the nod as the favorite. Cole seems to be extra motivated anytime six time winner Brian Matter lines up next to him and expect those two to be in the final groups as the race nears the end.
Brian Matter - Matter is still riding as strong as ever with a solid placing at Nationals, wins and local events in now his place of residence in Arizona and winning a cross event. The six time champ knows the in and outs like no other rider.
Jeff Hall - Hall has come on late the second half the season riding as strong as ever winning pretty much every race he enters. Laddies Loppet he put on a dominating performance over seasoned vets and up and coming junior stars. If the course was slow tech rocky rooty singletrack, I'd put my money on Jeff and to win by a sizable margin. I could be wrong but until we see a throw down between Hall, House and Matter on a course like Maplelag we might not ever know


Jeff Hall in the lead group trying to stay dry, Chequamegon 2017 (Credit: Mike Hall)

Corey Stelljes - Corey won the 40 in 2015 and now what it takes to hit the line first. H has had a solid, consistent year. If all is rolling well, he should be in that front group and be in the money.
Ben Senkerik - Ben has also had a consistent year, placing well in the WORS events and like Corey, should be up at the front digging hard to improve on last years sixth place finish.
Jordan Wakely - If the Chequamegon course involved running up a hill carrying your bike and a log, Jordan would be like Hall and also win by a sizable margin. Jordan is well versed in multiple disciplines and if conditions got extremely gnarly, I'd expect Jordan to be at the front.
Joe Maloney - Joe has always had respectable finishes at Chequamegon and expect the same this year.
David Lombardo - Lombardo had a great race last year, finishing in the top 10. He will look to be in the front group in effort to equal that performance if not a spot or two better with a few top riders not in the field.
Sam Berkland - Sam has been solid in the Minnesota scene, maybe still gaining experience what it takes to crack the top 10 but wouldn't be surprised if this is the year.
Calvin Sandberg - Cal enters the field as one of the younger riders and looking to be like Sam Elson who surprised many last year with a fourth place finish. I truly believe he is capable of doing it if everything falls into place. Cal has had some bad luck in recent cross country races, being dealt multiple mechanicals at the MNMBS race at Cuyuna when he was at the front early and at Maplelag when he crashed hard, but still punched a top five finish rolling from the back of the field and recording one of the fastest second laps.
TJ Woodruff - TJ now resides in Arizona but he has deep roots in the area with his hometown in nearby Spooner (wonder how many photos will be posted with Spooner blows this year). TJ continues to train and race hard, having a good season and is ready for another solid Chequamegon on board a fresh set of wheels.
Sam Fritz - Fritz will be looking to improve on his top 20 finish last year among the stacked field where he placed 19th last year.
Ken Raiche - Ken is another consistent Chequamegon rider, content with placing in the top 20 like last year.
Peter Olejniczak - Hoping to crack the top 20, probably the coolest last name on the Pro start list.
Adam Koble - Adam has been strong on the marathon scene in Minnesota series and also flashed some speed being in the top chase group in the short track at Maplelag, taking more than his fare share of pulls at the front. Definitely capable of a top 20 if not a few spots higher.
Women
Unlike previous years with the mass start, the women race could be a bit more interesting this year with the field of 13 in the mix with the men. Previous winners in the Chequamegon 40 women's division have used male groups to bridge gaps or hold onto leads. It might make it more difficult this year and there could be more solo riding.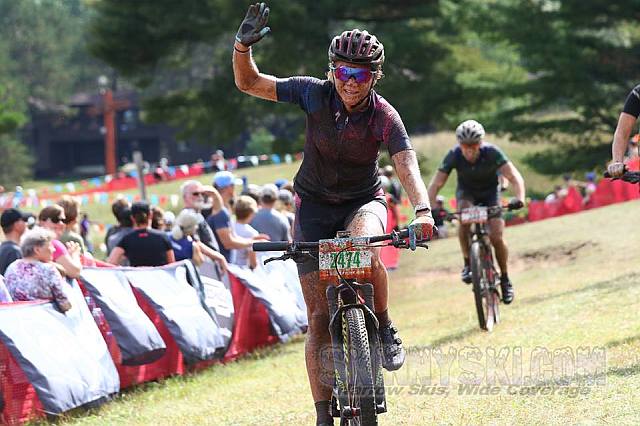 Jenna Rinehart - The six time winner has had a solid summer of riding. Even though she has just one local race in her back yard of Mt Kato, she put on a dominating performance confirming her high end was in place. Jenna will be marked by others and be pushing the pace to test the field most likely.
Leia Rollins Schneeberger - Leia took the win earlier this summer in Ore to Shore, confirming her growth in experience of marathon races and her tweaked training was in place. She will definitely be at the front and has the compete level to push through anything the rolling forested trails of northwest Wisconsin will throw at her.
Sara Kylander-Johnson - Sara has been flying under the radar on the race scene but still logging the miles, it was a bit odd not to see her racing at Maplelag and cheering on the sides at Spirit. But Sara has put health first and that is to be commended. The decision could pay off come race day. Sara is highly competitive when the race starts and her all around skill set will play to her advantage. Sara is one of two female riders, the other being CIndy Bijold, to win both the Short and Fat and 40. The separate start was a factor in her decision to race, according to her husband Scott.
Tracy Paradise - Last years fifth place finisher in the 40 should be back up at the front. I don't know much about her season thus far to be honest but expect another top finish from Tracy.
Madeline Arpin - Madeline nailed a top ten finish last year and will be looking to do the same this year, possibly bettering her 8th place finish.
Rebecca Sauber - Rebecca has been training big this year. Nothing but go big for she and her husband Lonnie!
Melissa Rollins - Melissa is another rider that finished in the top 10 last year and will be looking to be in the same position this year.
Related: New Moon Cheq Course Preview
Forest Riding in the White State Forest
Some of the best mountain biking of the year is in the fall. The fall is also a great time of the year for forest road riding with mountain bikes or a trendy gravel bike. Forest areas that are thick with deer flies in the summer that make for frustrating riding are a now ideal for moving the wheels. One such place is the White Earth State Forest in NW MN. White Earth State Forest has 65 miles of dual-purpose forest roads and 70 miles of snowmobile trails. A recent ride on a spectacular early fall day confirmed this is a hidden gem that provides the opportunity to ride for nearly 100 miles, not hitting the same trail twice on some of the best maintained forest roads in the country. Also making this area unique is the category climbs that often distance to nearly 10 miles of gradual climbing gaining nearly 700 feet that are rewarded by equal descending if planned properly.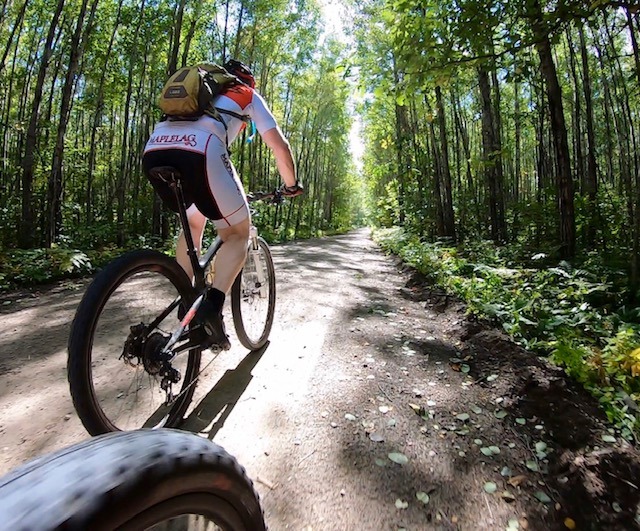 Related: DNR Website with links to maps
Upcoming Events
Fastenal Parallel 45 World Cup-Cross Country Skiing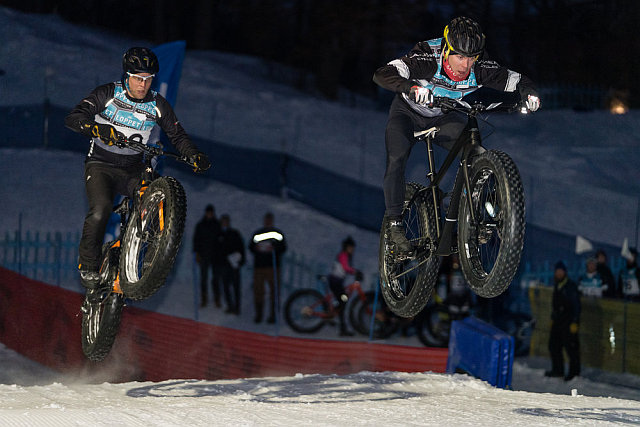 Last week I was in the Minneapolis area and did a lap on the Wirth fast fun flowing mountain bike trails before a meeting to help promote the World Cup sprint finals to be held in March. This will be an incredible event that folks should put on the calendar. There will be a special bike corral for those commuting by bicycle. In addition to the main World Cup sprint final on March 17th, there will be a Fat Bike cross on the weekend leading up along with skiing events.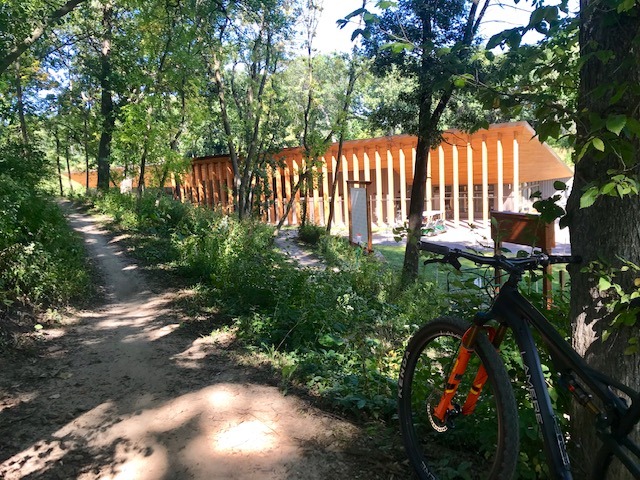 Black's Grove River Crossing-Gnar of the North
October 19th is the date for the Black's Grove River Crossing, a multi division race hosted by the energetic mountain bike community out of Wadena area. The track features old school slow tech hand built singletrack, crossing the Oak river with plenty of roots, steep drops and ups and a hand built rock garden. Always great fellowship in the shelter built with local massive spruce trees under the smoke of a fire and grilled burgers and brats.
Keep the wheels moving!
About the author...

Jay Richards maintains a very active lifestyle. He somehow finds time between managing a full-time resort (Maplelag) and bringing up a family of four boys with his wife Jonell, to compete in both mountain bike and a few cross-country ski races. Jay rides for Maplelag Resort, manages the Maplelag mountain bike team and enters his 29th year of racing and promoting mountain bike races.

Have an event or mountain bike related information to share from the Midwest? Feel free to contact Jay at