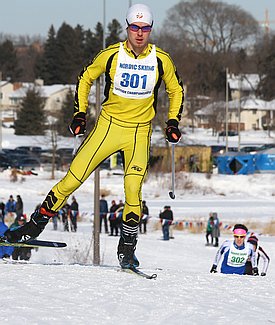 Ryan Mead, Forest Lake, February 8, 2018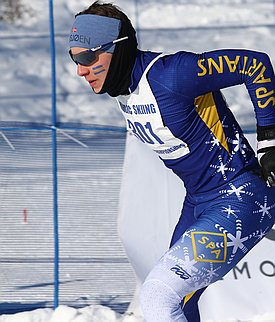 Peter Moore, Section 3, February 6, 2018

Minneapolis Washburn's Emily Covert takes the class AA title, Minnesota State CC Meet, November 4, 2017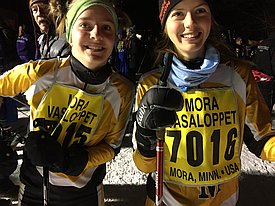 Duluth Marshall skiers under the lights, Mora Invite, December 21, 2017 (Photo: Dave Johnson)
Key Events
Submit your invite...
• No current events.
Team Pages
Submit your team page...
Coon Rapids Nordic Ski Team

Nordic Combined: USA Nordic Announces 2018/2019 Junior National Team
May 31, 2018
USA Nordic has announced that 23 athletes from around the country have been named to the 2018/2019 USA Nordic Junior National Teams in the disciplines of Ski Jumping and Nordic Combined. Included on the roster are two Minnesota siblings, Aiden and Charolette Ripp of Cloquet, MN. Jumpers from Wisconsin, Illinois also made the squad.
Giants Ridge Summer Training Camp Set for June 7-10
May 9, 2018
Coaches Jason Kask and Ellen Anderson will be leading a special multi-day summer training day at Giants Ridge, focused on northern skiers. Rollerskiing, mountain biking, trail running, bounding, and swimming are just some of the activities planned. Package includes lodging, meals and coaching. Register soon, camp is nearly full!
Minnesota High School Coaches Association Spring Meeting Recap
April 23, 2018
Outgoing President Doug Boonstra provides a recap on last weekend's Coaches Association Meeting in Mora. Highlights include: Coach of the Year Mary Claire Ryan, Brainerd; Asst Coach Scott Clark, Andover; and Volunteer(s) Mora Snow Farmers! Robb Lageson was elected as the new President.
2018 Collegiate Tally Board
April 10, 2018
We've started up the 2018 collegiate tally board. Find out where some the seniors are going to be racing next season, and let us know your plans!
MNHSNSCA: Spring Meeting/Voting/Jessie
March 29, 2018
The latest update from the Minnesota High School Nordic Skiing Coaches Association features the schedule and agenda for the upcoming spring meeting (Apr 21), voting for awards and next president, and welcome home event for Jessie.