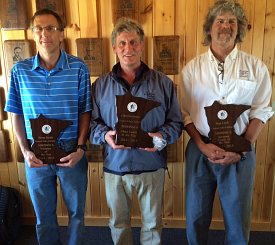 Brent Smith, Glen Sorenson and Ben Croft, C-E-C, take top honors, April 18, 2015 (Photo: Dave Johnson)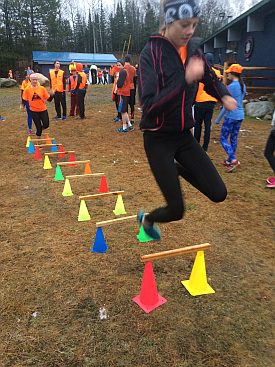 Ely high school team opening day workout, November 16, 2015 (Photo: Tyler Fish)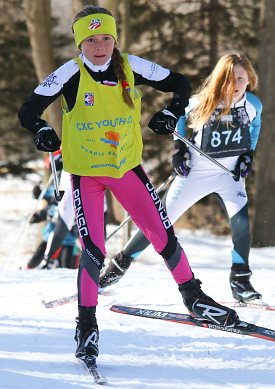 Grace Ping, Midwest Junior Championships, March 8, 2015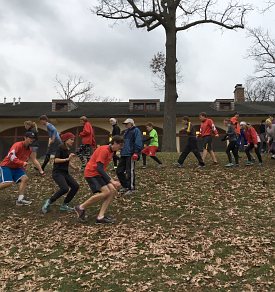 Benilde-St.Margaret's Nordic team working out at Wirth, November 12, 2015 (Photo: Carl Shaffer)
Mesabi East Meet Details Posted
November 23, 2015
Organizers have released the full meet information packet for the 2016 Mesabi East Invite, to be held Jan 9th at Giants Ridge. Mesabi East is the single largest one day high school meet in the nation.
Spotlight: Ely Nordic
November 16, 2015
A cool and damp afternoon for the opening day of practice of the mighty Ely Nordic ski team at their home field of Hidden Valley ski trails. The went through a series of agility drills, dryland technique progression drills and then ended with some ski walking/moosehoofing. Orange was the theme of the day as deer hunting season is still in progress.
Related:
Photoset from Tyler Fish:

Opening Day - 16 photos
2015-16 Minnesota High School Nordic Season Preview
November 8, 2015
While the warm weather might make it seem like ski season is still far off, Minnesota high school Nordic practice kicks off Monday! And in our usual excitement for junior racing, we've got a season preview including our pre-season rankings to get the smack talk started.
Minnesota State CC Results
November 7, 2015
Once again, near perfect conditions Saturday for the Minnesota high school Cross-Country Championships at St. Olaf College in Northfield. In the morning AA races, the Hasz sisters Bethany and Megan of Alexandria finished as the top two runners for the third straight season. The boys AA race was won by Jaret Carpenter of Wayzata in a very competitive field. Team titles went to the Edina girls and Hopkins boys. In class A, Winona Cotter's Grace Ping made history in becoming the youngest CC champion (age 12) in taking the girls title by almost a minute (and posting third fastest time of both A and AA classes). La Crescent's Zack Emery won the boys race. The Perham girls and Mora boys collected the team titles.
Related:
Results: Girls AA, Boys AA, Girls A, Boys A
USSA Seeking Coaches for the U18 and WJC/U23 World Championships
October 16, 2015
USSA is looking for coaches to help with the U18 Trip (NJC) in Estonia late February, and the WJC/U23 Championships in Romania, also late February. You'll be working with the best juniors the US has to offer.
- Feb 22-29 Nordic Junior Countries Competition (JNC - U18 Trip)
- Feb 18-29 Junior World / Under-23 Championships (WJC/U23 Trip)
Application deadline is Nov 8th!
Fall Coaches and State Meet Format Meetings
September 23, 2015
The Minnesota High School Nordic Coaches Association Fall Meeting is set for Saturday, October 24th in Mora. There will also been a meeting on October 5th, in the Twin Cities, to discuss possible State Meet formats.
Midwest Wax Coaches for 2016 Junior Nationals Announced
August 25, 2015
In charge of the Midwest fast skis for the 2016 Junior Nationals, Head Kick Wax Scott Putman and Head Glide Wax Jason Kask were announced recently by CXC Skiing. Applications are still being taken for the six coaching positions. The 2016 Junior Nationals will be in Cable, WI.
International Junior Camp 2015 Recap
August 16, 2015
Zak Ketterson provides an extensive recap and some commentary on his two weeks in Scandinavia, participating in the elite International Junior Camp and training with some of the best juniors in the world.
Heroes of Tomorrow: International training camp in Norway
August 5, 2015
One of the biggest training camps for junior skiers is taking place in Norway, Aug 6-14, with 135 athletes and 25 coaches from 15 nations. Included in the group are Midwest stars Zak Ketterson and Alayna Sonnesyn, as well as development coach Bryan Fish.
Related:
Video from Hailey Swirbul:

Training Camp - Day 2,

Training Camp - Day 3
2014-15 Season Highlights
May 1, 2015
Catch highlights plus full results and photos from the 2014-2015 high school racing season.