Tierney Wolfgram, Class A champion, Minnesota State CC Meet, November 5, 2016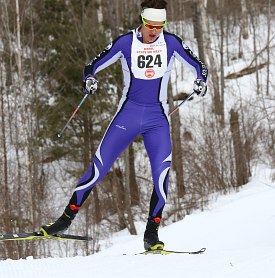 Foss Kerker, Minnesota State Meet, March 16, 2017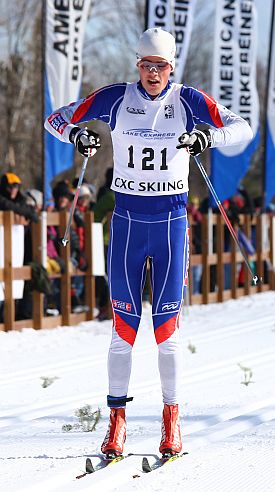 Cullen Chosy, Wisconsin State Championships, February 12, 2017

Zak Ketterson pulling away, CCSA Championships, February 5, 2017 (Photo: Jackie Schneider)
Voting Open for High School Nordic Coach, Assistant Coach and Volunteer of the Year
May 26, 2017
Minnesota High School Nordic Skiing Coaches Association members can now vote on the candidates for the high school coach, assistant coach and volunteer of the year awards. Voting will closed at noon on Wednesday, May 31st.
2016-17 Season Highlights
May 1, 2017
Catch highlights plus full results and photos from the 2016-2017 high school racing season.
High School Nordic Coaches and Volunteer Nominations Due May 1, 2017
April 26, 2017
Nominations for the Minnesota High School Nordic coaches and volunteers of the year for last season, are due before Monday, May 1st.
2017 Collegiate Tally Board
April 5, 2017
We've fired up our annual collegiate tally board, highlighting the plans of Midwest high school seniors has they make decisions on their secondary education and skiing plans.
MN Coaches Assn Spring Meeting Recap
March 30, 2017
A brief recap on the Minnesota High School Coaches Association spring meeting, covering a wide range of topics including wax truce, ski club involvement, pole length, rule adjustments, banquet, and Victor C Dunder deadline.
Endurance United Junior Scholarship Program
March 22, 2017
For athletes interested in the D-team junior program, Endurance Athlete is offering some financial assistance (funded in part from the 55K rollerski event). Funds are limited, so get your application in today.