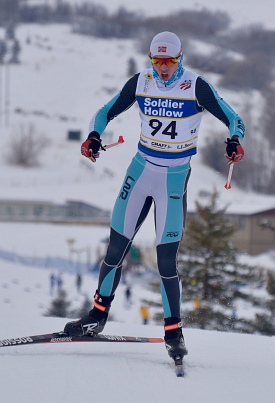 Xavier Mansfield, US Nationals, January 8, 2017 (Photo: Corey Brinkema)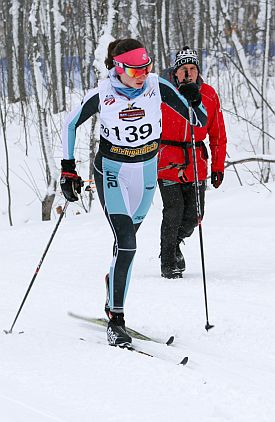 Lucy Anderson, classical sprint qualifying, Houghton CCSA/JNQ, December 17, 2016 (Photo: Jackie Schneider)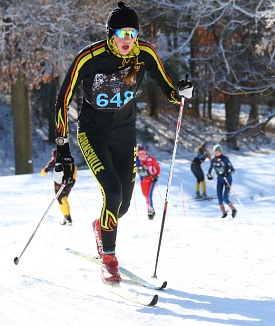 Krista Holmstrom, girls 5K classical champ, Loppet Invite, January 7, 2017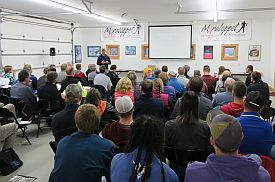 MN HS Fall Coaches Assn Meeting, Vasaloppet Nordic Center, October 29, 2016

Cable JNQ/CCSA Classical Race Coverage
January 21, 2017
Like most of the region, the trail conditions at the new Birkie start were warm and wet for the JNQ/CCSA classical races on Saturday. In the men's 10K, Adam Martin topped the field, over 30 seconds ahead of teammate Fredrik Schwencke with Kyle Bratrud third. Luc Golin from Wayzata HS had an impressive day taking 8th overall as the top junior! Felicia Gesior, CXC, bested the women's field with NMU's Vivian Hett and Nicole Schneider finishing 2-3 (NMU gals took 8 of the top 10 places). A great performance by Ashwaubenon's Abigail Jarzin, taking 8th overall and posting the fastest juniors time in the 5K race. Results linked in now, photos coming later tonight.

Three Rivers Rennet High School Results
January 21, 2017
Will Robertson reports: Slushy conditions on Friday didn't deter skiers from the Three Rivers High School Rennet at Hyland. The event included a mass start 6K skate and mass start 6k classic for both boys and girls. Winona senior Logan Swenson skied away from the pack to take the boys' classic race by almost 30 seconds while Chan-Chaska freshman Nicholas Scheller pulled away in the final kilometer to take the skate title. On the girls' side, eighth-grader Brianne Brewster (Lakeville South) skied to a commanding 30-second victory in the skate race while Prior Lake senior Gabi Brinkley got the victory in the classic race. St. Paul Highland Park took home the team titles for both the boys and girls race.
Skinnyski.com High School Rankings - Round 2
January 16, 2017
It's about time! Finally, we crank out a new set of Minnesota High School Nordic Ski rankings. Kelly Koch takes over the girls top position with Xavier Mansfield holding on tight for the boys.
USSA: USA Names U23 Cross Country Worlds Team
January 16, 2017
USSA has named a team of 10 athletes to represent the USA in the upcoming Under 23 Cross Country World Championships, to be held Jan 30-Feb 5 at Soldier Hollow in Utah. Midwest athletes earning their place on the team include Adam Martin, NMU, Alayna Sonnesyn, UVM, and Nichole Bathe, UAF.
Iola Invite Results
January 15, 2017
John Burke reports: The Iola Skate Invite was held Sunday at the Iola Winter Sports Club and unveiled a new challenging course for the varsity skiers, drawing some rave reviews from the skiers and coaches alike. For the boys, Lakeland and Ashwaubenon fought to a tie in the team competition but Lakeland prevailed on tie-breaker criteria. They were led by Luke and Noah Bodewes in 4th and 5th place and Kav FitzPatrick rounded out their team scoring in 7th place. The individual winner was Cullen Chosy who easily outdistanced the field to take the race. Two Ashwaubenon skiers finished in the next two spots with Jackson Adler beating his teammate, Timothy Spaulding for second. For the ladies, the Wausau Nordic United team continued their winning ways but it was a tight competition for second with three teams within a point of each other. Abby Jarzin of Ashwaubenon won the girls race with Olivia Dreger of Wausau Nordic United and Isabel Seay of Peak Nordic following in 2nd and 3th place.
Mesabi East Invite Results
January 14, 2017
After being postponed by a week due to cold weather, the Mesabi East Invite went off Saturday afternoon at Giants Ridge using a condensed interval start format. Wayzata boys took the team title ahead of Stillwater and Mora; a strong Stillwater girls squad topped the field with Mesabi East and Forest Lake rounding out the top three. Taking the freestyle titles were Mitch DeLong, Copper Country (Michigan), and Stillwater's Libby Tuttle. Striding to classic victories were Luc Golin, Wayzata, and Hannah Bettendorf, Proctor. Even with the rescheduled date, more than 750 skiers turned out.
ABC Relays Coverage
January 14, 2017
ABC Relays drew over 250 skiers for some fast racing on the snowmaking trails at Theodore Wirth Saturday morning. Armstrong boys and Henry-Sibley girls won the relay titles. Posting top splits: Ben Olson boys classic, Tres Green boys freestyle; Lucy Anderson girls classic, Dottie Anderson girls freestyle. Results posted along with photosets.
USSA: Junior World Cross Country Team Named
January 13, 2017
Twelve cross country ski racers have been named to the team that will represent the USA at the Junior World Championships Jan 30-Feb. 5 at the Soldier Hollow Nordic Center. The team is missing a Midwest representative for the first time in quite a while -- Minnesotan Abigail Drach tied for the final women's position, but lost out on the tiebreaker.
Related:
Nordic Combined: USA Names Junior World Champs Combined Team
Junior Nordic Countries Competition (U18) Team Named
U18/World Juniors/U23 Trip - Nominations
U18/World Juniors/U23 Trip - Final Teams
US Nationals: Freestyle Sprints
January 12, 2017
The racing action at Soldier Hollow on Thursday wrapped up with freestyle sprint qualifiers. This final event was not considered part of the championships, but held as a part of selection criteria for the FIS Nordic World Ski Championships. Posting top times on the day were Dahria Beatty (Canada), Hannah Halvorsen, and Caitlin Gregg for the women, and Jesse Cockney, Julien Locke, and Knute Johnsgaard, all Canadians, were top three men. Logan Hanneman was the first American, finishing 4th.
US Nationals: Classical Sprints Coverage
January 8, 2017
A day of ups and downs at US Nationals Sunday as the weather threw a curveball, bringing in damp conditions that made kick waxing difficult, and glazed the trails for some fast conditions. A number of skiers took spills, resulting in some wide variations in the results. The men's senior finals saw another Midwest native, Kevin Bolger, collect a national title as sprint champion! NMU's Fredrik Schwencke made it to the finals as well, finishing 6th. Jennie Bender won another womens title. Annie Hart skied strong, making the women's final and finishing 5th. Wayzata native and NMU skier Nicole Schneider qualified for the junior sprints and rode that all the way to the final, taking the junior girls title! Canadian Ryan Jackson won for the junior boys. Other top Midwest results: Ben Saxton top qualifier, mens quarterfinals, Andrew Egger and Luke Brown mens quarterfinals; Rosie Frankowski, Felicia Gesior, Nichole Bathe, womens quarterfinals; Zak Ketterson and Will Bodewes junior men quarterfinals; Abigail Jarzin, junior girls quarterfinals. Results linked in, plus photos from Jackie Schneider and

Karen Brown.
Related:
US Nationals Points List (after 2 races)
USSA: Bolger and Bender Take Wet Classic Titles
Loppet Invite Coverage
January 7, 2017
The Loppet Invite gave a test drive to a possible new State Meet format on Saturday morning at Theodore Wirth. The day started with team sprint semi-finals, then classical 5K and freestyle 5K, before finishing with the team sprint finals. Krista Holmstrom, Burnsville, and Ryan Steger, Eagan, won the classical races, Sarah Olson, Blaine, and Patrick Acton, Eagan, were the skate champs. Minneapolis Southwest swept the sprint relay finals. Results linked in, along with some big photosets.
Mesabi East Invite Postponed to Jan 14th
January 5, 2017
Due to forecast cold weather, the Mesabi East Invite scheduled for this Saturday has been rescheduled to next Saturday, Jan 14th. Teams will need to re-register for the event.
NNF Announces $106K in Cross-Country Ski Funding
January 2, 2017
The National Nordic Foundation is excited to kick off the New Year by announcing $106,000 in cross-country funding, allocated by the Board of Directors for five different winter 16/17 Pillar Projects. Projects include the U18 Nordic Junior Countries Championship, U23/World Junior Skiing Championships, addition US Ski Team support for World Cup and World Championships, and live streaming coverage of the U23/World Juniors.
Biathlon: Teams Named for Youth/Junior International Competition
December 30, 2016
The U.S. Biathlon International Competition Committee has announced the Youth (U19) and Junior (U21) Biathlon World Championship Team, as well as the team for the IBU Junior Cup and the IBU Junior European Championship. Several Minnesota athletes earned team selections: Amanda Kautzer, Vasek Cervenka, Siena Ellingson, and Cameron Christiansen.
Related:
USSA Formalizes Training Partnership Programs
SEC Conference Meet Coverage
December 20, 2016
The powerhouse SEC conference held their first battle of the season on Tuesday at Elm Creek. Shad Kraftson, coming off just one day of rest from the weekend JNQs, still managed to pull ahead in the freestyle portion of the 10K skiathlon format event to take the victory for Stillwater. Siri Bohacek, Stillwater, controlled the girls skiathlon from the opening 500 meters and won the girls race by just over 15 seconds. Both team titles also went to Stillwater. Results and photos posted.
Skinnyski.com High School Rankings - Round 1
December 19, 2016
With the opening JNQ, and not much other data to work with, we take a crack at our first round of in-season rankings. Xavier Mansfield and Erin Moening still hold the top spots, but there has already been some shuffling in the top ten individuals.
Houghton CCSA/JNQ: Freestyle Distance Coverage
December 18, 2016
Another snowy day in Houghton with very crisp temperatures as skiers raced in freestyle distance events for the JNQ/CCSA series on Sunday. In the mens 15K, Kyle Bratrud returned to top form taking the title just ahead of Adam Martin, NMU, with Zak Ketterson, also NMU, third. In the womens 10K, Annie Hart completed the weekend sweep dominating the womens race, as Abigail Drach edged out Vivian Hett, NMU, for second place. In the best of the high school racers, Xavier Mansfield was 7th overall for the boys with Abigail Jarzin 9th for the girls. In the U16 races, Sarah Olson and James Schneider led the field.
Houghton CCSA/JNQ: Classical Sprints Coverage
December 17, 2016
With fresh snowfall the weekend JNQ/CCSA series opened Saturday with classical sprint events. As expected, Northern Michigan dominated the tally board, but it was a pair of Midwest seniors from SMS, Ben Saxton and Annie Hart that captured the sprint titles with freshman Zak Ketterson and sophmore Sarah Bezdicek taking second and top collegiate honors. In the U20/U18 JNQ sprint final, Jack Christianson, CSS, pulled away from the field for the boys victory while Jenna Parent, Nordicwerks, topped a tough field for the gals. In the U16 final, Henry Hall beat Noah Bodewes by a hair (photo) and Leah Rudd won an all-LNR final for the girls.
Metro East Conf Results
December 14, 2016
Scoring the first conference racing results of the season, Metro East skiers competed Tuesday at Lake Elmo in a 5.6K freestyle event. Jamie Herridge, Henry-Sibley, dominated the field with a time of 17:31! Trevor Caflisch, Hastings, posted the best boys time at 18:40. St. Thomas boys and Henry-Sibley girls won the team scoring.
Related:
More High School Results

CXC Year End Fundraising Drive
December 8, 2016
CXC is hoping you'll show your support this holiday season with a donation to their year-end fundraising driving. This is a 1:1 challenge grant, so if they can raise $30,000 they'll get a dollar for dollar match from generous benefactors.
Mesabi East Invite Forms Now Available
November 30, 2016
The huge Mesabi East Invite has published the event information, including online registration. The mega-race is scheduled for Saturday, Jan 7th, but teams will need to submit their forms before Christmas break to ensure a spot on the starting line.
CXC On Snow Juniors Camps Registration Closes Friday
November 15, 2016
Registration for CXC's On Snow Juniors Camp in Ironwood, Nov 22-27, closes this Friday, Nov 18th. The junior camp will feature on-snow technique and strength sessions, race preparation and strategies for the December JNQ races.
Minnesota High School Nordic Skiing Preview and Preseason Rankings
November 14, 2016
With the official start to the Minnesota High School Nordic Skiing season we post a season preview, touching on a few changes on tap, and then take our first crack at the rankings.
Spotlight: Cloquet-Esko-Carlton Practice
November 14, 2016
The Minnesota High School Nordic Skiing season kicked off Monday with the opening day of practice. We visited the growing program at Cloquet-Esko-Carlton (C-E-C) where Hall of Fame coach Glen Sorenson along with assistant coaches Ben Croft, Brent Smith and Arne Maijala herded the latest crop of more than 40 skiers through sign up, general practice and racing info and even a few hill bounding demonstrations. C-E-C has two top ten State Meet returning skiers in Anja Maijala and Erika Fox, along with a solid boys team seeking their own State Meet appearance.
Related:
Photoset:

54 photos
Photoset:

Top Picks (high res)
Photoset from Dave Johnson:

Cloquet legend Joe Nowak Visitation
Endurance United JNQ Informational Meeting Nov 14th
November 10, 2016
Endurance United will be hosting an informational meeting on the Junior Nationals Qualification series competition this coming Monday, Nov 14th in St. Paul. Any juniors (and parents) interested in learning more about the JNQ series are encouraged to attend.
Minnesota State CC Meet Coverage
November 5, 2016
Above average temperatures, almost balmy by afternoon, made for a great day of spectating, but a little rough on the racers in the 2016 Minnesota State High School Cross-Country Championships, held at St. Olaf College in Northfield. The opening event, the boys class A race, featured a very tight battle with Mound Park Academy's Declan Dahlberg taking the victory as the top seven all finished within 10 seconds. Tierney Wolfgram, Math and Science Academy, sailed away with the girls class A crown, winning by over 30 seconds. The Mora boys and Fairmont girls took the team titles. In the afternoon boys AA race, Edina's Patrick Roos used an impressive final kick to move from third to first and the win. Eighth grader Anna Fenske, Farmington, pulled away from teammate Lauren Peterson in the final kilometer to top the girls AA field. Wayzata boys added another team title to their trophy case, with Edina taking the girls victory.
Related:
Photoset:

Boys A - 148 photos,

Girls A - 176 photos,

Boys AA - 149 photos,

Girls AA - 185 photos
Photoset:

Class A - Top Picks (high res),

Class AA - Top Picks (high res)
Results: Boys A, Girls A, Boys AA, Girls AA
NNF: Cosmic Shift in US Skiing
November 3, 2016
Noah Hoffman shares his appreciation for the National Nordic Foundation (NNF), and how it has made a huge impact in the growth and development of Nordic racing.
Related:
Drive for 25 Nordic Skiing
Drive for 25 Nordic Combined/Ski Jumping
World Junior Championships and U18 Nation Trips Staffing
November 1, 2016
Staff positions for the World Junior Championships (WJC) and the Nordic Countries Junior Competition (U18) are posted. The WJC will be held at Soldier Hollow, Jan 26-Feb 5, with the U18 in Orkdal, Norway (near Trondheim), Jan 22-Feb 1. Application deadline is Nov 12th.
- World Junior Championships application
- Nordic Countries Junior Competition (U18) application
Marshall Holiday Ski Camp
October 31, 2016
The 11th Annual Marshall Holiday Ski Camp will be held Dec 28-30 at Snowflake Nordic Ski Center in Duluth.The camp is designed for kids ages 5­-12 and is supervised by the Marshall Nordic Ski Team Coaching Staff with instruction provided by the members of Marshall Nordic Ski Team and Alumni.
MN HS Nordic Ski Coaches Fall Meeting Recap
October 29, 2016
There was a strong turnout Saturday morning in Mora for the annual Minnesota High School Nordic Ski Coaches Association Fall Meeting, where a spirited discussion was held on a new State Meet proposal, along with approval of a new waxing policy. Read a full recap, including some initial plans for changes to high school skiing policies at Wirth this winter.
Related:
Pine Journal: Lumberjacks Nordic coach headed into Hall of Fame
Drive for 25 Matching Grant Challenge
October 20, 2016
Make your donate worth double -- contribute now to the NNF Drive for 25 campaign and help them earn a $25,000 match grant. And check out their great promotional video!
Related:
Video:

Why Drive for 25?
MN High School Fall Coaches Meeting Update
October 17, 2016
The Minnesota High School Fall Coaches meeting is coming up at the end of the month, and they are requesting RSVPs for those planning to attend.
State of MN HS Skiing Round Table Meeting Oct 16th
October 13, 2016
Doug Boonstra, Eden Prairie coach and President of the Minnesota High School Nordic Ski Coaches Association is hosting a round-table discussion this Sunday evening, Oct 16th, at Eden Prairie high school. A wide range of current events are on the agenda.
Drive for 25 Begins!
October 10, 2016
The National Nordic Foundation kicked off their Drive for 25 event on Monday. The event is the primary fundraiser for NNF, supporting junior and elite skier development across the US and internationally as well. Become an ambassador or find your favorite skiers on the fundraising list and kick in today!
Ramsey County High School Scheduling Meeting Oct 19th
October 11, 2016
Ramsey County will hold their fall high school coaches practice and meet scheduling meeting on Wednesday, Oct 19th, at the Parks and Rec Dept. The high school meet scheduling is done at the meeting, so it is important for team coaches to be in attendence.
MN High School Coaches Awards and Inductees
October 2, 2016
The Minnesota High School Nordic Coaches Association has announced the 2016 awards for Coach, Asssitant Coach. and Volunteer of the Year, as well as the Hall of Fame Inductees. There will be a recognition ceremony at the annual Fall Coaches Meeting Oct 29 in Mora.
Related:
MNHSNSCA 2016 Hall of Fame Inductees
MNHSNSCA 2016 Coach/Asst Coach/Volunteer of the Year Recognitions
MNHSNSCA State Meet Proposal Updates
September 30, 2016
Doug Boonstra, President of the Minnesota High School Nordic Coaches Association (MNHSNSCA) has posted revisions to the State Meet proposal that features a new Team Sprint and multi-day format. And find details on the State of MN HS Skiing round-table discussion, planned for Oct 16th.
Related:
State of MN HS Skiing Round Table Update
2015-16 Season Highlights
May 1, 2016
Catch highlights plus full results and photos from the 2015-2016 high school racing season.