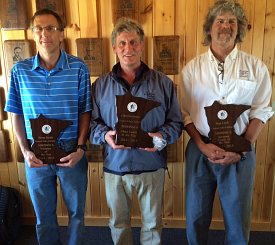 Brent Smith, Glen Sorenson and Ben Croft, C-E-C, take top honors, April 18, 2015 (Photo: Dave Johnson)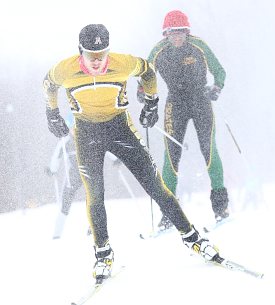 Coming out of the snowmist, NWSC Meet, December 16, 2014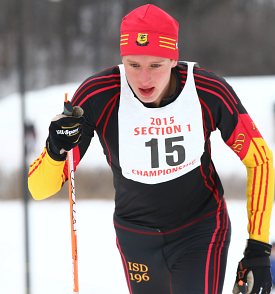 Ryan Steger, Section 1, February 3, 2015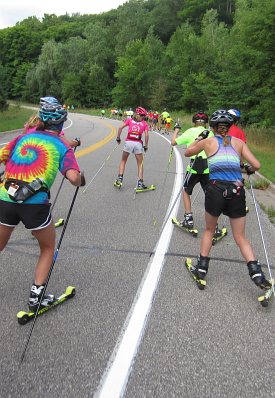 SCAR rollerski in Afton, July 27, 2014
Key Events
Submit your invite...
• No current events.
Team Pages
Submit your team page...
Regional, National and International Elite Camps Announced
April 24, 2015
USSA and NNF have a busy summer planned again in the development of the US juniors Nordic skiing. Regional Elite Group camps across the country have been scheduled, and new this year, an International Junior Camp in Sweden and Norway! Watch for more details, including nominees, later this spring.
Related:
National Nordic Foundation
U16 National Camp Named
April 22, 2015
Nominees for the summer U16 Camp have been named, and on the list are a number of Midwest skiers including Erin Moening, Anna Johnson, Abigail Jarzin, Siri Bohacek and Kelly Koch. The elite camp will be July 24-31 in Burlington, VT.
Section 7 Coaches/Assistants Honored at the MSHSNSCA Season Awards
April 21, 2015
Cloquet-Esko-Carlton lead the way in the Minnesota State High School Nordic Skiing Coaches Association awards with Glen Sorenson named Coach Of the Year, Ben Croft, Assistant Coach Of the Year and Volunteer of the Year Brent Smith.
Midwest Junior Committee Meeting this Saturday April 25th
April 21, 2015
The Midwest Junior Committee will be meeting this Saturday, Apr 25th, at Dooley's Pub in Eau Claire. A revised agenda has been published, with recent topic additions on JNQ course difficulty and review of organizing committee and contract timer standards.
NNF 2015 in Review - Part I: The Results
April 17, 2015
The National Nordic Foundation reflects on the past season, the tremendous amount of success aboard, all possible by the support your donations made possible.
Coaches Spring Meeting
April 15, 2015
The annual spring meeting for the Minnesota High School Nordic Ski Coaches Association is this Saturday, April 18th at the Vasaloppet Nordic Center in Mora. Topics on the agenda include state meet survey, eligibility, state meet review, and meet standards.
2015 Collegiate Tally Board
April 14, 2015
The 2015 edition of the Collegiate Tally Board is online! Find out where the Midwest senior skiers are heading next fall, and send us your plans.
Jessie Diggins Welcome Home Reception April 20th
March 29, 2015
Welcome home Jessie Diggins from her highly successful 2014-15 skiing campaign on Monday evening, April 20th at the Stillwater high school. Diggins will sign posters and give a presentation on her season, including the historic silver medal performance at the World Championships.
Victor C. Dunder Deadline March 31st
March 27, 2015
Nominations for the Victor C. Dunder awards need to be submitted by Tuesday, March 31st. The Dunder award provides skiing equipment to help first-year skiers.
Midwest Junior Committee Meeting Saturday April 25th
March 25, 2015
Planning for the 2015-16 juniors season will be getting underway with the spring Junior Nationals committee meeting on April 25th in Eau Claire, WI.
Canadian Nationals: Freestyle Races
March 21, 2015
The Canadian Nationals have been going all week, but on Saturday a number of Midwest skiers traveled across the border to compete in the mass start distance skate races. Zak Ketterson continued his strong season, winning the U18 15K freestyle, Luke Brown made the podium with a 3rd place in the U20 30K and Erin Moening was 6th in the U16 7.5K.
Related:
Results: Freestyle Distance
All Canadian Nationals Results
Moose Nordic Urban Sprint Championships
March 18, 2015
Luke Brown reports: The Moose Nordic Urban Sprint Championships on Wednesday showed the power of teamwork and belief by overcoming the lack of snow in the Twin Cities. Out of a pile of ice and snow on the St. Thomas campus arose a technical and sturdy sprint course that challenged the skiers with cornering, jumps, and endurance. The defending champion, Tamer Mische-Richter, led the group after the qualifier round; however, Zach Goldberg of Dartmouth College proved victorious after the competitive head-to-head rounds and took home the coveted championship.
Related:
Photoset from Luke Brown:

38 photos
Junior Nationals: Classical Relays Coverage
March 14, 2015
The final day of racing at the 2015 Junior Nationals featured classical relays. Tough snow conditions had the organizers modifying the distance and times for the events, with all races switching to a 3 x 2.5K format. Starting off, leading FU16 girls took 2nd. The top MU16 boys finished 12th. The FU20 gals crushed, taking 1st and 4th! The FU18 girls also podium, finishing 3rd. And finishing it off, the MU18 boys take another team title!
Junior Nationals: Classical Coverage
March 13, 2015
Junior Nationals dried out and brought the heat back for Friday's classical races at Auburn Ski Center in Truckee. In the boys U20 race, Ian Torchia took a tumble on the final downhill while leading, still pulled out 2nd! The finish of the boys U18 came down to a big sprint with Zak Ketterson getting 5th (4th American). Vivian Hett skis strong for the Midwest, taking 2nd in FU20 with Anna French 4th! Anders Sonnesyn was the top MW skier at 26th in the U16 boys. Anna Johnson provided the most dramatic finish of the day, rocking the final straightaway to nearly steal first, finishing 2nd in the FU16 by only 3/10 of a second!
Related:
Junior Nationals: Classical Race Reports
Junior Nationals: Freestyle Coverage
March 11, 2015
A rain/snow mix made for tough racing conditions Wednesday at the Auburn Ski Club for the Junior National freestyle races. In opening U16 races, Abby Jarzin and Kelly Koch notched top ten finishes, placing 7th and 10th. Patrick Acton was the leading Midwest boy at 25th. Vivian Hett, NMU, crushed the FU20 field, winning by 15 seconds to take the national title. Sarah Bezdicek and Allison Ternes were 4th and 5th. In the FU18 race, Nicole Schneider was back on form taking 5th, with Abigail Drach 6th, and Margie Freed 9th. Ian Torchia hammered out a great race to finish 2nd in the U20 men with Luke Brown 4th. In the final race, Zak Ketterson narrowly missed the big U18 title, finishing 2nd by five seconds. Mack FitzPatrick nailed 5th, with Leo Hipp 9th. Results linked in, photos from Caroline Brisbois, Jackie Schneider, Mindy Benton, Keely Jackson and Jennifer Brisbois.

Plus photos from the midweek awards.
Related:
Results: Preliminary semi-live results
Twitter: Skinnyski race updates
Junior Nationals: Freestyle Race Reports
Junior Nationals: Freestyle Sprints Coverage
March 9, 2015
While the day started a little windy and chilly, the sun broke out and temperatures rose quickly for the first day of competition at Junior Nationals in Truckee. In the morning qualifying, Midwest skiers did well with a lot of skiers advancing! Some of the top qualifying: MU20 Jon Delaney 5th, Sam Boardman 6th; MU18 Zak Ketterson 2nd, Cory Rouw 9th; FU20 Vivian Hett 3rd, Allison Ternes 8th; FU18 Claire Benton 10th; FU16 Anna Johnson 4th, Erin Moening 5th, Siri Bohacek 6th. Sprint finals: Zak Ketterson finishes 2nd in grueling MU18 final! Sarah Bezdicek takes 3rd in the FU20 A final, Vivian Hett 4th. In the FU16 final, Erin Moening takes lead into stadium but is edged out at the line to finish 2nd! Photos from parents Jennifer Brisbois, Jackie Schneider, Mindy Benton and

Keely Jackson.
Related:
Video:

Opening Ceremonies Parade
Junior Nationals: Sprint Race Reports
Junior Nationals: Freestyle Sprints Start List Posted
March 9, 2015
After some delays, the sprint list for Monday's freestyle sprints has been posted. Midwest spectators: remember to add two hours to the times for Central timezone.
Related:
Junior Nationals Preview
Section Shakeup 2015
March 7, 2015
The Minnesota high school league has performed their biennial competitive section assignment review, and for Nordic skiing, some major changes are on the horizon for the 2015-16 season! We've got a breakdown on the changes along with some commentary for each new section alignment.
Midwest Junior Championships Classical Coverage
March 7, 2015
The Midwest Junior Championships is a two day celebration of youth skiing, and a culmination the Skiwerx and Youth Cup series, with carnival of events at Theodore Wirth. We dropped in for the classical races on Saturday, as temperatures climbed into the upper 30s under bright skies.
Related:
Skiwerx, Cities Cup, MNSA Awards Banquet Coming up March 22nd
Junior Nationals Preview
March 3, 2015
Junior Nationals starts on Monday, March 9th, at the Auburn Ski Club near Soda Springs, California. The Midwest is bringing one of their biggest squads ever, packing a lot of podium potential! We've posted a preview of the team along with a collection of resources to help follow all the action.
Midwest Junior National Team Naming
March 1, 2015
The final roster for the Midwest Junior National team has been released. The team will bring 54 athletes, along with a big coaching/support staff to Soda Springs, CA, for the Junior National competition the week of March 8-14.
Related:
Midwest U16 Championships Team Named
Junior Nationals: Course Update
February 26, 2015
Very sparse snow conditions are forcing Junior Nationals organizers to scale back courses and limit access to the trails as they prepare for the 2015 event in less than 10 days. Skiers going out early may need to plan for alternate workouts.
Midwest Junior Championship and Festival
February 23, 2015
The Midwest Junior Championship and Festival is March 6-8 at Theodore Wirth Park in Minneapolis. The event offers a huge range of events including relay races, SkiCross obstacle course, paintball biathlon, tug of war, scooter soccer, and of course, classical and freestyle ski races.
Minnesota HS Nordic Ski Coaches Association Award Winners
February 22, 2015
The Minnesota High School Nordic Ski Coaches Association announced the winners for coach, assistant coach, and volunteer of the year, at their banquet back on Feb 11th. Cloquet-Esko-Carlton swept the awards with Glen Sorenson coach, Ben Croft asst coach, and Brent Smith, volunteer.
Minnesota State Meet Recap
February 16, 2015
We take a look back at last year's Minnesota high school championships, the State Meet at Giants Ridge. We highlight the strong performances, some of the surprises, movers and shakers, and review our not-so-hot predictions.
Junior Birkie Closes Thursday Evening
February 16, 2015
Registration for the Junior Birkie will close Thursday evening, so don't delay in your registration (no race day registration!). The Junior Birkie starts Friday morning near the Hayward Primary School and finishes on Main Street.
Midwest Junior National and U16 Championships Teams Released
February 15, 2015
The preliminary list for the Junior Nationals and U16 Championships (NENSA) was released following the completion of competition on Sunday. Expect changes to this list as athletes decline and possible additions are named.
Related:
Midwest Junior Nationals Points Updated
Junior Nationals Trip Information
U16 Championships Trip Information
Mayor's Challenge JNQ Freestyle Sprints Coverage
February 15, 2015
A bit warmer, and a lot less windy conditions prevailed Sunday for the Midwest JNQ finale as skiers participated in freestyle sprint races at Wirth. Sarah Bezdicek, recently crowned State champion, had no problems powering away from the womens elite field to take add the sprint title her collection this week. In the mens elite sprint, Sam Boardman proved to be best of the bunch, cruising in for the mens victory. Patrick Acton and Erin Moening took the U16 titles. Results posted, along with a photoset from the elite sprints.
Midwest Junior Nationals Points Updated
February 15, 2015
The 2015 Midwest Junior Nationals points from the JNQ series have been tallied and posted. The preliminary team was announced at 3:30 pm, but is not being made public at this time.
World Cup Oestersund: Freestyle Races
February 15, 2015
Wrapping up the final competition before the World Championships later this week, top World Cup skiers were battling in a 10K and 15K freestyle races is Oestersund, SWE on Sunday. Sweden's own Charlotte Kalla provided hope that the Norwegian's won't sweep the World Championships as she won the womens 10K, finishing ahead of four Norwegians, including Marit Bjoergen. Jessie Diggins had good tune-up numbers finishing 17th. Norway's KROGH Finn Haagen Krogh won the mens 15K, with Noah Hoffman, coming off a broken leg in late November, to finish 38th in his first race back!
Related:
Results: 10K, 15K Freestyle Results
Slavic Cup: Nove Mesto Classic Races
February 15, 2015
The US juniors continued competition in the Slavic Cup series in Nove Mesto na Morave, CZE, on Sunday, racing in revised classical races. The US women posted strong results across the board in the 10K with Julia Kern hitting the podium in third place, followed by Katharine Ogden 4th and Annie Hart 5th. Paige Schember was 20th. In the mens 15K, Zak Ketterson was 16th.
Related:
Results: 10K, 15K Classical Results
Mayor's Challenge CCSA/JNQ Freestyle Results
February 14, 2015
Cold temps and strong winds combined for some nasty conditions Saturday morning at Theodore Wirth, resulting in a two hour delay for the start of the CCSA/JNQ races. Erik Soderman and Fredrik Schwencke posted the two sub 20 minute 10K times to take first and second place for NMU, with CSS's Paul Schommer collecting third. Alice Flanders, MTU, was flying as well, the only women to go under 14 minutes in the 5K for the win. Jordyn Ross, NMU, and Sharmila Ahmed, St. CSS, rounded out the podium. Top U20 times went to Tom Bye and Nichole Bathe. U18 victories for Liam Schmelzle and Rocci Wohlk. The top U16 times were posted by Kelly Koch and Luc Golin.
Related:
CCSA: Flanders, Soderman Win Freestyle Titles at CCSA Championships
Michigan High School State Championships Results
February 14, 2015
Michigan High School State Nordic Skiing Championships held their distance races on Friday, featuring a morning classical race followed in the afternoon with a pursuit start freestyle race. Mitch Delong, Copper Country, held off teammate David Jasczczak by nine seconds to win the boys pursuit title. Sarah Goble, Lake Michigan, dominated the girls events posting the best classic and skate times and winning by over a minute.
Slavic Cup: Ben Saxton Wins Nove Mesto Freestyle Sprints
February 14, 2015
Ben Saxton continued his hot streak in sprinting collecting a victory in the Nove Mesto freestyle sprints in the Czech Republic on Saturday, as part of his final tuneup for the World Championships. Zak Ketterson had a good run as well, finishing 12th. Annie Hart made the womens final, taking 4th, with Paige Schember posting 6th!
Related:
Results: Freestyle Sprints
Midwest Junior Nationals Updates
February 13, 2015
The Midwest Junior National team will be named on Sunday, after the sprint races at Theodore Wirth. We've collected some updates, including snow conditions at Truckee, as well as Midwest JN trip information (forms, costs, etc), as well as the selection process.
Minnesota State Meet Coverage
February 12, 2015
Bright sunshine and light winds made the subzero start for the boys skate race at Giants Ridge for the Minnesota State Meet seem quite tolerable. Leo Hipp, Forest Lake, hit the course flying to take a 17 second lead after the morning skate race. Five boys will start within a second of each other in pursuit of Hipp this afternoon. Sarah Bezdicek, Osseo, dominated the girls skate field, posting a nearly 30 seconds faster than Margie Freed, Eastview, with Wayzata's Michaela Keller-Miller another 16 seconds back. In the afternoon classical pursuit, Leo Hipp held off a late charge by Sean Cork to take the boys overall title, with Cory Rouw winning a sprint of the pursuit pack for third. Sarah Bezdicek brought the power again, hammering away to decisively take the girls title, With Michaela Keller-Miller second, and Margie Freed holding on for third. The Forest Lake and Wayzata girls repeated as team champions both winning by nearly 30 points. Results posted, along with photosets from all four races.
Related:
Pioneer Press: Osseo's Sarah Bezdicek too fast to catch at state meet
Star Tribune: Nordic skiers from Forest Lake, Osseo survive cold to win state titles
Pioneer Press: Leo Hipp of Forest Lake wins boys state title
State Meet Lost and Found Items
Charlie Banks Relays Results
February 11, 2015
Enjoying relatively warm, but blustery conditions at Giants Ridge Wednesday, teams from across Minnesota competed in the Charlie Banks Coaches Association Relays. Fielding a team with two eighth grade striders, the Armstrong girls topped Ely by 15 seconds for the title. The boys relay race was even closer, as Osseo edged out Grand Rapids by nine seconds, with Stillwater just another six seconds back.
Minnesota State Meet Preview
February 9, 2015
With perhaps the specter of cold weather again looming over the Minnesota State High School Nordic Championships, we present our annual preview guide. Find out the changes in store, check out our favorites and predictions, as well as some opinions from the last year's champions! The start lists are posted, and we'll be on-site Thursday providing same day coverage.
Related:
Live State Meet Radio Coverage from WELY 94.5 FM
Racing Outlook
Minnesota State Meet Music Survey
Minnesota State Meet Start Time Delayed Due to Cold Weather
Candidates for the Coach, Assistant Coach and Volunteer of the Year

Wisconsin High School Nordic Championships Classical Results
February 8, 2015
The Wisconsin High School Nordic Championships Sunday featured a classical pursuit format, based on the finish times in Saturday's freestyle races. Will Bodewes, Lakeland, overcame three second deficit to Dan Delestry, Chippewa Valley, and went on to win by nearly 30 seconds. The girls race was even closer, as Alissa Niggemann, Independent, made up a 14 second gap to Abigail Jarzin, Ashwaubenon, and appeared to have the race well in-hand until a crash on the final descent greatly reduced the margin. Niggemann recovered in time to collect the victory by less than two seconds. Team titles were awarded to the Lakeland boys and Peak Nordic girls. Results linked in, plus photosets from the pursuit races.
Wisconsin High School Nordic Championships Freestyle Results
February 7, 2015
The Wisconsin High School Nordic League held their freestyle championship races on the Telemark trails in Cable Saturday. Dan Delestry, Chippewa Valley, topped Will Bodewes, Lakeland, by three seconds for the top time on the day. In the girls race, ninth grader Abigail Jarzin, Ashwaubenon, was first with Alissa Niggemann, Independent, just 14 seconds back. With such close margins, all eyes will be on Sunday's pursuit start classical races.
Skinnyski.com High School Rankings - Final
February 6, 2015
We post our final take on the Minnesota High School Nordic skiing rankings, with the State Meet handing out the official titles next Thursday. The number ones remain, but a fair amount of shaking in the rankings after conference and section championships.
Related:
Minnesota State Meet Music Survey
Minnesota Section 7 Championships Coverage
February 5, 2015
Racing on the State Meet courses at Giants Ridge, the northern powers fought for the Section 7 titles Thursday. The little Mesabi East girls team pulled off an amazing three point victory over traditional power Duluth East for the team title. Anna Johnson led the way for Mesabi East, taking the individual title. Duluth East boys defeated Mesabi East to take the team title by nine points. Mesabi East's Reed Melicher and Duluth East's Keaton Long had an epic battle for the overall, as Melicher bested Long by just over a second to win the boys title. The Mesabi East boys and Duluth East girls were the runner up teams qualifying for State. Full results posted, along with photos from Joe Bianco.
Minnesota Section 2 Championships Coverage
February 5, 2015
Wrapping up four days of high school racing at Theodore Wirth, Section 2 championship titles were decided on Thursday. Wayzata girls, missing star Nicole Schneider (racing overseas), still had plenty of star power to take the team title, led by Anna French and Michaela Keller-Miller going 1-2. Young gun Anders Sonnesyn, Wayzata, cruised to the boys title in posting the top classic and skate times. The boys team race was extremely close, as Eden Prairie took 4,5 and 7,8 positions, but Wayzata counter-punched with the 1, 3, 9, 10 spots, giving them the single point victory. The Eden Prairie girls completed the runner up sweep. Full results posted, photos coming this evening.
Minnesota Section 4 Championships Coverage
February 5, 2015
Bright sunshine reigned on Thursday for the final day of section racing in Minnesota. Section 4 held their championship on the snowmaking loop at Hyland, using the full 5K. Rocci Wolhk, Forest Lake, kept her dominating streak going as she took the girls title by over a minute and half. The Stillwater girls powerhouse dominated the standings, as they collected second thru sixth positions to easily take the team title. Leo Hipp, Forest Lake, won the boys crown, receiving the most pressure from his own teammate, Quinn Duffy, just 20 seconds back. The Forest boys pulled off an improbable victory for the team title as they were missing one of their star four, with teammates exceeding expectations to just top a Stillwater crew that posted five in the top eight. Runner up team titles went to the Forest Lake girls and Stillwater boys. Full results posted, along with photos of the morning classical races.
Minnesota Section 5 Championships Coverage
February 4, 2015
Racing on the snowmaking loop at Wirth, enduring some gusty afternoon winds, Section 5 titles were handed out on Wednesday. Xavier Mansfield, Minneapolis Patrick Henry, posted the top classical and freestyle times to take the boys title. Andover boys collected the team title, with Irondale the runner up. Sarah Bezdicek showcased her strong form, easily besting the girls field by over a minute and a half. The Roseville girls took the team crown with Irondale gals completing the second place sweep. Full results posted, along with photosets of the afternoon pursuit races.
Minnesota Section 8 Championships Coverage
February 3, 2015
Maplelag Resort dished up some fast conditions for the Section 8 championship on Tuesday. The girls race came down to a thrilling afternoon pursuit race, as Mora's Sadie Peterson started with a ten second lead after the morning skate, but was challenged by both Berit Ramstad Skoyles, Detroit Lakes, and Katie Williams, St. Cloud Tech, during the classical pursuit with Peterson just pulling ahead in the end for margin of victory of just two seconds! Cory Rouw, St. Cloud Tech, easily captured the boys title posting the top skate and classical times. The girls team title was extremely close as well, as Mora girls won the section by a single point, and St. Cloud Cathedral needing to go to tie-breakers to defeat Little Falls for second place. The St. Cloud Tech boys pulled off the upset of Brainerd, topping them by just three points for the team title. Results posted, along with photos from Jay Richards.
Minnesota Section 1 Championships Coverage
February 3, 2015
Brian Abery reports: Section 1 held their championships at Hyland Recreation area Tuesday on new man-made snow for the classic race in the morning. Snow squalls in the afternoon slowed things down a bit, but the racing remained exceptional. The girl's race was all but over after the morning classic event with Eastview junior Margie Freed building up a 43 second lead over New Prague's Marie Berg. Freed bested the field by over 1 minute in the afternoon freestyle race to win the pursuit by over 2 minutes. Eastview's Annika Martell overtook Berg in the freestyle to take 2nd position with Prior Lake Senior Kaija Ornes in 3rd. Eastview took the team title with Lakeville North in the runner-up position. The Boy's event was a tighter race with Winona/Cotter senior Noah Poling leading Eagan sophomore Patrick Acton by 13 seconds after the classic event. Acton stormed back in the afternoon freestyle, however, besting the field by 43 seconds to take an easy win. Poling held on to 2nd place with Eagan sophomore Ryan Steger taking 3rd. Eagan won the team title with Winona/Cotter in the 2nd position. Results posted, along with photos from the morning classical races.
Minnesota Section 3 Championships Coverage
February 3, 2015
Section 3 held their championships at Theodore Wirth Tuesday, with the afternoon pursuit races punctuated by a passing snowstorm that dropped 2-3" of fresh snow on the course. Tamer Mische-Richter, Bloomington Kennedy, easily topped the boys field to take the individual title by almost two minutes. Erin Moening, St. Paul Highland Park, powered to a big lead in the morning classic race, then held off Kelly Koch, Burnsville, in the skate pursuit (Koch posted the top skate time). The Minnehaha Academy boys and Burnsville girls walked away with the team titles, but the race for that new second state meet team qualification was extremely close. St. Paul Central knocked off Minneapolis Washburn by two points for the boys number 2 team, while St. Paul Highland Park earned the girls runner up position by a single heartbreaking point over St. Paul Academy. Results up now, along with photos of the afternoon freestyle pursuit races.
Wisconsin High School Nordic Championship Predictions
February 3, 2015
Ken Schoville rings in with his annual predictions on the Wisconsin High School Nordic Championships. The Wisconsin championship is this weekend, Feb 7-8, on the Telemark Trails in Cable.
Related:
Wisconsin High School Nordic Championships
NNF Launches 2015 Auction
February 3, 2015
The NNF Fundraising Auction will begin on February 4th, 2015 and last two weeks. Proceeds will support the NNF pillar projects, skiing development projects focused on up-and-coming U.S. skiers.
Minnesota Section 6 Championships Coverage
February 2, 2015
Section 6 started off the week of Minnesota high school sectional championships with racing on the snowmaking loop at Theodore Wirth Monday. The girls race came down to an exciting race of two top contenders, as Hannah Rudd, Armstrong, started the skate pursuit with a four second lead over Benilde-St.Margaret's Amanda Kautzer. Rudd kept the pace on but Kautzer was able to close the gap on the final lap, moving ahead to win by 8 seconds. Claire Benton, Hopkins, took third. Sean Cork, St. Louis Park, took a 15 second lead from the classical race and extended it to 20 during the skate in a strong performance for the boys title. Tom Norman, Armstrong, held off a flying Liam Schmelzle (fastest skate split), St. Louis Park, as they finished second and third. St. Louis Park won the boys team title, with Minneapolis Southwest taking the second state meeting qualifying position. The Armstrong girls were the top team, with Hopkins finishing second just nine points off. Results posted, photos coming this evening.
Related:
Minnesota State Meet Music Survey

Enjoy this type of coverage? Help keep us running, support this site by purchasing a Skinnyski Membership -- Join today!
World Junior/U23 Championships and U18 Nations Guide
January 31, 2015
Over a dozen top juniors from the Midwest will be competing in top international competitions this week at the World Junior/U23 Championships and U18 Nations competition. We've pulled together a program guide, including official websites, event details, and most importantly, result links.
Minnesota Sections Preview
January 30, 2015
The Minnesota high school Nordic skiing sectional competition runs next week as skiers and team battle to advance to the State Meet. Check out our preview of the section matchups, some predictions, catch up on the new State Meet selection process, and review the full schedule (which includes four straight days of racing at Wirth).
Metro East Conf Championships Coverage
January 30, 2015
Winding down a busy week of racing, the Metro East Conference held their championships at Hyland on Friday. The afternoon pursuit races proved to be exciting finales, as both saw comeback victories. In the boys race, Will Caturia, Hastings, reeled in Christopher Prokosch, Henry-Sibley, to take the title by 30 seconds. The girls race was won by a blazing 7th grader, Libby Tuttle of Mahtomedi, who started third after the morning classic. Team titles were earned by the Hastings boys and Henry Sibley girls. Race results posted, along with photosets from the afternoon pursuits.
Midwest JNQ Points Standings Updated
January 29, 2015
The Midwest JNQ points standings have been updated to included last weekends Twin Cities Championships races. In general, the points are based on the skiers best four results. The final Midwest JNQ will be after the State Meet, on Feb 14-15 in the Twin Cities.
IMAC Conference Championships Coverage
January 27, 2015
Most of the Minnesota conferences are holding their Nordic championships this week. IMAC held their event at Elm Creek Tuesday, racing classical in the morning, then hammering out freestyle pursuit format races on some slushy snow in the afternoon. The Minnehaha Academy boys dominated the event, posting six members in the top nine (with some wild sprint finishes), as Tyler Radtke claimed the title. In the girls race, Ingrid Thyr, Breck, cruised to the title with Ellen McCarthy finishing second to lead St. Paul Summit Academy to the team victory. Results up, along with photosets from the pursuit races.
Skinnyski.com High School Rankings - Week 6
January 26, 2015
No major changes at the top, but definitely some interesting racing over the past week. Check out the notable performances and find out who's on the rise in our latest set of Minnesota high school Nordic ski rankings.
Twin Cities Championships CCSA/JNQ Freestyle Coverage
January 25, 2015
With temperatures in the mid 20s, the Theodore Wirth course provided some blazing fast conditions for the freestyle races of the Twin Cities Championships Sunday. Alice Flanders, MTU, topped the womens 5K field, posting the only sub-15 minute time. Matt Liebsch gathered some redemption today, flying around the mens 10K in just under 21 minutes for the fastest time. Zak Ketterson and Sarah Bezdicek were the top juniors. Patrick Acton won the junior boys 5K. In the citizens mass start race, Mark Johnson and Sarah Daniels collected the victories. Results linked in, along with over 800 photos.
Related:
Iola Norseman Challenge Results Posted
Twin Cities Championships CCSA/JNQ Classical Coverage
January 24, 2015
Mild weather, even balmy by afternoon, made for toasty racing Saturday at Theodore Wirth for the first day of the Twin Cities Championships races. In the mens 15K classical mass start race, a Northern Michigan trio of Fredrik Schwencke, Adam Martin, and Erik Soderman broke away early to sweep the podium. Zak Ketterson posted the top junior time, finishing 5th overall. The womens 10K came down to an exciting finale as Anita Kirvesniemi, CSS, reeled in Felicia Gesior, NMU, in the final kilometer to take the victory with junior sensation Michaela Keller-Miller, Wayzata, popping third overall. The boys 5K saw Eagan's Ryan Steger surge to the lead on the final lap to garner the win. Siri Bohacek, Stillwater, took control of the girls 5K early and held off a late rush by Erin Moening for the title. Earlier in the morning, Zach Handler won the mens citizen/open race, with Kim Rudd edging out Ingrid Leask for the womens crown. Results linked in along with over 1000 photos, covering the four CCSA and JNQ races.
Chippewa Valley Nordic Invite Results
January 22, 2015
Ted Theyerl reports: The inaugural Chippewa Valley Nordic Invitational was held at Tower Ridge in Eau Claire, WI on Thursday evening with 75 skiers from Chippewa Valley Nordic (Eau Claire, WI), Red Wing and Winona doing a 4.7k mass start skate race under the lighted loops. Temperatures were in the upper 20's, on a hard packed, very fast course. In the boys varsity race, Ben Theyerl (CVN) won in 12:23, while CVN teammate David Ecker held off Winona's Jake Williams by a second for second and third. In the girls varsity race, Anni Skillicorn of Winona won by 45 seconds over CVN skiers Kaija Hudacek and Mikaela Walters. For the varsity boys team results, depending on which state (MN or WI) method used, Winona won with 4 skiers scored, CVN won with 3 skiers scored. The Varsity girls race was won by CVN using either state scoring method, with Winona second.
South Suburban Conference Classic Results
January 20, 2015
Brian Abery reports: On a perfect day for klister skiing, the South Suburban Conference held its last regular season race prior to the Conference Pursuit Championships with a two wave mass start event on the Hyland trails. Skiing in the first wave in the Boy's race, Eagan sophomore Patrick Acton turned in the best time with 15:18 only to be topped by his team mate sophomore Ryan Steger who skied to a 1st place time of 15:13 out of the second wave. In 3rd position providing an Eagan sweep was sophomore Ryan Conroy. On the team front Eagan took 1st with ISD 196 in 2nd. The Girl's race was not as tight an affair with Eastview junior Margie Freed topping the field with a 16:39 finishing 35 seconds in front of her team mate Annika Martell. ISD 196 senior Camille Sjoquist rounded out the podium with her 3rd place finish. Team results on the girl's side had Eastview in 1st with ISD 196 taking the 2nd spot.
Skinnyski.com High School Rankings - Week 5
January 19, 2015
Things start to shake in the Minnesota high school Nordic rankings, with a number of movers this week, including a new number one in the team rankings. Plus some commentary on JNQs and high school racing.
Telemark CCSA/JNQ: Freestyle Results
January 18, 2015
Mass start skate events provided some exciting racing at the Telemark CCSA/JNQ in Cable Sunday. In the mens 15K, it was the unstoppable Kyle Bratrud taking another victory as he pulled away from the field to win by 11 seconds. Teammate Erik Soderman was second with St. Scholastica's Paul Schommer third. Jordyn Ross, NMU, topped the womens 10K field with Alice Flanders, MTU, second and Andrea Lee third. The the juniors 5K titles were taken by Abigail Jarzin and Mitchell Delong.
ABC Relays Coverage
January 17, 2015
Mild temperatures, with a little morning sunshine, were on tap for the ABC Relays Saturday at Theodore Wirth. The boys relay race came down a tight final lap with Andover and Stillwater taking it right down to the line, with Shad Kraftson slipping in front of Ian Mead for the Stillwater victory. In the girls race, Armstrong over came some spills and an early deficit to roar back for a commanding victory. The fastest classic times went to Linder Wendt and Katie Breuckman, top skaters were Shad Kraftson and Hanna Torvi. Results and photosets are up now.
Telemark CCSA/JNQ: Classical Results
January 17, 2015
The Midwest JNQ and college CCSA series is competing this weekend on the grounds of the old Telemark Resort. Saturday morning's event format was interval start classical races. Kyle Bratrud, NMU, continued his hot streak this season, edging out teammate Adam Martin to take the mens 10K win by less than a second. In the junior boys 5K, Mitchell Delong posted the top time. The womens 5K had Deedra Irwin at the front of the field, posting the only sub 19 minute time on the challenging course.
Rochester Nordic Invite Results
January 15, 2015
John Resman reports: The Rochester Nordic Ski Invitational was held at the Eastwood Golf Course on Thursday with over 200 skiers from Mounds Park Academy, Prior Lake, Red Wing, Rochester, and Winona skiing a 4.8K meandering course in the freestyle technique. The weather was a balmy 31 degrees - quite a change from the below zero weather just a couple days ago. In the boys race, Christian Gostout (Rochester) and Noah Poling (Winona) were in a sprint for the finish with Christian edging out Noah by a second. In the girls race, Kaija Ornes (Prior Lake) topped the field by over a minute. The Winona boys skied to the Invite's team championship. The Rochester and Prior Lake girls were in a close race for the team title with Rochester edging out Prior Lake by a single point.
Lake Conference Meet Coverage
January 13, 2015
The teams of the Lake Conference held a mass start classical race on the snowmaking loop at Hyland Lake Tuesday afternoon. Skiers started in wave groups, pitting the best skiers against each other in the 5K event. In the boys race, Henry Jarvinen, Edina, upset Wayzata's Anders Sonnesyn for the victory. The girls race saw an equally tight battle as Abby Drach, Eden Prairie, surged in the final 500 meters to take the win over top ranked Nicole Schneider, Wayzata, with Anna French, Nicole's teammate, right on her heels for third. Results and photos posted.
Skinnyski.com High School Rankings - Week 4
January 12, 2015
After a long holiday break, we attempt to break down the early January results and re-sort the rankings. Nicole Schneider takes over at the top of the girls rankings, as Zak Ketterson maintains a tight grip for the boys at number one. The Wayzata girls and Forest Lake boys continue their front runner positions.
Mesabi East Invite Results
January 10, 2015
Racing in some crisp temperatures Saturday on the full Minnesota State Meet courses, nearly 1000 high school skiers competed in the Mesabi East Invite. In the morning classical races, Sean Cork, St. Louis Park, and Rocci Wohlk, Forest Lake, dominated the fields, both winning by more than 45 seconds. In the freestyle races, Liam Schmelzle, St. Louis Park nipped Leo Hipp, Forest Lake, by just under two seconds to take the boys title while Anna French, Wayzata, topped Anna Johnson, Mesabi East, for the girls victory. In the team scoring, using the top two from each discipline, the St. Louis Park boys and Stillwater girls came away the titles.
Related:
Loppet Invite Results Posted
US Nationals: Freestyle Sprints
January 10, 2015
U.S. Nationals in Houghton held their final event Saturday with freestyle sprints. In the morning qualifiers, Dakota Blackhorse-von Jess and Caitlin Gregg posted the top times. In the sprint finals, it was Blackhorse-von Jess and Rosie Brennan collecting their second sprint titles of the week. Henry Gorman and Lydia Blanchet won the junior sprint titles.
US Nationals: U18 and WJC Teams Named
January 8, 2015
At the Thursday night banquet, following a tough day of racing, the U18 and World Junior Championship teams were named. The Midwest had a stellar week, earning numerous team selections: Zak Ketterson, U18; Mackinley FitzPatrick, U18; Nicole Schneider, U18; Abigail Drach, U18; Ian Torchia, WJC; Thomas Bye, WJC; Alayna Sonnesyn, WJC; Kristen Bourne, WJC; Vivian Hett, WJC; Caroline Brisbois, WJC-alt.
Related:
US Nationals U18 and WJC Final Points Tally
US Nationals: Classical Race Coverage
January 8, 2015
Another day of snowy, windy conditions made for some tough racing at US Nationals on Thursday as skiers competed in the exciting mass start classical races. The Junior men (U18/U20) took to the course first for 10K. Ian Torchia (NMU) smoked the field by nearly 30 seconds, followed by Thomas O'Harra (APU) and Ben Hegman (Univ. Vermont). In the Senior men's 30K, Kris Freeman rose to the top, with Alexander Treinen and Kyle Bratrud just 4 seconds back. In the Senior women's 20K classic, Rosie Brennan pulled ahead of Caitlin Patterson and Eliska Hajkova to grab the top podium spot. Racing concluded with the women's 5K, where Stratton Mountain's Katharine Ogden snagged the win from Julia Kern and Hailey Swirbul. The midwest's Alayna Sonnesyn, Vivian Hett, Caroline Brisbois, Allison Ternes, and Kristen Bourne all cracked the top 10. Results linked in, and photosets from all four races posted.
South Suburban Conference Meet Results
January 7, 2015
Brian Abery reports: In spite of the cold temperatures, the South Suburban Conference, along with guest team Winona, held a 5 km classic race at Hyland Recreation Area Tuesday afternoon. On the boy's side, sophomore Patrick Acton from Eagan battled it out with Burnsville sophomore Nate Blitchfeldt with Acton taking first place by 2 seconds. Acton's Eagan teammates Ryan Steger, and Ryan Conroy took 3rd and 4th place with the Eagan boys winning the team competition. In the girl's race the absence of Margie Freed, currently skiing at U.S. Nationals, gave other SSC athletes the opportunity to battle for the top spot on the podium. Burnsville Freshman Kelly Koch proved to be the fastest of the group skiing to a 19 second win over Eastview's Annika Martell. ISD 196 Senior Camille Sjoquist turned in her best race of the season to take third. In the girl's team competition, Burnsville skied to a narrow win over Eastview.
Related:
More high school results
US Nationals: Classical Sprints Coverage
January 6, 2015
US Nationals held the classical sprints races on Tuesday, after delaying a day due to cold weather. In the morning qualifiers, Eliska Hajkova, Rosie Brennan, and Julia Kern posted the fastest times, racing in often very heavy snowfall. Vivian Hett was just seconds back with the 6th fastest qualifying time. For the men, top qualifying rounds went to Haakon Hjelstuen, Dakota Blackhorse-von Jess, and Miles Havlick with Ben Saxton rounding out the top four spots. After advancing to the mens Masters/Seniors Finals, Dakota Blackhorse-von Jess pulled off a dominant finish over Ben Saxton and Haakon Hjelstuen. Rosie Brennan also had several seconds over her nearest competitors in the womens Masters/Seniors finals, with Becca Rorabaugh and Liz Guiney finishing 2nd and 3rd. In the finals of Junior racing, Zak Ketterson topped the podium over Thomas O'Harra and Gavin Hess while Ann-Cathrin Uhl took top honors over Sarah Bezdicek and Emily Hyde for Junior women. Results linked in and some big photosets posted.
US Nationals: Freestyle Race Coverage
January 4, 2015
US Nationals got underway Sunday at Michigan Tech with the individual freestyle races. Snow, wind and cold temps made for some epic conditions. Northern Michigan University's Kyle Bratrud opened the racing with an incredible performance to win the men's 15K by 50 seconds over Kris Freeman, with Patrick Caldwell, Dartmouth, third. Matt Liebsch finished 8th, Adam Martin 13th, Brian Gregg 14th, Ian Torchia 16th. After a brief let up in the weather, the lake effect snow resumed, at times very heavy, for the womens afternoon skate race. Showing great recovery from her European tour, Caitlin Gregg staked claim to the womens 10K title with APU's Chelsea Holmes and APU teammate Rosie Brennan third. Rosie Frankowski finished 12th, Paige Schember 15th, Jordyn Ross 16th, Kris Bourne 17th, and Alayna Sonnesyn 19th. Results linked in, big photosets posted.
Note: Monday's sprint races have been postponed to Tuesday, due to forecast cold temps and windchills.
Related:
USSA: Bratrud and Gregg Take Opening Titles
2013-14 Season Highlights
May 1, 2014
Catch highlights plus full results and photos from the 2013-2014 high school racing season.