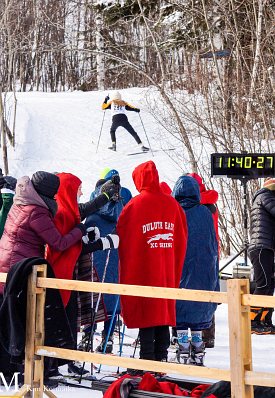 Marshall Sprints, January 16, 2016 (Photo: Kim Kosmatka)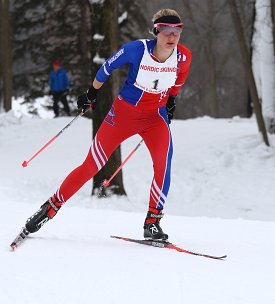 Hannah Rudd, Section 6, February 1, 2016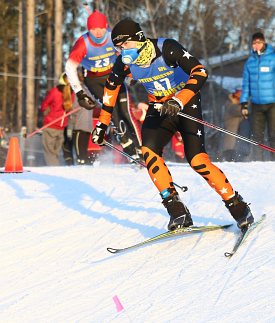 Make Snow East Metro Invite, December 19, 2015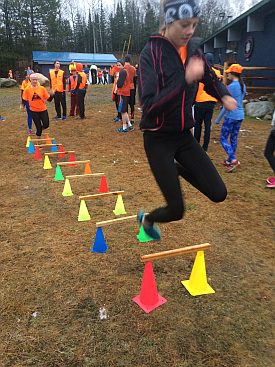 Ely high school team opening day workout, November 16, 2015 (Photo: Tyler Fish)
Key Events
Submit your invite...

Team Pages
Submit your team page...
Coon Rapids Nordic Ski Team

Submitting Race Results and Photos
December 7, 2013
With the high school racing season underway, we're posting a refresher course on submitting race results (and hopefully some photos -- parents?).

Minnesota State Meet Coverage
February 11, 2016
Once again, cold temperatures overnight caused a delay to the start of the Minnesota State Meet. The Ridge courses were in fine shape for the races, with firm trails. In the morning skate races, Margie Freed, Eastview took the lead with Highland Park's Erin Moening rocketing to second and Armstrong's Hannad Rudd in third. For the boys, Zak Ketterson crushed the field for the skate, with Patrick Acton and Xavier Mansfield third. In the afternoon classic pursuit, Margie Freed held off Erin Moening for the victory, with C-E-C's Anja Maijala moving up to take third. Zak Ketterson elevated his legend status by double poling the boys classic race (no kick wax) to extend his winning margin to over a minute, with Patric Acton just holding off Xavier Mansfield in a near photo finish. The team titles went to the Armstrong girls and Minneapolis Southwest boys. Results linked in, along with photosets from the morning skate races and video recaps of the classical pursuit events.

Charlie Banks Relay Results
February 10, 2016
Single digit temperatures greeted the teams for the Charlie Banks Relays on Wednesday at Giants Ridge. Grand Rapids girls and St. Paul Highland Park boys relay teams posted the top times for the event.
Minnesota State Meet Preview
February 9, 2016
The annual Minnesota high school Nordic skiing championship is this Thursday, Feb 11th at Giants Ridge. Cold weather may once again play a role, keep an eye out for updates. We've got a breakdown on the favorites individuals and teams to watch, along with our usual commentary and predictions - plus guest predictions from last year's state meet champions!
Related:
Racing Outlook: Minnesota State Meet
Michigan High School Nordic Championships Feb 12-13

Skinnyski.com High School Rankings - Final
February 7, 2016
It's already that time... The Minnesota high school Nordic season comes to an end on Thursday with the State Meet. So we took a hard look at the recent results and have published our final rankings of the season. Margie Freed and Zak Ketterson remain our top picks, but the contenders have been shuffled. The Wayzata boys take over the number one team ranking, while Robbinsdale-Armstrong girls survive a close call with Wayzata. Wednesday we'll publish our State Meet Preview!
Related:
Minnesota State Meet Coaches Information
Section 6: A Skier Goes Down, And A Helping Hand Appears
Minnesota State Meet Start Lists Posted
Wisconsin State Meet Results
February 7, 2016
The Wisconsin high school level racing season wrapped up this weekend in Cable with two days of racing to determine the state champions. Mack Fitzpatrick, Lakeland, took a sizeable lead after the classical races Saturday and held on to win the boys title with teammate Will Bodewes second, and Russell O'Brien, Madison, squeaking out third in a sprint finish with Michael Jarzin, Ashwaubenon. Abby Jarzin, Ashwaubenon, won the girls title, starting with a slim lead after classic over teammate Alissa Niggemann, Jarzin extended her margin in the skate pursuit on Sunday. Wausau's Olivia Dreger was third. Team titles went to the Lakeland boys and Ashwaubenon girls.
Related:
Wisconsin High School Nordic Championship Recap
Wisconsin Nordic High School Championship Predictions 2016
February 4, 2016
Ken Schoville brings us up to speed with the favorites at the Wisconsin High School Nordic Championships, being held this weekend in Cable.
Section 4 Coverage
February 4, 2016
An epic day of racing on the trails at Hyland for the Section 4 championships. For the individuals, comeback was the theme of the meet, as both Hanna Torvi, Roseville, and Jack Christianson, Mounds View, started off in third place for the skate pursuit, and reeled in the competition for the victories (matching their conference championships a week ago). The team competition was a nail biter, as the Stillwater girls took first with Forest Lake edging out Roseville by a single point for second. The boys battle was even closer, as the Forest Lake boys pulled off the victory over rival Stillwater after going to the tie-breaker -- an incredibly slim 4 second margin of victory. Results online now, posts coming later tonight.
Section 7 Coverage
February 4, 2016
Racing on the State Meet courses at Giants Ridge, Section 7 titles were decided Thursday. C-E-C's Anja Maijala used an impressive skate race to launch herself into the girls title, winning by over 30 seconds over Anna Johnson, Mesabi, with Erin Bianco, Ely, third. In the boys race, Sam Olson, Proctor/Hermantown, chased down Ely's Seth Prigge and finished just two seconds ahead, with Prigge's teammate Cole Helms in third. The Ely and Duluth East squads, both girls and boys, collected the top two team scores. Results linked in, plus great photos from Joe Bianco.
Section 2 Coverage
February 4, 2016
Section 2 championships were held on the snowmaking loop at Wirth on Thursday. The girls race featured a slate of upcoming stars as only one senior (no juniors) was in the top five. Edina sophmore Triana Willmert stood atop the podium, followed by a pair of freshman from Mpls Southwest, Kasia Bednarski and Lily Richmond. Edina girls won the team title in a tie breaker over Eden Prairie! Number one ranked Zak Ketterson bested the boys field by two minutes with Mpls Southwest William Kerker 2nd, and Kevin Jeter, Eden Prairie, 3rd. The Mpls Southwest and Eden Prairie boys proved to be the two dominated squads on the day. Results linked in, photos from the classic race coming this evening.
Section 5 Coverage
February 3, 2016
Skiing on the fresh snowfall from Tuesday, and under a brilliant blue sky, the Section 5 schools competed for State Meet advancement at Theodore Wirth today. Mora's Sadie Peterson dominated the girls race, taking a minute lead after classic in the morning and extending it nearly another 30 seconds during the freestyle for the girls title. Andover and Champlin Park girls were the top two teams, Champlin Park edging out Maple Grove by 4 points. As expected, Xavier Mansfield, St.Anthony/SLP, rocketed to a sizable margin of victory during the skate pursuit to post the boys top time. The Mora and Champlin Park boys earned their trip to State. Results linked in, photos from the skate pursuit races posted.
Section 3 Coverage
February 2, 2016
Also racing Tuesday in the middle of a major winter storm, Section 3 titles were decided at Theodore Wirth Park. Erin Moening, Highland Park, took the early lead after the morning classic, but it was Rocky-like performance by East Ridge's Megan Schiferl (starting in 4th) to make up a 46 second deficit and power on to win by over 30 seconds! Minnehaha Academy dominated the boys race with Sam Meyers cruising to the boys title, followed by teammates Tyler Radke and Bennett Pope. The Highland Park and East Ridge girls along with the Minneahaha Academy and St. Paul Central boys earned the right to compete at State. Results online, along with snowy photos from the freestyle pursuit.
Section 1 Coverage
February 2, 2016
Section 1 skiers faced off at Hyland Lake on Tuesday, battling not only each other but a major winter storm as well. The girls classic race got in clean, but just as the boys lined up the storm broke over Bloomington, dropping significant snow for the remainder of the meet. Kelly Koch, Burnsville, strided to an early lead of nearly a minute in the classic race, but Margie Freed, Eastview, came on hard in the skate to make up the gap and then double it for the victory. Eastview girls won the title by just four points over Burnsville. Eagan's Patrick Action also used a strong skate performance to take the boys title, as his team took first, with the Burnsville boys collecting second. Results linked in, photos from the classic races posted.
Section 8 Coverage
February 2, 2016
Racing on the trails at Maplelag, the NW and central teams of Minnesota squared off in the Section 8 championships Tuesday. Kendal Hendrick collected the girls title and helped led the way for her team as Little Falls placed five skiers in the top 7 for the team title. St. Cloud Cathdral-Sartell was second, besting Bemidji by 4 points. Hunter Zupko, Little Falls and Robb Pike, Brainerd, had another tight match with Zupko holding Pike by 5 seconds for the boys title. The Brainerd and Bemidji boys both advanced to State. Results linked in, plus a number of photos from Jay Richards.
Minnesota High School Nordic Academic Award Entries
February 1, 2016
MHSNSCHA coaches, its time to submit your skiers for the Nordic Academic Awards. Entries are due by Monday, Feb 8th.
Section 6 Coverage
February 1, 2016
Section 6 opened the Minnesota Sections competition with some highly competitive battles on Monday at Wirth. Anders Sonnesyn took a strong classic time and stretched it into a minute victory for the boys title as his teammates went 2nd, 4th and 5th to easily take the boys title. St. Louis Park boys edged out Robbinsdale Armstrong by 2 points for the second ticket to State. In the girls race, Hannah Rudd, Robbinsdale Armstrong echoed Sonnesyn's performance, showing she will be a favorite for the State Meet with her victory today. Wayzata's squad, led by Michaela Keller-Miller's second place performance, came within 4 points of toppling top ranked Robbinsdale Armstrong, the section champs. Results linked in and photosets posted.
Skinnyski.com High School Rankings - Round 5
January 31, 2016
A bit of a rush job this week, and without the clarity we had hoped for from conference championships, we crank out our fifth round of the Minnesota High School Nordic ski rankings. Most of the changes are in the team rankings. Let sections do the talking!
Peter Westra Sprint Results
January 31, 2016
Held right after the Twin Cities Championships, the Peter Westra Sprints at Wirth on Saturday gave some high school skiers a final tuneup before sections actions this week. Forest Lake skiers came away with the top prizes as Jenna Parent and Ryan Mead took the sprint titles (along with giant cookies!).
Minnesota Sections Preview
January 30, 2016
The Minnesota State High School sectionals, which determine the teams and individuals that will compete at the State Meet, are being held this coming week across Minnesota. Check out our spectator guide and picks for the favorites, plus notes on classical technique rule violations. Scheduling note: Theodore Wirth will be booked out nearly every day next week.
Related:

More Conference Championship Results
January 28, 2016
On Wednesday, Armstrong girls swept the first five places and Xavier Mansfield took the NWSC Championship by over 1:30, while Zak Ketterson crushed the Metro West by 3 minutes; Thursday saw Hopkins girls nearly upset Wayzata with Claire Benton topping the Lake Conf field, and a double upset in SSC as Nate Blichfeldt and Kelly Koch took the titles.
Tuesday's Conference Championship Results
January 26, 2016
Most Minnesota high school conferences are holding their championship races this week. Some highlights from Tuesday: Hanna Torvi, Roseville, and Jack Christianson, Mounds View, won over strong competition in SEC; Mpls Washburn's Andrew Sell peaks well taking 2nd in Mpls Conf; Ingrid Thyr, Breck, wins by two minutes in IMAC.
Skinnyski.com High School Rankings - Round 4
January 25, 2016
Finally - some solid data from last weekend's JNQ races help to sort out the contenders, and validate many of the leaders, in the latest round of our Minnesota High School Nordic ski rankings. No changes at the top: Zak Ketterson and Margie Freed rule, along with the Robbinsdale Armstrong girls and Stillwater boys.
Telemark JNQ/CCSA: Freestyle Coverage
January 24, 2016
The Telemark JNQ/CCSA series wrapped up Sunday with mass start freestyle races. The womens 10K proved to be an exciting battle with a half dozen skiers in the mix right into the big downhill. In the end, it was a sprint finish between MTU's Andrea Lee and redshirt NMU skier Kristen Bourne, Lee taking it by a tenth of a second, with UAF's Anne-Tine Markset collecting third. In the mens 15K, the trio of NMU skiers Jake Brown, Adam Martin and Ian Torchia broke away by mid-point and finished together, Martin - Torchia - Brown. Abby Jarzin took control of the U16 girls race and skied in solo for the victory with Kelly Koch holding off Rana Kraftson to round out the podium. The U16 boys was much closer with Peter Moore taking over the lead from Ryan Mead in the last 1/2K for the win, Kieran Mullen third. Results linked in, lots of photos now online.
Related:
CCSA: Martin Wins Again While Lee shines for the Huskies
Telemark JNQ/CCSA: Classical Coverage
January 23, 2016
Beautiful conditions Saturday for the first distance JNQ of the season, racing on the tough trails at Telemark. Adam Martin narrowly edged out NMU teammate Ian Torchia for the mens 10K classical victory. Felicia Gesior, NMU, strided to the front of the womens 5K classical field. Racing continues on Sunday with mass start freestyle events. Results linked in, along with photosets from the 10K and 5K races.
Related:
CCSA: Martin and Gesior Take Wins on Day One of the Telemark Chase
South Suburban Conference Sprints Results
January 20, 2016
Brian Abery reports: The South Suburban Conference held it's Freestyle Sprint Championships on Tuesday at Valleywood G.C. with several skiers who had scored well at the recent JNQ sprints taking part. The Eastview Girls team swept the podium with Margie Freed taking 1st, Annika Martel 2nd, and Kylie Kraemer in 3rd. The 8th place finish of Sydney Hedberg sealed the team win for Eastview. In the Boys race,. Eagan's Patrick Acton skied to victory with Lakeville South's Tyler Haroldson in 2nd and Prior Lake senior Mitch McDonald in 3rd. True to its early season form, Eagan took the boys team title.
Chippewa Valley Invite Results
January 20, 2016
Ted Theyerl reports: The second annual Chippewa Valley Nordic Invitational was held at Tower Ridge in Eau Claire, WI on Tuesday evening with 121 skiers from Chippewa Valley Nordic (Eau Claire, WI), Winona, Red Wing, and Rochester doing a "Boarder Battle" 4.7k mass start skate race under the lighted loops. In the boys Varsity race, CVN skier Ben Theyerl won in 12:00.4, with CVN teammate David Ecker .4 seconds behind holding off Winona's Jake Williams by 10 seconds for second and third. In the girls Varsity race, Winona 8th grader Anni Skillicorn won by 12 seconds over Rochester skier Aly Welch, with Zoe Smith of CVN in third. Using Wisconsin team scoring of 3 skiers, Winona won both the boys and girls varsity races.
Skinnyski.com High School Rankings - Round 3
January 19, 2016
Our third go at the rankings, and honestly, almost no changes as the data was pretty light for the past week. A few notables and minor tweaks, as we await the Telemark JNQ showdown this weekend.
Wausau JNQ: Classical Sprints Coverage
January 16, 2016
Despite the crisp temperatures, Greenwood Hills Golf Course was home to the first JNQ event of the season as juniors racing for classical sprint titles. Zak Ketterson dominated the U18/U20 boys field, with Tamer Mische-Richter taking second, Russell O'Brien third. The U18/U20 girls field provided some top notch competition with a star packed finale as Hannah Rudd came in first, followed by Erin Moening and Dottie Anderson. U16 titles went to Anders Sonnesyn and Abigail Jarzin. Results linked in, plus photos from Mindy Benton.
Detroit Lakes Invite Coverage
January 14, 2016
Jay Richards reports: Five inches of fresh snow greeted skiers during the 17th annual Detroit Lakes Nordic Ski meet. Moderate temps and no wind made for great racing conditions at sophomore Hunter Zupko of Little Falls held off the Brainerd duo of Robert Pike and Evan Schreifels in the boys Varsity continuous pursuit. In girls varsity, eyes were on Norwegian exchange student Celine Kjernsval skiing at the new Moorhead program but it was ninth grader Molly Lange of Little Falls who took the convincing win over Morgan Sagedahl from Bemidji. Team titles went to Brainerd for the boys and Little Falls for the girls.
SSC Meet at Valleywood
January 13, 2016
Brian Abery reports: The South Suburban Conference took advantage of the moderate temperatures Wednesday afternoon to hold a 5.6 KM classic event at Valleywood G.C. Fresh from competing at the Senior Nationals, Eastview's Margie Freed skied to a 56 second win over Prior Lake's Maria Berg with Burnsville Sophomore Kelly Koch, also just back from Houghton, taking 3rd. The Eastview Girls, placing 3 skiers in the top 5, took the team title with Burnsville in 2nd. The Boys race turned out to be a three skier dual with Eagan Junior Patrick Acton besting Ryan Steger, his teammate, by 17 seconds to take the win with Burnsville's Nate Blichfeldt in 3rd another 24 seconds back. Eagan took the team win with Lakeville South and ISD 196 tying for 2nd.
USSA: U23 and Junior Worlds Teams Named
January 13, 2016
USSA has posted their official announcement of the U23 and Junior World Teams, which include five skiers from Northern Michigan University (six if you include next season's member Zak Ketterson).
Mesabi East Lost and Found
January 12, 2016
A collection of found and lost items from the Mesabi East Invite last weekend at Giants Ridge.
Skinnyski.com High School Rankings - Round 2
January 11, 2016
With some fresh data and major competitions, we take a new crack at the Minnesota Nordic high school rankings. Margie Freed takes over the top ranking for the girls, and Anders Sonnesyn moves up to second for the boys (behind Zak Ketterson). The Robbinsdale-Armstrong girls and Stillwater boys hold the top team positions.
Mesabi East Invite Results
January 9, 2016
Crisp temperatures and near perfect conditions on the Minnesota State Meet courses provided a great test for the field of 950 skiers at the Mesabi East Invite at Giants Ridge Saturday. Anders Sonnesyn, Wayzata, strided to the boys top classical time, just three seconds ahead of Ely's Seth Prigge with Joe Rauzi, Duluth East, just another second back. The Northern girls dominated the classic field as Hannah Bettendorf, Proctor/Hermantown, Erika Fox, CEC, and Erin Bianco, Ely, filled out the podium. In the afternoon skate races, just three seconds separate the award winners as William Kerker, Mpls Southwest, finished first with Jack Christianson, Mounds View, second and Mitch Delong, Copper Country (MI) third. Amanda Kautzer, Benilde-St.Margarets, proved to be the queen of freestyle as she posted a victory margin over 38 seconds over Stillwater's Rana Kraftson, followed by Duluth East's Sophie Farrow. Team titles went to the Wayzata boys and Duluth East girls.
Loppet Invite Results
January 9, 2016
Attracting one of their largest fields to date, 18 teams competed at Wirth on Saturday in the Loppet Invite. Erin Moening, Highland Park, dominated the girls field with a winning margin of over 45 seconds. Patrick Acton, Eagan, held off conference rival Nate Blichfeldt for the boys victory. Team titles went to the Robbinsdale-Armstrong girls and Eden Prairie boys.
US Nationals: Mass Start Freestyle Coverage
January 7, 2016
Thursday at US Nationals in Houghton, MI, featured the exciting mass start freestyle races. Warm temperatures made for fast conditions and enjoyable spectating. In the first race, Ian Torchia and Zak Ketterson pulled away for a 1-2 finish in the Men's 10K. Lars Hannah of Denver followed in 3rd. A pack of 10 skiers led the men's 30K for much of the race, with Tad Elliott breaking away in the final 2K, chased by Brian Gregg. Elliot and Gregg finished 1-2 followed by Canadian Michael Somppi. Adam Martin was the 3rd American finisher (4th place overall). In the women's 20K, the field fractured early with a group of 4 breaking away in the last 5K. Caitlin Patterson, Chelsea Holmes, and Katharine Ogden posted the top 3 finishing times, with Anne Hart skating to 4th. In the final race of the day, Hannah Halvorsen led the pack to the finish, followed by Vivian Hett (2nd) and Julia Kern (3rd). Nicole Schneider (4th) missed the podium by 3 seconds. Results linked in, along with photosets from all the races.
Related:
USSA: Patterson Doubles Up at National Championships
Mora Invite Results
January 6, 2016
Peter Larsen reports: After much shoveling and plowing 1km of raceable track was groomed at the Vasaloppet Nordic Center for the Mora Invitational on Tuesday. Varsity racers completed 1 km sprint races throughout the evening spread out by 2.7km Junior High races and 3.7km JV races. After a full evening of racing under lights, the Mora Boys had 5 of 6 "A final" racers and were the Boys team champion. The Mora Girls with had 3 of 6 "A final" racers, ended up on the top of the results for the girls. Individual varsity champions were Tom Woolhouse and Sadie Peterson, both of Mora.
TCNSC/IMAC Invite Results
January 5, 2016
Brad Moening reports: Twin Cities Nordic Ski Conference and the Independent Metro Athletic Conference competed in an 8K skate race in near perfect weather at the Como Golf Course on Tuesday January 5. Venerable meet manager Bob O'Hara pulled together another outstanding event. Minnehaha won the boy's race and St. Paul Highland Park won the girl's race. Central Senior Spencer WareJoncas and Minnehaha Senior Elsa Ubel were individual champions.
Finn Sisu: 12 Days of Finn-mas
January 5, 2016
Finn Sisu celebrates the New Year with 12 special Finn-mas deals on wax, clothing, ski gear, and sauna accessories running though Friday, Jan 8, plus a chance to win a free Birkie entry from Fits socks.
US Nationals: Freestyle Sprints Coverage
January 4, 2016
Monday brought the competitors right back to the Michigan Tech trails for a long day of freestyle sprint qualifying and heats. The womens sprint final brought a surprise challenger as Annie Hart narrowly missed upsetting reigning champ Jennie Bender, with Caitlin Patterson taking third. The mens final was equally exciting as sprint specialized Dakota Blackhorse Von Jess was beaten by Reese Hanneman with Julien Locke third. Other top Midwest results: Brian Gregg 7th, Michael Somppi 8th, Zak Ketterson 2nd junior; Sarah Bezdicek 2nd junior, Vivian Hett 3rd junior. Results posted, photos coming later tonight.
Related:
USSA: Bender and Hanneman Grab Sprint Titles
U18, World Juniors, and U23 Trip Points (after two events)
South Suburban Conference Opener Results
January 2, 2016
Brian Abery reports: The South Suburban Conference kicked-off its long delayed season on Saturday with 5 Km Classic and Freestyle Races at Valleywood. On the Girl's side, Prior Lake/New Prague skier Maria Berg took the title in the classic race with Eastview Seniors Annika Martell and Kylie Kraemer taking 2nd and 3rd. Martell and Kraemer came back to take 1st and 2nd in the afternoon freestyle race with Berg in 3rd. The Eastview Girls easily took both team races. The boys races were dominated by Eagan's Patrick Acton who skied to a 45 second win over team mate Ryan Steger in the classic race with Winona/Cotter's Jake Williams in 3rd. Acton continued his winning ways by besting Burnsville's Nate Blichfeldt in the Freestyle race by 21 seconds with his team mate Steger taking the third spot on the podium. Placing three skiers in the top 10 in both the morning and afternoon the Eagan boys team skied to victory in both races.
Short-Notice: Spooner Holiday Invite
December 24, 2015
Spooner High School is hosting a high school and middle school race on Tuesday, Dec 29th. Registration is due by Saturday, Dec 26th.
Mesabi East Registrations Due by Dec 31st
December 23, 2015
Just a reminder that registration for the huge Mesabi East Invite, Jan 9th, is due by the end of the month. And if your team plans to attend the pasta feed Friday night, those forms are due as well.
Skinnyski.com High School Rankings - Week 1
December 21, 2015
Based on very little data, we attempt the first Minnesota high school rankings of the regular season. With some strong results last weekend, Hannah Rudd, Robbinsdale-Armstrong, takes over the number one spot for the girls, with Zak Ketterson, Bloomington Jefferson, the boys leader as a dogfight shapes up for that second position. Stillwater boys and Robbinsdale-Armstrong girls are the top teams.
Midwest Junior Nationals Crew Announced
December 21, 2015
CXC has announced the 2016 Junior National coaching staff, along with the waxing techs. Leading the crew again this season is Chris Harvey as head coach, and Andy Keller as trip leader. Wax techs are Jason Kask, glide, and Scott Putman, kick.
Related:
NENSA U16 Trip Coaching Staff Announced
Maplelag We are Snow Excited Invitational Coverage
December 19, 2015
Brad Moening reports: Teams from Champlin Park, Mound Westonka and Highland Park kicked off Minnesota's natural snow high school racing season. The first race was a 3.8K skate race around Skater's Waltz and the second was a 3.2K classic around the Sukkerbusk Trail. Team titles went to Champlin Park boys and Highland Park girls. Highland's Gabe Pfeiffer won the boy's skate race, Champlin's Ian Ivens won the classic. Highland's Erin Moening won both girl's races. After the racing, all teams then did some serious damage to Maplelag's cookie jars. Results and photos posted.
Make Snow East Metro Invite Coverage
December 19, 2015
Nearly 200 high school skiers turned out Saturday morning for the Make Snow East Metro Invite at Trollhaugen. Starting in the pre-dawn hours, the girls raced under the lights in single digit temperatures. As the sun rose, along with the temperatures, the boys took to the track for the three lap course. The Kraftson family ruled the morning as Rana Kraftson won the girls race, and brother Shad bested the boys field. Results and photos posted. Stillwater swept the team titles in a close battle with rival Forest Lake.
Note: Adult/youth race on Sunday at Trollhaugen cancelled, open skiing instead.
Related:
Dec 19 Ely Timberwolf Invite Results Posted
Granite Ridge Conference Meet Coverage
December 15, 2015
Holding one of the first high school races on snow this season, the Granite Ridge COnference teams competed on the slopes of Powder Ridge Tuesday afternoon. Mora's Sadie Peterson cruised to the girls victory, 1:14 ahead of teammate Mikaela Obert. Tom Woolhouse, Mora, posted the top boys time with CHS/Sartell's Alex Nemeth taking second just in front of Mora's John Swinghamer. Mora swept the team titles. Results posted, along with photosets.
Hoigaards Relays Coverage
December 12, 2015
The Hoigaards Relays salvaged a tough winter by moving the event to the Afton Alps downhill area, a move which proved to be quite popular as a near record field participated on Saturday morning. The masters race started before sunrise under the downhill lights, with the young duo of Tamer Mische-Richter and Zak Ketterson scoring the victory in a tough battle over Andrew Brown and Nick Powers. The Mische-Richter/Ketterson tandem decided one race wasn't enough, and jumped the junior field for their second victory. Results are posted along with video recaps of both races.
South Suburban Conference Coverage
December 12, 2015
Holding one of the latest rollerski races of the season, the South Suburban Conference got their competitive juices flowing Friday afternoon with a rollerski time trial at Cleary Lake. Maria Berg, Prior Lake, posted the top girls edging out Margie Freed, Eastview, and Kelly Koch, Burnsville. Eagan's Patrick Acton topped the boys field with teammate Ryan Steger second, followed by Prior Lake's Mitch McDonald in third. Full results plus photos posted.
National Nordic Foundation Allocations
December 10, 2015
Wondered where your National Nordic Foundation donations are being spent? The NNF outlines some of the major allocations for this season.
Elm Creek Wednesday Night Field Sets Record
December 9, 2015
More than 75 skiers turned out for a jam packed evening of racing at Elm Creek for the Wednesday Night Series. High school skiers provided the extra boost, with Sam Myers of Minnehaha Academy winning both the skate and classic races, just holding off Shad Kraftson, Stillwater, in the skate and his own teammate, Tyler Radtke in the classic. Stillwater star Siri Bohacek won the girls skate just in front of teammate Rana Kraftson, while Libby Tuttle, Mahtomedi, posted the fastest classic time for the girls.
Holiday Relays Forms Posted
November 30, 2015
The popular high school Holiday Relays will be held Tuesday evening, Dec 22nd at Theodore Wirth. The event features a new continuous relay format, combining the classical and freestyle event into one relay. Event details and registration spreadsheet are now posted.
Mesabi East Meet Details Posted
November 23, 2015
Organizers have released the full meet information packet for the 2016 Mesabi East Invite, to be held Jan 9th at Giants Ridge. Mesabi East is the single largest one day high school meet in the nation.
Spotlight: Ely Nordic
November 16, 2015
A cool and damp afternoon for the opening day of practice of the mighty Ely Nordic ski team at their home field of Hidden Valley ski trails. The went through a series of agility drills, dryland technique progression drills and then ended with some ski walking/moosehoofing. Orange was the theme of the day as deer hunting season is still in progress.
Related:
Photoset from Tyler Fish:

Opening Day - 16 photos
2015-16 Minnesota High School Nordic Season Preview
November 8, 2015
While the warm weather might make it seem like ski season is still far off, Minnesota high school Nordic practice kicks off Monday! And in our usual excitement for junior racing, we've got a season preview including our pre-season rankings to get the smack talk started.
Minnesota State CC Results
November 7, 2015
Once again, near perfect conditions Saturday for the Minnesota high school Cross-Country Championships at St. Olaf College in Northfield. In the morning AA races, the Hasz sisters Bethany and Megan of Alexandria finished as the top two runners for the third straight season. The boys AA race was won by Jaret Carpenter of Wayzata in a very competitive field. Team titles went to the Edina girls and Hopkins boys. In class A, Winona Cotter's Grace Ping made history in becoming the youngest CC champion (age 12) in taking the girls title by almost a minute (and posting third fastest time of both A and AA classes). La Crescent's Zack Emery won the boys race. The Perham girls and Mora boys collected the team titles.
Related:
Results: Girls AA, Boys AA, Girls A, Boys A
USSA Seeking Coaches for the U18 and WJC/U23 World Championships
October 16, 2015
USSA is looking for coaches to help with the U18 Trip (NJC) in Estonia late February, and the WJC/U23 Championships in Romania, also late February. You'll be working with the best juniors the US has to offer.
- Feb 22-29 Nordic Junior Countries Competition (JNC - U18 Trip)
- Feb 18-29 Junior World / Under-23 Championships (WJC/U23 Trip)
Application deadline is Nov 8th!
2014-15 Season Highlights
May 1, 2015
Catch highlights plus full results and photos from the 2014-2015 high school racing season.