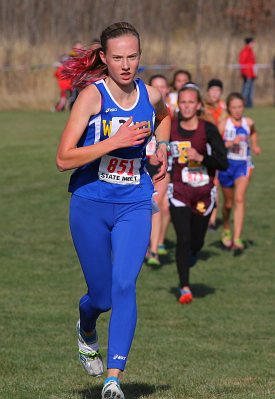 Wayzata's Anna French leading the chase, Minnesota State CC Meet, November 1, 2014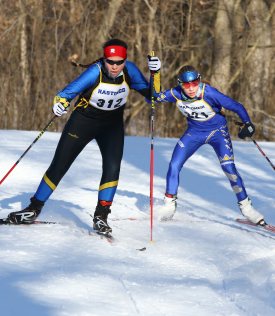 Rachel Peterson and Libby Tuttle in a close battle, Metro East Conf Championships, January 30, 2015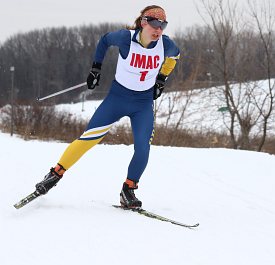 Girls champ Ingrid Thyr, IMAC Conf Championships, January 27, 2015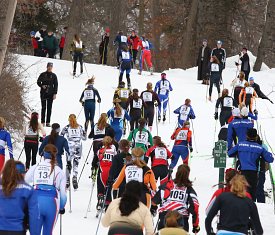 ABC Relays, January 17, 2015
2017 Nordic Junior Worlds Coming to Utah
June 30, 2015
The International Ski Federation (FIS) has awarded the 2017 FIS Nordic Junior World Championships and FIS U23 World Cross Country Championships to Utah's Olympic venues in Park City and Midway. The U.S. Ski and Snowboard Association put forward the joint bid with the Utah Olympic Park and Solider Hollow, both of which will host events throughout the championships.
NNF Funds International Junior Camp
June 17, 2015
The National Nordic Foundation (NNF) has announced financial support for the International Junior Camp, August 6-14, in Norway. The new junior camp is designed for rising cross country skiers, with Midwest stars Alayna Sonnesyn and Zak Ketterson earning spots on the roster.
USSA Expands Membership Options
June 15, 2015
The U.S. Ski and Snowboard Association (USSA) is rolling out a new expanded membership structure. The new structure will diversify the existing membership base with a host of new categories designed to make the sports more affordable and accessible. USSA membership pricing has also changed, with general and entry-level memberships starting as low as $15.
Midwest Junior National Wax Techs Application
June 10, 2015
The Midwest Junior National Committee is seeking candidates for the positions of head glide and kick wax coaches for the 2016 Junior National competitions next March in Cable, WI. Application deadline is July 14th.
Related:
2016 Junior Nationals
Spotlight: LNR Advanced Group
June 9, 2015
The summer junior training officially fired up this week in Minnesota, with warm weather to boot. Tuesday morning brought the Loppet Nordic Racing Advanced Group to Afton for a session of classic rollerskiing on the quiet country roads. Coach Piotr Bednarski rode with the girls group while David Chamberlain strided with the boys.
Related:
Photoset:

130 photos
Photoset:

Top Picks (high res)
LNR Summer Junior Training
2014-15 Season Highlights
May 1, 2015
Catch highlights plus full results and photos from the 2014-2015 high school racing season.
Regional, National and International Elite Camps Announced
April 24, 2015
USSA and NNF have a busy summer planned again in the development of the US juniors Nordic skiing. Regional Elite Group camps across the country have been scheduled, and new this year, an International Junior Camp in Sweden and Norway! Watch for more details, including nominees, later this spring.
Related:
National Nordic Foundation
U16 National Camp Named
April 22, 2015
Nominees for the summer U16 Camp have been named, and on the list are a number of Midwest skiers including Erin Moening, Anna Johnson, Abigail Jarzin, Siri Bohacek and Kelly Koch. The elite camp will be July 24-31 in Burlington, VT.
Section 7 Coaches/Assistants Honored at the MSHSNSCA Season Awards
April 21, 2015
Cloquet-Esko-Carlton lead the way in the Minnesota State High School Nordic Skiing Coaches Association awards with Glen Sorenson named Coach Of the Year, Ben Croft, Assistant Coach Of the Year and Volunteer of the Year Brent Smith.
Midwest Junior Committee Meeting this Saturday April 25th
April 21, 2015
The Midwest Junior Committee will be meeting this Saturday, Apr 25th, at Dooley's Pub in Eau Claire. A revised agenda has been published, with recent topic additions on JNQ course difficulty and review of organizing committee and contract timer standards.
NNF 2015 in Review - Part I: The Results
April 17, 2015
The National Nordic Foundation reflects on the past season, the tremendous amount of success aboard, all possible by the support your donations made possible.
Coaches Spring Meeting
April 15, 2015
The annual spring meeting for the Minnesota High School Nordic Ski Coaches Association is this Saturday, April 18th at the Vasaloppet Nordic Center in Mora. Topics on the agenda include state meet survey, eligibility, state meet review, and meet standards.
2015 Collegiate Tally Board
April 14, 2015
The 2015 edition of the Collegiate Tally Board is online! Find out where the Midwest senior skiers are heading next fall, and send us your plans.
Jessie Diggins Welcome Home Reception April 20th
March 29, 2015
Welcome home Jessie Diggins from her highly successful 2014-15 skiing campaign on Monday evening, April 20th at the Stillwater high school. Diggins will sign posters and give a presentation on her season, including the historic silver medal performance at the World Championships.
Victor C. Dunder Deadline March 31st
March 27, 2015
Nominations for the Victor C. Dunder awards need to be submitted by Tuesday, March 31st. The Dunder award provides skiing equipment to help first-year skiers.
Midwest Junior Committee Meeting Saturday April 25th
March 25, 2015
Planning for the 2015-16 juniors season will be getting underway with the spring Junior Nationals committee meeting on April 25th in Eau Claire, WI.
Canadian Nationals: Freestyle Races
March 21, 2015
The Canadian Nationals have been going all week, but on Saturday a number of Midwest skiers traveled across the border to compete in the mass start distance skate races. Zak Ketterson continued his strong season, winning the U18 15K freestyle, Luke Brown made the podium with a 3rd place in the U20 30K and Erin Moening was 6th in the U16 7.5K.
Related:
Results: Freestyle Distance
All Canadian Nationals Results
Moose Nordic Urban Sprint Championships
March 18, 2015
Luke Brown reports: The Moose Nordic Urban Sprint Championships on Wednesday showed the power of teamwork and belief by overcoming the lack of snow in the Twin Cities. Out of a pile of ice and snow on the St. Thomas campus arose a technical and sturdy sprint course that challenged the skiers with cornering, jumps, and endurance. The defending champion, Tamer Mische-Richter, led the group after the qualifier round; however, Zach Goldberg of Dartmouth College proved victorious after the competitive head-to-head rounds and took home the coveted championship.
Related:
Photoset from Luke Brown:

38 photos
Junior Nationals: Classical Relays Coverage
March 14, 2015
The final day of racing at the 2015 Junior Nationals featured classical relays. Tough snow conditions had the organizers modifying the distance and times for the events, with all races switching to a 3 x 2.5K format. Starting off, leading FU16 girls took 2nd. The top MU16 boys finished 12th. The FU20 gals crushed, taking 1st and 4th! The FU18 girls also podium, finishing 3rd. And finishing it off, the MU18 boys take another team title!
Junior Nationals: Classical Coverage
March 13, 2015
Junior Nationals dried out and brought the heat back for Friday's classical races at Auburn Ski Center in Truckee. In the boys U20 race, Ian Torchia took a tumble on the final downhill while leading, still pulled out 2nd! The finish of the boys U18 came down to a big sprint with Zak Ketterson getting 5th (4th American). Vivian Hett skis strong for the Midwest, taking 2nd in FU20 with Anna French 4th! Anders Sonnesyn was the top MW skier at 26th in the U16 boys. Anna Johnson provided the most dramatic finish of the day, rocking the final straightaway to nearly steal first, finishing 2nd in the FU16 by only 3/10 of a second!
Related:
Junior Nationals: Classical Race Reports
Junior Nationals: Freestyle Coverage
March 11, 2015
A rain/snow mix made for tough racing conditions Wednesday at the Auburn Ski Club for the Junior National freestyle races. In opening U16 races, Abby Jarzin and Kelly Koch notched top ten finishes, placing 7th and 10th. Patrick Acton was the leading Midwest boy at 25th. Vivian Hett, NMU, crushed the FU20 field, winning by 15 seconds to take the national title. Sarah Bezdicek and Allison Ternes were 4th and 5th. In the FU18 race, Nicole Schneider was back on form taking 5th, with Abigail Drach 6th, and Margie Freed 9th. Ian Torchia hammered out a great race to finish 2nd in the U20 men with Luke Brown 4th. In the final race, Zak Ketterson narrowly missed the big U18 title, finishing 2nd by five seconds. Mack FitzPatrick nailed 5th, with Leo Hipp 9th. Results linked in, photos from Caroline Brisbois, Jackie Schneider, Mindy Benton, Keely Jackson and Jennifer Brisbois.

Plus photos from the midweek awards.
Related:
Results: Preliminary semi-live results
Twitter: Skinnyski race updates
Junior Nationals: Freestyle Race Reports
Junior Nationals: Freestyle Sprints Coverage
March 9, 2015
While the day started a little windy and chilly, the sun broke out and temperatures rose quickly for the first day of competition at Junior Nationals in Truckee. In the morning qualifying, Midwest skiers did well with a lot of skiers advancing! Some of the top qualifying: MU20 Jon Delaney 5th, Sam Boardman 6th; MU18 Zak Ketterson 2nd, Cory Rouw 9th; FU20 Vivian Hett 3rd, Allison Ternes 8th; FU18 Claire Benton 10th; FU16 Anna Johnson 4th, Erin Moening 5th, Siri Bohacek 6th. Sprint finals: Zak Ketterson finishes 2nd in grueling MU18 final! Sarah Bezdicek takes 3rd in the FU20 A final, Vivian Hett 4th. In the FU16 final, Erin Moening takes lead into stadium but is edged out at the line to finish 2nd! Photos from parents Jennifer Brisbois, Jackie Schneider, Mindy Benton and

Keely Jackson.
Related:
Video:

Opening Ceremonies Parade
Junior Nationals: Sprint Race Reports
Junior Nationals: Freestyle Sprints Start List Posted
March 9, 2015
After some delays, the sprint list for Monday's freestyle sprints has been posted. Midwest spectators: remember to add two hours to the times for Central timezone.
Related:
Junior Nationals Preview
Section Shakeup 2015
March 7, 2015
The Minnesota high school league has performed their biennial competitive section assignment review, and for Nordic skiing, some major changes are on the horizon for the 2015-16 season! We've got a breakdown on the changes along with some commentary for each new section alignment.
Midwest Junior Championships Classical Coverage
March 7, 2015
The Midwest Junior Championships is a two day celebration of youth skiing, and a culmination the Skiwerx and Youth Cup series, with carnival of events at Theodore Wirth. We dropped in for the classical races on Saturday, as temperatures climbed into the upper 30s under bright skies.
Related:
Skiwerx, Cities Cup, MNSA Awards Banquet Coming up March 22nd