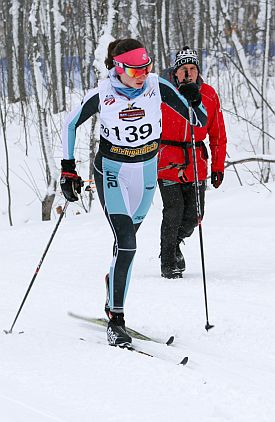 Lucy Anderson, classical sprint qualifying, Houghton CCSA/JNQ, December 17, 2016 (Photo: Jackie Schneider)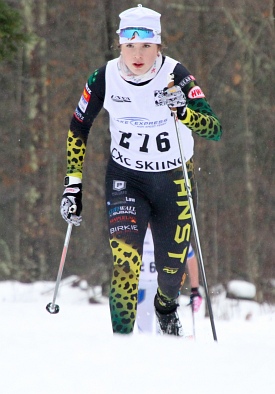 Abigail Jarzin, top junior girl, Cable JNQ/CCSA, January 21, 2017 (Photo: Jennifer Brisbois)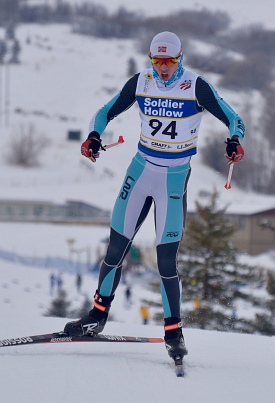 Xavier Mansfield, US Nationals, January 8, 2017 (Photo: Corey Brinkema)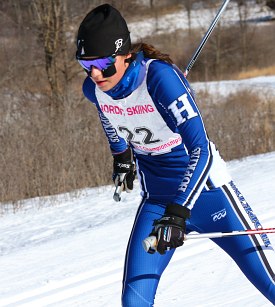 Section 6 champ, Renae Anderson, February 8, 2017
Key Events
Submit your invite...
• No current events.
Team Pages
Submit your team page...
Coon Rapids Nordic Ski Team


Voting Open for High School Nordic Coach, Assistant Coach and Volunteer of the Year
May 26, 2017
Minnesota High School Nordic Skiing Coaches Association members can now vote on the candidates for the high school coach, assistant coach and volunteer of the year awards. Voting will closed at noon on Wednesday, May 31st.
High School Nordic Coaches and Volunteer Nominations Due May 1, 2017
April 26, 2017
Nominations for the Minnesota High School Nordic coaches and volunteers of the year for last season, are due before Monday, May 1st.
2017 Collegiate Tally Board
April 5, 2017
We've fired up our annual collegiate tally board, highlighting the plans of Midwest high school seniors has they make decisions on their secondary education and skiing plans.
MN Coaches Assn Spring Meeting Recap
March 30, 2017
A brief recap on the Minnesota High School Coaches Association spring meeting, covering a wide range of topics including wax truce, ski club involvement, pole length, rule adjustments, banquet, and Victor C Dunder deadline.
Endurance United Junior Scholarship Program
March 22, 2017
For athletes interested in the D-team junior program, Endurance Athlete is offering some financial assistance (funded in part from the 55K rollerski event). Funds are limited, so get your application in today.
U16 Nordic Championships Recap
March 18, 2017
Kris and Bjorn Hanson provide a recap on the recent U16 Championships in Maine, where the Midwest kids scored some top results.
Junior Nationals Coverage
March 13, 2017
A full recap of our 2017 Junior Nationals coverage from Lake Placid. Thanks again to all the individuals and organizations that helped underwrite the trip!
U16 Nordic Championships Results
March 12, 2017
A Midwest crew of U16 skiers and support staff have been out at Titcomb Mountain, in West Farmington, Maine, competing this week in the U16 NENSA Nordic Championships. The team has scored some impressive results, including: Alice House 2nd and Lauren Lackman 3rd along with Matthew Clarke 3rd and Cooper Lennox 4th in the 5K freestyle race. In the 5K classical race, Lauren Lackman was 5th, Anni Skillicorn 8th and boys Nick Parent 7th. And wrapping things up on Sunday, the mixed relay team of Alice House, Nick House, Anni Skillicorn, and Cooper Lennox, took second place.
Related:
Results: 5K freestyle, 5K classical, 4x3K mixed relay
Junior Nationals: Relays Results
March 11, 2017
Junior Nationals in Lake Placid, NY, wrapped up its week run with a day of relay racing on Saturday. The team of Abby Jarzin, Hannah Rudd, and Margie Freed won the FU20 title by 10 seconds over NE, and IMD. Earning podium honors: MU16 (Schneider, Nameth, Moore) 2nd; MU18 (Sonnesyn, Acton, Golin) 3rd; FU18 (McCollor, Anderson, Maijaja) 3rd. New England won the Alaska Cup title with the Midwest finishing fourth. The LNR girls won the club championship title!
Junior Nationals: Classical Coverage
March 10, 2017
The Midwest scored one of their best days yet at Junior Nationals racing classical distance events on Friday. Mara McCollor, U18, and Hannah Rudd, U20, both scored impressive podium spots, both taking third place. Other top 10 results: Margie Freed, 9th U20; Xavier Mansfield, 5th U20; Erin Moening, 8th U18, Jenna Parent, 10th U18; Luc Golin, 9th U18; Libby Tuttle, 7th U16; Peter Moore, 6th U16, James Schneider, 9th U16. Results posted, plus photos from all the races.
Junior Nationals: Classical Sprints Coverage
March 8, 2017
A long, and wild, day of racing Wednesday at Junior Nationals as skiers competed in classical sprint races. Warm, sunny weather made for snowcone conditions, except for a brief snowsquall. The Midwest did well in the qualifying rounds, advancing a lot of skiers to the heats. Margie Freed, U20 girls, was the lone skier to make the sprint finals, finishing 5th.
Junior Nationals: Freestyle Races Coverage
March 6, 2017
Competition got underway Monday at Lake Placid in the 2017 Junior Nationals with freestyle races. After some crisp temperatures over the weekend, warmer weather moved in providing very good racing conditions. While no podiums, the Midwest team scored a number of top ten performances, including: Sarah Olson, 6th U16 girls; Peter Moore, 5th U16 boys, Alex Nameth, 9th U16 boys; Luci Anderson, 5th U18 girls; Margie Freed, 6th U20 girls, Hannah Rudd, 7th U20 girls. Racing picks up again on Wednesday with classical sprints.
Related:
Wednesday Classical Sprints Qualifying Start List
Junior Nationals: Day 2
March 5, 2017
On Sunday in Lake Placid for the Junior Nationals competition, the Midwest team was able to finally ski the competition loop at the Olympic Jumping Complex. The loop consists of a very long climb from the base of the ski jumps to near the top of the jump towers, then winds back and forth before descending back to the stadium. In the evening, the opening ceremonies were held at the Olympic ice rink, known for the Miracle on Ice victory by the USA hockey team in 1980. Competition begins on Monday with the freestyle races!
Related:
Photoset:

Day 2 - Morning Ski - 105 photos,

Day 2 - Opening Ceremonies - 64 photos
Photoset:

Junior National Trip Photos
Freestyle Start List
Junior Nationals Preview
Midwest Junior Championships Coverage
March 5, 2017
Racing to avoid a final meltdown, the Midwest Junior Championships condensed their weekend racing into a single big Saturday. Photographer Jennifer Brisbois captured some of the action.
State Meet Proposal Tabled, Spring Meeting Update
March 3, 2017
The proposal for a new Minnesota High School State Meet that would including sprints has been tabled by MSHSL (not rejected though). Efforts will now be redirected toward possible state meet venues.
Junior Nationals Preview
March 2, 2017
A brief guide on the upcoming Junior National competition, March 5-11th, in Lake Placid, NY, including a look at the Midwest team.
Related:
Midwest Junior National and NENSA U16 Teams Updated
Great Lakes Junior National Team Named
2017 Cross Country Junior National Championships Moved to Olympic Jumping Complex
Minnesota Spring High School Coaches Meeting Coming March 11th
February 27, 2017
The annual Minnesota High School Nordic Coaches Association Meeting will be held Saturday, March 11th at the Vasaloppet Center in Mora. Topics on the agenda include state meet proposal status, waxing truce, pole length, state meet banquet review, and Victor C. Dunder Award updates.
Minnesota State Meet Recap
February 20, 2017
We recap the Minnesota High School Nordic Championships breaking down some numbers in the team competition and looking at the top movers, as well as fact-checking our state meet predictions.
Related:
State Meet Lost and Found
Midwest Junior National and NENSA U16 Teams Named
February 19, 2017
With the completion of the Junior National competition this past weekend, the Midwest Junior National and NENSA U16 Championship preliminary teams have been named. Expect some changes/additions to the list over the coming week, as some decline and U20 collegiate skiers may be added.
Related:
2017 Junior Nationals (Lake Placid, NY)
2017 NENSA U16 Championships (Farmington, ME)
Minneapolis JNQ Classical Races Coverage
February 19, 2017
Theodore Wirth provided an oasis of snow one more time for the Minneapolis JNQ classical distance races on Sunday. The U18/U20 boys started the show at 8 am with glazed tracks - very fast conditions. The race proved to be one of the most exciting on the day as Madison's Cullen Chosy broke away on the final lap, only to be chased down by Xavier Mansfield on the final climb - an inadvertent miss of the lap vs finish lane left Mansfield soloing in for the victory. John Schwinghamer was third. Abigail Jarzin took control of the U18/U20 girls race in the final lap to take the title, Renae Anderson held with her for much of the race to finish second, with Mara McCollar third. The U16 titles went to Henry Hall and Kaelin Jackson. Results posted, along with photos from the JNQ races.

Minneapolis JNQ Classical Sprints Coverage
February 18, 2017
After reasonable 40F weather for the morning qualifiers, temperatures soared into the upper 50s by the time the sprint heats were wrapping up at the Mayors Challenge JNQ classical sprints Saturday at Theodore Wirth. In the mens U18/U20 final, Andrew Bailey strided away on the final climb to take the win with Xavier Mansfield and Ryan Steger taking second and third. The womens U18/U20 final had Anna Johnson leading the final charge and taking the victory in front of Abigail Jarzin, with Mae Barnes edging out Renae Anderson for third. U16 titles went to Peter Moore and Isabel Seay. Results posted, along with photos from the sprint heats.
Michigan State Championship Preview
February 16, 2017
Dan Wiitala provides a breakdown on the Michigan High School State Championships being held this weekend in Traverse City.
Minnesota State Meet Coverage
February 16, 2017
A beautiful morning for racing at Giants Ridge Thursday for the Minnesota High School Nordic Championships. Temperatures were in the 20s with a firm, fast skate deck for the freestyle races. Patrick Acton, Eagan, took the early lead in the boys race with a slim five second lead over Foss Kerker, Minneapolis Southwest, with Xavier Mansfield, Spring Lake Park/St.Anthony, just 15 seconds back. The northern girls rocked in the skate, with Anja Maijala, CEC, taking first, Erin Bianco, Ely, only four seconds behind, and tied in third was Anna Johnson, Mesabi East and Lucinda Anderson, Robbinsdale-Armstrong. In the boys pursuit, Mansfield came from third place to overtake Acton and Kerker for the victory, with Acton again second and Kerker third. The girls race was a near repeat of the Section 7 championship as Bianco made up the margin to Maijala and won by six seconds, with Erin Moening, St. Paul Highland Park, moving up from 7th to take third. The Ely girls pull off the upset in taking the team title, as Minneapolis Southwest repeats as boys champions. Results posted, along with over 1000 photos from the four races.
Related:
Charlie Banks Relay Results
Duluth News Tribune: Bianco, Ely girls win state titles
Star Tribune: Boys' Nordic ski champ chases friendly foes, catches dream
Skinnyski.com High School Rankings - Final
February 13, 2017
We take one last crack at trying to sort out the Minnesota High School Nordic ski rankings before the State Meet on Thursday. Kelly Koch and Xavier Mansfield remain on top along with the Mpls Southwest boys and Robbinsdale-Armstrong girls teams. Watch for our State Meet Preview (and predictions) later this week.
Wisconsin State Championships Coverage
February 12, 2017
Two days of racing at the Birkie Start trailhead decided the Wisconsin high school state championships this weekend. Madison's Cullen Chosy took the boys lead after the 7K freestyle on Saturday and held it through the classical pursuit on Sunday. Lakeland's Kieran Mullen rocketed from 5th place after skate to second overall during the classical pursuit, with Jackson Alder, Ashwaubenon, moving from 8th up to third. Ashwaubenon's Abigail Jarzin dominated the girls field, taking a nearly minute lead after Saturday and expanding it to an even two minutes at the end of the classical pursuit. Wausau's Olivia Dreger held for second place with teammate Lauren Lackman moving up from fifth to third. The Lakeland boys and Wausau girls won the team titles. Results linked in, along with big photosets from the classical pursuit.
Glitter is Go!
February 10, 2017
Stillwater's Siri Bohacek has led an effort to allow the use of glitter at the Minnesota State Meet, which was tentatively approved on Friday!
Section 4 Coverage
February 9, 2017
Firm conditions for racers in the Section 4 Championships Thursday at Hyland Lake. Stillwater swept the team titles with rival Forest Lake taking second. In the boys individual race, Shad Kraftson held off Mounds Views Mark Ousdigian by five seconds for the victory. Forest Lake's Regan Duffy started the freestyle pursuit 16 seconds behind teammate Jenna Parent and finished ahead by five for the girls title. Results posted, plus photosets from the morning classical races.
Section 2 Coverage
February 9, 2017
Section 2 schools competed at Theodore Wirth for Thursday for the right to advance to the State Meet. Minneapolis Southwest dominated the meet with Foss Kerker and Kasia Bednarski both easily taking the individual titles, and the school sweeping the team titles. Edina took both the girls and boys second place team placings. Results linked in, photos coming tonight.
Section 7 Coverage
February 9, 2017
Racing on the State Meet course at Giants Ridge, Section 7 titles were decided on Thursday. Ely's Erin Bianco overcame an 11 second deficit to CEC Anja Maijala to take the girls title. Alex Kelling, Grand Rapids, posted the top skate and classic times to collect the boys victory. Ely girls and Grand Rapids boys won the team titles, with Duluth East taking runner up for both boys and girls. Results linked in, photos coming this evening.
Wisconsin State Championships Predictions
February 8, 2017
Ken Schoville shares with us his breakdown on the Wisconsin State Championships (high school), which is scheduled for this weekend, Feb 11-12 at the new Birkie start area.
Section 5 Coverage
February 8, 2017
Section 5 held their championship on Wednesday using the Twin Lakes and part of the snowmaking trail at Theodore Wirth for a fast single lap course. Champlin Park edged out Mora boys by a single point to take the team title, while Maple Grove bested Andover by two points for the girls title. Top ranked Xavier Mansfield, Spring Lake Park/St.Anthony, skied away from the field for the boys individual title, Champlin Park's Ian Ivens taking best of the rest. Blaine's Sarah Olson won the girls pursuit, over a minute ahead of Andover's Lauren Johnson. Results posted, along with photosets from the pursuit races.
Section 6 Coverage
February 8, 2017
While the temperatures Wednesday morning were in the single digits, bright sunshine and a very firm trail made for fast racing for the Section 6 championships at Hyland Lake. Wayzata's Anders Sonnesyn crushed the freestyle opener and held off teammate Luc Golin in the classical pursuit to top the boys field. The girls race setup for an exciting afternoon as the top four girls all started the classical pursuit within six seconds. Hopkins Renae Anderson pulled ahead of the pack to be the clear winner, with Mara McCollor coming in second. The Wayzata boys placed four in the top five to easily take the team title, with Robbinsdale-Armstrong boys besting Orono by a single point for second place. The Robbinsdale-Armstrong girls won the team title, with Hopkins a close second just three points behind. Results posted, along with photosets from the freestyle races.
Section 1 Coverage
February 7, 2017
An icy early morning mist and soft conditions at Hyland on Tuesday for the Section 1 championships. Eagan's Patrick Acton spotted his teammate Ryan Steger a 15 second lead after the classical then came roaring back in the skate to take the boys individual title by just 12 seconds. Number one ranked Kelly Koch, Burnsville, hammered the girls field, taking an impressive 1:06 lead after classical and extended it to almost two minutes in the freestyle pursuit for the victory. Team titles went to the Burnsville girls and Eagan boys, with Eastview girls and Winona boys taking second. Results posted, along with photosets from the classical races.
Section 3 Coverage
February 7, 2017
Section 3 championships were held on the snowmaking loop at Theodore Wirth on Tuesday. The boys race came down to a nailbiter as St. Paul Highland Park's Harrison Pretel chased down SPA's Peter Moore during the freestyle pursuit, setting up a sprint finish which Moore won by inches. Erin Moening, Highland Park, took a lead from the morning classical race and extended it during the freestyle pursuit to capture the section title. St. Paul Highland Park swept the team titles, with St. Paul Central boys and Henry-Sibley girls earning starts at State with second place finishes. Results posted, along with photos from the freestyle pursuit races.
Section 8 Coverage
February 7, 2017
Racing in mid-winter conditions at Maplelag Resort, Section 8 held their championships on Tuesday. Kendal Hendrickson and Hunter Zupko, Little Falls skiers, dominated their respective divisions, posting the top times in both skate and classical to win the individual titles. Little Falls also qualified both their teams for State, with the girls taking first with Bemidji second, and the Little Falls boys finishing second to the team champs Brainerd. Results linked in, plus photos of the classical pursuit by Jay Richards.
Minnesota Sections Preview
February 5, 2017
The Minnesota High school Sections are this week, Tuesday thru Thursday, across the state. Read our take on each section, and review a few rules and reminders for these final meets. Note: Hyland and Wirth snowmaking trails will be occupied all three days for sections.
Skinnyski.com High School Rankings - Round 4
February 5, 2017
One last crack at the Minnesota high school rankings before sections has Kelly Koch and Xavier Mansfield still riding the top of the rankings, along with Minneapolis Southwest boys and Robbinsdale-Armstrong girls as top teams.
NNF: U18 Nation's Trip Day 11/Wrap Up
February 1, 2017
The National Nordic Foundation sponsored U18 Nation's Trip wrapped up on Wednesday with flights home. Read a final recap and misc notes from the trip.
World Junior Championships - Freestyle Races
February 1, 2017
World Junior Championships on Wednesday in Soldier Hollow featured freestyle format races. Sweden's Ebba Andersson took the womens 5K victory, with American Katharine Ogden placing 5th, less than 7 seconds off the podium. Russians swept the mens 10K podium, led by Vladislav Vechkanov, with Hunter Wonders the top American at 16th.
Related:
Results: 5K, 10K Freestyle
Coaches Association Updates
February 1, 2017
President Doug Boonstra highlights the Charlie Banks changes, standing on wax usage and pole length for the State Meet, and possible new scheduling for the annual Sprint Meeting.
Related:
Minnesota High School All-State Academic Info
U23 World Championships - Classical Sprints
January 31, 2017
On Tuesday it was the U23 athletes turn at classical sprints. Sweden's Anna Dyvik was the best of the womens field, winning by over 3 seconds, while Norway's Fredrik Riseth won the mens final. For the US, Cole Morgan advanced to the semifinals and Nicole Bathe was the top Midwest skier, earning a spot in the quarterfinals.
Related:
Results: Classical Sprints
NNF: U18 Nation's Trip Day 10
January 31, 2017
The U18 Nation's Trip wrapped up their final day in Norway with a trip to a world class Nordic training facility with snowmaking and then an afternoon hike around Trondheim.
NNF: U18 Nation's Trip Day 9
January 30, 2017
Day 9 of the U18 Nation's Trip visited two legends: the Meraker ski area and Olympic gold medalist and World Championship Frode Estil.
Duluth Invite/JNQ Freestyle Race Coverage - Day 2
January 29, 2017
Day 2 of racing at Duluth Marshall was again on skate skis, with conditions not allowing for classic tracks to be set. In the 10K, Patrick Acton notched the top U18 time and the fastest time of the field. Jack Christianson was the fastest U20 male, and Kyle Marshall posted the best collegiate result. The U16 5K field was led by Peter Moore, just seconds in front of Saturday's 5K champ, James Schneider. Abigail Jarzinen skated the fastest women's 10K of the day and led the U18 category. Dottie Anderson was the top U20 skier with Carolyn Lucca topping the collegiate field. The U16 women's race gave top honors to Sarah Olson.
Related:
CCSA: Duluth Hilltop Invite Recap
NNF: U18 Nation's Trip Day 8
January 29, 2017
The Junior Nordic Competition (U18 Nations) wrapped up on Sunday with a pair of exciting relay races. The team will be spending two more days in Norway, skiing and sightseeing, before flying back home.
Related:
Photoset:

Relays
Duluth Invite/JNQ Freestyle Race Coverage
January 28, 2017
Duluth's Marshall School played host to this weekend's JNQ, starting with individual start skate competition on Saturday. Nicole Schneider and James Schneider made the 5K race a family affair, snagging the top female and male spots of the day. The fastest 10K boys time went to Gaspard Cuenot of Michigan Tech.
NNF: U18 Nation's Trip Day 7
January 28, 2017
The second day of racing on the U18 Nation's trip featured freestyle 5K and 10K events, with the US team scoring a number of top twenty results.
Related:
Photoset:

Freestyle Races