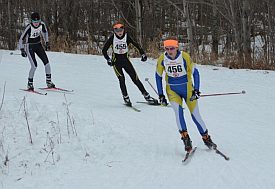 Section winners knotted up, Minnesota State Meet, February 16, 2012 (Photo: Ron Kutsi)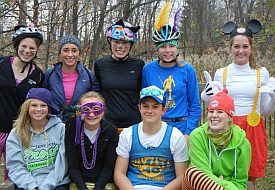 Wayzata Nordic girls ready for training, November 1, 2011 (Photo: Marit Sonnesyn)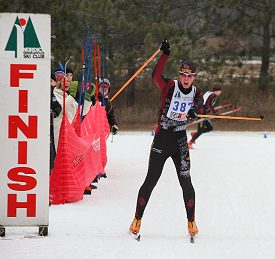 Irondale victory in boys classical, Holiday Relays, December 17, 2011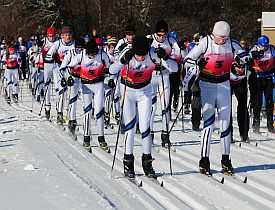 Wisconsin Southern Conference Championship, January 21, 2012 (Photo: Anne Riendl)
Key Events
Submit your invite...
• No current events.
Team Pages
Submit your team page...
Coon Rapids Nordic Ski Team

2012 Collegiate Tally Board
April 26, 2012
Find out where the Midwest high school seniors are planning to ski next season with our annual collegiate tally board. Send us your plans, we'll update it regularly.
J2 National Talent Camp Invitations Announced
April 14, 2012
Sisu Skiers qualified four Midwest J2 skiers for the National J2 Talent Camp, held this August in Craftsbury, VT. Invitees include Alayna Sonnesyn, Rocci Wolhk, Mattie Watts and Steve Hokanson.
Alpine: Minnesota State Champ Turns in Medal
April 13, 2012
Star Tribune: Minnehaha Academy junior Bjorn Halvorson forfeited his State championship medal to the Minnesota High School League last week, after admitting he should have been ineligible for the state meet.
Related:
Bjorn Halvorson of Minnehaha Academy overcomes history of falls to win boys Alpine ski title
Coaches Meetings
April 9, 2012
Two important spring meetings coming up for Midwest high school/junior coaches (unfortunately on the same date)...
Apr 21 MSHSNSCA Spring Meeting - MN high school coaches spring meeting will be at the Vasaloppet Center in Mora. Major topic will be the latest proposal for changing the State Meet qualification.
Apr 21 Midwest Juniors Coaches Meeting - Midwest junior coaches will gather in Eau Claire, WI. Topics include review of the 2012 Junior Nationals trip and a look at the upcoming season schedule.
Related:
MSHSCA Nordic Skiing Coaches Meeting Agenda
Victor C. Dunder Award Nominations Due by March 31st
March 23, 2012
The deadline for submitting applications for the Victor C Dunder Award is next Saturday, March 31st. The award is designed to help first year skiers with a financial need get equipment they would ordinarily not be able to afford.
Minnesota High School 3x5 Proposal
March 21, 2012
Outgoing president Pete Tremaine is requesting final comments on the 3 x 5 State Meet qualifying proposal that was voted on at the Coaches Meeting last fall in Mora.
Junior Nationals Coverage
March 12, 2012
We've posted the complete collection of out 2012 Junior Nationals coverage from Soldier Hollow.
MSHSNSCA Awards
March 2, 2012
The Minnesota High School Nordic Coaches Association has announced their coach, assistant coach, and volunteers of the year awards.
Minnesota State Meet Recap
February 21, 2012
The big Minnesota State Meet was last Thursday at Giants Ridge. Great weather combined with some incredible performances made for one of the better State Meets in recent memory. Read a full recap including some individual highlights and check out a couple of alternative team scorings.
Related:
Photoset:

Top Picks (high res)
Coaches Association State Meet Review, Spring Meeting
Michigan State High School Championships Results
February 20, 2012
Two days of racing on the Michigan Tech trail system decided the Michigan State High School Championships, Feb 17-18th. Blake Murray and Ellen Wiitala, both of Marquette high school, won the pursuit titles. Wiitala also snared the sprint championship, with Andrew Twohey, also from Marquette, won the boys sprints. Perhaps not surprisingly, Marquette high school won the overall team title.
Related:
Michigan State High School Championships Recap
Minnesota State Meet Coverage
February 16, 2012
Giants Ridge was hopping Thursday morning as the Minnesota High School Nordic State Championships got underway with the freestyle races. As expected, Ben Saxton stormed out to an early lead in the boys field. However, it was Jake Richards that put in the race of the morning to finish second. The boys afternoon classical pursuit began as a tight race, but Ben Saxton pulled away to repeat as the boys champion. Jake Richards battled Jan Ketterson and Ryan Davis, gliding away on the Gold descent to take 2nd, Davis 3rd. In the girls race, Annie Harvieux posted the top freestyle time of the morning, with Alayna Sonnesyn positioned second. The afternoon's classic pursuit provided huge excitement as Nora Gilbertson moved up from 3rd place with a rocket descent to claim the girls title! Sonnesyn held on to 2nd place with Forest Lake's Rocci Wohlk rising to 3rd. Roseville boys made good on their number 1 ranking with a victory over Hopkins. The Duluth East girls narrowly edged out Wayzata to claim the girls team title by a single point. Results, photos are up now, video coming late tonight.
Charlie Banks Relays Coverage
February 15, 2012
Near perfect weather greeted skiers for the Charlie Banks Relays Wednesday at Giants Ridge. Temperatures in the mid-20s and morning clouds gave way to afternoon sunshine for the races. Minneapolis Southwest boys and Wayzata girls won the relays. Full results posted, along with photosets.
Minnesota State Meet Preview
February 14, 2012
We roll out our annual look at the Minnesota State High School Nordic Skiing Championships -- the State Meet. We review the top contenders and make our own predictions on who'll be standing on the top of the podium. The big dance is Thursday, don't miss it!
Related:
MN HS Nordic Coaches Association Section Award Candidates
Mt. Borah Drops Nordic Prices, Adds To Efficiencies
February 13, 2012
Mt Borah has announced price reductions on their 2012-2013 ski season prices due to increases in efficiency in their operations. Mt. Borah rep John Dyste will be at the Minnesota State Meet Wednesday and Thursday.
Skinnyski.com High School Rankings - Week 12
February 12, 2012
With sections completed, the final rankings of the Minnesota high school season are posted. Number ones all stay the same, but almost everything else gets stirred one last time.
Related:
Minnesota State Meet: Boys Start List
Minnesota State Meet: Girls Start List
Wisconsin High School Championships Results
February 11, 2012
John Burke reports: The Wisconsin State XC Championship were held Saturday at Minocqua Winter Park. It was a day of sweeps. Nichole Bathe, Vernona, and Adam Martin, Wausau East/West, captured the Freestyle, Classic and Pursuit titles in the Girls and Boys competitions, respectively. For the teams, both Boys and Girls trophies went to Hayward.
Section 2 Coverage
February 9, 2012
Completing three days of section meets at Theodore Wirth, Section 2 state meet qualifiers were decided Thursday. The Minnetonka boys pulled off an upset, knocking off Eden Prairie for the team title in a hard fought race. Even more exciting, the Wayzata and Eden Prairie girls appeared to tie for the team title, with Alayna Sonnesyn's dominating individual victory providing the tie-breaking winning margin for Wayzata. Zach Goldberg topped the boys field. Eden Prairie advances seven boys and six girls to State! Results posted, along with photos and video recaps.
Section 7 Coverage
February 9, 2012
Racing on the State Meet trails at Giants Ridge, the Section 7 titles were decided on Thursday. Duluth East swept the team titles over runner up Ely, as well as taking the individual titles. Ryan Davis posted big numbers to crush the boys field, Annie Harvieux looked strong in topping the girls results. Ely boys qualified five for the State Meet. Results posted, along with some photos.
Section 4 Coverage
February 8, 2012
Stillwater and Forest Lake battled for the Section 4titles as the dominating duo racing at Troll Hollow Wednesday. Forest Lake's Rocci Wolhk won the girls race, but Nora Gilbertson, Stillwater, continues to improve, losing out by only 22 seconds. Joe Jackson, Forest Lake, took a strong boys victory with teammate Alex Kelley just holding off Stillwater's Sean Bjork for second. Stillwater girls won the team title by 8 points, Forest Lake boys by 3. Stillwater boys qualified five for the State Meet. Results are up along with some photos.

Section 6 Results
February 8, 2012
Using Elm Creek's man-made snowmaking loop, Section 6 held their championship on Wednesday and provided some dramatic racing. Harris Dirnberger, Hopkins, overtook Jan Ketterson, Bloomington Jefferson, in the classical pursuit to nab the boys win. Minneapolis Southwest's Claire Galvin, recovering from a broken foot earlier in the season, stretched it at the line to just nip Sarah Benton, Hopkins, for the victory. The underrated Hopkins boys won the team title, and with the Minneapolis Southwest and Hopkins girls needing a total time tiebreaker to decide the team in favor of Hopkins! Mpls Southwest girls qualified five for the State Meet. Results are posted.
Section 5 Coverage
February 8, 2012
The second day of racing on Theodore Wirth man-made snow loop featured the skiers of section 5. Powerhouse Roseville proved up to the challenge as they swept the events, taking both the boys and girls team titles, as well as Kyle Marshall and Nikki Reker pulling off the mild upsets to take the individual victories. Results, photos and video recaps are posted.
Section 1 Coverage
February 7, 2012
Brian Abery reports: Section 1 held its championships at Troll Hollow on Tuesday and the top skiers delivered as advertised. In the Boys race, Lakeville North senior Ben Saxton skied to a commanding lead in the morning classic race and extended the gap in the freestyle portion of competition to win the pursuit title by almost 2 minutes over teammate Lewis Kunink. Nick Acton of Eagan took 3rd leading the Eagan Boys to the team title. On the Girl's side, Eagan Junior Sonja Hedblom bested Lakeville North's Amy Ferguson by 1:11 with Winona Senior Erin Keane another 53 seconds back in 3rd position. The Winona Girls took 3rd, 5th, 6th and 18th to earn the team title. Results and photos posted.
Section 3 Coverage
February 7, 2012
Section 3 was the first to test out the snowmaking loop for high school sections with their meet Tuesday. Eric Slater, Henry-Sibley, won the boys race in front of Minnehaha Academy's Luke Brown. Vivian Hett, Burnsville, dominated the girls race, winning by 2:30! A number of disqualifications in the classical race made for an interesting freestyle pursuit as St. Paul Central boys topped Minneahaha Academy while the Burnsville girls defeated Minneapolis South for the team crowns. Results and video recaps are posted.
Section 8 Coverage
February 7, 2012
Jay Richards reports: Sunny skies, mid teens and calm wind greeted racers for the Section 8 Nordic Ski Championships at Maplelag Resort. Overnight temps in the single digits set the course hard for fast racing. Jake Richards defended his title, capturing his third straight crown. Maria Huber won the battle of sophmores, capturing the title as second place came down to a narrow finish between Berit Ramstad-Skoyles and Callie Smith with Skoyles just holding off Smith in the classic pursuit. Team titles went to Brainerd boys and Little Falls girls. Results and photos posted.
State Meet, Charile Banks Relays, Banquet Info
February 3, 2012
Information on the awards, meetings, banquets and slideshows associated with the Minnesota State Meet.
Related:
Victor C Dunder Nordic Ski Award Reminder
Tour de Twin Cities Freestyle Coverage
January 29, 2012
The Tour de Twin Cities wrapped up Sunday with another set of six races, this time featuring a freestyle pursuit format based off the classical finishes on Saturday. Matt Liebsch put in strong race, skiing with a lead pack for roughly half the race before breaking away on the final laps to take the victory (Brenton Knight posted the top skate time). Caitlin Gregg moved into the lead of the womens race early on and cruised in for the womens title. In the boys OJ/J1 race, Jan Ketterson stormed to the victory ahead of Chris Parr. The girls OJ/J1 race saw Hanne Guthrie move up to take the girls title just in front of Nikki Reker. Mattie Watts held off challengers to take the girls J2 race (Alayna Sonnesyn posted the top skate time). Sean Cork overtook Steve Hokanson for the J2 boys race (Zak Ketterson had the top skate time).
Related:
Photoset:

SuperTour Women 15K - 118 photos,

SuperTour Men 20K - 175 photos,

Girls OJ/J1 10K - 80 photos,

Boys OJ/J1 10K - 106 photos,

Girls J2 5K - 70 photos,

Boys J2 5K - 81 photos
Photoset from David Owen:

Tour de Twin Cities Freestyle
Photoset from Todd Bauer:

Girls OJ/J1,

Boys OJ/J1
Results: 5K, 10K, 15K, 20K freestyle
Matt Liebsch Wins Tour de Twin Cities
CCSA: Irwin, Hecker capture first CCSA wins at Green Acres skate events
Tour de Twin Cities Classical Coverage
January 28, 2012
An incredibly exciting Saturday for racing at Green Acres for the Tour de Twin Cities classical races. The events all featured a mass start format and the flow of the Green Acres trail system made for fantastic spectator viewing. Matt Liebsch provided the biggest excitement of the day, breaking a pole at the start then storming back to lose by a hair in a photo finish for the mens 10K SuperTour race. Jennie Bender went off the front early and posted a nice margin in her victory in the womens 5K. J1 titles went to Chris Parr and Annie Harvieux, J2 crowns for Steve Hokanson and Mattie Watts. (Photo: Sean Gavigan) Note: Citizen racers will start with SuperTour fields on Sunday.
Related:
Photoset from Todd Bauer:

Boys OJ/J1
Video:

SuperTour Mens 10K Recap,

SuperTour Womens 5K Recap,

Boys OJ/J1 10K Recap,

Girls OJ/J1 5K Recap,

Boys J2 5K Recap,

Girls J2 5K Recap
Video from Rosie Curry:

Mens SuperTour 10K Start Crash
Results: 5K, 10K classical
Matt Liebsch Race Recap by Greg Bernhardt.
CCSA: Eriksson, Harju claim college wins, lift Michigan Tech at Green Acres SuperTour
Racing Outlook: Sections
January 23, 2012
A first pass at the Minnesota section schedule/locations has been posted. These are not final, please check back again as sections near.
State Meet Info
January 23, 2012
Information on the area high school championships...
Feb 11 Wisconsin State Championships
Feb 16 Minnesota State Meet
Feb 17-18 Michigan State Championships
Mayor's Challenge Freestyle Coverage
January 22, 2012
Sunday brought warmer but damp and cloudy conditions for the Mayor's Challenge freestyle races at Theodore Wirth. The mens 15K race featured a tight battle between Matt Liebsch and Tad Elliot, starting 15 seconds apart, with Liebsch holding on to a narrow victory. Caitlin Gregg topped the womens 10K field.
Related:
Photoset:

10K - 178 photos,

15K - 256 photos,

5K - 146 photos
Photoset:

Top Picks (high res)
Photoset from David Owen:

Freestyle
Photoset from Todd Bauer:

Womens 10K,

Mens 15K
Results: 5K, 10K, 15K freestyle
CCSA: Northern Michigan on top again as Markvardsen, Soderman lead CCSA
Matt Liebsch Wins Mayor's Challenge Cross Country Ski Races
Mayor's Challenge Classical Coverage
January 21, 2012
Sunny skies, crisp temperatures and light winds combined for some good classical conditions Saturday morning for the Mayor's Challenge events. Matt Liebsch continues to show improved classical form, topping the mens 10K field by just .4 seconds over Sylvan Ellefson! Jennie Bender posted the fastest womens time with a winning margin of 10 seconds.
Related:
Photoset:

5K - 235 photos,

10K - 225 photos
Photoset:

Top Picks (high res)
Photoset from Todd Bauer:

Men,

Women
Results: 5K, 10K classical
CCSA: Markset, Markvardsen propel Wildcats to lead at Mayor's XC Challenge
ABC Relays Results
January 14, 2012
Fielding over 30 relay teams, the ABC Relays showcased some tough competition on the snowmaking loop at Theodore Wirth Saturday. The Roseville boys and Stillwater girls took top honors, as Eric Slater, Henry-Sibley, and Kristen Bourne, MPA had the fastest classical times, Zach Goldberg, Minnetonka, and Kim Bourne, the top freestyle splits.
Mesabi East Invite Coverage
January 7, 2012
Giants Ridge put together a fast but challenging course for the Mesabi East Invite Saturday. While mostly running along the downhill basin on man-made snow, the course did take a sharp climb up one of the downhills, and a second sustained climb up another downhill to provide some real chances for skiers to get some separation. In the morning classical races, Sam Elfstrom, Roseville and Nora Gilbertson, Stillwater, strided to the classical victories. In the afternoon skate races, Jan Ketterson, Bloomington, and Alayna Sonnesyn posted the top times. Team titles went to the Roseville boys and Wayzata girls. Results linked in and over 800 photos posted.
Greenwood Hills Classic Sprints JOQ Coverage
December 18, 2011
Sunday in Wausau had the juniors flying in the classical sprints on the man-made snow at Greenwood Hills. And once again, Ben Saxton dominated the junior men, posting the fastest qualifying time by a full seven seconds and going on to win the sprint final. While Elizabeth Simak had the top qualifying time, it was Nichole Bathe taking the victory in the girls sprint final. J2 sprint winners were Colin Touhey and Vivian Hett.
Related:
Photoset from Todd Bauer:

Qualifying,

Heats
Photoset from Tom Jackson:

Greenwood Hills JOQ
Results: Qualifying, Heats
Holiday Relays Coverage
December 17, 2011
Troll Hollow in Dresser, Wisconsin, featured some fast flying (and sometimes crashing) skiers in the 2011 edition of the Holiday Relays. Over 750 skiers completed from 30 teams. Opening the day was the girls classical relay which featured a nice duel between Stillwater and Wayzata, with the Wayzata girls winning by 30 seconds. In the boys classical, Irondale moved up to seize the victory in the final leg. The afternoon skates had to deal with a course softened up from the classical traffic, but still retaining very fast descents. The girls freestyle showcased of the top skiers in the state, including a match up of Alayna Sonnesyn and Mattie Matts in the final leg. Once again, the Wayzata girls flexed their team depth by winning by nearly two minutes (but with Watts posting the topping Sonnesyn by 14 seconds). Mirroring the Wayzata girls, the Irondale boys also swept the team titles with another come from behind win in the boys skate. Results along with nearly 800 photos and video recaps from all four races.
Greenwood Hills Freestyle Sprints JOQ Coverage
December 17, 2011
Enduring warm temperatures and even rain, the organizers pulled off a good race course for the Greenwood Hills JOQ in Wausau Saturday. In the qualifying rounds, Ben Saxton edged out Kyle Marshall by 2/10 of a second to post the fastest time. Elizabeth Simak had the top girls time by over two seconds. In OJ/J1 sprint finals, Saxton came out on top with Kyle Bratrud second and Marshall third. The girls OJ/J1 final saw Simak top the field with Nichole Bathe second, Deedra Irwin third. J2 titles went to Sean Cork and Vivian Hett.
Related:
Photoset from Larry Mishkar:

Greenwood Hills JOQ Freestyle
Photoset from Todd Bauer:

Qualifying,

Heats
Results: Qualifying, Heats
Wolverine Challenge Classical JOQ Coverage
December 11, 2011
Day 2 of the Wolverine Challenge featured classical skiing with interval starts. Even with the lower than normal snow conditions, organizers were able to set a decent classical track throughout most of the course. Matt Liebsch posted an impressive classical performance, topping the mens 10K field by nearly 50 seconds. Monica Markvardsen had the fastest womens 10K time.
Related:
Photoset:

Classical - 97 photos
Photoset:

Top Picks (high res)
Photoset from Jay Richards:

Wolverine JOQ Classical
Photoset from Linda Slining:

Wolverine JOQ Classical
Photoset from Todd Bauer:

Mens 10K classical,

Womens 10K classical
Photoset from Tom Jackson:

Wolverine JOQ
Results: 5K, 10K classical
Peter Westra Sprints Results
December 10, 2011
Racing under the lights of a fully opened Troll Hollow, over 168 high school skiers cranked out their best fast twitch in the Peter Westra springs on Friday evening. Chris Hecker, Anoka, and Toni St. Martin, Mahtomedi, captured the titles (and the big cookies)!
Wolverine Challenge Freestyle JOQ Coverage
December 10, 2011
The Junior Olympic qualifying season got underway Saturday morning in Ironwood with the freestyle races at Wolverine Nordic. Matt Liebsch, Senior, posted the top 10K time, coming in at 22:20. Elizabeth Simak, OJ, topped the 5K womens field posting a blister 13:33 time. Skiers reported fast snow but bumpy terrain, making it tricky to ride a stable ski.
Related:
Photoset:

Freestyle - 106 photos
Photoset:

Top Picks (high res)
Photoset from Linda Slining :

Wolverine JOQ Freestyle
Photoset from Todd Bauer:

Mens 10K
Video from Eve Stein:

Mens 10K clips
Results: 5K, 10K freestyle
Minnesota State CC Meet Coverage
November 5, 2011
The Minnesota high school cross-country season crowned their champions Saturday on the traditional courses at St. Olaf in Northfield. The girls class AA was a thrilling battle as Alexandria's Jamie Piepenburg gave defending camp Maria Hauger, Shakopee, a major challenge. Piepenburg and Hauser formed the leading duo at the halfway point and then Piepenberg took the lead in the final kilometer. But Hauger kept her in sight and with a strong finishing stretch passed Piepenberg in the final 20 meters to take her third championship. Bemidji's Jenna Truedson finished third. The boys class AA was also a tight affair through the first half with nearly a dozen runners in the lead pack. In the end, it was number one ranked Josh Thorson, Wayzata, pulling away to take a narrow victory. Second and third went to Riley Macon, Rochester Mayo, and Troy Koivisto, Dassel-Cokato. Class AA team titles went to the Monticello girls and Stillwater boys. In the afternoon races, the class A competition squared off. The girls race saw Blake's Clare Flanagan crowned the new class A champion as she pulled away from Emi Trost, Cannon Falls. Last year's winner, Maris Shady of Esko, finished third. Senior Bryon Schuldt, Nevis, surged ahead of the field to win the boys A event. Brandon Clark, Blake, and Charlie Lawrence, Foley, rounded out the top three. Team A titles were swept by St. Cloud Cathedral as the boys narrowly defeated powerhouse Perham by a single point.
Related:
Photoset:

Class AA Girls - 143 photos,

Class AA Boys - 132 photos
Photoset:

Top Picks (high res)
Video:

Class A Girls Recap,

Class A Boys Recap
Results: Class AA - Girls, Class AA - Boys, Class A - Girls, Class A - Boys
Fall Coaches Meeting Recap
October 29, 2011
The Vasaloppet Center in Mora hosted the annual Fall Coaches Meeting on Saturday, combined with a vendor expo. The biggest topic on the day was discussion and voting on two proposed changes to State Meet qualifying and scoring.
Minnesota State Meet Scoring Proposals
October 17, 2011
Pete Tremaine, President MN Nordic Ski Coaches Association, has posted a couple of new proposals for State Meet qualifying and scoring. These will be discussed at the Fall Coaches Meeting, October 29th in Mora.
Roy Griak Invitational Coverage
September 24, 2011
This last weekend in September hosts some of the biggest Minnesota cross-country meets on the calendar with huge fields turning out in Apple Valley, Milaca, and at the U of MN golf course for the Roy Griak Invitational. Bismarck North Dakota's Jake Leingang pulled away from a fast field in the final kilometer to win the Boys Gold race in 15:33. Allie Fons, Franklin, WI, made her move to the front half way into the Girls Gold and never looked back, winning by 18 seconds. The Boys Maroon race was tight up until the midway point then Kevin Docherty, Cretin-Derham Hall, and Ahmed Bule, St. Paul Central, pushed up the pace with Docherty winning with a time of 16:19. Spring Valley Wisconsin's Breanna Colbenson went to the front from the start and never looked back, holding off Wausau East's Ashley Eckhoff attempt to reel her in, winning by nine seconds.
Related:
Photoset:

Boys Gold - 123 photos,

Girls Gold - 118 photos,

Boys Maroon - 170 photos,

Girls Maroon - 170 photos
Video:

Gold Boys Recap,

Gold Girls Recap,

Maroon Boys Recap,

Maroon Girls Recap
Results: Roy Griak Invitational
Rolf Melby Invite Coverage
September 2, 2011
Over 1000 junior high and high school runners hit the turf for the Rolf Melby Invitational Friday morning in Northfield. The annual fall classic features the Minnesota State Meet course at St. Olaf College. The boys race was an exciting match up with 5-6 boys in the lead pack going into the woods. Coming down the final stretch, it was Bloomington Jefferson's Jan Ketterson taking the lead to win with a time of 16:21 (5K). Joey Duerr, Chaska, edged out Ahmed Bule, St. Paul Central, for second place. State champion Maria Hauger, Shakopee, was unchallenged in taking the girls title in 13:56 (4K). Albert Lea's Chrissy Monson topped Hauger's teammeate, Winona Rachel, for second place. The Eastview boys and Roseville girls won the team titles.
Related:
Photoset:

Boys 5K - 133 photos,

Girls 4K - 107 photos
Results: Rolf Melby Invite
Summer Juniors Training Programs Photos - Part 2
July 25, 2011
We've wrapped up our highlighting a number of Twin Cities based summer juniors training programs last week. We've posted some of favorite images in high-res on our Facebook page.
US Ski Team Womens Video Challenge Finalists
July 24, 2011
Over 20 organizations submitted videos for the US Ski Team Womens Challenge, highlights female training programs across North America. Now the US Ski Team has selected five finalists, and two Midwest programs have made the cut. Check out the videos from Sisu Skiers and Stillwater and cast your vote! Deadline for voting is August 1st.
Midwest Junior Olympic Wax Coaches Sought
July 8, 2011
The Midwest Junior Olympic Committee is seeking applicants for head glide and kick wax coaches for the 2012 US Junior Olympics.
Spotlight: Go!Training Summer Program
June 30, 2011
Go!Training, under the direction of Piotr Bednarski, has a wide range of training options for summer juniors. Thursday morning we met up with them in Afton. After a brief discussion in the parking lot, the group headed out for a classical rollerski on one of the many quiet back roads. Depending on ability, the skiers did varying uphill distances with Bednarski collecting video footage and providing technique advice from his bike while Sara Morse coached on rollerskis with the groups.
Related:
Photoset:

124 photos
Go!Training
Spotlight: Minnesota Valley Ski Team
June 29, 2011
Minnesota Valley Ski Team is having another strong season with roughly 70 participants in their summer training program. On Wednesday morning, the group met at Hyland downhill area for their first workout of the season on the big hills. After a short warmup run, coaches Reid Lutter, Doug Boonstra and Randy Gibbs led groups on varying intensity pole hiking sets that weaved to the top of the hill over the bulk of the workout time. The group switched over to some technique drills and then three sets of full-out hill sprints. The workout warmed down with a couple of hill walks and concluded with a new rouser provided State Champ Ben Saxton.
Related:
Photoset:

134 photos
MN Valley Ski Team
MSHSNSCA Summer Notes - Hybrid Proposal Fails
June 28, 2011
MN Nordic Ski Coaches Association Pete Tremaine has issued a summer update with highlights the defeat of the hybrid State Meet selection process. New proposals are on the table, a vote will occur in September.
Related:
Proposed High School State Meet Changes
Spotlight: Nordicwerks Summer Program
June 27, 2011
Nordicwerks summer training program had a full schedule on Monday evening near Scandia, MN. The group, led by head coach Deno Johnson with assistance from former State Champ Ben Fick, worked on some balance and technique drills, skied a warm up lap, then hammered out a 7K classical time trial on the quiet roads south of town. After the TT, the skiers finished with some intervals and dexterity drills.
Related:
Nordicwerks SkiKlubb Training Programs
Photoset:

111 photos
Proposed High School State Meet Changes
May 15, 2011
At the Minnesota Coaches Association meeting back in April, the association voted to advance a proposal to change the team scoring system at the State Meet for the 2011-2012 season. The proposal will need to be approved by the high school league later this summer.
Related:
Minnesota Coaches Association Spring Conference Meeting Minutes
2010-11 Season Highlights
May 1, 2011
Catch highlights plus full results and photos from the 2010-2011 high school racing season.