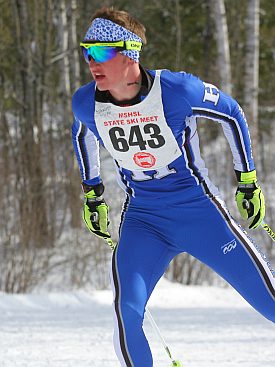 Jakob Ellingson, Minnesota State Meet, February 14, 2013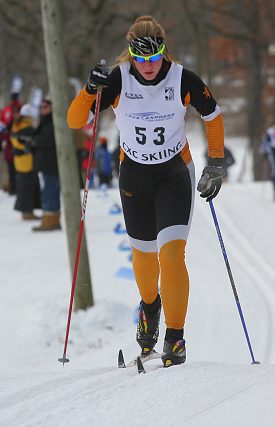 Nora Gilbertson, Tour de Twin Cities, January 26, 2013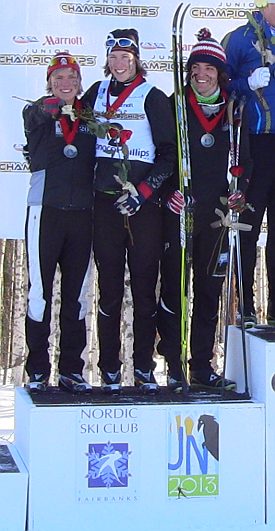 Jan Ketterson, Chris Parr, and Ben Saxton, 2nd place OJ boys relay, Junior Nationals, March 12, 2013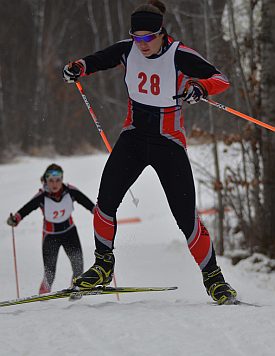 Anna Kubek, Grand Rapids Invite, December 8, 2012 (Photo: Dave Johnson)
Key Events
Submit your invite...
• No current events.
Team Pages
Submit your team page...
Coon Rapids Nordic Ski Team

National J2 Camp Announced
April 11, 2013
This year's National J2 Camp will be held July 27-August 3 in Marquette, Michigan. The Midwest qualified a number of skiers including: Cory Rouw, Zak Ketterson, Hannah Rudd, Amanda Kautzer, Keely Jackson, and Rocci Wohlk.
Complete 2013 Junior Nationals Coverage
March 20, 2013
Find a complete recap of our 2013 Junior Nationals coverage.
Minnesota State Meet Recap
February 19, 2013
Hard to believe it was less than a week ago, but we reflect back on the 2013 Minnesota State Meet, recapping the races and highlighting some great performances as well as some interesting stats.
MSHSNSCA Award Winners for 2012-2013 Announced
February 18, 2013
MSHSNSCA has announced the award winners from the 2012-2013 Minnesota high school season, including the Coach Of the Year: Rich Heilman, Lakeville North.
Michigan State Meet - Pursuit Results
February 16, 2013
Dan Wiitala reports: The Michigan State HS Nordic Skiing Championships ended with a lot of repeats. Blake Murray took the boys championship, and his second consecutive pursuit crown, with the fastest classic leg of the day and a comfortable freestyle finish to top Traverse City Central's Andrew Bruning. Evelyn Delong of Copper Country repeated her sprint championship by overtaking teammate Sarah Lyle in the freestyle leg for the win. Marquette boys won the boys title while Copper Country won the girls and the combined trophies.
Michigan State Meet - Sprint Results
February 15, 2013
Dan Wiitala reports: Perfect trail conditions greeted high school racers at Al Quaal Recreation Area in Ishpeming, Michigan. The freestyle sprint racing action proved as exciting as hoped for with Marquette's Blake Murray edging Traverse City Centrals' Andrew Bruning in a photo finish in the Boys A final, and Evelyn Delong winning her first State Championship title after Traverse City Central's Erin Lipp crashed in the final 50 meters while leading into the finish lanes. Marquette Boys were the strong men today with three in the A final while the Copper Country Ski Tigers take the lead on the girls side. Marquette holds a slim lead in the combined score followed by Copper Country and Traverse City Central in third.
Wisconsin State High School Championship Recap
February 11, 2013
Ken Schoville provides a detailed recap on last weekend's Wisconsin State Meet, which was one of the more exciting and surprising championships in recent years.
Wisconsin State High School Championship - Day 2
February 10, 2013
John Burke wraps up the Wisconsin State High School Championships, which provided some big surprises in the pursuit races Sunday.
Wisconsin State High School Championship - Day 1
February 9, 2013
John Burke reports in on day 1 of the two day Wisconsin State High School Championships, which featured a 6K classical race at the Northwoods Golf Course in Rhinelander.
Skinnyski.com High School Rankings - Final
February 8, 2013
With sections wrapped up and the Minnesota State Meet less than a week away, we take our final pass at the high school Nordic ski rankings. A number of changes, including a new number one individual and team for the girls.
Section 7 Coverage
February 7, 2013
Section 7, featuring the northern powers, competed Thursday on the State Meet courses at Giants Ridge. Ely's Amy Bianco was the star of the day, besting Duluth East's Anna Kubek in both skate and classic to win by almost a full minute. Jesse Olson, Ely, and Sam Johnson, Mesabi East, had a tight race with Olson winning by just 4 seconds in the pursuit. Ely boys and Duluth East girls advanced to the State Meet. Results and some photosets linked in.
Section 2 Coverage
February 7, 2013
Wrapping up four days in a row of section meets at Theodore Wirth, Section 2 showcased the top ranked teams of the Wayzata girls and Eden Prairie boys on Thursday. Both teams dominated the meet, with Eden Prairie placing three boys in the top four, Wayzata seven in the top ten! Tom Bye and Alayna Sonnesyn won the individual titles. Results, photos and video recaps are posted.
Wisconsin State Championships Predictions
February 7, 2013
Ken Schoville files his annual predictions and review of the Wisconsin State High School Championships, coming up this weekend in Rhinelander.
Related:
Wisconsin Nordic High School State Championships
Section 4 Coverage
February 6, 2013
Racing across town from Section 5, at Green Acres, Section 4 skiers also faced snowstorm conditions for the morning classical. Kris Bourne, MPA, continued her classical tear, putting 20 seconds into rival Rocci Wohlk, Forest Lake, in the morning, then holding Wohlk off in the skate to take the overall title. Skyrocketing Nick Gardner, MPA, pulled away from a pack of six skiers in the afternoon pursuit to upset the favorites for the boys individual title. Forest Lake boys and Stillwater girls won the team titles. Results up as well as video recaps from the pursuit races.
Section 5 Coverage
February 6, 2013
An epic day on the trails of Theodore Wirth for the Section 5 meet Wednesday. A morning snowstorm made for tough classical conditions as the skiers tried to hammer through two laps of the snowmaking loop. Osseo boys rocked the rankings, coming up just a single point short of upsetting Irondale for the team title. Roseville girls cruised to the team victory by placing four in the top nine overall, with Niki Reker leading the way in first. Tyler Gilbert, Irondale, edged out Steve Hokanson, Mounds View, in a two way battle for the overall as top ranked Lucas Mason, Roseville, battled illness to advance to State. Results up along with photos and video recaps.
Section 1 Coverage
February 5, 2013
Running on beautiful, natural snow at Valleywood Golf Course, Section 1 was decidedly an Eagan affair. Eagan boys dominated the scoreboard, posting a near perfect score in taking for of the top five places as Nick Acton lead the way. Sonja Hedblom cruised to the girls victory, but it was Lakeville North that advanced their team to state. Video recaps of the pursuit races up now along with results.
Section 3 Coverage
February 5, 2013
Section 3 titles were handed out Tuesday at Theodore Wirth. Burnsville's Vivian Hett dominated the girls field, winning by over two and half minutes. Luke Brown, feeling a bit under the weather still managed to take the boys title. The Burnsville girls won the team title, even with a last minute substitution. St. Paul Central repeated as boys team champ. Photos and results posted.
Section 8 Results
February 5, 2013
Racing on the trails of Camp Ripley, Section 8 featured central and NW Minnesota schools Tuesday. St. Cloud Tech boys won the team title with four of their skiers finishing in the top 8, including the boys champion Cory Rouw. In nearly identical fashion, Little Fall girls also placed their four scorers in the top 8, with Maria Hauer taking first and teammate Mattia Hendrickson finishing second, just 13 seconds back.
Section 6 Coverage
February 4, 2013
The Minnesota High School sections kicked off Monday with Section 6 competition on the Theodore Wirth snowmaking loop. Hopkins Jakob Ellingson returned to the racing scene with an exclamation point as he posted the top skate time in the morning. Hannah Rudd, Armstrong, rocked the girls field and took a 12 second margin of victory from the freestyle race. In the afternoon, the favorites came roaring back. Harris Dirnberger, Hopkins, caught Zak Ketterson, Bloomington Jefferson, and Ellingson and came into the finish with ahead to claim the pursuit title. Similarly, Hopkins teammate Sarah Benton strided to close the gap before the end of the first lap, and pulled away in the final K to take the girls title. Hopkins girls squeaked out a two point victory over Armstrong for the team title, Hopkins boys had an easier day with their team victory. Results, photos and video clips are online now.
ABC Relays Results
January 19, 2013
Shifting to an afternoon start time to accommodate the Tour de Twin Cities, the ABC Relays made good use of the Wirth snowmaking loop Saturday. Stillwater sweep the team titles. Props out to the tough kids that competed in the JNQ races in the morning, and raced ABC just a few hours later (including a number of skiers on the second place Andover teams)!
Tour de Twin Cities Freestyle Coverage
January 19, 2013
The big Tour de Twin Cities SuperTour/JNQ started its week long run on Saturday morning at Wirth with the shorter distance freestyle races. Mark Iverson, APU, posted the top mens time just nine seconds ahead of a resurgent Torin Koos. Rosie Brennan, completed the APU sweep with a victory in the womens field. OJ titles went to Jack Carlyle and Felicia Gesior. Fastest in the J1 field: Ian Torchia and Alayna Sonnesyn. In the J2 division, Zak Ketterson and Rocci Wolhk stood atop the podium.
Note: Citizen's division for Sunday has been moved to separate race, new afternoon start time. More in Racing Outlook.
Mesabi East Invite Coverage
January 12, 2013
With warm and rainy weather Friday, Giants Ridge was forced to revert back to a snowmaking loop course for the big Mesabi East Invite Saturday. Temperatures thankfully dropped below freezing just before dawn Saturday, allowing the course conditions to speed up. In the morning classic races, Tyler Gilbert, Irondale, pulled out the day's first surprise, besting top ranked skiers Harris Dirnberger and Luke Brown. Delany FitzPatrick, Lakeland, had the fastest classic time for the girls. In the afternoon races, another surprise in the boys event as Eagan's Nick Acton edged out Tom Bye by one second for the skate title. The girls freestyle race lived up to its billing as Anna Kubek and Mattie Watts fought it out for the top spot, Kubek winning by just two seconds. Team titles went to the Eden Prairie boys and Duluth East girls.
Holiday Relays Coverage
December 22, 2012
Mark Stange reports: Wayzata won the Bill Simpson Trophy for best overall time in the four races primarily by dominating both girls events at the Holiday Relays at Trollhaugen Saturday. The two boys events produced very different results, with Stillwater winning the classic event and edging Roseville by a mere three seconds for the overall boys title after Irondale won the boys skate race. Individual split winners were Niki Reker or Roseville, Mattie Watts of Irondale, Jake Ajax of Spring Lake Park/St. Anthony, and Steve Hokanson of Mounds View.
Nordic Skier Saves Bus
December 20, 2012
12-year-old Rana Kraftson's quick thinking helped save a bus full of children when the driver blacked out while they were on their way to Nordic ski practice on Tuesday.
Related:
Nellie Stone Johnson Ski Team Featured in Star Tribune
Wausau JNQ Classical Coverage
December 16, 2012
The Wausau weekend sprints concluded Sunday with the classical technique events. Sunday's results had a feeling of deja vu as the same skiers collected victories in every division! Ben Saxton received a major challenge from Chris Parr in the boys OJ/J1 final as Nichole Bathe (OJ/J1 girls), Zak Ketterson (J2 boys), and Rocci Wolhk (J2 girls) all stood atop the podium again Sunday.
Wausau JNQ Freestyle Coverage
December 15, 2012
Wausau organizers pulled off the Saturday freestyle sprints, overcoming multiple assaults from Mother Nature, including rain, to run the full event. Still awaiting final results, but a few preliminary results: OJ/J1 boys title went to Ben Saxton (also posted the only sub-two minute time of the day!), Micole Bathe topped the OJ/J1 girls field, Rocci Wolhk took the J2 girls final, and Zak Ketterson won for the J2 boys.
Related:
Racing Outlook
Peter Westra Sprints Coverage
December 8, 2012
A record field of nearly 200 skiers participated Friday evening in the Peter Westra Sprints at Troll Hollow. Rocci Wohlk, Forest Lake, and Luke Brown, Minnehaha Academy top the fields, with the next seven top finishers also winning the prized "big cookie" from Great Harvest Bakery.
Hoigaards Relays Coverage
December 8, 2012
Jason Dalebroux reports: With all other races in the midwest cancelled due to low snow conditions, over 260 Junior racers and 50 Masters skiers braved the shortened, but challenging course at Hyland Hill Alpine Ski area Saturday morning for the 2012 Hoigaards/Breadsmith Relays. The 4 X 2km format was tackled by the Masters before sunrise and the duo of Per Nelson & Nate Foster took top honors for the men, while Halle Wiesman & Katie Banken and the father/daughter Schneider/Sonnesyn supergroup took womens and mixed titles, respectively. With a crowded Juniors mass start of 95 teams, the deep boys field was led by the team comprised of Zak Ketterson, Jacob Helper, KJ Johnson, and Sean Cork. For the girls, the Stillwater/Roseville duo of Vessa Pearsall and Caroline Brisbois came away with the prized Breadsmith breadloaves, and in the mixed format, the foursome of Bjorn Leach, Sarah Benton, Matt Lavanger, and Harris Dirnberger squeeked out the victory by mere seconds.
The Decision
November 11, 2012
Minnesota junior phenom Ben Saxton writes about his decision to delay entry into college to spend the season pursuing his dreams, along with his fellow teammates, of being among the best Nordic skiers in the country.
Minnesota State CC Meet Coverage
November 3, 2012
Overcast skies with even a few snowflakes in the air made for a chilly start to the 2012 Minnesota State High School Cross-Country Championships in Northfield Saturday. Matt Welch, Proctor, pulled away from Charlie Lawrence, Foley, in the final kilometer to take the boys class A title. Clare Flanagan, Blake, easily outdistanced the girls field, soloing in to seal her top ranking with the victory. The afternoon class AA boys event turned into the closest race of the day as a lead pack of roughly 10 runners fought down to the final meters with Stillwater's Wayde Hall claiming the title. Shakopee's Maria Hauger capped an incredible career with yet another state title in the girls AA. The Wayzata girls dominated the AA field in their team win, as did the Stillwater boys. In class A, Esko girls and Perham boys collected the team titles.
Related:
Photoset:

Boys Class A - 115 photos,

Girls Class A - 109 photos,

Boys Class AA - 99 photos,

Girls Class AA - 122 photos
Photoset:

Top Picks (high res)
Results: Class A Boys, Class A Girls, Class AA Boys, Class AA Girls
Minnesota High School MTB Championships Coverage
October 28, 2012
The inaugural season of the Minnesota High School Cycling League wrapped up Sunday with the mountain biking championship at Buck Hill in Burnsville. Good crowds turned out to watch the professionally run event with some great spectating areas, especially at the top of the downhills.
Related:
Photoset:

Girls - 78 photos,

Boys - 211 photos
Photoset:

Top Picks (high res)
Results: Championships
Minnesota High School Fall Coaches Meeting This Weekend
October 22, 2012
The annual Fall Minnesota High School Nordic Coaches Association meeting is this Saturday, October 27th at the Vasaloppet Center in Mora. Besides the usual business, including the rules review, there will be a discussion on possible new state meet formats.
Fall Coaches Meeting Changes
October 16, 2012
Some key changes have been announced with regard to the annual Minnesota fall high school coaches meetings including who is required to attend the rules meeting and new dates for the metro and Duluth meetings.
Midwest Junior Nationals Coaching
October 12, 2012
The Midwest Junior National committee is seeking coaches for the 2013 Junior Nationals competition. Applications are due by November 1st.
Fall Fundraisers
October 6, 2012
As fall is in full swing, a number of high school teams are holding fundraising events to support their Nordic programs. We've started a list of events sent into us, with the Tiger Trail 5K, and AHS Silent Auction kicking it off.
East Metro High School Nordic Scheduling Meeting
October 1, 2012
Ramsey County, along with St. Paul Parks, will be hosting their annual fall meeting to review policies, fees, and reservations for high school XC ski meets and races, October 16th in Maplewood. All east metro coaches should send a representative.
Minnesota High School Fall Nordic Update
September 21, 2012
Dan Josephson, President for the MN Nordic Ski Coaches Association, highlights the upcoming fall meetings, requests for nominations to leadership roles, a call for any new state meet proposals, and the usual fall coaches rules and education requirements.
Frazee Fischer Farm Extreme High School Cross Country Meet Coverage
September 20, 2012
Jason Sannes-Venhuizen reports: With partly cloudy skies, slight west wind and temps in the 60's teams from MN and ND ran over large round bales, crossed a creek, went over the hills and through the woods to finish Minnesota's premier extreme high school cross country race. Jay Richards guided the runners around the course via mountain bike being pushed by ninth grader Abigail VanKempen who broke her own course record with a time of 16:50. Frazee and Dilworth-Glyndon-Felton boys battled for the top varsity team with D-G-F holding on for the championship by a mere three points.
Related:
Photoset from Bruce Sannes/Katelyn Furey:

5/6 Grade - 50 photos,

Junior High - 21 photos,

Varsity Girls - 107 photos,

Varsity Boys - 124 photos,

Awards - 11 photos
Results: Frazee Fischer Farm Extreme
MN High School Cycling League Coverage
September 9, 2012
The Minnesota High School Cycling League made their debut Sunday with the inaugural mountain bike race at Salem Hills in Inver Grove Heights. Big crowds and competitive fields made for an exciting day of racing. In the varsity division, Sophia Marchiando and Reece Oleson top the girls and boys fields, respectively.
Related:
Photoset:

Girls - 91 photos,

Boys - 234 photos
Photoset:

Top Picks (high res)
MN High School Cycling League Race Report: Salem Hills
Minnesota High School MTB Race Season Starts Sunday
September 7, 2012
More than 130 high school bikers from 20 teams will turn out this Sunday, September 9th, at Salem Hills for the historic first race of the Minnesota High School Cycling League.
National J2 Camp Testing
August 6, 2012
Sunday skiers at the J2 National Camp underwent the grueling Strength Assessment Test, with Midwest skiers scoring well! The test is composed of five exercises - pull-ups, sit-ups, push-ups, box-jumps and dips, all performed for max reps in one minute, with a one minute "rest" between sets. Alayna Sonnesyn toasted the girls field, posting an incredible 250 score, more than 30 point higher than the next competitor and would have placed her third in the boys testing! Mattie Watts finished 3rd, Rocci Wohlk was 5th, out of the 25 strong girls field.
On Monday campers were treated to an uphill running challenge, with the Midwest J2 girls posting some nice results again - Rocci Wohlk 2nd, Vivian Hett 3rd in their division.
Related:
Photoset from NNF:

Day 2
Results: Strength Test Boys, Strength Test Girls, Uphill running test
USSA National J2 Talent Camp Agenda
August 5, 2012
The J2 National Camp started over the weekend in Craftsbury, VT, and will run thru August 11th. The camp provides an opportunity to pull together some of the top young stars for training and learn from USST staff and top club coaches.
Related:
NNF Invests $6,000 in upcoming USST International Development Camps
Midwest JO Team Announces Head Wax Coaches
July 23, 2012
The head wax coaches for the 2013 Junior Nationals Midwest team will be Igor Badamshin and James Kyes. The remaining six coaching positions will be filled in the fall.
National J2 Camp Roster Announced
July 2, 2012
The 3rd annual National J2 Talent Camp is set to kick off August 4- August 11th in Craftsbury, Vermont at the Craftsbury Outdoor Center. Midwest skiers attending include: Steve Hokanson, Colin Touhey, Alayna Sonnesyn, Mattie Watts, Rocci Wolhk, and Vivian Hett.
Minnesota 5x3 Proposal Voting
May 22, 2012
The Minnesota State High School Nordic Ski Coaches' Association is asking the member coaches to vote on the 5x3 format proposal for the sections and state meet. Deadline is 8 pm Thursday, May 24th, and only head coaches will count.
MN Coaches Spring Meeting Follow Up
May 5, 2012
The original 3x5 proposal from last fall's MN Coaches Meeting has been modified a couple of times, and now will need to be voted on again by the coaches before moving back to MSHSL for final approval.
2011-12 Season Highlights
May 1, 2012
Review highlights plus full results and photos from the 2011-2012 high school racing season.