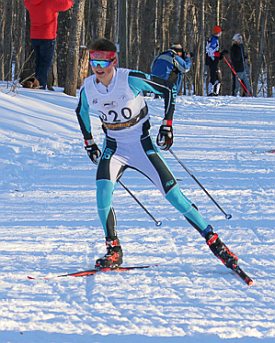 Alex Nemeth, Houghton JNQ freestyle race, December 16, 2018 (Photo: Jackie Schneider)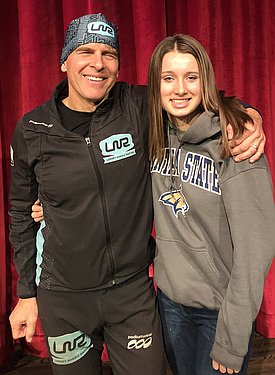 Leah Rudd, with LNR head coach Piotr Bednarski, signs with Montana State, November 14, 2018 (Photo: Kim Rudd)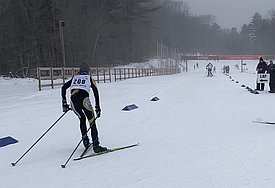 Marshall Invite at the Birkie start trailhead, December 8, 2018 (Photo: Ben Popp)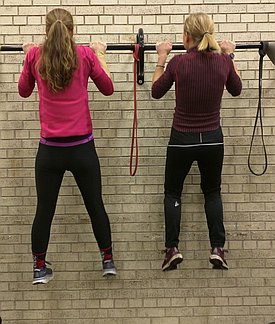 Opening day at Highland Park, November 12, 2018 (Photo: Brad Moening)

MInnesota High School Nordic Skiing Rankings - Round 1
December 17, 2018
Our first round of in-season rankings is out! The Houghton JNQ races play a major factor in shuffling the individual rankings. Alex Nemeth, St. Cloud Cathedral-Sartell, takes the top boys ranking as Mara McCollor, Wayzata, solidifies her number one girls position. Stillwater continues as the top ranked teams.

World Cup Junior Racing Opportunity
December 16, 2018
Juniors, ever dreamed of racing at a World Cup event? The Quebec World Cup will offer a special Rising Stars juniors race on March 23, 2019 featuring a 10K classic mass start race (separate mens and womens events)! The race has a limited field with registration opening on morning of January 15th.
Related:
Korte Elite Wave Placement for Juniors

Houghton JNQ/CCSA Freestyle Coverage
December 16, 2018
Sunday on the trails at Michigan Tech skiers competed in mass start freestyle race for the Houghton JNQ/CCSA. Both mens and womens races came right down to the wire. In the women's 10K, Sarah Goble, MTU, outsprinted NMU's Nicole Schneider for the victory with Julie Ensrud, NMU, third. Mara McCollor was again the top non-collegiate junior, finishing 5th. The men's race saw NMU's Zak Ketterson best teammate Ian Torcia for the win with another NMU skier, Mathias Aas Rolid finishing third. Alex Nemeth was the top junior again on Sunday, taking 10th overall. Results linked in, photos featured from Jackie Schneider and Chris Schmidt.
Maplelag Invite Coverage
December 15, 2018
Jay Richards reports: St Paul Highland Park was host to the Natural Snow Season Opener 4.1km skate race under sunny skies and balmy conditions on the Maplelag trails this morning that included skiers from Chaska/Chan, Fergus Falls, Richfield and Brainerd. St Paul Highland Park swept both the individual and team titles with individual honors going to Nathaniel Alden in the boys race who edged out Nick Scheller from Chaska by one second. Anna Schmidt won the girls race, leading St Paul Highland Park to a top five sweep of the girls varsity.
Houghton JNQ/CCSA Classic Coverage
December 15, 2018
The Junior National Qualifier season kicked off on Saturday with classic races on the trails at Michigan Tech Univ in Houghton. The event also marked the first official collegiate (CCSA) race of the season. Number one ranked high school skier Mara McCollor put in a devasting race, taking the overall womens 5K title by 18 seconds. MTU's Sarah Goble was second followed by Nicole Schneider in third. The men's 10K was a close battle with NMU taking the top five, Kjetil Baanerud first, Zak Ketterson second and Ian Torchia third. Alex Nemeth posted the top junior time, finishing 13th overall. Results linked in, photos from Jackie Schneider and Chris Schmidt posted.
Mesabi East Invite Information
December 11, 2018
Details on the 2019 Mesabi East Invitational have been posted. Mesabi is the biggest single day high school meet in the nation! Registration deadline is Dec 31st.
Midwest Junior Trip Staffing Announced
December 5, 2018
The Midwest region coaching and support staff for Junior Nationals, the U16 Championships, and the Canadian Nationals has been announced. Julia Curry, head coach, and Chris Harvey, trip leader, will drive the Junior National squad, Bjorn Hanson directs the U16 Championships team, and Bruce Manske will be in charge of the Canadian Nationals trip.
TCNSC Meet Results
December 4, 2018
Highland Park coach Brad Moening reports: The Twin Cities Nordic Ski Conference kicked off their season Tuesday with a 3.1K freestyle race at Wirth Park. Charlie Reinhardt of Mound Westonka won the boy's race in a time of 7:33. Molly Moening of Highland Park won the girl's race with a time of 8:35. The Highland Boys and Girls won the team races.
MInnesota High School Preseason Nordic Skiing Rankings
December 2, 2018
Some of the first high school races will happen this week, so it's time for our first crack on the Minnesota high school Nordic Skiing rankings! Not surprisingly, returning State champions Mara McCollor, Wayzata, and Garrett Beckrich, Grand Rapids, are the favorites, with perennial favorite Stillwater topping both the girls and boys team rankings.
SuperTour: West Yellowstone Weekend
November 28, 2018
The SuperTour series starts this weekend with races in West Yellowstone, MT. Saturday, Dec 1st, is freestyle sprints, Sunday, Dec 2nd, is 10K and 15K interval start freestyle races. CXC will be offering free livestreaming this weekend: sprint heats 12:45 pm Saturday; freestyle races starting at 11 am Sunday.
Related:
Super Tour West Yellowstone Website
Lilydale Rollerski Time Trial Results
November 27, 2018
Kicking off some high school racing action on Tuesday (albeit rollerskiing), Highland Park and Henry Sibley posted the first results of the season (and hopefully some snow karma). Cole Johnson, HP, and Anna Schmidt, HP, posted the time times.
Minnesota High School Nordic Skiing Opening Day Coverage
November 12, 2018
The Minnesota High School Nordic Skiing season officially started on Monday with the opening day of practice. Coaches from around the state sent in photos from their first day of practice -- a number of snow, as excitement for the season was running high!
Related:
Photoset from Brad Moening:

Highland Park - 18 photos
Photoset from Craig Stertz:

Grand Rapids - 2 photos
Photoset from Dave Johnson:

Marshall School - 2 photos
Photoset from Kris Hansen:

Stillwater - 6 photos
Photoset from Paula Anderson:

Ely - 4 photos
Photoset from Peter Larsen:

Mora - 4 photos
Photoset:

Top Picks (high res)
13th Annual Marshall Holiday Ski Camp
November 12, 2018
Marshall School will hold it's annual Holiday Ski Camp Dec 26-28. The camp is designed for skiers ages 5-12 and offers three afternoons of skiing and fun, supervised by the Marshall Nordic Ski Team Coaching Staff along with instruction from the members of Marshall Nordic Ski Team and Alumni.
LNR Presentation on JNQ and Collegiate Racing This Friday
November 6, 2018
LNR Coaches Chris Harvey and Piotr Bednarski will be hosting a presentation on Junior National Qualifying and Collegiate Racing this Friday evening, Nov 9th, at the Trailhead at THeodore Wirth. This presentation is open to all parents and junior skiers.
Minnesota State CC Meet Coverage
November 3, 2018
A cool and damp Saturday for the Minnesota High School State Cross-Country Championships at St. Olaf College in Northfield. The boys AA race was a barn burner with lead changes and eventually a tight four person finish as Roseville's Acer Iverson took the victory followed closely by Andrew Brandt, Wayzata and Maxwell Manley, Edina. Washburn's Emily Covert dominated the girls AA field, leading from start to finish (with a smile), Farmington's Lauren Peterson best of the rest as teammate Anna Fenske was third. Team titles went to the Edina boys and St. Michael/Albertville girls. In the afternoon A races, Geno Uhrbom of Greenway/Nashwauk/Keewatin topped Mora's Cooper Lennox with Perham boys taking the next three spots to secure yet another team title! The Ping sisters of Winona's Cotter High School finished 1-2, Grace and Lauren, for the girls with Morgan Gehl of Murray County Central/Fulda, third. Matching the boys, the Perham girls also took the team title.
Related:
Photoset:

Boys AA - 156 photos,

Girls AA - 197 photos
Photoset:

Top Picks (high res)
Results: Minnesota State CC Meet
NNF: Drive for 25 Underway, Ambassadors Needed
October 21, 2018
The annual major fundraising campaign for the National Nordic Foundation, the Drive for 25, has begun. While in the early stages, they could use your help: donate today and/or become an ambassador!
Minnesota Coaches Association Meeting this Saturday
October 9, 2018
The Minnesota High School Nordic Ski Coaches Association annual Fall Meeting is this Saturday, Oct 13th, at the Vasaloppet Nordic Center in Mora, MN. There will be a vendor fair before the meeting, and a post-meeting lunch.
CXC: Call for Spring Junior Trip Coaches Applications
September 30, 2018
Volunteer coaches are being sought for the Midwest Junior Nationals, U16 Junior Championships, and U18 Canadian Nationals trips coming up next spring.
Related:
CXC Annual Coaches Conference and Certification, Oct 19-21
CXC Fall Coaches Education Clinics
Endurance United Junior Cup Meeting Set for Thursday
September 23, 2018
Endurance United is hosting an information meeting on junior racing this Thursday, Sep 27th, at their offices in St. Paul. Athletes and parents are encouraged to attend.
2017-18 Season Highlights
May 1, 2018
Catch highlights plus full results and photos from the 2017-2018 high school racing season.