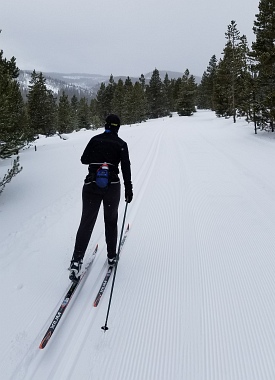 Snow Mountain Ranch, Granby, Colorado, December 25, 2016 (Photo: Sandy Schreyer)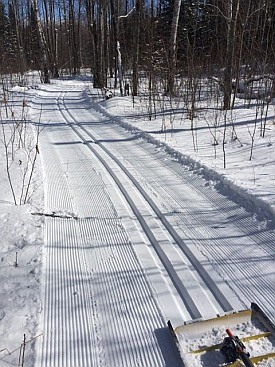 Mt. Ashwabay Ski Trails, March 13, 2017 (Photo: Scott Nesvold)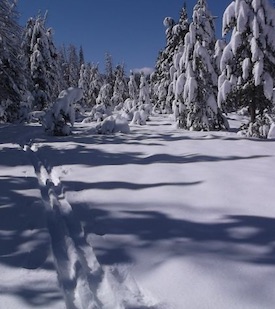 First ski Bruce's Trail, October 3, 2017 (Photo: Scott Beattie)
Avoiding the Crowds
December 20, 2011
While most Twin Cities ski trails will be crowded this season, we offer some general tips on how to avoiding dense populations.
Cross-Country Ski Rentals
January 11, 2010
Looking for cross-country ski rentals? We've put together a collection of links, both in the Twin Cities and around the region.
Trail/Park Fees
December 8, 2005
A rough breakdown on passes/fees you'll need for skiing at parks and trail systems in the upper Midwest.
Under the Lights
December 1, 2000
A review of some of the lighted ski trails in the area.
Three Rivers Nordic Opener Coming Dec 9th
November 21, 2017
Three Rivers Park District is celebrating the start of cross-country ski season with a huge event planned for Saturday, Dec 9th at Elm Creek. A large vendor presence is planned including demo products from nearly all the major manufacturers, plus local shops, races, lodging and more. And presentations throughout the day.
Related:


Lt. Governor Tina Smith to Proclaims Dec 9th to be Nordic Ski Opener Day in Minnesota
Midwest Snowmaking Projects Update
November 20, 2017
There is significant snowmaking expansion happening across the upper Midwest this season, and even more in the development stages. We take a look at a number of the projects and their current status. Many of these projects need additional funds to reach their goal -- please consider a contribution today!
Chester Bowl Shared Trail Use Survey
November 19, 2017
DUluth Parks and Rec has announced that Chester Bowl trails will be designated as shared use for walkers and skiers this season, and they are requesting public input on the trail usage.
Washington County Undertaking Snowmaking Study for Lake Elmo
November 13, 2017
Washington County will discuss a fesability study for snowmaking at Lake Elmo Park in their Park and Open Space Commission meeting this Thursday evening, November 16th at the Cottage Grove Service Center.
Battle Creek Snowmaking Effort Renewed
November 9, 2017
Finn Sisu is urging skiers to contact members of of the MN House and Senate investment committees and voice their support for snowmaking at Battle Creek. The project is seeking $2.1 million in state bond funding with an equal amount being provided by Ramsey County and private donors. Check out Jessie Diggins' call-to-action video, plus talking points and contact info for legislators.
Trail Work Day at Pine Point this Sunday
October 26, 2017
Ride and Glide Bike Club: Washington County Parks had begun Mountain/Fat Bike trail development at Pine Point. Please come out this Sunday afternoon, Oct 29th, to help prep the trails for Fat Bike grooming this winter!
Banadad Trail Clearing Oct 28th
October 19, 2017
The Banadad's Annual Volunteer Trail Clearing Day will be Saturday, Oct 28th. They will be clearing this past summers accumulation of down trees and brush to clear the trail for winter grooming and skiing. Lunches will be provided for all volunteers.
Preseason Discount Trail Passes Available for Yellowstone Ski Festival
October 17, 2017
Snow has been flying out west and plans are underway for the big Thanksgiving week Yellowstone Ski Festival. Save some cash by purchasing your ski passes before the end of October!
Wisconsin DNR Silent Sport Survey
October 17, 2017
The Wisconsin DNR is conducting a survey on recreational use of public lands up thru Nov 17th. New regions to be studied are Lake Winnebago Waters, the Mississippi River Corridor and Western Sands Region. Submit your comments, suggestions online.
City of Superior Comprehensive Outdoor Rec Plan Survey
October 2, 2017
The City of Superior is developing a Comprehensive Outdoor Rec Plan and one of the main components is reaching out to the public to ask them to take a survey. They are especially interested in hearing from cross-country skiers and their feedback on the municipal forest.
Related:
City of Superior: Comprehensive Outdoor Recreation Plan
St. Scholastica to Contribute to Grand Avenue Nordic Project
September 20, 2017
The College of St. Scholastica will invest in the city of Duluth's Grand Avenue Nordic Center project, contributing $20,000 to the Duluth XC Ski Club's capital campaign. The center is a city project in conjunction with Spirit Mountain and DXC to bring state of the art snowmaking for cross country skiing to Duluth. It will eventually provide just over 3km of snowmaking infrastructure and lights at the base of Spirit Mountain.
Related:
Grand Avenue Nordic Center Project
Birkie Annual Meeting This Saturday, August 5
July 31, 2017
The American Birkebeiner Ski Foundation (ABSF) will hold its 2017 Annual Meeting on August 5th to recap the past year, provide an update on 2017-2018 planning, and announce newly elected members of the 2017-2018 ABSF Board of Directors. Both ABSF members and the public are invited to attend this day of activities, friendship, food, and fun.
Seeley Trails Warming Cabin Fundraising
June 10, 2017
The Seeley Lions Club is raising funds to construct a warming cabin at the trailhead of the Seeley Trails on Old OO.
Groundbreaking on Loppet Foundation's The Trailhead Building
June 8, 2017
Earlier this week, through a partnership with the Minneapolis Park and Recreation Board, the Loppet Foundation celebrated the beginning of construction on The Trailhead building at Theodore Wirth Regional Park.