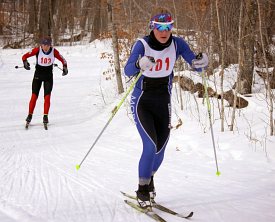 Sadie Peterson pulling ahead of Berit Ramstad Skoyles, Section 8, February 3, 2015 (Photo: Jay Richards)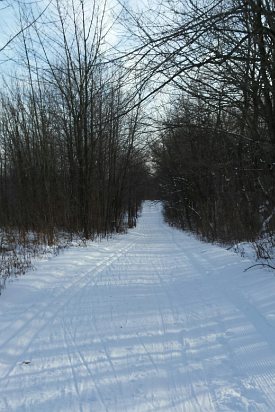 UW-Parkside ski trail, January 11, 2015 (Photo: Luanne Milewski)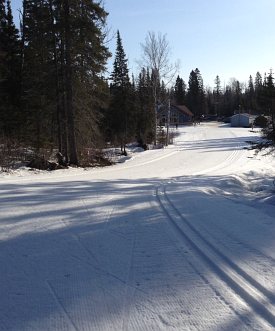 Porcupine Ski Runners Trails, Timmins, Ontario, April 12, 2015 (Photo: Dan Horihan)
Avoiding the Crowds
December 20, 2011
While most Twin Cities ski trails will be crowded this season, we offer some general tips on how to avoiding dense populations.
Cross-Country Ski Rentals
January 11, 2010
Looking for cross-country ski rentals? We've put together a collection of links, both in the Twin Cities and around the region.
Trail/Park Fees
December 8, 2005
A rough breakdown on passes/fees you'll need for skiing at parks and trail systems in the upper Midwest.
Under the Lights
December 1, 2000
A review of some of the lighted ski trails in the area.
Ramsey County Park Deer Hunts
October 6, 2015
In the month of October, a number of Ramsey County Parks will have closures for special deer hunts. Check the list of closures before heading out to your favorite park this month.
Related:
Minnesota State Park Deer Hunting Closures
Wisconsin State Park Hunting Seasons
Dakota County Parks Deer Hunts
Three Rivers Park District Deer Hunt Closures
Winter Recreation Summit Meeting Oct 8th
October 2, 2015
The agenda for Ramsey County's next Winter Recreation Summit has been posted. The meeting is scheduled for Thursday, Oct 8th, and all interested parties are welcome.
Willow River Trail Prep
October 1, 2015
Volunteers are being sought to help this fall with brush clearing on the Willow River ski trails. There will be a work session next Saturday morning, Oct 10th.
DXC: Future of Skiing in the Northland Presentation
September 29, 2015
Come out Saturday evening, Oct 3rd at the Grand Ave Chalet in Duluth for big look at all the Nordic projects happening in the Duluth area. In addition to the Grand Ave Nordic Center and trails, get updates on Snowflake Nordic, Lester-Amity chalet, and the Duluth ski trails master plan.
Banadad Trail Work Day Oct 24th
September 28, 2015
Come out Saturday, October 24th, and help prep the Banadad Trail for the upcoming ski season. And Saturday evening is the Banadad Trail Association's annual meeting, followed by potluck dinner.
Winter Park Summit Recap
September 21, 2015
Ramsey County has published a recap from the latest Winter Recreation Area meeting (Sep 10th). Get caught up on the progress being made, and mark Oct 8th for the next round.
Winter Recreation Summit Agenda for Sep 10th Meeting
September 2, 2015
A draft agenda has been posted for the next Ramsey County Winter Recreation Summit, to be held Thursday, Sep 10th, at the Parks and Rec building in Maplewood.
Hiawatha Silent Sports Petition
September 2, 2015
The Hiawatha Skiklubb in South Minneapolis is asking the Minneapolis Park Board to expand Nordic skiing at Hiawatha Golf Course, including the possibility of converting the course into a 9-hole version so that silent sports like mountain biking, trail running and others can be accommodated. Sign the petition to show your support.
Winter Park Meeting Scheduled for Thursday Sep 10th
August 24, 2015
If you're interested in the plans for developing a winter recreation area in Ramsey County, most likely at Battle Creek, the next work session meeting is scheduled for Thursday, Sep 10th. Please RSVP.
Outdoor Recreation Alliance Announces New Executive Director
August 19, 2015
The Outdoor Recreation Alliance of the 7 Rivers Region has announced the hiring of Jack Zabrowski as their new Executive Director.
Ramsey County Winter Recreation Area Meeting on Sept 10th
August 11, 2015
The Ramsey County initiative to develop a Winter Recreation Area at Battle Creek will hold their next meeting on Thursday, Sept 10th, 6pm, at the Ramsey County Parks and Recreation Administration Building in Maplewood.
Related:
Winter Recreation Area Fact Sheet
Ramsey County Winter Recreation Area Meeting on July 9th
July 2, 2015
The Ramsey County Winter Summer group has issued their June meeting notes, and is continuing to press forward. The next meeting is scheduled for Thursday, July 9th at 6 pm (and at a new location). Please RSVP by Monday, July 6th, if you plan to attend.
Update: This meeting has been cancelled, and a new one will be scheduled for August or September.
Related:
Ramsey County Parks and Recreation Administration Building
Save The River Bottoms
June 10, 2015
A coalition is working to save the Minnesota River bottom trails in the Twin Cities, and is currently asking for supporters to contact their state representatives to strike out a provision that requires the natural river bottom trails to be paved.
Ramsey County Winter Recreation Area Meeting on June 4th
May 28, 2015
Ramsey County is pressing forward with the organization of Winter Recreation Area committee to develop an action plan for implementing a Winter Recreation area at Battle Creek. Catch up on the last meeting notes and RSVP by June 1st for the upcoming June 4th meeting.
Duluth Trails in Running for $100K
May 27, 2015
Bell Cycling has a promotion that will award $100K to one trail system in the United States, to help further trail building development. The Spirit Mountain trails in Duluth are one of the finalists, and your vote might just push them over the top for the victory -- vote today! The contest ends June 4th.
Winter Recreation Area Meeting - May 7th
May 1, 2015
Ramsey County is continuing the momentum on the Winter Recreation Area planning, posting notes and action items from the last meeting and scheduling the next get-together for Thursday, May 7th.
Project Illumination Coverage
April 19, 2015
Green Bay's Project Illumination to get lights up at Reforestation Camp trails took a major step forward on Saturday with a big fundraising dinner. The day also included youth clinics with Jessie Diggins. Photos from Steve Hoffman, as well as some of the local coverage.
Related:
Photoset from Steve Hoffman:

Project Illumination Coverage Day
Bay Nordic: Project Illumination
Fox 11: Olympic skier hosts youth clinic
Noquemanon Trails Network Secures Land
April 16, 2015
The Noquemanon Trail Network (NTN) has announced the purchase of nearly 10 miles of silent sports trail easements plus a 40-acre parcel of land in Marquette County from Plum Creek Timber Company, thanks to funding awarded by the Eagle Mine Community Fund.