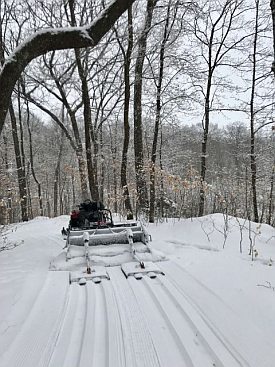 New snowfall at Maplelag, December 23, 2018 (Photo: Jay Richards)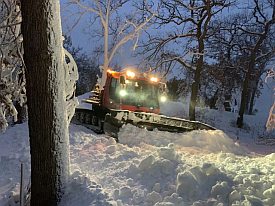 Grooming up the snowmaking trail for a Friday opening, Theodore Wirth North, November 14, 2019 (Photo: Isaac Kasper)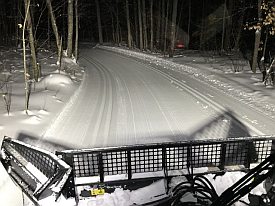 Night grooming at Mount Itasca, February 12, 2019 (Photo: Bob Conzemius)
Avoiding the Crowds
December 20, 2011
While most Twin Cities ski trails will be crowded this season, we offer some general tips on how to avoiding dense populations.
Cross-Country Ski Rentals
January 11, 2010
Looking for cross-country ski rentals? We've put together a collection of links, both in the Twin Cities and around the region.
Trail/Park Fees
December 8, 2005
A rough breakdown on passes/fees you'll need for skiing at parks and trail systems in the upper Midwest.
Under the Lights
December 1, 2000
A review of some of the lighted ski trails in the area.

Cook County: the Perfect Holiday Ski Vacation
December 11, 2019
Visit Cook County is excited to open the 2019-2020 cross-country ski season with a fresh blanket of powder covering the region. Check out their wide range of trails and events available this season, and even get some virtual snow time via their webcams!

Free Lessons at Blue Hills Saturday
December 11, 2019
Some Ride and Glide Bike and Ski Club members will be offering free ski lessons at Blue Hills Trails this Saturday, Dec 14th. Skiers must RSVP if planning to attend, as space is limited.
Birkie 10 Days of Snow Fundraiser Challenge
December 10, 2019
The American Birkebeiner Ski Foundation is tackling a $50,000 challenge grant to raise $100K for snowmaking efforts. From now through December 19, 2019, your donation to the 10 Days of Snow campaign will be doubled -- they need to raise $50,000 to receive the matching challenge gift.
2019 Minnesota Nordic Ski Opener
November 7, 2019
Snowmaking is already well underway at Elm Creek as preparation for the 2019 Minnesota Nordic Opener on December 7th! The opener is a huge celebration of Nordic skiing in Minnesota with free skiing, free lessons, free ski rentals, dozens of vendors, and a new citizen race.
Alternative Wisconsin Blue Mound State Park Master Plans Public Review
November 6, 2019
Skiers input is sought on alternatives to Wisconsin's Blue Mound State Park Master Plan. Some plans include expanded snowmobile access that may impact the ski trails. Input can be submitted online or attend a meeting at the Mount Horeb High School auditorium on Tuesday evening, Nov 19th.
ABR, Bearskin, Nominated as Top 10 XC Skiing Destinations
October 24, 2019
USA Today is holding their annual top 10 cross-country skiing resorts poll and this year, ABR in Ironwood and Bearskin Lodge on the Gunflint are nominated! Cast your vote to help secure these Midwest representatives in the final top ten!
Yellowstone Ski Festival Trail Passes on Sale Now
October 14, 2019
Get a discount on your Yellowstone Ski Festival passes by purchasing them before October 31st. Those that order passes in advance will have them delivered to the hotel of their choice (or other location).
Battle Creek Snowmaking Bonding Tour on Nov 13th
October 11, 2019
Mark your calendars for Wednesday, Nov 13th, to come out to Battle Creek and support the latest drive to fund snowmaking for the trails! A number of state legislators will visit the site and review the plans and a strong show of support from the ski community can go a long way.
Blue Hills Fundraising Banquet Set for Nov 2nd
October 8, 2019
The Blue Hills Trail Association encourages you to attend its 31st annual fundraising banquet Saturday evening, Nov 2nd at Lehman's Supper Club in Rice Lake. This year's guest speaker is Birkie Founder and skiing legend Ernie St. Germaine. Evening includes cash bar, buffet meal, raffles and silent auctions.
Chester Bowl Public Input Sought
August 25, 2019
The City of Duluth is seeking public input on the future of a shared use winter trail system. Skiers are encouraged to make their opinions known as this topic, as there is the possibility of disallowing skiing. Deadline for comment is this Thursday, August 29th.
Birkie Signs Lease for Telemark Property
July 1, 2019
The American Birkebeiner Ski Foundation has announced the signing of a two-year lease to utilize the trails found on the 713-acre Telemark property. While the focus is directed on the trail system, the lease has an option to purchase the property and the Birkie organization is pursuing possible partners in development.