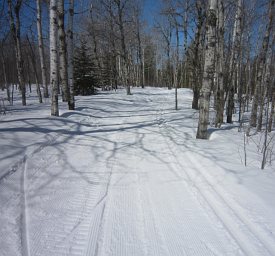 Superior Municipal Forest, April 2, 2014 (Photo: Eve Graves)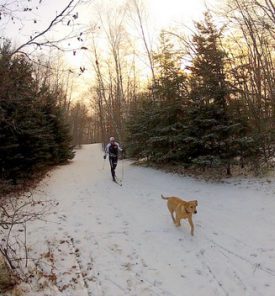 Thanksgiving ski at Maplelag, November 28, 2013 (Photo: Jay Richards)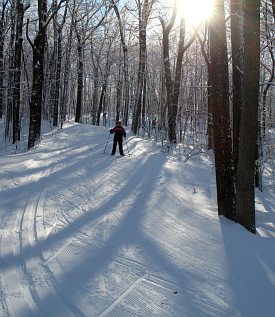 Greenbush trails, December 24, 2013 (Photo: Michael McFadzen )
Avoiding the Crowds
December 20, 2011
While most Twin Cities ski trails will be crowded this season, we offer some general tips on how to avoiding dense populations.
Cross-Country Ski Rentals
January 11, 2010
Looking for cross-country ski rentals? We've put together a collection of links, both in the Twin Cities and around the region.
Trail/Park Fees
December 8, 2005
A rough breakdown on passes/fees you'll need for skiing at parks and trail systems in the upper Midwest.
Under the Lights
December 1, 2000
A review of some of the lighted ski trails in the area.
Trollhaugen Closes Down Nordic Trails
August 18, 2014
Trollhaugen has officially announced it will not be making snow for the Troll Hollow Nordic Center this season. The string of recent good snowfall seasons have made the Nordic operation unprofitable. They are planning to continue offering early morning Nordic on the downhills at the start of the season.
Duluth Ski Trails Master Plan Review
August 7, 2014
Duluth Parks and Rec will be presenting their mini master plan for the Duluth ski trails to the Parks commission on August 13th. Public opinions on the plan are being actively sought. Review the plans online and make your voice heard!
Duluth Looking for Input on Trail Segment Names
July 26, 2014
Duluth XC along with Duluth Parks is seeking input on adding some names to local trail segments. The goal is to improve signage on the trails, and to provide more meaningful names to the ski loops. Input deadline is Aug 31st.
Public Meeting on Duluth XC Trails Master Plan Jun 5th
May 24, 2014
There will be a public input meeting on the Duluth XC Ski Trail Master Plan Thursday, June 5th. This will be the final public input session for the Duluth Cross Country Ski Trail Master Plan, so make your opinions known!
Woodland Trails Corridor Conflict
April 25, 2014
Skiers are being asked to rally to help prevent a possible transportation corridor through Woodland trails in Elk River. Organizers are hoping those interesting in the future of the ski trails at Woodlands will attending the city council meeting on Monday evening, May 5th.
Nordic Vortex Shuttle and Ski Saturday
March 19, 2014
The Noquemanon trail network is celebrating March with a special shuttle and ski event this Saturday, March 22nd. A shuttle will take skiers out to the CR 510 trailhead, where they will be able to ski back with a stop for lunch along the way. Must register in advance.
Final Push for Battle Creek Snowmaking Expansion
March 17, 2014
Endurance United is leading the charge in the final push to pass some legislation to support expanded snowmaking operations at Battle Creek. Your input is needed now to help raise awareness and show support for this project.