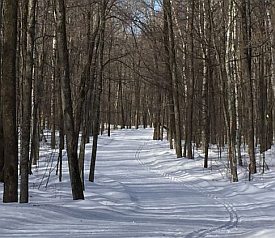 Lakewood ski trails, March 19, 2019 (Photo: Tom Lane)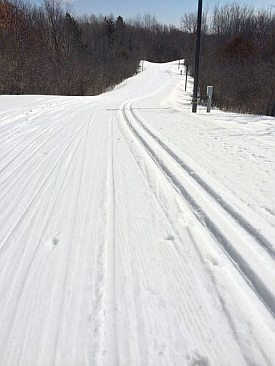 Hyland Lake snowmaking loop still holding up, March 20, 2019 (Photo: Bill Lundberg)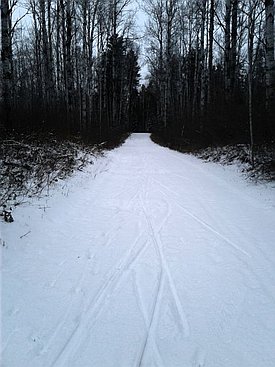 Kakabeka Falls Provincial Park, Thunder Bay, ON, November 16, 2018 (Photo: Dn Horihan)
Avoiding the Crowds
December 20, 2011
While most Twin Cities ski trails will be crowded this season, we offer some general tips on how to avoiding dense populations.
Cross-Country Ski Rentals
January 11, 2010
Looking for cross-country ski rentals? We've put together a collection of links, both in the Twin Cities and around the region.
Trail/Park Fees
December 8, 2005
A rough breakdown on passes/fees you'll need for skiing at parks and trail systems in the upper Midwest.
Under the Lights
December 1, 2000
A review of some of the lighted ski trails in the area.
Yellowstone Ski Festival Trail Passes on Sale Now
October 14, 2019
Get a discount on your Yellowstone Ski Festival passes by purchasing them before October 31st. Those that order passes in advance will have them delivered to the hotel of their choice (or other location).
Battle Creek Snowmaking Bonding Tour on Nov 13th
October 11, 2019
Mark your calendars for Wednesday, Nov 13th, to come out to Battle Creek and support the latest drive to fund snowmaking for the trails! A number of state legislators will visit the site and review the plans and a strong show of support from the ski community can go a long way.
Blue Hills Fundraising Banquet Set for Nov 2nd
October 8, 2019
The Blue Hills Trail Association encourages you to attend its 31st annual fundraising banquet Saturday evening, Nov 2nd at Lehman's Supper Club in Rice Lake. This year's guest speaker is Birkie Founder and skiing legend Ernie St. Germaine. Evening includes cash bar, buffet meal, raffles and silent auctions.
Chester Bowl Public Input Sought
August 25, 2019
The City of Duluth is seeking public input on the future of a shared use winter trail system. Skiers are encouraged to make their opinions known as this topic, as there is the possibility of disallowing skiing. Deadline for comment is this Thursday, August 29th.
Birkie Signs Lease for Telemark Property
July 1, 2019
The American Birkebeiner Ski Foundation has announced the signing of a two-year lease to utilize the trails found on the 713-acre Telemark property. While the focus is directed on the trail system, the lease has an option to purchase the property and the Birkie organization is pursuing possible partners in development.
WinMan Expansion and Vehicle Restrictions Input South
April 30, 2019
Wisconsin DNR/State Forest is soliciting comments related to the proposed expansion of the WinMan Ski trail system agreement. The State Forest is considering a proposal to limit vehicle access into this area once the expanded trail system is complete.
Battle Creek Snowmaking Advocacy Push
April 30, 2019
Big push this week to keep snowmaking for Battle Creek on target with the state legislature - make your voice heard!