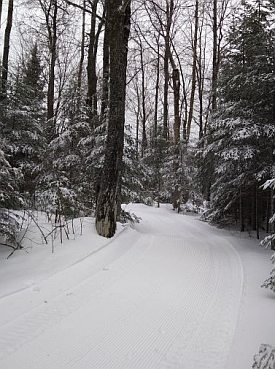 WinMan trails, January 7, 2019 (Photo: Robert Polic)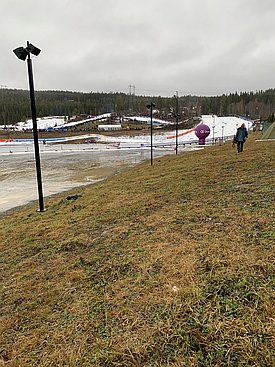 Tough conditions in Lillehammer, Norway, December 2, 2018 (Photo: Chris Hecker)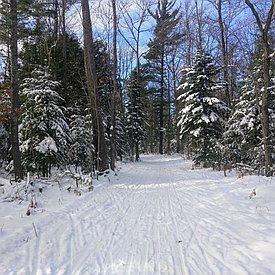 Noquenanon ski trails, November 13, 2018 (Photo: Erin Moening)
Avoiding the Crowds
December 20, 2011
While most Twin Cities ski trails will be crowded this season, we offer some general tips on how to avoiding dense populations.
Cross-Country Ski Rentals
January 11, 2010
Looking for cross-country ski rentals? We've put together a collection of links, both in the Twin Cities and around the region.
Trail/Park Fees
December 8, 2005
A rough breakdown on passes/fees you'll need for skiing at parks and trail systems in the upper Midwest.
Under the Lights
December 1, 2000
A review of some of the lighted ski trails in the area.
Birkie Signs Lease for Telemark Property
July 1, 2019
The American Birkebeiner Ski Foundation has announced the signing of a two-year lease to utilize the trails found on the 713-acre Telemark property. While the focus is directed on the trail system, the lease has an option to purchase the property and the Birkie organization is pursuing possible partners in development.
WinMan Expansion and Vehicle Restrictions Input South
April 30, 2019
Wisconsin DNR/State Forest is soliciting comments related to the proposed expansion of the WinMan Ski trail system agreement. The State Forest is considering a proposal to limit vehicle access into this area once the expanded trail system is complete.
Battle Creek Snowmaking Advocacy Push
April 30, 2019
Big push this week to keep snowmaking for Battle Creek on target with the state legislature - make your voice heard!
Help Sought for Battle Creek Snowmaking Project
April 23, 2019
Funding to jump start snowmaking at Battle Creek is once again in the Minnesota state legislature -- and this might be the year it passes! Please help out by contacting your representatives to let them know how important this project is.
ABR and SISU Ski Fest Upgrade First Responder Skills
March 28, 2019
ABR and SISU Ski Fest have been educating staff and purchasing additional equipment to provide improved First Responder abilities.
Blue Mound State Park Planning Survey
March 17, 2019
MadNorSki is asking all skiers to provide input on the Blue Mound State Park master plan via an online survey. There is some concern over part of the plan that might impact the current ski trail layout.
Lotsa Snow
March 12, 2019
Mark Lahtinen shares some of his insights on the cold and snow this second half of winter, comparing it to historical data.
Three Rivers Parks District Free Play Snow Day this Saturday
March 11, 2019
Since Mother Nature has blessed the Twin Cities with some of the best late season snow conditions in recent memory, Three Rivers Park District has decided to make the most of it by hosting a #FreePlaySnowDay. Enjoy a day of free activities at any of the Three Rivers Parks including free snowshoeing, XC skiing, sledding, kicksledding and more. Plus rentals for those sports are free as well!
Snowmaking Plans at Lake Elmo
March 7, 2019
In February, a snowmaking feasibility study for a 2.5 km ski trail and sledding hill at Lake Elmo Park Reserve was presented to the Washington County Board. While the board supports the concept, avenues for funding the project are being explored.
ABR Taste of Trails Event this Weekend
March 6, 2019
ABR is hosting their annual Taste of the Trails event this Saturday. Held on the trails, skiers can purchase samplings of local cuisine including taco bar, chili and chicken enchilada soup, almond cookies, and even selections from a local brewery.
Tour DuLuth This Saturday
February 28, 2019
The annual Tour DuLuth event is this Saturday, March 2nd. Events going on at a number of trails throughout the day including coffee and bagels to start off, ski demos, kids carnival, and an end of day dinner and gathering.