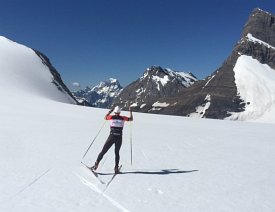 Skiing on the Haig Glacier, June 29, 2016 (Photo: Andre Watt)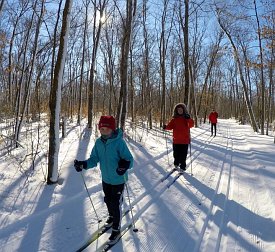 Maplelag Resort, February 12, 2016 (Photo: Jay Richards)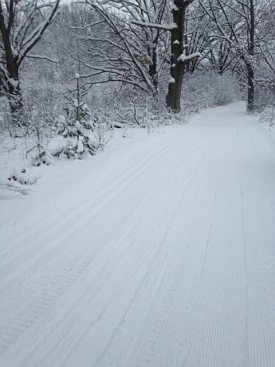 Spooner City Trails, December 26, 2015 (Photo: Dave Martin)
Avoiding the Crowds
December 20, 2011
While most Twin Cities ski trails will be crowded this season, we offer some general tips on how to avoiding dense populations.
Cross-Country Ski Rentals
January 11, 2010
Looking for cross-country ski rentals? We've put together a collection of links, both in the Twin Cities and around the region.
Trail/Park Fees
December 8, 2005
A rough breakdown on passes/fees you'll need for skiing at parks and trail systems in the upper Midwest.
Under the Lights
December 1, 2000
A review of some of the lighted ski trails in the area.
Grand Avenue Campaign Kickoff Oct 27th
October 20, 2016
Come out Thursday evening, Oct 27th, for the fall kickoff event for the Grand Avenue Nordic Center campaign in Duluth. Snowmaking loop, lighted trails, and chalet with restaurant and bar -- support the project in their fundraising efforts.
Related:
Grand Avenue Nordic Center Project
Grand Avenue Promotional Brochure
Ramsey County Deer Hunts
September 22, 2016
Ramsey County Parks & Recreation will host controlled archery deer hunts this October throughout the county parks system. Review the schedule of park closures.
Related:
Wisconsin State Park Deer Hunts
Three Rivers Park District Deer Hunts
Minnesota State Park Deer Hunts
Mpls Park Board, Loppet Foundation Celebrate beginning of a new era of outdoor recreation and programming
September 8, 2016
On Wednesday, the Minneapolis Park and Recreation Board (MPRB) and the Loppet Foundation confirmed a shared commitment to world-class outdoor recreation and programming at Theodore Wirth Regional Park. MPRB Commissioners approved three agreements that facilitate the construction, donation, lease and operation of a new outdoor recreation hub in Wirth Park.
Wisconsin DNR Survey on Outdoor Recreation
August 24, 2016
The Wisconsin Statewide Comprehensive Outdoor Recreation Plan (SCORP) is seeking public input on outdoor recreation which will help develop a blueprint for future needs.
Braemer Skiing Petition
August 18, 2016
The City of Edina is proposing a 3 km cross country ski trail with snowmaking to be built at Braemar Park. The trails would provide an additional venue with guaranteed snow for the public and ski teams. Backers are asking the cross country ski community at large as well as Edina residents to voice their support before the public hearing on Sep 7th by signing their online petition.
Loppet Passes Another Hurdle Toward Adventure Center Development
August 5, 2016
The Administration and Finance Committee of the Minneapolis Park & Recreation Board Wednesday night passed a series of resolutions supporting the Loppet Foundation's Adventure & Welcome Center project. The next hurdle is approval by the full Park Board, which is expected to vote later this month. Assuming approval by the full board, the last big hurdle is fundraising of an additional $1.2 million to complete the first phase of the project. As a side note, the Adventure Center has been rechristened as 'The Trailhead'.
Related:
Star Tribune: Winter sports/bike center on verge of final approval for Wirth Park
Adventure Center Project
Duluth Planning Commission Hearing on Grand Avenue Nordic Center
July 11, 2016
The City of Duluth Planning Commission will be holding a Public Hearing this Tuesday evening, July 12th, to receive comments on the Spirit Mountain Recreation Area Environmental Assessment Worksheet, which addresses projects including the Grand Avenue Nordic Center, as well as a number of other silent sport efforts.
Levis Mound Chalet Burns Down
May 26, 2016
The scenic chalet at Levis Mound near Neillsville, WI, burned down in a fire earlier this week. The cause of the fire is unknown at this time. However, plans are already being made to build a replacement and a funding page has been started.
Related:
GoFundMe Page for Levis Mound Chalet
Edina City Council Moves Forward on Braemer Winter Park Project
May 18, 2016
On Tuesday evening, May 17th, the Edina City Council voted to move forward on the Braemer Winter Park Project. The next step will be a study on the financial feasibility and trail design for a snow tubing and cross country skiing operation.
Edina City Council to Vote on Braemer Winter Park Project
May 15, 2016
On Tuesday evening, May 17th, the Edina City Council will vote on the a proposal for developing winter activities at Braemer Park including trails with snowmaking capabilities. There is still time to make your opinions known via email or phone.
Battle Creek Winter Recreation Legislative Update
May 12, 2016
The Battle Creek Winter Recreation Area was not included in the final Senate bonding bill. Supporters have now turned their attention to a Senate Supplemental Budget Bill and a project called Snow Angels, which funds a ski jump in Red Wing. They hope to get the Battle Creek project added to this same bill, and are asking for constituents to contact their representatives.