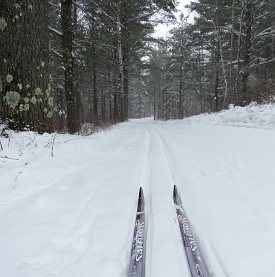 After Hours ski trails, November 17, 2014 (Photo: Rich Hoeg)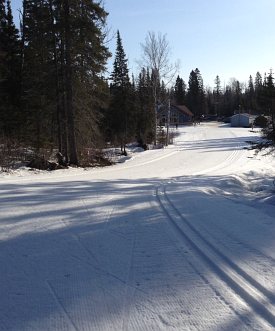 Porcupine Ski Runners Trails, Timmins, Ontario, April 12, 2015 (Photo: Dan Horihan)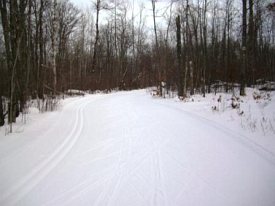 Giants Ridge, February 16, 2015 (Photo: Tim Salo)
Avoiding the Crowds
December 20, 2011
While most Twin Cities ski trails will be crowded this season, we offer some general tips on how to avoiding dense populations.
Cross-Country Ski Rentals
January 11, 2010
Looking for cross-country ski rentals? We've put together a collection of links, both in the Twin Cities and around the region.
Trail/Park Fees
December 8, 2005
A rough breakdown on passes/fees you'll need for skiing at parks and trail systems in the upper Midwest.
Under the Lights
December 1, 2000
A review of some of the lighted ski trails in the area.
Save The River Bottoms
June 10, 2015
A coalition is working to save the Minnesota River bottom trails in the Twin Cities, and is currently asking for supporters to contact their state representatives to strike out a provision that requires the natural river bottom trails to be paved.
Ramsey County Winter Recreation Area Meeting on June 4th
May 28, 2015
Ramsey County is pressing forward with the organization of Winter Recreation Area committee to develop an action plan for implementing a Winter Recreation area at Battle Creek. Catch up on the last meeting notes and RSVP by June 1st for the upcoming June 4th meeting.
Duluth Trails in Running for $100K
May 27, 2015
Bell Cycling has a promotion that will award $100K to one trail system in the United States, to help further trail building development. The Spirit Mountain trails in Duluth are one of the finalists, and your vote might just push them over the top for the victory -- vote today! The contest ends June 4th.
Winter Recreation Area Meeting - May 7th
May 1, 2015
Ramsey County is continuing the momentum on the Winter Recreation Area planning, posting notes and action items from the last meeting and scheduling the next get-together for Thursday, May 7th.
Project Illumination Coverage
April 19, 2015
Green Bay's Project Illumination to get lights up at Reforestation Camp trails took a major step forward on Saturday with a big fundraising dinner. The day also included youth clinics with Jessie Diggins. Photos from Steve Hoffman, as well as some of the local coverage.
Related:
Photoset from Steve Hoffman:

Project Illumination Coverage Day
Bay Nordic: Project Illumination
Fox 11: Olympic skier hosts youth clinic
Noquemanon Trails Network Secures Land
April 16, 2015
The Noquemanon Trail Network (NTN) has announced the purchase of nearly 10 miles of silent sports trail easements plus a 40-acre parcel of land in Marquette County from Plum Creek Timber Company, thanks to funding awarded by the Eagle Mine Community Fund.
Winter Recreation Area Meeting Rescheduled for April 9th
April 2, 2015
Following up on the meeting in mid-March, Ramsey County will be hosting a Winter Recreation Area meeting on Thursday, April 9th in St. Paul. All interested in helping guide the process and/or take lead roles are welcome to attend. Note: This was originally scheduled for Apr 6th, but has been rescheduled to the 9th.
Ramsey County Winter Recreation Area Meeting on April 9th
March 30, 2015
Following up on the meeting in mid-March, Ramsey County will be hosting a Winter Recreation Area meeting on Thursday, April 9th in St. Paul. All interested in helping guide the process and/or take lead roles are welcome to attend.
Grand Avenue Nordic Center Project
March 19, 2015
Duluth XC is working with the City of Duluth to developed a cross-country ski center at the base of Spirit Mountain, offering 3.3K of lighted trails with snowmaking, along with ability to utilize the chalet for hosting large and small events. But they need your help to make this project happen!
Bay Nordic: Night of Illumination Fundraiser Dinner
March 16, 2015
Bay Nordic along with Brown County Parks in Green Bay are hosting an Night of Illumination Dinner to kick start their fundraising efforts for lighting at Reforestation Camp for next season. The dinner is scheduled for Saturday, April 18th.
Ramsey County Winter Recreation Area Summit March 19th
March 10, 2015
Ramsey County is holding a winter recreation summit Thursday evening, Mar 19th, at the Keller Golf Course Clubhouse in St. Paul. Plans are to discuss ways to fund and develop a winter recreation area at Battle Creek Regional Park.
Tour Duluth this Saturday
February 25, 2015
Tour Duluth is an annual celebration of cross-country skiing, giving skiers the opportunity to ski as many of Duluth's great ski trails as they wish. At the end of the day, there is a dinner at Hartley Nature Center. And stay for Sunday and compete in the Nordic Spirit ski race!
Lebanon Hills Revised Development Informational Session
February 2, 2015
Wilderness in the City is hosting an informational meeting on Thursday, Feb 5th, to discuss the revised Lebanon Hills Development Master Plan. Public comment on the new plan is open now through Feb 25th.
Snowflake Enters Sale with Charter School, Housing Developers
January 15, 2015
Snowflake owners in Duluth have entered a purchase agreement to sell the property to developers for a charter school, as well as some housing development. The sale of the property does have several contingencies, including operating the Nordic center for at least the next five years.
Winter Bash at Biskey
January 6, 2015
There will be a Winter Bash celebration at Biskey Ponds ski trails in Duluth, this Sunday afternoon, Jan 11th. Events include a skijor clinic, snowshoe trek, ski tour, along with bonfire and snacks.
Theodore Wirth Master Plan Open House
January 2, 2015
The deadline for public comment on the Theodore Wirth Master Plan has been extended to January 9th. There will be an open house on Thursday, January 8th. The master plan can also be reviewed and comments submitted online. Once approved, the master plan will be used to guide park improvements for the next 20 years.