Midwest Snowmaking Projects Update
November 20, 2017
The upper Midwest has enjoyed the benefits of snowmaking trails for over a decade now with excellent facilities in the Twin Cities at Elm Creek. Theodore Wirth and Hyland Lake, as well as Mt. Itasca up in northern Minnesota and St. Mary's University down south. With the seemingly growing lack of reliable snow, more locations have undertaken snowmaking efforts. We attempt to outline some of those current projects.
Active Projects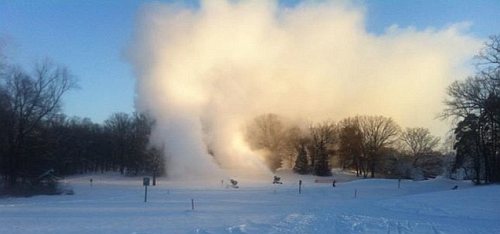 Snowmaking on a cold morning, Theodore Wirth, December 7, 2013 (Photo: Joel Woodward)
Theodore Wirth - Minneapolis, MN
http://www.loppet.org/cross-country-skiing/
http://www.loppet.org/adventurecenter/
Status: Active snowmaking operation on 5K loop, expanding to 7.5K this season.
In addition to building a new trail center (named Trailhead), the Loppet Foundation is also expanding the existing snowmaking operations to hopefully reach 7.5K in length this season. So far they have added 2 new snowmaking hydrants and receptacles up on the North side of the Hap loop - reaching an area of the loop that was very difficult to make snow on because of distance between hydrants, and will also help facilitate making an extra kilometer of man-made snow for Masters World Cup on parts of the Judy loop. They are in the process of adding power and water hydrants to the Twin Lake Trail. This will also be their first full year with the use of the cooling tower, which should increase their snowmaking efficiency. And they also have 3 more snow guns this season, increasing their total to 11.
The Loppet Foundation has an active fundraising campaign to complete the Trailhead building and trail expansion.


American Birkebeiner - Hayward, WI
Status: Initial development, snowmaking this season with future expansion.
The Birkie is undertaking snowmaking in an effort to create a race venue for regional competitions and then eventually to have a viable back-up for hosting the Birkie. This season, they will begin with some preliminary equipment including high capacity wells, roughly 2500 ft of power and a series of hydrants. They are using HKD snowmaking equipment and engineering using a mixture of fan guns and air water eventually, with the water source currently coming from a high capacity well (eventually a pond/wells). Kurt Proctor, their new head groomer, is overseeing the project (Proctor did the snowmaking for Junior National events at Telemark). Their plan is to make snow at the new start area out to 800M and then loop around to form a loop that could eventually be close to 1.6K. The estimated timeline is to start blowing snow by mid-December, depending on the arrival and installation of the final pieces of equipment.
Moving forward, tentative plans will be to expand the snowmaking trail each season, with the five year goal of reaching 15K. Funding is coming under their Capital Campaign, currently in Phase II (check for events in your area!).


Vasaloppet Trails - Mora, MN
Status: Active snowmaking operations for race course, as well as shorter training loop development.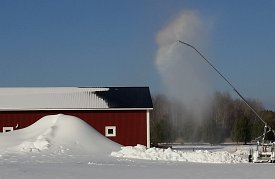 New snowmaking equipment in full gear for the Vasaloppet, February 5, 2016 (Photo: Debbie Morrison)

The Vasaloppet crew has made significant purchases in snowmaking equipment and development of the supporting infrastructure over the past two years allowing them to groom a race course of up to 13-14K using a combination of snowmaking and hauling of snow.

This year, the focus will be on making and spreading enough snow at the Nordic Center to provide season-long skiing. The initial goal will be to have about 3K of ski trail with manufactured snow early on, which will be on the Nordic Center's lighted trail. From there the plans include expanding another kilometer on the Eldris trail to the east of the Nordic Center followed by additional kilometers on the Nordic Center trail system in preparation for the 2018 race.

The Vasaloppet recently put the final piece of the snowmaking system in place with a new water and electric power line underground from the well water supply to the cooling pond. Water is then pumped under low pressure to a high pressure pump that sits inside a small pump house. The high pressure pump sends the water to the snow makers where it is mixed with air via an air compressor. The snow is spread by using very large agricultural spreaders and tractors.

Vasaloppet trail folks say a man-made race course will conservatively have a minimum of a 14K loop but could be 15-16K depending on weather and perhaps a little help from natural snow. The long range plan would be to have four or more kilometers of season-long skiing at the Nordic Center and a 18-20K loop when the Vasaloppet races have to be held on the Nordic Center trail system.

The Vasaloppet has a fundraising campaign to help cover the costs of snowmaking and future expansion.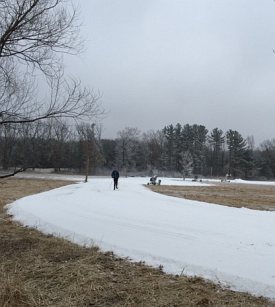 Lapham Peak snowmaking loop survives, December 18, 2014 (Photo: Theo Abrahamson)
Lapham Peak - Delafield, WI
http://dnr.wi.gov/topic/parks/name/lapham/
http://www.laphampeakfriends.org/help-the-friends/snowmaking-project/
Status: Active snowmaking with plans for future expansion.
Snowmaking operations at Lapham Peak have been going on for over a decade now. The current setup provides for a roughly 1.5K snowmaking loop in lean conditions. Improvements for the upcoming season include the acquisition of two new SMI Polecat snowguns, a complete overhaul of the LMC Snowcat that is used to spread the manmade snow and the renovation of the well that supplies water for snowmaking. The snowmaking system now has five high efficiency snowguns to go with the seven older fan-style guns.
Negotiations are underway with the Wisconsin DNR that could allow for future expansion of the snowmaking trails. The immediate goal is to complete another loop on the system by adding 0.75 kilometers in the next two years with the final goal of adding a hilly 0.75 kilometer loop, for a total snowmaking system of 3 kilometers.
Snowmaking at Lapham Peak is currently funded entirely through donations. There is no fee for skiing on the man-made snow, other that the State Park's vehicle sticker and trail pass required to enter the park and to ski. The system is operated primarily by DNR staff, with the assistance of volunteers from the Friends of Lapham Peak. Planning by the Friends continues, to accomplish the expansion, and assure that the operation of the system is financially sustainable for the long term.




Snowmaking at Elver Park, December 7, 2016 (Photo: Yuriy Gusev)
Elver Park - Madison, WI
http://www.madnorski.org/snowmaking/
http://www.channel3000.com/madison-magazine/opinion/winter-olympic-training-center-in-the-works/626005296
Status: Active snowmaking loop with plans for future expansion.
Last season CXC did ran some initial snowmaking operations at Elver Park setting up a 1K track. This winter they are planning to have 2-2.5km man-made snow loop. They have 4 fan guns and 3 HKD viper stick guns at their disposal.
Future development calls for pushing Elver Park to 3km and adding a 2-2.5km at Yahara Hills Golf Course. A new CXC Training Center in Middleton, WI is being planned which would includr a 3K loop with a traditional snowmaking system and snow factory system.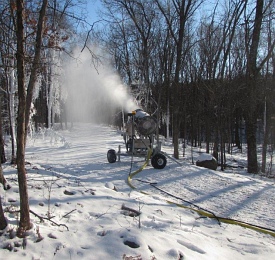 Snowmaking at Standing Rocks, December 9, 2016 (Photo: Jake Barnes)
Standing Rocks Park - Amherst, WI
http://www.co.portage.wi.us/department/parks/standing-rocks-park
https://www.facebook.com/Portage-County-Parks-245091768984386/
Status: Active snowmaking on 1K loop.
Standing Rocks Park, managed by the Portage County Parks Department, enters its third year of producing man-made snow for a small cross country ski trail and rope tow downhill area. During the summer of 2015, three Pole Cat snow guns were purchased by Portage County with the fundraising help of the Friends of Standing Rocks Park. A fourth gun was added last year.
It is anticipated that, like last year, a 1K cross country trail will be available for the holidays after December 25th. Portage County Parks staff oversees all aspects of the snowmaking operation which includes a holding pond, well, pump, underground electrical and underground piping.
There is no active fundraising plan at this time.
Development Projects
Grand Avenue - Duluth, MN
https://www.duluthxc.com/grand-avenue-nordic-center
Status: Fundraising and development underway, opening next season.
Grand Avenue Nordic Center is Duluth's big project to elevate Nordic skiing in the region. When complete, it will offer a full-service chalet, a new 3.3K snowmaking trail with LED lighting, as well as a stadium at the base of Spirit Mountain with connection to existing 20km of cross-country ski trails. The project aims to open in Fall 2018 and is a partnership with the City of Duluth, Duluth Cross Country Ski Club (DXC), and Spirit Mountain. DXC has done an incredible job raising over 90% of their $500,000 commitment in just over a year. They are seeking assistance from the public to close the final funding.


Gamehaven - Rochester, MN
http://gamehavenspark.org/Gamehaven-Concept
Status: Fundraising and planning stage.
Rochester has been actively pursuing a large scale silent sports complex south of town at Gamehaven for a number of years now. Plans for the several 100 acre park include a 5K snowmaking loop with lighting, paved bike trail, kayaking, large frisbee golf course, pump track and several other amenities.
Significant progress has been made: It is now part of Rochester's master park plan and land has been purchased with some assistance from Legacy Grants. Permits to use the lake and property for snowmaking have also been cleared and the group has been working with CXC on snowmaking education.
At this point, fundraising and some other large development projects have slowed the park development but the Rochester Active Sports Club (RASC) continues to press forward.
Battle Creek - St. Paul, MN
https://finnsisu.com/2017/11/snowmaking-at-battle-creek-jessie-diggins-wants-you-to-contact-these-mn-reps-and-senators-now/
Status: Fundraising and planning stage.
Ramsey County along with the local community is seeking to development a Winter Recreation area at Battle Creek. Current plans call for a permanent snowmaking system on 2.5 kilometers of lighted ski trail, as well as a teaching area for downhill skiing, snowboarding and a recreational tubing and sledding area. The Winter Recreation Area features include construction of a reservoir for water cooling, a pumping station, pipe and hydrants, electrical connections and fixtures for snowmaking; tow rope system for ski hill, and a seasonal building to house the pumping station and equipment. Portable snowmaking guns and grooming equipment to grade the snow will be provided as part of the local cost share.
The project is estimated to total $4.4 million. Ramsey County has committed $1 million, the community will raise another $1.3 million through private funding with the group requesting $2.1 million in state bond funding as a matching grant.


Pinehurst Park - Eau Claire, WI
http://www.pinehurstpark.org/
https://www.facebook.com/ThePinehurstProject
Status: Fundraising and planning stage.
OutdoorMore organization is working to bring back a ski hill in Eau Claire at Pinehurst Park, with their long range plans to add snowmaking for ski trails. They are getting close, but need more people to help with the project and additional funding. They are finishing installation of lights for the ski trails this fall. Capital campaign is on-going.
Lake Elmo Park Reserve - Lake Elmo, MN
https://www.co.washington.mn.us/502/Lake-Elmo-Park-Reserve
Status: Planning/feasibility study phase.
Washington County opened a new Nordic Center at the park in 2012, after adding lights the year before. And immediately people began asking about snowmaking. This season Lake Elmo has embarked on a snowmaking feasibility study which they are hoping to have completed by March of 2018. It is very early in the process, so the exact trail layout has not been determined, but they are evaluating configurations with a 2.5K loop and sledding hill. Once they have the completed feasibility study it will be used to help evaluate the next steps. [ Update: Nov 16 Parks and Open Space Commission Minutes ]
---