Rice Creek Boat Club Summer Programs
Nordic skiing friends! Dive into a new cross-training option this summer and not only get some pretty stellar upper body/core work in, but spend more time in (but mostly above) the water. Paddling, including canoeing, kayaking, stand-up paddle-boarding, surf-skiing all utilize similar muscle groups as ski poling and develops excellent power and endurance.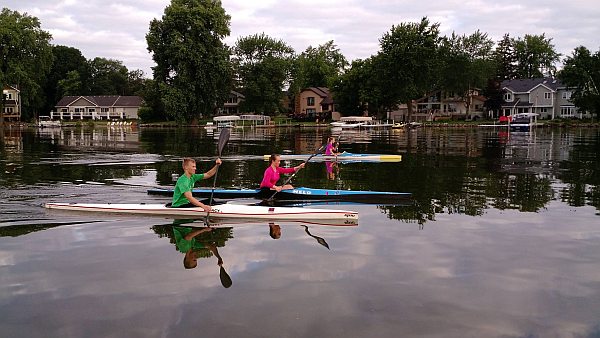 Here are the top reasons why YOU should check out paddling this summer:
Paddlesports are social! Whether you're in a boat with someone, or working by yourself within a pack of boats, paddling is cooperative and advantageous as you learn wake-riding. Grab a buddy, or better yet, make a new buddy at your local Hoigaard's Derby races. Experienced paddlers love teaching newcomers their skills, and you'll end up paddling with lot of different people and making a lot of different friends.

So. Many. Boats. If you think you've been in a canoe before, try a racing canoe. They are light and fast and tippy, and they come in all different kinds - solo canoes, tandems, all the way up to 4-person or even large team Voyageur canoes. And then there's kayaking and surf-skiing, sprint and marathon. Stand-up paddle-boarding (SUP) is a great leisurely cabin activity, but it's also something you can do right here in the Cities, and is remarkably similar to double poling. The racing SUPs are sleek and speedy.

Like skiing, the "trail" is always a little different based on the weather, water conditions, where you go - lakes vs. rivers, who you're with, etc.

Paddlesports are technical & strategic (which adds to the FUN!) Learn wake-riding, buoy turns, how to handle rough or shallow waters and even use them to your advantage. Learn how slight adjustments to your technique can make the boat move significantly faster!

... And you can almost always go for a swim (on purpose) after your paddle!
The Rice Creek Boat Club offers summer junior (ages 12-18) & adult programming for those looking to learn efficient paddling skills. We explore a variety of paddling styles: canoeing, kayaking, stand-up paddle-boarding, surf-skiing, and we welcome all experience levels! Boats are provided. We practice at Long Lake in New Brighton.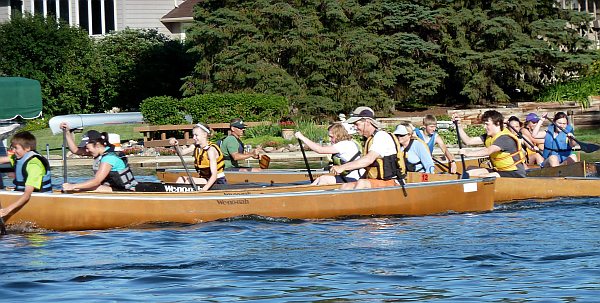 Juniors Racing Team
We are excited to offer introductory programs for juniors and adults, but we will also offer a competition team this summer, which will focus on a number of races, including the Mighty Mississippi Race and Nationals in August!
Partnership with Endurance United
This year the Rice Creek Boat Club (RCBC) is especially excited to announce a partnership with Endurance United's Development Team, who will be paddling together one day a week, as a way to diversify their training and focus on dynamic strength development. Most RCBC coaches are experienced nordic skiers or ski coaches themselves, which allows for a unique perspective of transferring skills.
Check out more information on our program options and registration at PaddleRCBC.org.
-------
Other opportunities to paddle include the Hoigaard's Paddle Derby on Thursday Nights at Thomas Beach on Bde Maka Ska, and on Mondays nights, where the Minnesota Canoe Association hosts "Rookies," which pairs experienced and novice paddlers together to work on skills. More information on Minnesota canoeing opportunities available at mncanoe.org.