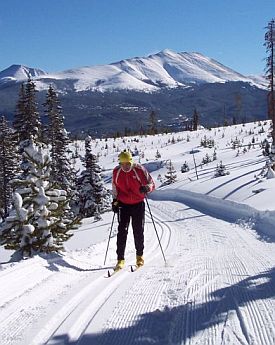 Birkie trail, April 1, 2006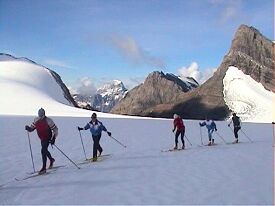 Still skiing at Como Golf Course, April 1, 2006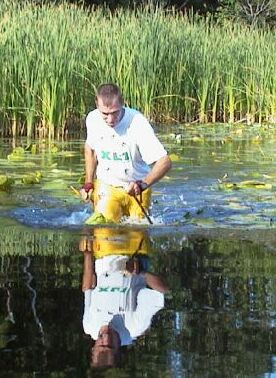 Chad Giese previewing part of the new Loppet course, June 7, 2006
Highlights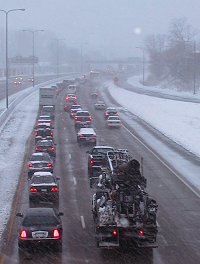 Early April Snowstorm Hammers Metro
April 1, 2006
The northern sections of the Twin Cities were hammered with 7-12" of fresh snow overnight Friday, snarling the morning rush hour traffic. Some early snow totals: New Brighten 12", Plymyth 7", St. Pauli 2", Minneapplis 1". Grooming crews should be completing their first passes by noon.

Short Notice Race: Elm Creek Marathon
April 1, 2006
A hearty group of skiers has announced a short-notice 50K marathon on the man-made trails at Elm Creek for this Saturday morning (today). Registration opens at 4:30 am, with a mass start scheduled for 5 am. Skiers will complete 20 laps, with feeds allowed only on laps 10 and 17.

Birkie Out and Back
April 1, 2006
In a move designed to cut transportation costs and provide a more rounded experience, the Birkie organization has announced the 51K race will now be run from Telemark to Double O and then back to Telemark. Skiers will need to ski on the right side of the trail (unless you're from the UK).

Swix Cera Guard Rolled Out
April 1, 2006
Swix, partnering with Right Guard, has introduced a radical new glide wax product. Using Right Guard's anti-perspirant technology Swix has designed a simple spray on glide wax coined Cera Guard. Not only will your skis glide faster, but they'll smell great, even after 50K!

Loppet Attacks
April 1, 2006
In a surprise development, race director Johann Monger announced the Citibank of Lakes Loppet would go on the offensive in their battle against Mother Nature by rescheduling the big race for July 2nd. Monger stated: "We've laid over 17 miles of cooling pipes across the metro and our engineers say we can easily withstand temperatures in the 90s."

Commuter Trail Development Meeting
April 1, 2006
There will be a meeting tonight at 7 pm at the IDS center in downtown Mpls to discuss plans to develop a skiers commuter lane along the I-394 and I-94 cooridors. MN DOT plans call for a five-foot lane along the inner shoulder with only limited ATV traffic allowed.

OxyBar Energy Boost
April 1, 2006
Over-the-Clif Bars have rolled out the latest technology to combat exercise fatigue: OxyBars. OxyBars are individually wrapped bars of oxygen, designed to re-inflate those tired lungs whether you're out pounding the Twin Cities Marathon pavement or hammering the Noquemanon hills. And best of all, OxyBars are calorie free and extremely lightweight to carry.