Fresh grooming at Elm Creek, April 1, 2008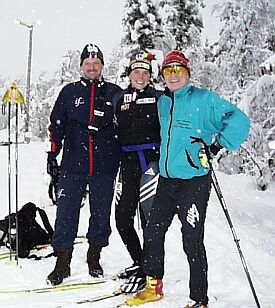 Bente Skari (center) with Brad Pitt (right), Woodland ski trails, April 1, 2008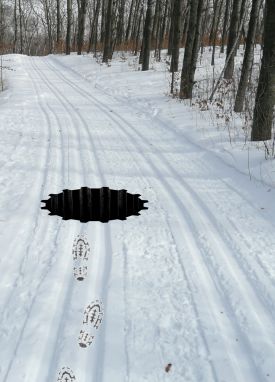 Walker trap snares a victim, Lebanon Hills, April 1, 2008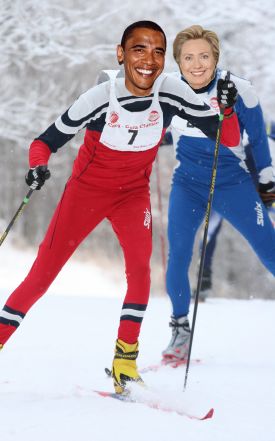 Barack Obama leading Hillary Clinton, Daligets Pre-Loppet, April 1, 2008
Highlights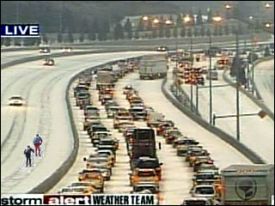 April Snowstorm Shuts Down Metro
April 1, 2008
The unusually strong April storm system has caught many commuters off-guard Tuesday morning as heavy snows continued to snarl the metro area. In the last hour, MNDOT has closed I-394 and 35W as they've been unable to keep up with the snow. There are numerous reports of skiers taking to the highways for one last spring ski. Snow is expected to continue falling through tonight.

Trail Reports Updates
April 1, 2008
The endless season just goes and goes... a number of places plan grooming into early June now. New reports from Helm Creek

, Minookie Park, William O'Brother, Cottage Grave Ravine, Soaring Beagles, Heatly Park, Midgets Rise

, and recent reports from Sugarstick, Mt. Ashwhatanameitcanbe, Weevil Ways, Lethim Peek, Eastern Flintlock, Pinelog, Qirkie trail.

Battle Creek Closures Scheduled
April 1, 2008
Ramsey Country has posted a number of dates next winter in which Battle Creek will be closed so that the park can be used for reenactments of the namesake Battle Creek conflict. Recently uncovered bone fragments show a bloody fight occurred between a herd of elk and a pack of wolves in January 1723. (No live animals will be used in the reenactments.)

White House Announces Major Climate Initiative: Rollback DST
April 1, 2008
In an early morning press conference, the White House has outlined a new proposal that is expected to turn the tide in the global climate change battle: the elimination of daylight savings time. Nobel Prize winner Al Gore was stunned by the annoucement, stating "it's certainly a convenient solution".

AeroFluor Spray Wax Fraud Exposed
April 1, 2008
Recent independent testing has uncovered that the hottest new waxing product, AeroFluor Spray Wax is actually nothing more than a can of compressed air that is scented with the smell of burnt P-tex. The wax had received stunning reviews in early season testing and was the primary sponsor of the new Airheed Ski Team.

Birkie Develops New Transportation Policy
April 1, 2008
Birkie officials have developed a solution to the transportation problems that can plague skiers on race morning. Racers will now park in Hayward and ski to the start. The new system will eliminate all busing, thus reducing road congestion and also lowering the carbon profile for the event. In addition, skiers will get a great warm up for the race. The Birkie trail will be groomed in both directions and late wave racers should plan extra time, as they may encounter on-coming trail traffic.

Walker Trap Found at Lebanon Hills
April 1, 2008
In a clear escalation of the battle with walker traffic on metro ski trails, officials discovered a number of cleverly camouflaged large pits along the trails at Lebanon Hills earlier this morning. The diameter of holes was such that skiers could stride over them, but easily collapsed under foot traffic. The holes contained some lettuce and carrots along with ski training program pamphlets. At least one walker had already been entrapped.

Skinnyski Summer Training Program
April 1, 2008
Adding to the wealth of summer training programs, Skinnyski.com is announcing their own junior training program. Skiers will be drilled in website updating, filtering of large volumes of email, core strength mouse drills, and photo shoot-n-process intervals. The program will meet seven days a week with sessions frequently running past midnight.

Luminary Loppet Plans Earth Hour
April 1, 2008
The City of Lakes Loppet will implement new of green measures for the 2009 Luminary Loppet event. One of the key changes will be the extinguishing off all of the luminaries roughly 15 minutes after the start of the event. Parents are encouraged to tie ropes to their children to ensure they do not get separated in the dark interlude.

Wrong Way Poles Come to the US Market
April 1, 2008
Yakyak-made Wrong Way Poles will finally make it to the US market next winter. The Wrong Way poles feature a unique design that ensures the poles will be used in only one direction. It has proven to be extremely successful at keeping skiers going the right direction on the trails in Europe.