Skiing along the Red River in Fargo, April 1, 2009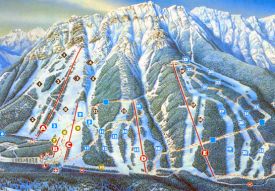 Plans unveiled for new man-made XC snow loop at Hyland, April 1, 2009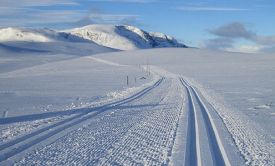 Fresh grooming at Eastwood Golf Course, April 1, 2009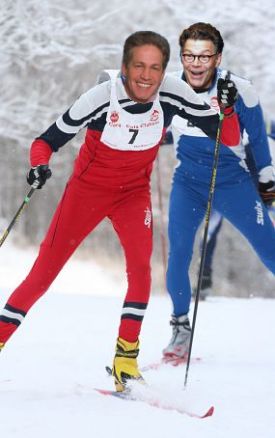 Norm Coleman takes the early lead over Al Franken, Minnesota Senatorial Ski-Off Race, April 1, 2009
Highlights

Free Midwest Marathon Registration Day
April 1, 2009
With the economic downturn, a number of Midwest ski races have banded together to offer a unique, one-day registration special: FREE race entries! Grab your credit card (there is a $0.50 handling fee payable by credit card) and jump over to www.midwestskiraceregistration.ch/freefreefree. Act quickly, the offer is limited to the first 10,000 registered.

Trail Reports Updates
April 1, 2009
New snow across the region has yet again extended the 100+ day season. New reports from Butter Wirth

, Scupperwhattahec, Sugarcube, Terror Oaks, Taller-than-Average Ridge, Lasoo Peak, and recent reports from AiG (closed), Lake Tickle-Me-Elmo, Hamster Creek, Mt Schoolcraft.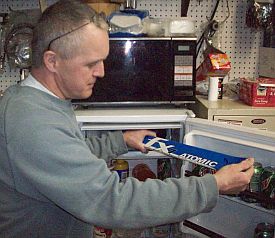 Core Cooling Service Offered
April 1, 2009
Mark Ernst reports: InCompetition Sports is offer a new service this summer for skiers. They will deep freeze your skis thereby contracting the core creating a permafrost like condition that will allow the ski to stay acclimated to the winter climate they were designed for. Core cooling keeps the ski fresh over the long summer and ready to hit the trails next winter. When used in conjunction with Hot Boxing the skis stay in a "confused" state making them run faster in all conditions. Core Cooling runs $199.99 for one treatment. Arm & Hammer Baking soda additive (reduces odors) is $19.99. Keep your cool, chill your core.

Elk River Snow Hoarding Operation Uncovered
April 1, 2009
In a pre-dawn raid, officials have uncovered a 750,000 sq foot warehouse in Elk River that was nearly full with snow. It appears the snow was being stockpiled for use on the Woodland trail system with the intention of allowing groomers to extended the ski season through the summer months. Officials became suspicious in February after receiving thousands of calls about mysteriously clean driveways throughout the city.

Swix Offers New Environmental Friendly Line up
April 1, 2009
Swix has announced a new line up of racing kick waxes designed to reduce the environmental impact. The PR series features pine tar based kick waxes with a dash of fluoro powder that was developed under the codename 'Black Magic'.

Minnesota Senate Race Comes Down to a Ski-Off
April 1, 2009
Al Franken and Norm Coleman agreed to an early morning ski-off to decide the endless battle over the Minnesota Senate seat. The race was extremely close as Norm Coleman took the early lead but appeared to have been nipped at the line by Franken by just .225 millimeters. Both campaigns have draw into question irregularities on the race entry forms, promising to contest the race results in court.

Metrodome Sold to Finn Sisu
April 1, 2009
Finn Sisu has recently completed the purchase of the Metrodome with plans to convert it into the premiere Nordic facility. The concourses will be fitted with state-of-art snowmaking operations while the interior of the stadium will have over 1,800 heater units installed, forming the world's largest sauna.

Nigeria Seeks Midwest Skiers for 2010 Olympic Ski Team
April 1, 2009
Dozens of Midwest skiers have received email invitations from the Nigerian government offering them a rare opportunity to try out for the 2010 Nigerian Olympic Nordic ski team. To encourage the participation, the positions will be fully funded with direct wire transfers to the skiers bank accounts.