Borah Teamwear: Human Powered Sewing Factory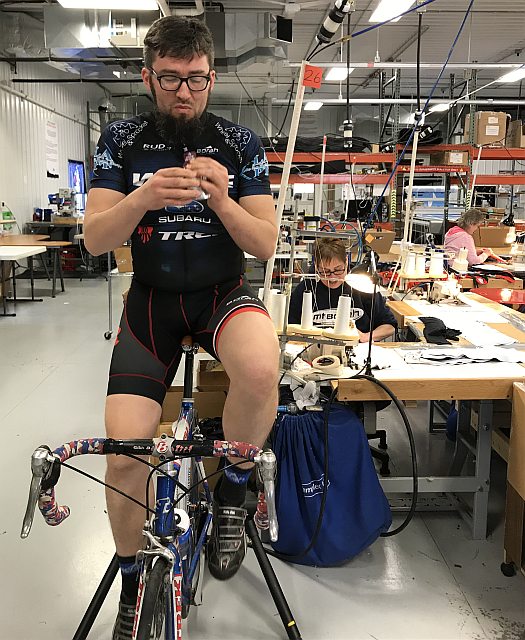 April 1st, 2019 Coon Valley, WI. With yet another industry first, Borah Teamwear is excited to announce that they will be converting their Coon Valley, WI factory over from a mix of traditional power and solar, to becoming 100% human-powered. "The whole idea sounded totally crazy at first," said Production Manager, Raven Stevenson, "but then we quickly realized this makes perfect sense, since we are already in the activewear market and have fit employees on staff who can start contributing immediately." The company goal is to achieve 100% status by the year 2022; possibly sooner if the technology improves and the company is able to hire enough elite level cyclists to power twenty machines. Feeding the cyclists will also be an issue since the amount of calories needed for a cyclist to power a machine for one day is astonishing. The company says they are currently in talks with several industry nutrition companies and are working towards a final agreement. Borah is currently accepting applications for qualified candidates who must be able to pedal their bikes for eight hours per day, 5 days a week. Overtime will also be a requirement from time to time. As an added bonus, candidates will qualify for Borah's exercise initiative, allowing for a paid 15 minute daily fitness break. For more information please visit www.borahteamwear.com.
About Borah Teamwear
In business since 1997, Borah Teamwear has grown to become a premier manufacturer of high-quality custom sublimated active outdoor apparel. Borah's offering includes cycling, running, triathlon, nordic, alpine and casual wear. All of Borah's products are 100% custom made at the company's solar-powered (soon to be human powered) headquarters in Coon Valley, WI, where the latest technological advancements in apparel design and production are utilized.