FOR IMMEDIATE RELEASE

Fischer Skis awards Portland Nordic grant to bring lighting to Riverside Golf Course
Portland, Maine - Fischer Skis has selected Portland Nordic as a recipient of its annual Fischer Grant program. The $2,500 grant, along with an additional $2,500 matching challenge grant, will go towards Portland Nordic's plan to light a 2km loop at Riverside Golf Course. To celebrate the grant award, Fischer athlete and Olympic Gold Medalist Kikkan Randall will attend a celebration ceremony on the deck at The Club at Riverside Golf Course (1158 Riverside St, Portland, ME 04103) on Thursday, October 14, 2021 from 5-7pm.
"Portland Nordic is doing awesome work and we're thrilled to be able to help them with this lighting project," says Fischer Skis Marketing Director, Brian Landrigan. "They've cultivated a really strong community there in Maine, and we can't wait to see how they turn out for this event."
Portland Nordic runs the majority of its programming at Riverside Golf Course including the Portland Middle School Nordic and Bill Koch Youth Ski programs. The planned lighting system will be installed over a about 2km loop on the North Course including the main "stadium" area on the 18th fairway. The lighting system will be designed not to interfere with summer use of the golf course and to minimize impact on wildlife.
"Winter days are short and this grant from Fischer will help us to lengthen the ski day at Riverside while providing a safer experience for skiers of all levels who enjoy it after the sun goes down," said Steve Niles, president of Portland Nordic. "Evenings are often when conditions are best and we hope that with a lit section at Riverside more skiers, new and experienced, will use this great skiing resource we have in our community."
On Thursday, October 14, Portland Nordic and Fischer will host a celebration of the grant on the deck outside at The Club at Riverside Golf Course from 5-7pm. Along with Kikkan Randall in attendance to sign autographs and pose for photos, Portland Nordic and Fischer will be offering some silent auction items and raffle prizes.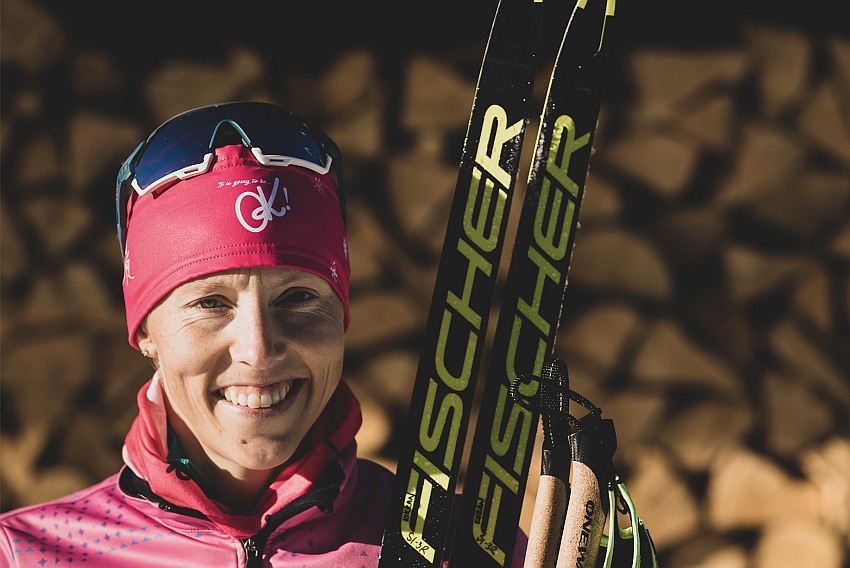 "I'm excited to be a part of awarding this Fischer Grant to Portland Nordic," says Randall. "Building a strong community around skiing is such a great way to make the sport accessible to all. It's really inspiring to see Portland Nordic sharing their enthusiasm with the greater community. I'm looking forward to meeting everyone and getting the stoke going for the upcoming winter!"
Kikkan Randall is a five-time Olympian with 17 U.S. National titles and 29 World Cup podiums. She made US Olympic history at the 2018 PyeongChang Winter Olympics when she and her teammate Jessie Diggins won the women's team sprint freestyle race, becoming the first Americans to ever win Olympic gold in cross-country skiing. Since retiring from the U.S. Ski Team, Randall and her family have moved back to Alaska where she was recently hired as the Executive Director of the Nordic Skiing Association of Anchorage, the club with which she started her skiing career.
The Fischer Grants program, an ongoing outreach program aimed at promoting access and engagement to skiing in the United States, focuses on youth and underserved ski populations, snowmaking efforts, education and outreach. Since its first donation in 2017, Fischer has awarded over 10 grants, both in product and financial support, to ski programs around the country.
To donate in support of Portland Nordic's lighting program and Fischer's match challenge visit www.portlandnordic.org/campaign.
ABOUT FISCHER SKIS
Fischer's vision is to be the winter athlete's brand of choice through outstanding products, created for everlasting moments and new levels of individual performance. The privately held company employs nearly 2000 individuals who all share a passion for and dedication to winter sports. Fischer Sports GmbH was founded in 1924 in Ried im Innkreis, Austria, where the global headquarters is still located. Manufacturing takes place there and in Ukraine. For more information, visit www.fischersports.com
ABOUT PORTLAND NORDIC
Portland Nordic is a nonprofit 501c3 that promotes healthy and active lifestyles in greater Portland, ME, through the sport of Nordic Skiing. The volunteer-run organization provides ski instruction and supports Nordic trail maintenance and development throughout the city. The organization runs the majority of its programming, including Bill Koch League and a Middle School Program, at the Riverside Golf Course where it assists the City of Portland with grooming and trail maintenance. Learn more, become a Friend of Portland Nordic, and get involved at www.portlandnordic.org