FOR IMMEDIATE RELEASE
Contact: Ian Harvey
Pioneer Sports
ian@yokogloves.com
February 12, 2002

2002 Winter Olympic Report - 10K, 15K Classical
Two things jumped out at me today. First, we encountered a strange phenomenon this morning with the wax (which actually has been consistent with the last 3 days!). It has been cold, but the track a bit icy. Generally in this situation people tend to wax warmer for more kick. What we have found is that Basewax Green provided both the best kick and the best glide. Turquoise was second best in both categories. Bright Blue and then Dark Blue were slower and offered even less kick. For the women's race this morning, many panicked (as this is not a course that you want to run out of kick on!) and waxed warmer thinking that they would have better kick. Instead they ended up with slow skis and poor kick!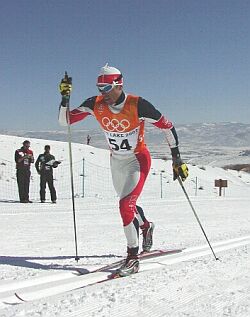 The second thing is more of a personal nature for the US. We have some really excellent ski racers. Over the past year, we have had excellent Cross Country Ski results. The results consisted of 4 top 10 finishes at World Juniors, one top 10 finish in a World Cup, and 6 top 20 finishes (before today). These top finishes were achieved by 10 different skiers! Never have we as a nation had such depth! In the Men's 30k Skate, Andrew Johnson, a young skier, finished 22nd, a grand result. Before the race today, I was waiting for the first skier with a few American ski fanatics who were also volunteering (course marshalling). They commented at how, when in the US, our top skiers such as Wadsworth and Swenson, seem so fast, but how they really aren't good at all in reality when compared to the world's best. This is not the case at all, I pointed out. Wadsworth finished 8th in a World Cup last year and Swenson 11th this year. Well, to help make my case today, John Bauer rampaged to an amazing 12th place, Patrick Weaver 16th, and Kris Freeman 22nd place! This must have been our best day ever as a team.
So far over the last calendar year, 10 different American Cross Country skiers have finished in the top 30 of a World Cup or Olympic race. There have been years in the past where this number was zero or one. The US is an emerging Nordic power.
###