FOR IMMEDIATE RELEASE

Contact: Piotr Bednarski
Minnesota Biathlon
MNBiathlon@aol.com

March 2, 2003
Day 3 - Jacob Beste Takes 2nd at US Biathlon Nationals
With very poor visibility and heavy snowfall, Minneapolis native Jacob Beste placed 2nd today at the final day of competition at the U.S Biathlon National Championships in Lake Placid, NY. Heavy snow kept visibility down, but this did not seem to prevent the top Minnesota men from hitting all their targets. Ben Kremer, also of Minneapolis, surprised the field with clean shooting and finished 4th, while 2002 Olympian Dan Campbell of Hastings finished 5th , also with clean shooting. Jay Hakkinen of Soldotna, AK won today's race, putting him back on top after struggling with the shooting in Saturday's Pursuit format race.
In the women' field, Denise Teela of Anchorage finished first, closely followed by identical twin sisters Lanny and Tracy Barnes of Durango, CO. Sarah Riley of Proctor finished 4th, only 7 seconds out of 3rd place.
In the junior men's race, a strong Minnesota squad tried to upset Lake Placid sensation Tim Burke, but to no avail. Burke, who underwent hip surgery in September, was strong enough to beat out Anders Osthus of Duluth and Brian Olsen of Bloomington. As with the last 2 days of competition at the nationals, the Youth Men's category was dominated by Bjorn Bakken and Kurt Farchmin, both of Duluth. Breaking up a Minnesota sweep of the top 12 places was Blake Sherwood of Ft Kent, ME in 3rd.
In the Youth Women's category, Kelsy Bouchard of Ft Kent and Annelis Cook of Lake Placid repeated their performance from Saturday's pursuit race, taking 1st and 2nd place. Fantastic shooting brought Brit Salmela up to 3rd place, just squeaking by Katie Zupan of Grand Rapids, MN
Complete results available at www.orda.org
Women's 6km Relay Format
1. TEELA Denise , Anchorage, AK 0 penalties 20:55.2
2. BARNES Lanny, Durango, CO 0 penalties 20:59.8
3. BARNES Tracy, Durango, CO 0 penalites 21:02.1
4. RILEY Sarah, Proctor, MN 0 penalties 21:09.2
5. COX Lindsay, Marquette, MI 0 penalties 22:49.7
Senior Men 7.5km Relay Format
1. HAKKINEN Jay, Soldotna, AK 0 penalties 20:21.6
2. BESTE Jacob , Minneapolis, MN 0 penalties 22:00.0
3. LILLY Brian, Marquette, MI 1 penalty 22:02.3
4. KREMER Ben, Minneapolis, MN 0 penalties 22:19.8
5. CAMPBELL Dan, Hastings, MN 0 penalties 22:21.0
Junior Men 7.5km Relay Format
1. BURKE Tim, Lake Placid, NY 2 penalties 22:18.8
2. OSTHUS Anders , Duluth, MN 0 penalties 22:32.2
3. OLSEN Brian , Bloomington, MN 0 penalties 23:07.4
4. MEEHAN Tim, Marquette, MI 1 penalty 25:39.3
5. SCOTT Steve , St Paul, MN 3 penalties 26:47.5
Youth Men 7.5km Relay Format
1. BAKKEN Bjorn , Duluth, MN 1 penalty 23:43.3
2. FARCHMIN Kurt , Duluth, MN 0 penalties 23:58.1
3. SHERWOOD Blake, Fort Kent, MN 0 penalties 24:14.5
4. GERLING Tyler , Grand Rapids, MN 1 penalties 26:01.9
5. SCOTT Scottie , St Paul, MN 2 penalties 26:59.9
Youth Women 6km Relay Format
1. BOUCHARD Kelsy , Ft Kent, ME 0 penalties 0:22:30.4
2. COOK Annelies , Lake Placid, NY 0 penalties 0:23:04.4
3. SALMELA Britt, Duluth, MN 0 penalties 0:24:08.5
4. ZUPAN Katie, Grand Rapids, MN 0 penalties 0:24:11.5
5. NORDGREN Sonne , Marine, MN 0 penalties 0:24:17.3
Full results available at www.orda.org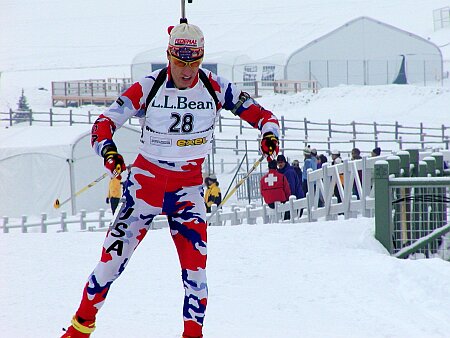 Jacob Beste
###