2004 China Vasaloppet Trip
Earlier this year, in March 2003, Amy Xu of Rainbow Resort led a group of U.S. Nordic skiers over to the Chinese Vasaloppet in Changchun China. The race was held on March 15th. Over 600 hundreds skiers, from China, Sweden, Finland, Norway, U.S.A., Germany and other European countries participated in this Grand Opening event. Our team USA (what the organizer called us), didn't do too bad. Chad Giese, our own 2002 and 2003 Mora USA Vasaloppet winner, won the 5th place award, beat one of the fifth top skiers, one of the last five year Swedish Vasa winners. The race was covered by the Worldloppet organization, Master Skier magazine, and Skinnyski.com race report. Over 10 TV channels, including Chinese CCTV, Finnish and Swedish TV broadcast alive for the race.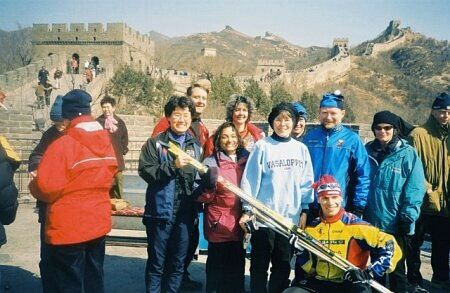 This year, the race will be held during the New Year's Eve with sprints on Tian'Anmen Square and on Jan. 3 for the Chinese Vasaloppet race. Amy will again lead a group of skiers to participate in this year's race. If you are interested in it, talk to Amy.