Memorial to Phil Zink
The Nordic ski communities of Minnesota and Wisconsin lost one of its greatest friends with the passing of Phil Zink earlier this month. Nordic skiing in our area has long enjoyed some great benefactors but Phil was among the most passionate -- the kind of person who performed many selfless acts and made many very generous financial contributions just for his love of the sport and to help many others enjoy it as much as he did.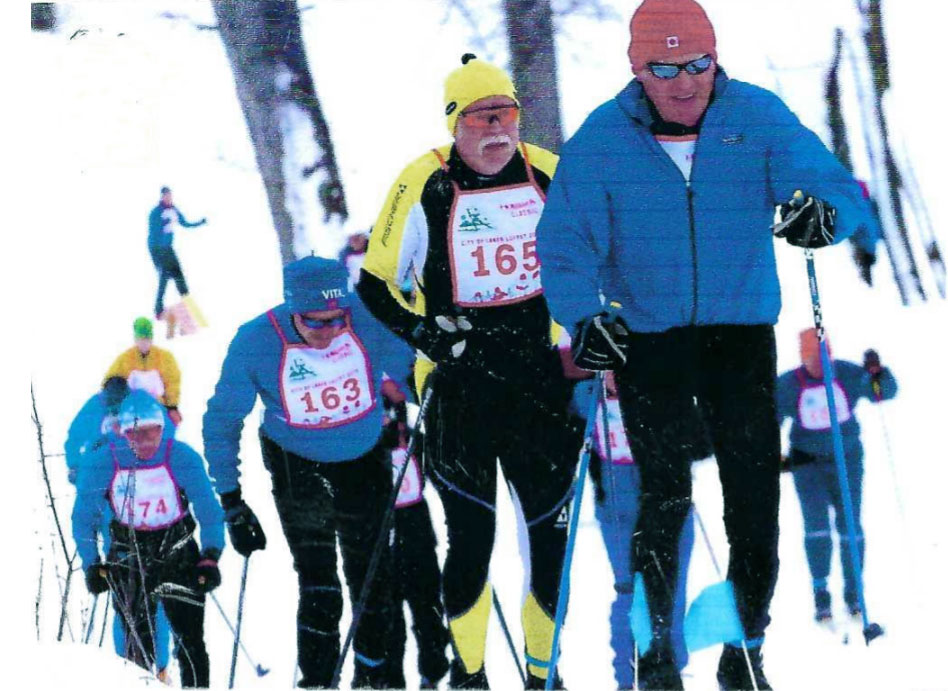 Phil was a multi-sport endurance athlete who enjoyed skiing, biking, and running but anyone who knew him well thought of him first and foremost as a master ski trail groomer. Throughout the late 1990s and early 2000s, Phil could be seen regularly hauling his own grooming equipment to various ski trail locations throughout the area that he thought could be benefitted by more frequent or more skilled grooming. He never asked for compensation or even to be acknowledged for his efforts. For him it was enough to know that someone was having a better ski on the trails he had groomed.
Phil and his wife, Anne, moved to the White Bear Lake area in 1989 from Iowa after his retirement as an engineer and later college professor in search of more reliable snow to ski on. Shortly after his arrival, he discovered that a cabin near the Birkie trail in Seeley, Wisconsin would provide even more opportunities for skiing but more importantly to him, it seemed, even more trail grooming opportunities. Phil soon became a charter member of the Seeley Hills Ski Club and was instrumental in the establishment of the Seeley Hills trail system that continues to be very popular today. Every Friday during ski season when Phil arrived at his cabin, he made a beeline out the door to the groomer shed to get those trails in shape for the weekend. He used to tell us that it was so Anne would have good conditions to ski on, but we all suspected that it was really for his own love of riding the groomer. He provided numerous pieces of grooming equipment to the Seeley Club including his own John Deere Gator with tracks upon his retirement from active grooming.
Phil's passion for grooming grew even stronger in the mid-1990s when his son Dave actually purchased the company that manufactured the Tidd-Tech line of trail groomers. A new and greatly improved version of the groomer was soon developed that became Phil's pride and joy. He actually interrupted his own retirement to travel around to spread the word to many ski trail grooming entities throughout Minnesota and Wisconsin about its many benefits. As a result, it is likely that just about any ski trail in the area is now being at least partially groomed by one of Phil's beloved Tidd-Tech G2 groomers.
One of the early beneficiaries of Phil's private ski trail grooming efforts was the White Bear Lake high school cross country ski team. The Manitou Ridge golf course was their regular practice site and occasional site of some of their ski meets. Phil made sure that those trails were kept in pristine condition for all of their activities. Of course, the community at large also benefitted greatly. Phil often told me how thrilled he was to know that numerous athletes that had trained and competed on his trails had gone on to compete on both national and international levels.
The Manitou Ridge trail grooming enabled Phil to develop a close relationship with the Ramsey County Parks Department. As a result, he soon began grooming the ski trails at the Tamarack Nature Center, another Ramsey County facility. This relationship further grew when the staff at Ramsey County asked Phil for input as to how they could improve the grooming at the Battle Creek Park. Phil immediately responded by suggesting the creation of an all-volunteer grooming staff for the park. His idea resulted in a very unique and successful government/private entity that is still in existence today that provides some of the best trail conditions in the Twin Cities.
Phil took it upon himself to recruit and train a cadre of volunteer groomers for the Battle Creek program. Those of us who signed on thought, what an opportunity to learn the art of grooming from a master such as Phil. If you could ever find a fault with Phil though, it was in his groomer training plan. We all quickly learned that he saw us as much as his competition as trainees. So strong was Phil's passion to make sure the trails were pristine we had to rein Phil in just a bit so that we could have our own opportunities to learn the art.
The ski trails at the Battle Creek park were also very generously benefitted by numerous financial contributions from Phil. Every time we wanted to bring in a bull dozer to give the trails some much needed improvement, Phil was there with his checkbook. I don't even know how many dollars were contributed to the park by Phil, but it was a very significant amount. I also can't name all of the athletes who received financial help from Phil or the other skiing related entities and causes that benefitted from his generosity but I do know that it was a very significant number.
My own experience under Phil's guidance grew to the point that when a friend of mine became the trail manager for the Birkie, I was offered the opportunity to become a snow cat operator for the Birkie trail. On this point, anyone who knows Phil, knows that he believed most all ski trail grooming should be done with a Tidd-Tech and not a Pisten Bully. I long felt that Phil saw me as something of a traitor to his cause because of this. However, one of the best memories I have of Phil came after his retirement from grooming when he introduced me to one of his sons. He did so by referring to me his best friend. Aparently, my time in the dog house was over. I cannot think of too many honors greater than to have been thought of by a man such as Phil in this way.
It would be easy for me to reminisce further about Phil but rather than doing so, another of Phil's good friends and well-known member of the Nordic ski community, Birkie Director Ben Popp, has offered to provide some thoughts from his perspective.
Phil Zink was one of those guys you fell in love with the first time you met him, especially if you like well-groomed ski trails.
One of my first interactions with Phil was while preparing a course for a possible Super Tour at Battle Creek in St. Paul, MN. The conditions were very tough and seemingly hopeless . . . enter Phil's enthusiasm and ingenuity and the job was done. His passion and drive to ensure that trails were well prepared for all, along with a commitment to see to it that the clubs had resources and knowledge to make it happen made for a huge contribution to the Nordic ski community. Phil was a mentoring figure for me on Birkie Trail prep during my early years at the foundation as we tried hard to figure out the best way to take care of such an important asset. Couple his knowledge and passion with a quick wit and big smile, he was someone everyone loved to be around. Phil's commitment to the community ensured all skiers, young and old, fast and slow enjoyed their time on the snow. He will be dearly missed.
Phil's family has requested that any memorials be made to a children's sports and recreation program at the Loppet Foundation or the American Birkebeiner Ski Foundation.