Interview: Piotr Bednarski
March 7, 2001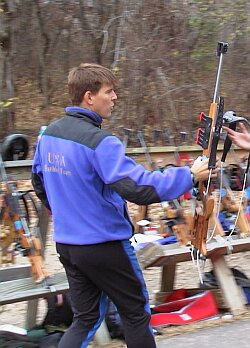 To say Piotr Bednarski is a busy guy would be an enomorous understatement. Piotr is a U.S. Biathlon regional coach, running the Minnesota Biathlon Community Olympic Development program. We first contacted Piotr for this interview back in late February, shortly after the Minnesota High School Nordic State Championships.
Skinnyski: At the Minnesota State High School Championships last week, there were a large number of Minnesota Biathlon skiers. Can you give us a quick run down on the skiers who competed in the State Meet that are part of Minnesota Biathlon?

Bednarski: There were approximately 30 Minnesota Biathletes competing in the state meet. Anders Osthus was the most notable, winning the Men's pursuit. Others that placed near the top were Steve Scott (6th Pursuit), Evan Ray (10th Pursuit), Ben Byrne (12th pursuit), Sonne Nordgren (7th pursuit), and Jenny Ester (12th skate).

Skinnyski: How many athletes (total) participate in Minnesota Biathlon?

Bednarski: The Minnesota Biathlon Community Olympic Development Program includes 58 juniors, 8 seniors, approximately 12 masters and 14 coaches statewide. The junior category is pretty much at 50-50 split girls to boys.

Skinnyski: It seems that Minnesota Biathlon has been well represented at a number of area races this season. Andy Erickson won the Snowflake race last weekend, Dan Campbell won the 35K Mora, and back in January, Ryan Cameron just barely lost the La La Palooza race before winning at Baker Shaker. Any master plan here, or are the skiers just having fun between the January season and the big biathlon races in March?

Bednarski: The master plan involved Ryan, Andy, and Dan competing on the World Cup this season, rather than skiing locally, so no, that really hasn't been part of the plan. Fortunately, Andy qualified to compete on the Europa Cup team (B level World Cup) so was able to compete in Europe during January. It is nice for the guys to race well locally - its great for some visibility for the program and good on the ego. Dan, Ryan, Andy and Ben Kremer are gearing up for the North American Championship and the US Nationals in late March. Dan will go on from there to the XC Spring Series in April.

Andy, Dan and Ryan will be competing in two major relay events in March- one at the Noram Championships and one at the US Championships. We are definitely looking to win both Relay events, as well as get on the podium in all four of the individual events.

Skinnyski: Dan Campbell appears to be having a fantastic year this season. Besides winning the 35K Mora Vasaloppet (by a sizable margin), he was the top area skier in the NorAm freestyle race. Any big secrets or tips behind Dan's success this season?

Bednarski: Danny is skiing super well this year, no question. He did have a great training year- lots of on snow time in June, September and November- lots of plyos and upper body specific strength- and in December some hard interval training. Dan is able to recover from hard training very quickly. He had an increase in training hours this year, especially in the intensity and specific strength area, and has tolerated it amazingly well. Now he just has to solidify his shooting.

Does he have any secrets? - yeah- he never complains- its NEVER too cold, too early, too windy, too hot, too icy, skis too slow, etc... Tough guy, very high motivation.

Skinnyski: What events are left in the biathlon season this year?

Bednarski: Well, locally we have our State Championships this weekend March 10-11 at Camp Ripley. This is also open to juniors who have would like to see what biathlon is all about.

As far as National events, our senior men will be travelling to the North American Championships in Canmore, March 15-18, and then on to the US Nationals in West Yellowstone, March 22-25.

The US World Junior Team will be competing in the Europa Cup Final next weekend in Switzerland, and then on to Hanty-Mansisk, Russia for the World Junior Championships. The Youth Team (17 and under) will be competing at the Swedish Nationals in Solleftea, Sweden, March 30-April 1.

We had number of athletes qualify for the World Junior Team this past week at our Jr Nationals in Ft Kent, Maine- Brian Olsen (Bloomington) and Emily Klemp (Duluth) qualified for World Juniors, while Bill Snellman and Carolyn Treacy prequalified through their race results on the Europa Cup.

We also had a large group that qualified for the Youth Team (17 and under) that will be travelling to Sweden at the end of March for the Swedish Nationals:
Sonne Nordgren-Stillwater, MN, Missy Gadacz-Elk River, MN, Jana Eidem-Bloomington, MN, Adam Van Staten-Duluth, MN, Kurt Farchmin-Duluth, MN, Ben Byrne-Grand Rapids, MN, Anders Osthus-Duluth, MN, Steve Scott-St. Paul, MN, Evan Ray-St. Paul, MN and Tom Secord-New Brighton, MN.

Skinnyski: Andy Erickson was part of the 1998 Nagano Olympic squad. Who are some of the other strong candidates from the Minnesota group for the 2002 Olympic team?

Bednarski: Andy Erickson is definitely a strong candidate for the 2002 Olympic Team- he's had a lot of international experience having competed at the World Junior Championships, twice at the World University Games, World Cup, and of course the Olympics. Our Minnesota senior men's field is very deep and we have a number of athletes that have a solid chance of making the Olympic Team. After the World Team Trials in January, Andy Erickson was ranked 7th, Ryan Cameron 8th, Dan Campbell 10th. Also ranked in the top 20 were Jacob Beste, Brett Piper, Ben Kremer, and John Kurtz. Bill Snellman of Stillwater is a junior this year and has been finishing consitently in the top 10 on the Europa Cup- he is a possible contender as well.

What most people don't know is that Minnesota already has a number of women on the U.S. World Cup team right now. This year Andrea Nahrgang (Wayzata), Kara Salmela (Duluth), and Jill Krause (St Cloud) all qualified for the World Cup team. Carolyn Treacy from Duluth is currently the #1 ranked junior, and she also has a legitimate chance of making the US Olympic Team next year. Carolyn has consistently been placing in the top 10 in Europa Cup competitions this year, and we are hoping to see her on the podium at the World Junior Championships.

Skinnyski: Minnesota Biathlon is hosting a "try out biathlon" type session at Camp Ripley in March. Is the session open to all ages, or mainly juniors? Also, it's listed as a two-day camp. Can a skier come for just one day?

Bednarski: The March 10-11 races are open to junior novices only- Skiers can compete one day or two- they just need to preregister by email. Unfortunately we just don't have enough rifles to accommodate all ages. We already have 31 novices pre-registered, and this is a lot of people to keep an eye on for instruction and safety.

Skinnyski: Any other camps or biathlon events planned for the area in the upcoming months?

Bednarski: Our big "Try Out" event is our Recruiting Camp which is at Camp Ripley, April 27-29. This is a chance for juniors age 13-17 to see if they like the sport. It is a "try out" from the coaches' point of view also, because we can only accept approximately 20 new athletes to the program a year. So the athletes will learn a lot about biathlon and training in general, and they will perform a number of physical tests to give us an idea of what they are capable of- their strengths, motivation, and mental toughness. Athletes should go to our website at http://members.aol.com/esecord/ or email mnbiathlon@aol.com for more information.
---
Related links