Interview: Owen Hanley
October 20, 2003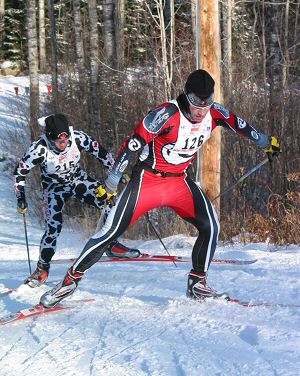 Last season Owen Hanley burst onto the local citizen racing scene. After skiing for Carleton in college, Hanley joined the Rossignol team and started notching top finishers at a number of area races, including third at the Pepsi Challenge, and second at the inaugural City of Lakes Loppet.
This summer, Hanley has joined up with Chad Giese. By working out together, they hope to both improve on snow this season.
We interviewed Hanley by e-mail on Monday, October 20th.

Skinnyski: Last season, to many master skiers at least, you appeared to burst onto the local skiing scene. Can you give us a little background on your skiing?

Hanley: I first started skiing and racing in an organized fashion as a freshman in high school. I was a competitive swimmer growing up and I started skiing for some cross-training in the off-season. I was very lucky to be a part of an awesome high school team and learned by skiing behind some of the more experienced skiers. I would follow them around the entire practice, pretty much sprinting to keep up. Maybe not ideal training, but it taught me how to ski. I attended Carleton College in beautiful Northfield, MN, where I skied for four years. I had an awesome experience there, although I never achieved my goal of skiing at NCAA. Some of us are just late peakers I guess.

Skinnyski: When did you first start skiing?

Hanley: I was born in Fairbanks, Alaska, where getting out to ski is one of the best ways to avoid getting cabin fever during the cold, dark winters. I began skiing very young. My parents were very patient with me, freezing their toes off, as I fell, took a few strides, then fell again. I did a lot of backcountry skiing in the Alaska Range as well. Growing up, these backcountry trips became one of my favorite activities.

Skinnyski: You had a number of really strong races last season, which did you feel was your best performance?

Hanley: The last two years have really been breakthrough years for me skiing-wise, although not as consistent as I would like. I had some good results at U.S. Nationals last year. The top finish was a seventh place in the 50km skate there.

Skinnyski: You competed in the Birkie, notching a great top 25 finish. Was that your first race at that distance, and how did it feel?

Hanley: The year after I graduated from college, 2001, my best friend Peter Abraham and I spent 8 months racing and training all over Europe. I competed in many marathon distance races over there, the longest of which was a 95km classic race through the mountains around Lillehammer. So I do have some experience with the distance races. The Birkie is an awesome event and I really had a fun experience last year. It wasn't my best performance, however. I felt flat from start to finish and kind of slogged through the entire race. One of my goals this year is to be top 15 in the Birkie.

Skinnyski: This summer Chad Giese and you have been training together fairly frequently. How has your training improved?


Hanley: Chad has been awesome to work with. He is a great skier and someone who is not afraid to work hard and hurt a little to achieve his goals. Needless to say, we work well together. We have focused a lot on performing explosive motions, extending this principal to strength workouts, intervals and easy skiing as well. I feel this will greatly improve my skiing. I have increased my hours this year as well, but more importantly, I have increased the amount of intensity workouts. It is all about quality, not quantity, especially this time of year. I am optimistic that all this training together will improve both Chad and my own performances this winter. We shall see...

Skinnyski: Are you juggling work with your training, or are you able to train "full time"?

Hanley: Last winter through the end of this summer, I have been taking classes full-time at the U of M. I am planning on applying to medical school next summer, which would allow me to enroll in the fall of 2005. If skiing is going well at that point, I will defer admission and go for the Olympics. But ya gotta have a plan right! This fall I have been studying for the MCAT test next spring. So the short answer is, no I don't have a job at the moment, anyone got one for me?

Skinnyski: The racing season starts in just a few weeks. You're planning to race at the NorAm SuperTour kickoff event in Fairbanks, Alaska in early November. What's the rest of your season look like, and any major goals for the year?

Hanley: I have a lot of goals for the season. I feel that with all the training I have been doing, I will have a good season and I hope to improve on last year's results. My number one goal is to race more consistently throughout the season. I feel that if I can accomplish that, good results will follow. I love racing here in the Midwest and was disappointed last year that the poor snow and my race schedule didn't allow for much racing around here. I am planning on doing the City of Lakes, Vasaloppet and Birkie for sure this year.

Skinnyski: Finally, can you share any favorite training tips or advice that you've received?

Hanley: I think it is important to train with other people (at least a few times a week). There are so many benefits to this. Another person's opinion on your technique is extremely valuable. Testing yourself against another person during intervals, strength, distance, etc. can tell you a lot about the things you need to work on or how your training is progressing. Plus it is just fun to have someone else to share those early morning sunrises with!
---
Related links