Skinnyski Race Team Weekend Recap
By Margaret Adelsman
December 17, 2002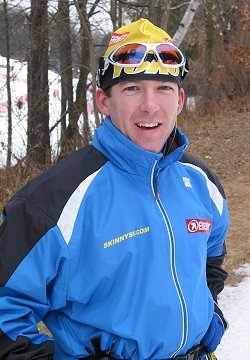 Ben Popp sporting the new Skinnyski.com
Race Team warm-ups
In spite of Mother Nature's attempts to keep folks off the ski trails, ABR managed to host its season opener 2-day event on December 14 and 15. A couple of good early dumps of snow to the Ironwood, MI region held out to supply some pretty good classic and skate tracks.
The two days of competition consisted of classic and skate races on Saturday and Sunday, respectively. Distances varied according to age classification, but were either 5km or 10km in length.
Sonja Bostrom pulled off a solid 10th place in the 5km classic race, competing well against the strong NMU women's team, which included Olympian Lindsey Weier. Margie Tilman was part of a smaller field in the citizen women's classic event but skied home to take the top spot in that race. Both women continued their strong performance in the freestyle events on Sunday, with Sonja finishing in 7th and Margie 2nd, in 5km and 10km events, respectively.
Brian May and Grant Nelson joined the race venue on Sunday and competed strongly in the citizen men's 10km event. Brian crossed the line with a time positioning him in 4th place, while Grant finished 8th in the event.
While not all skinnyskiers were able to compete for the 2-day event (affected by illness or business trips, for example), one racer had a particularly good reason to be close to home: Jay Richards and his family welcomed the birth of their 4th child (all 4 boys!) over the weekend. Congratulations!
Race Team Results

   Sonja Bostrom 10th College Female   5K classical   17:32
                  7th College Female   5K freestyle   14:43
   Margie Tilman  1st Citizen Female  10K classical   38:50
                  2nd Citizen Female  10K freestyle   32:14
   Brian May      4th Citizen Male    10K freestyle   26:42
   Grant Nelson   8th Citizen Male    10K freestyle   27:57 

Team Member Race Reports
Race Report from Sonja Bostrom
Finally Iím going to ski on real snow, I thought as I took my rock skis out of the bag I was bringing and hopped into the van on my way to a winter wonderland. "Afterall, they do have four feet of snow!" we were assured by St. Olaf superstar John Giese. We didnít doubt Johnnyís wisdom, despite the reality outside our windows, until we got to ABR itself. "This doesnít look like four feet," someone said, and it wasnít. However, it was white, covered the ground and was well groomed so we were all satisfied. We jumped out of the van, into our training clothes and went out for course inspection. The first thing I noticed was that even though I have gotten lots of practice going downhill at Hyland and Trollhaugen lately, itís a lot different on an actual ski course with turns and trees and the like! It was really nice to be able to ski in real tracks again!

Saturday was the classic race and boy, were there a lot of people there! The place was jam-packed full of citizen racers, spectators, collegiate skiers and high-school skiers as these races were also Junior Olympic qualifying races. It was really nice seeing so many skiers all in one place again! A good group of the skinnyski racers were there too with our new warm-ups and suits on and we were lookiní pretty flashy! The collegiate men and citizens did 10K both days while the women and juniors did 5 kilometers. I was seeded with the collegiate skiers. Since 5k is so short and all the races were interval start, itís hard to give a play by play. The best part was when I was trying to pass another skier and almost tipping over at the same time. It was a "one foot on the ground, one foot in the air, while yelling track and poling" move I improvised on the spot. The course was fun with nice up-hills and some pretty technical downs. The last one or two kís was pretty much all up-hill with a nice downhill and flat to the finish. I ended up tenth in the collegiate division and was satisfied with that race as a first race of the year.

The 5k Freestyle race was on Sunday and was also a lot of fun. It used the same course as the classic race and was the same course that the 10k skiers had done, except twice of course! The snow was getting pretty thin in some spots with all those masses of people flying by on it so we were not allowed to warm up on the course before the race. It was hard to get a good warm-up in with so many people and so little space but "sŚnn er livet!" I took off hard in this race because as Kevin (KJB) Brochman said "itís difficult to Ďgo underí in a 15 minute race". I felt really good and it was so much fun being able to race again! I could tell where I lost some time but there will always be things to improve upon. I was seventh in that race and felt good with that result, and the race and weekend as a whole!

Iím now back in snowless St. Paul preparing for a brown Christmas and cutting snowflakes to hang on the windows, but Iím still wearing my new skinnyski.com warm-ups! Special thanks to Owen Hanley for letting me use his car so Mary Krusen and I could sleep late on race mornings!
Race Report from Grant Nelson
My first race of the season was supposed to be in Duluth. I had it all planned out. I was going to be feeling really primed and ready to race after training consistently on snow for a month or so. Because I live in Duluth, I even had a few other extracurricular plans which I figured were easily obtainable with the time I saved from not traveling to the races. Or so I figured...

I have realized that true diehard cross country skiers have to be very flexible considering racing and training plans. As you might have guessed, my consistent month on snow didn't happen. Don't get me wrong, I have been getting some good skiing in at Giants Ridge. My brother Dave and I have always held on to the theory that one must take full advantage when there is good skiing. Even though I never keep a training log, I figure my training hours double once there is snow. Typically, the vast majority of those hours are on weekends and vacations.

As the temperature hit 45 degrees in Duluth last Wednesday and there wasn't any snow on the ground or in the forecast, I knew my original plans were going to have to change. I was also concerned because my body still hadn't recovered from last weekend when Dave destroyed me in a short time trial. I knew I wanted to do both the Season Opener Races at ABR in Ironwood, MI, but decided that my body would be happier doing just one. Even though I would have preferred doing the classic race, the skate race on Sunday was a little easier logistically.

Brian, Abbi & Rachel May picked me up at 6:00 AM on Sunday morning and we all headed to Ironwood, MI. I always get excited while climbing the big hill on highway 2, just before Ironwood. It is almost like driving into the mountains because at the bottom there is relatively little snow and at the top of the hill, snow is abundant.

(Photo: Eric Anderson)

As we entered ABR we met hundreds of other excited and crazy skiers (and even a guy in a gorilla suit) It was an interval start with racers starting every 15 seconds. I started at 9:48 AM, thirty seconds after Margie Tilman and only fifteen seconds behind Brian May. The race course was two 5 km laps with a few nice steep hills and some rolly sections. I thought it might get too congested with so many skiers on the course at one time, but it wasn't bad. I'm glad I hadn't planned on catching Brian, because he really cranked the first lap and finished over a minute ahead of me. I'm sure I slowed a bit on the second lap, but overall I was happy with my performance. NMU's Chris Cook finished well over three minutes ahead of me, but fortunately I don't have to compete against him, because I'm not in the college division anymore.

Post race activities included a nice relaxing cool down, a delicious UP pasty, talking with friends about the race and an uneventful drive back to a snowless Duluth.

The 2002-2003 Skinnyski.com Race Team is presented by Enervit America. Enervit produces top quality food supplements for sports and active life. Other sponsors include Toko/Yoko and Rudy Project.
Sonja Bostrom, Margie Tilman, and Brian May, are based out of Finn Sisu. Grant Nelson is based out of Hoigaards.