Skinnyski Race Team Weekend Recap
By Bruce Adelsman
December 28, 2002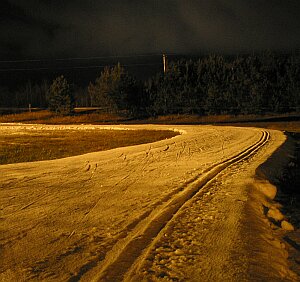 Troll Hollow track under the lights
Just before the Christmas holiday, Finn Sisu and Trollhaugen hosted their new tradition of racing under the lights on the eve of the Winter Solstice (Dec 22nd this year). Race organizer Greg Weier chose an interesting duathlon format which called for two laps of classic skiing, then a mandatory poles and skis change before heading out for the final two laps in skate technique.
The race featured a number of top regional skisers, many of whom were home for the holiday break, including Olympian Lindsey Weier with a number of her NMU teammates, along with her brother Matt Weier, and the hot shot Duluth duo of Andre Watt and Nikolai Anikin. Skinnyski.com Race Team member Sonja Bostrom joined in the fun and notched an impressive third place finish in the women's race. (Check the results for a general race summary from Greg Weier.)
Race Team Results

   Sonja Bostrom   3rd Citizen Female   7K duathlon    19:17
  

Team Member Race Reports
Race Report from Sonja Bostrom
I participated in the Winter Solstice race held last Saturday at Trollhaugen. This was the first time I had done a race in such a format and boy was it fun! I was basically just looking for a high intensity workout and some snow to do it on but when I got there I was excited to see all the people who had showed up! Many of the college kids were home on break and therefore the level of competition that was there was "very high" as Kevin Brochman noted to me before the race. I had stumbled into a hidden gold mine! A fun and interesting race format, good people, great competition, snow, and I only had to drive an hour to get there!

The big question of the day was what to do about boots. Since we were switching technique after only 3.5k of skiing it would be really inefficient to change boots along with everything else (the minimum that must be changed was skis and poles). I decided to go with skate boots as Iím a little unstable on the down hills in my classic boots. I then tried to use my limited waxing knowledge to be independent and find something that would kick but that didnít last very long before I ran over to Kevin and had him put on something he had cooked up in the kitchen (literally) which worked great. I donít know how Iím ever going to manage by myself!

They divided the field into highschoolers and everyone else and the highschoolers went first. That was nice for the rest of us because we then got to see how the format of the race was going to work. Beside from a minor collision with a snowboarder sitting in the middle of the trail, the first race went off without a hitch.

After all the highschool racers had finished, the rest of us toed the line. I was looking forward to the chance of following people during the classic portion of the race and trying to figure out what is wrong with my classic skiing but that opportunity quickly passed me by as seemingly the entire field pulled away from me up the first hill. I realized that I should have warmed up better and that I need to work on actual classic skiing on actual snow. We discovered on the first lap that the turns were a little icy as Steph Howe went flying next to me on the first one. I decided to stick to the outside of all the turns and was glad I wore my skate boots. By the time we finished the first lap and started on the second the race was beginning to take form. Matt Weier and Andre Watt were battling it out in the front and Lindsey Weier had begun to form a commanding lead with Lindsay Williams on her heals and the rest of us close behind. As I came around at the end of the second lap I took a quick look to see where my skate skis were and headed in that direction. I heard after the race that many people had had problems locating their skis in the transition. I saw my "Norwegian wax tech" out of the corner of my eye and threw my poles and skis in his direction as I grabbed the next set of equipment. I threw on my skis and started skiing up the hill figuring I would strap my poles on the first downhill. When I started up the second hill I heard a group of skiers approaching me from behind and was worried that I was slowing down. I quickly realized when group of men passed me that I wasnít slowing and mustíve had a good transition as they had been ahead of me before the transition and were now having to pass me again. The two skating laps went much better than the classical loops did and I ended up third behind Lindsey and Lindsay which I was pleased with.

After the race, I put my classic skis back on and did a couple of loops to cool down. I wanted to keep skiing because I didnít know when I would next be able to ski on snow, but I just finished my cool down, packed up and headed out. My bed was calling me after such an eventful winter solstice!

Special thanks to the people Finn Sisu and Trollhaugen for putting on such a great race!

The 2002-2003 Skinnyski.com Race Team is presented by Enervit America. Enervit produces top quality food supplements for sports and active life. Other sponsors include Toko/Yoko and Rudy Project.
Sonja Bostrom is based out of Finn Sisu.