Skinnyski Race Team Weekend Recap
By Margaret Adelsman
January 7, 2002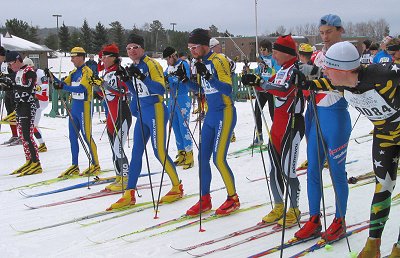 Skiers ready to start at the Ridgenator

While many areas in the Midwest are still displaying lovely grass and dead leaves, some folks have been blessed with a bit-o-snow, and two local race events put it to good use last weekend. The Blue Hills Ascent became a scenic lake race, and the Skinnyski.com Race Team members organized and hosted a 15km duathlon event at Giants Ridge. In contrast, U.S. Nationals, held out in Maine and beginning this past weekend, acquired a treasure-trove of white stuff, just in time for their first races. All three venues saw action from Skinnyski.com racers.

After enjoying some very good skiing at Giant's Ridge over the Holidays, Dave, Josie, and Grant Nelson, as well as Per Nelson and Margie Tilman, said to themselves, "Why not host a race?" With the support of Giant's Ridge's John Filander, a duathlon event was scheduled for Sunday, and nearly 40 skiers turned out to put some speed in their legs. The format of classic followed by skate skiing revealed several interesting approaches toward achieving the most effective overall race. Some folks did both legs with classic boots, only switching skis and poles. Another camp stuck with skating boots throughout. At least one (Phil Rogers) stayed on the same equipment throughout, reportedly skating on klister for the second leg, and Mike Myers did both loops in classic style. Still others switched boots, skis, and poles (no clothing changes were observed).

Grant Nelson led the skiers back into the stadium after the first lap of the Ridgenator, hammering out an intense classic leg, with Phil Rogers, Mike Myers and Brian May in hot pursuit. While Grant made a quick change of equipment, Phil and Mike moved ahead. Brian made an impressive equipment change in the stadium and began working his way toward the leaders, eventually overtaking them to finish first overall, followed by Phil Rogers about 30 seconds back. Grant Nelson and Dave Nelson crossed the line in 3rd and 4th, respectively, with Per Nelson turning in a strong 11th place finish.

For the women's Ridgenator, JoAnn Hanowski of Duluth put in two impressive laps, taking a commanding lead in the classic leg and then holding it through the skate portion to take the overall women's top spot. Teammates Margie Tilman and Josie Nelson dueled throughout the race, with Josie leading the classic leg, but Margie taking over a slight lead in the skate lap to finish 2nd overall. A great time was had by all, and special prizes were awarded for the best bibs since it was a Bring-Your-Own-Bib event. MANY thanks go to John Filander, Alex from Enervit, Hoigaards and Finn Sisu for terrific prizes.

Not to be left out of the fun, working-dad John Munger headed over to Blue Hills and put in a strong performance on the flats of the lake for 14km. While his official time will never be known due to some timing issues, John had a great time and is now back working hard on his many efforts in organizing the City of Lakes Loppet race.

At the Chevy Truck XC Championships in Maine, Sonja Bostrom has been testing herself some of the very best women in the nation. Her results so far have included an incredible 20th place finish in the 15km classic.
Race Team Results

January 5, 2003 - Ridgenator 15km duathlon:
 Brian May           1st male    0:46:28
 Grant Nelson        3rd male    0:47:25
 David Nelson        4th male    0:47:28
 Per Nelson         11th male    0:49:50
 Margie Tilman       2nd female  0:54:14 
 Josie Nelson        3rd female  0:54:27 


January 5, 2003 - Blue Hills Ascent 14km 
 John Munger skied fast, had fun - place and time uncertain


January 4, 6, 7, 2003 U.S. Nationals (Rumford, ME):
 Sonja Bostrom  15K Classic    20th   52:35
                 5K Freestyle  33rd   15:00 
                 5K Classic    45th   16:42 				  

Team Member Race Reports
Race Report from John Munger
The Blue Hills Race is conducted with a wave format that is not very conducive to an exciting play-by-play wrap-up (no exciting mass starts full of crashes, no photo finishes, etc.). So this account gives an expanded coverage of the days events - starting from my early morning adventures and continuing through to my real finish line: finding the baby-sitter before she buried the children in a snow bank and went on to her real job . . .


Piotr Bednarski, John Munger

Piotr Bednarski and I had it all planned - both of our wives had to work so we were left alone with my 15-month old daughter Ellie and Piotr's 17-month old daughter Kasia. Being the resourceful fathers that we are we called in advance and secured babysitting at the race site.

So after waxing my skis and getting everything ready to go, I roused Ellie at 7:15, quickly changed her diaper and immediately deposited her in Piotr's car. As I quickly discovered, my daughter does not appreciate sitting in a car for the first 2 ½ hours after getting up and is not as well behaved as some 17 month old girls who shall remain nameless. Being a good Dad I resisted talking to Piotr about the City of Lakes Loppet the whole time. Instead, I dutifully read stories and sang songs the entire way (which, according to Piotr, is why we missed a turn in Weyerhauser).

In any case, we eventually arrived at the scenic trailhead area and admired what must be wonderful trails - that is, when that long-forgotten substance - snow - covers the rolling terrain. After finding and interviewing the babysitter (after all, we dads are very particular about who we let watch our children - we would have skipped the ski race in a second if the babysitter had been deficient in any way), we then left the kids and headed to the race course on the nearby Audie Flowage.

I started in the sixth wave of skiers. My friend Mike Moulsoff was also in the sixth wave and we skied together for most of the first lap. Not being able to see the competition, I figured I had to go out pretty hard and keep up a fast pace for as long as possible. (Of course, my number one concern was getting back to the warming hut in order to give my daughter her milk). Unfortunately, as we skied along I developed a stitch in my side and tried to breathe deep in order to make it go away. Fortunately, these first-race-of-the-year problems never last long and I went back to being just plain tired.

The course wound about the many bays and islands of the Flowage. All things considered, the trails were well groomed. Strange as it sounds in this sorry excuse for a winter, the only real problem was an excess of snow in some spots. I understand that race volunteers were out with four snow blowers on Saturday. Together with the new white stuff that arrived overnight, the course was well-laden with snow.

While I was not looking closely, the Flowage appears to be almost completely undeveloped - we could have been skiing through the Boundary Waters. After skiing for some time - I looked with dismay on the first distance marker: all that effort and only one kilometer down - "these Wisconsin people need to learn how to figure distance," I thought. As it turns out, the Blue Hills people use the mile as a unit of measure - you know, that long forgotten and obsolete unit used only in two or three backward countries. After spending some mental energy I figured out that I had gone a little over a kilometer and a half, or about one quarter way through the first lap - I could handle that . . .

Other than the general beauty of the course, there was not much eventful that happened until I arrived back at that same one-mile marker on the next lap. That mile marker is on the front side of an out-and-back curve. As I skied on the back side of the curve I glanced to my left to see the skiers behind me reach the mile marker. To my chagrin, I saw Piotr's blue and white biathlon uniform. After some more mental gymnastics I realized that Piotr had made up about a minute on me. This was not good. Piotr was my college coach and it is never good to have your coach beat you - especially when they have a one-year-old daughter. I knew the race was likely lost - but I figured maybe I could make up some time to save face, so I began to bear down harder.

Alas, the boredom of skiing on a lake set in. As I entered the last mile of the race I started to think about what I could possibly write about (I had promised a recap to Bruce) - no great chases, no broken poles or great spills, no real drama at all.

Then it struck me - right at the tip of my nose was the answer . . . I would write about how long I could go without wiping the snot that was accumulating on my nose. As I skied along I began to concentrate on this mundane topic. I quickly realized that the more you concentrate on not wiping your nose, the more you want to do it. Then I saw the finish line and remembered I had precious seconds to make up on Piotr - there was no time for nose-wipes . . . I think I made it across the finish line without wiping my nose - but I have no idea when I actually did wipe it. Apparently crossing the finish line helps wipe away such idle concentrations . . .

After finishing I decided to ski back out and cheer Mike and Piotr across the line. I still held out hope that I had miscalculated and Piotr was still far behind. When I finally saw Piotr, he was just catching Mike. What this means in terms of our relative results I will never tell. Because the timers had some problems with the results, the world never has to know who beat whom. Suffice it to say that ski coaches sometimes beat their athletes . . .

At that point, all Piotr and I could think about were our smiling children. Not one breath was wasted on comparing notes, talking about the relative speed of our skis, how we finished, who beat who, etc. Instead, we rushed back to the car and began the drive back to the warming hut - I'm not sure whom Piotr will blame for going the wrong way this time . . .

Jesting aside, arriving back at the warming hut we realized that there are probably no better people to watch your children than the denizens of Bruce, Wisconsin. Kasia and Ellie were busy running around eating, having fun, and not missing their Daddies at all . . . Piotr and I ate a bit of the wonderful spread of food that local volunteers had prepared and then we hit the road. In some terrible twist of irony, our hard-working daughters slept the whole way back to the brown-infested landscape we call the Twin Cities. Such is the first ski race of 2003 . . .
Race Report from Margie Tilman

Margie Tilman with Josie Nelson
right behind

I spent the weekend up at the Ridge in one of the only locations that actually has snow. It is amazing how well kept those trails are. After a beautiful day, despite the drizzle, for the Mesabi East Invite we had the same luck on Sunday for the Ridgenator Duathalon. On Saturday all I could think about was what boots to wear and I took a poll to see what everybody else was doing. Per decided to ski the entire race in his classic boots but knowing that I dislike skating in my classic boots I decided to try out classic skiing in my skate boots. Josie Nelson was doing the same thing so I guess if it seemed awful at least I would not be alone!

About 40 people turned out for the race, which we consider a success considering the short notice. The start line had a very festive atmosphere with music playing that helped calm down my nerves. I took off out of the stadium following Josie and felt pretty good. After about a km Josie pulled ahead of me and skied with JoAnn Hanowski. I found that classic skiing in skate boots was actually quite nice because you have more control on the downhills and I had no trouble climbing up the hills. I am beginning to wonder if I should ever use classic boots again! As I was coming into the stadium I could see JoAnn heading out onto the skating loop with Josie following. The transition went smoothly since I only had to change my skis and poles. I had a great time on the skating loop and got to ski with Josie, which is always enjoyable.

This was an exciting and fun race! I enjoyed all the cheers we received out on the course and appreciate those who helped to get this race on. Special thanks to Giants Ridge, Enervit who supplied racers with needed fuel, Finn Sisu and Hoigaards.
Race Report from Brian May
It's a Monday morning in January, which means I should be recovering from a ski race, which indeed I am! Yesterday saw the running of the Ridgenator pursuit/duathlon race at Giant's Ridge, MN. The entry fee was a mere $1 (plus trail pass) and about 40 skiers toed the line. The event was the idea of a few Skinnyski.com folks (notably Grant, Dave, Josie, Per Nelson and Margie Tilmann) spawned by lack of snow elsewhere and the growing list of race cancellations all around the mid-west.


Brian May with Ben Dubay, descending the
Cedar Trail

Loop one: about 7k classic up the Cedar and then around the top and back down the Gold. Loop two: about 8k skate around the Silver. The trails were in great shape, an awesome classic track had been set on the classic loop, the silver was set for skate only. The long climb up the Cedar was tough (it's about 3k long), but the descent allowed some decent recovery. The Silver is much more rolling, and was a very enjoyable skate course, though the hills just seem to keep coming and coming.

Optional gear change in the stadium/exchange area. The gear combinations varied. I opted to race in classic boots for the duration, swapping skis and poles at the half. I did notice a few people striding in skate boots and few others who did the whole race in classic gear. Nevertheless, I'm happy with my choice and think that swapping skis/poles is definitely the way to go. Some sort of combi boot would probably have been better for the skate portion, but skating in classic boots is no real problem.

As for the pursuit/duathlon format, this was my first and I thought it was a lot of fun. It was a small field, so the mass start and gear exchange were easy and hassle free. It was neat to do a combined classic/skate race - fun to see how things stack up overall, not just in terms of the specialties. The strategy and gear exchange also made for an interesting race.

Thanks go out to the Nelson/Tilmann gang for oranizing the event, Enervit, Finn Sisu and Hoigaards for supplying lots of prizes (an insane amount given the $1 entry fee) and Bruce Adelsman of Skinnyski.com for his support.

The 2002-2003 Skinnyski.com Race Team is presented by Enervit America. Enervit produces top quality food supplements for sports and active life. Other sponsors include Toko/Yoko and Rudy Project.
Dave and Josie Nelson and Grant Nelson are based out of Hoigaards. Brian May, Per Nelson, Margie Tilman and Sonja Bostrom are based out of Finn Sisu.