Skinnyski Race Team Weekend Recap
By Bruce Adelsman
January 14, 2003
For all practical matters, there was just one race on the team's calendar for the weekend -- The 24 Hours of Telemark Last year, Brian May, Ben Popp, John Munger and Per Nelson combined to set a distance record of 490 km (eventually eclipsed by a seven person Canadian team in March). This year, the team "bulked up" with the additions of the Nelson brothers, Dave and Grant. Using a six man rotation, it seemed entirely possible that the team might recapture the 24 hour distance record (roughly 517km). But then things never quite go as planned...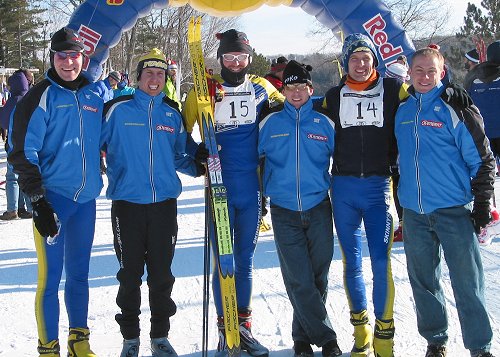 Big Team winners: Grant, Brian, Dave, Ben, John and Per
I arrived late Saturday night, basically taking a front-row seat to watch the race unfold over the remaining 12 hours. Unfortunately, I missed out on some of the excitement earlier in the day, as Josie Nelson classic skied to the womans 6 hour solo title (and skied over 80km!), with Margie Tilman skating to a second place finish in the 3 hour solo race. At midnight, Josie was amazingly still awake and out on the ski trails cheering the big team on.
I've never attempted a 24 hour endurance event, but a number of things become obvious from just watching. First, eating becomes a chore. Most skiers lose their appetite for food after 10-12 hours. If you forego food, you're going to bonk. So the cycle becomes ski, eat food and hydrate, sleep/rest. Second, the human body doesn't like skiing late at night. Once you get into those early morning hours, your body knows its suppose to be sleeping. However, when the sunlight starts to appear on the horizon, the energy levels almost automatically rebound.
While I almost expected some human drama, the team performed like a machine. The guys developed a buddy system for ensuring the next guy in the queue was awake, and predicting when they needed to be down at the start area. They never missed a single exchange, never overslept or had someone skiing extra laps. And unlike last year, no major illnesses to disrupt the rotation. In watching it all first hand, I came away with a great appreciation of the speed and endurance of these guys.
Ultimately, the cold weather and modified course took it's toll on the teams record attempt. They pressed the record for quite a while before accepting the realization the goal was out of reach sometime well after dark.
As with last year's race, there were some untold stories. Per Nelson picked up a nasty frostbite on his ear during one of the subzero, late night laps. Peter Hanson turbo boosted John Munger's skis with a top notch cold weather wax job midway into the race, and Josie and Margie did double-duty as wax techs. Both Per and Ben also acted film crew for the first half of the race (watch for footage later this week).
Sonja Bostrom continued her run at US Nationals last week, competing in the sprints and marathon distance events, scoring impressive 22nd and 10th place finishers, respectively.
Race Team Results

January 11-12, 2003 - 24 Hours of Telemark:
 1st place Big Team division and most kilometers logged overall:  489km
   Brian May, Grant Nelson, David Nelson, Per Nelson, Ben Popp, John Munger
 Josie Nelson        6 Hour Solo, 1st female   80km
 Margie Tilman       3 Hour Solo, 2nd female   43km


January 9, 12 2003 U.S. Nationals (Rumford, ME):
 Sonja Bostrom    1K Sprints     22nd     2:46
                 30K Freestyle   10th  1:40:51
               
Team Member Race Reports
Race Report from Josie & David Nelson
David and Josie Nelsonís 24 Hours of Telemark (24T) Journal



Jan 2002 10pm (David):
Watched John, Per, Ben and Brian ski in the 24T relay. I said to Grant ďIím sure glad Iím not racing in that!Ē He said, ďYeah, and Iím not ever planning to, either.Ē Headed off to our cozy warm beds and slept for 9 Ĺ hours.


Mid Oct 2002 (David):
Ben Popp asked me if I wanted to race in the 24T relay. My mouth said ďsureĒ before I could process what I was saying. He said, ďGreat, weíve got Grant Nelson, John Munger, Brian May, Per Nelson and myself. Weíre going to have some fun!Ē


Jan 10th 2003 9:58pm (Josie):
Just decided to do the six-hour solo tomorrow. I really have a soft spot for skiing long, and this was a good excuse to classic ski my heart out. I was a little worried that I hadnít waxed any skis, but my dear husband assured me we could wax after breakfast at 8am and before the pre-race meeting at 9am.
Jan 11th 10am (David):
Watched Ben sprint off the starting line along with dozens of other excited racers!
Jan 11th 11am (Josie) Went to take a nice long pull off my well insulated Camelbak after the excitement of the first few laps, and found the straw was frozen solid. I shed the dead weight from my back and made a new plan to stop every hour to get a drink of Enervit and eat an energy bar at the timing building. Since Iíve done long-distance running races, I was able to convince myself to eat and drink early and regularly to avoid the dreaded ďbonk.Ē
Jan 11th 11:15am (David):
Took the hand off from John and headed off onto the course for the first time. The loop is all man-made snow with twisting curves and steep uphills. There are fun downhills and I am excited to be racing! Halfway through the lap I was in oxygen debt and suffering in the uphills. Near the end of the 1st lap Peter Abraham passed me to take the lead and handed off to Fred Kueffer. Peter and Fredís team are a four man team but they decided to race one 3.1km lap per turn, while our team decided to start out with two laps per person. On my second lap I was really hurting because of the pace and I lost contact with Fred. After the hilly section of the lap I finally settled down and felt like I was skiing more relaxed. I was actually gaining on Fred up ahead. Then just as I skied by the start area to begin the last ľ of the loop, psyched to hear the loud music, the cheering spectatorsÖ WOMP! My ski hit a death cookie(one of those ice chunks that Bruce described in his trivia contest a few weeks ago) and deflected off behind my pole. Yep, I face planted right there for everyone to see and broke my pole on top of it. I finally made it to the transition area a few minutes late and handed off to Grant. A tough start, but hey, this is a long race and Iíll get plenty more chances. Plenty moreÖ
Jan 11th 12:57pm (David):
Headed off on my second round, I got the hand off at the same time as Peter. I decided not to worry about him and just relax and try to ski smooth. Things felt much better and I was actually skiing the same pace as Peter. Fred took the hand off from Peter and I kept up with him, too! This is such a fun time!
Jan 11th 3pm (Josie):
For some reason, it took me hours to realize that the fabulous volunteers at the 1.5km aid station will give you anything you ask for! (Assuming you ask for yellow Gatorade or a Clif Bar). I just had the best Clif bar of my life. The volunteers even opened it! I know how hard it is to chew cold energy bars, but I decided it would be unreasonable to ask a volunteer to chew it for me. To my delight, they were keeping them in their pockets, so it was WARM!
Jan 11th 4pm (Josie):
This was the greatest! I love skiers, I love snow, and I LOVE to classic ski!!! My personal wax tech (and husband) had waxed me up with Fastwax white, Start blue klister, and a couple thin layers of Swix VF20 over top. I canít believe how good it was! My kick held up beautifully, and my glide was great. I definitely feed off the excitement of other skiers, because every time I saw someone (and you can imagine how often that was, on a winding, 3.1km loop), it topped off my energy stores. I am so thankful that Iíve been blessed with the physical ability and health to enjoy such a fun event.
Jan 11th 6pm (Josie):
Ahh! Margie, Diana, and I had a great time in the hot tub. We were lounging around, talking about how glad we were to be done, so that we could relax in the hot water when suddenly, Splash! Grant submerged himself in the 102 degree water. He explained to us that he had just finished his round, so he had plenty of time to enjoy his luxurious accommodations before heading back out into the single-digit temps.
Jan 11th 9:11pm (David):
Settling in to the routine now, that was my last set of two loops, and in 2 hours 15 minutes Iíll head out for my first set of three loops. I had to force myself to eat, even though Iíve got an entire spread of great food waiting for me. The salty potato tasted good and the Enervit syrup went down well, but none of the energy bars appealed to me. I decided to try to sleep for an hour before my next lap.
Jan 11th 11:15pm (David):
Where am I? I just woke from a hard sleep and was in a state of confusion. Now what time do I need to get to the start area? Well 9:11 + 2:15 is, is, is, hmmm, Iím not thinking too well, oh 12:26? Oh no, what time do I need to go again? I got to the transition area with Josieís help just in time at 11:26. Then I was off skiing, relaxed and strong.


Josie Nelson helping Ben Popp after his rotation

Jan 11th 11:30pm (Josie):
Found some great folks to cheer with, including volunteers from Northland College. These troopers were working and cheering all day, and they have another volunteer shift from 2-7am. Whew! I hope they get some sleep. I also met Skip, who cheered for me every lap while I was skiing. He said that he wasnít planning to sleep tonight.
Jan 11th 11:43pm (David):
Wow, that was a great set of three laps! I felt a bit of dizziness or a floating sensation skiing behind the headlight but Josie says I skied fast. It was fantastic to have her cheering like crazyÖ it definitely motivated me!
Jan 12th 1:00am (Josie):
I knew Brian was a heck of a skier, but I didnít know he could dance! He just came out of the warm-up tent, and he was MOVINí to the music!
Jan 12th 1:08am (Josie):
I donít know how Bruce does it! He is still out here taking pictures in sub-zero temperatures in the dark. I canít even take good skier photos in the daylight.
Jan 12th 1:18am ( Josie):
I let Per in on the secret of Brianís pump-you-up-warm-up. He hopped on his skis and started moving so fast, I was afraid he was going to melt the snow under his skis! He did his patented moon-ski (If youíve never seen this, ask him to do it for you sometime), then some short sprints with 180ís at either end. It must have worked, because he took off like he was shot out of a cannon.
Jan 12th 1:30am (David):
Walked into Ben and Brianís room to chat and there was Bruce working on the latest Skinnyski updates. Man, this guy works hard! Iíve got to go ski again.
Jan 12th 3:40am (David):
Our room must have been 85 degrees, because we left the heater on to dry our ski gear. After putting on 3 layers of polypro, my race suit, balaclava, gloves, hat, ear muffs, boots, race number, timing chip and clear glasses I felt like I was ready to go to battle. I was a bit dizzy from the heat so I headed off for the start area down the long maze of Telemark halls. After realizing I went the wrong way again (for the 3rd time of the night), I turned around and headed off in the right direction. Once I finally got outside the -5F actually felt refreshing, but the stiff wind quickly had me hurrying for the heated staging tent. Now where is John? Oh, there he is!


Dave Nelson skiing into daylight

Jan 12th 6:00am (David):
There are glazed looks in everyoneís eyes. This is a brutal event. I donít want to go out and ski again, but I can tell nobody else on the team would be interested in getting in bonus km.
Jan 12th 7:00am (David):
My last set of laps finished in the early morning light. What a feeling to ski into the daylight! My body woke up and I feel thankful to be alive and to have been skiing!
Jan 12th 9:51:35am (David):
Took the handoff from Brian May to try to ski one last lap before the 10am finish. I skied as hard as I could. Somehow I convinced my weary legs to carry me up the hills. Into the corkscrew corners I skied hard and inspired. Past the start my whole team was cheering. What a thrill! Back to the finish at 10:00:03am. The race is over and even though I missed the finish line by 3 seconds, I just skied my fastest lap of the race! What a great race, with a great team and great race volunteers!
Jan 12th 11am (David):
After packing up, some of our team took a hot tub. We were a strange sight wandering down the halls gobbling down fudge-nut-brownies (courtesy of Diana Munger), in our swim suits, reliving race highlights and talking about how much fun we had!
Jan 12th 7pm (David):
Josie and I decided we werenít functioning well anymore, so we headed to bed for a much needed 11 hours of sleep.
Jan 12th 8:00pm (Grant):
Should have headed to bed earlier. I just burnt my frozen pizza. Iíve never burnt a frozen pizza. I spilled my milk and I canít really follow the football game on TV. Iíve got to get to sleep.
Race Report from Per Nelson

Per Nelson skiing his final laps at 24T

24T: No walk in the Park

It all started Friday as I got out of the lab and office a tad early (3:40pm) and headed home to pack. About an hour later Ben and Margie and I were headed to Telemark, skis waxed, car loaded and I began to think of the dozens of things that I'd forgotten to bring. Fortunately the essentials: skis, poles, suit, boots were not among the casualties of my triage-style packing job. Got pizza and cheesy garlic bread at Coopes in Hayward (tradition from 2002), and picked up a dozen bananas, oranges, tortilla chips and salsa, and other shapes, styles, colors and textures of sugar before driving to the lodge. Friday night everyone except John and Diane showed up, so we had a chance to discuss and strategize the race before a good nights sleep.

Saturday morning we hit the buffet for a very good tasting breakfast (rationalizing that a good breakfast is especially important before skiing a 24 hour relay, and rationalizing the high price ($8) as our little part supporting Telemark as a regional skiing institution that suffers from the overwhelming cheapness of the nordic skiing community). John and Diane showed up right on time and we threw out the strategy that we hit on Friday night opting for 2 (3k each) lap pulls to start. The pre-race meeting brought home the conditions we were under. The temperatures were going to be, despite the recent trends, very cold. So cold that we were warned the race might even be suspended overnight if wind chills got too low.

It didn't take long to realize that cold was going to be a factor, maybe the factor, as we stood under the stiff flag during the Star Spangled Banner. It was also immediately obvious that despite the subtemperate conditions, the festive atmosphere was going to be far more warm and jovial than your typical race. Not many tents this year, but the Finn Sisu 12 hour solo guys had the set-up. Complete with heater, hay bales, and plenty of cold beverages. On that theme: it was about 16 hours into the race (when the 24 hour blues were really hitting me) that Kevin of Team Sports (race organizer) let me in on a little secret. He said, "you guys take this way too seriously". I looked at him with "no kidding" on my tired face as he continued by explaining that the folks who really enjoy this event are the ones who ski hard alright, but then get a good meal and some sleep and make it into a skiing party. 24T is as much for those who want to go and ski their guts out all night long as those who want to get all their skiing buddies together for a great time.

The gun went off with perennial lead off man Ben Popp on the line for team skinnyski. We noted before the start that there were some very competitive skiers in the field. Most notably, the Winona Mogren's and a team of mostly St. Olaf/Carleton skiing alums including Peter Abraham, Fred Kueffer, Brent Carlson, and Dave Dow. It was therefore no surprise that when Ben came back out of the woods he was in a pack. For the first several hours of the race we were trading position with Peter's team. Unfortunately we never really got to working together much, just yo-yo-ing back and forth as the faster skiers on each team matched and unmatched. By dark, our 6 man rotation left us much more rested and well ahead.

We skied 2 lap legs from the start until sometime around the 10 hour mark. At that point John and my combined lobby convinced Brian and Ben that it was time to start 3 lap legs in order to increase our resting time. It was a tough decision because we knew 3 laps per leg would make equal or slower overall speeds, however the balancing factor was survival. We saw Peter Abraham's team fatige rapidly in the first 6 or so hours running single lap legs and ultimately back off pace dramatically. In their case it was more difficult because they had only 4 guys in rotation. It is impossible to tell if we would have made more distance staying at 2 or even going to 1 lap, but by going to 3s we didn't burn out.

There was a starry sky and half moon illuminating the trail when it started getting tough around that 12 hour mark. It is amazing to say, but it was the resting that was tough. Lungs and throat burn, race cough, the constant need to eat, and racing rush prevents good sleep. But the skiing is great! Zooming through the darkness hearing the cheers and encouragement from friends, teamates and spectators; zipping by the bonfires crowed with cheering people remains not just fun, but really exhilarating.

Then comes the early morning. That last ski before dawn: the trail was nearly deserted. John and I made a pact to help each other say no to this sort of excess in the future. (I think we did so last year as well). The wind had picked up and suddenly resting in a warm bed wasn't so bad after all. Exhaustion made sleep possible by this point in the race and I got my first sleep as the twilight rose on its gentle gradient to sunrise.

Then awake in the light, and I was a like a horse to the barn. My last 2 laps of the race: my legs had snap that hadn't been there for nearly 20 hours. We finished the rotation and skipped to Brian and Dave to bring us home. They pounded a lap each with impressive speed, but came up 3 seconds shy of the buzzer to earn a bonus lap. So it was a 24:00:03 race for us this year, and I'd say that is long enough.

The 2002-2003 Skinnyski.com Race Team is presented by Enervit America. Enervit produces top quality food supplements for sports and active life. Other sponsors include Toko/Yoko and Rudy Project.
Dave and Josie Nelson and Grant Nelson are based out of Hoigaards. Brian May, Ben Popp, Per Nelson, Margie Tilman and Sonja Bostrom are based out of Finn Sisu.