Skinnyski Race Team Racing Recap: Bostrom at Nationals
By Sonja Bostrom
Photos by Bruce Bostrom
January 16, 2003

I just got back from Chevy truck cross-country ski Nationals which were held this year out in Rumford, Maine. I travelled out there with a good friend Liz Parke, another group of people including Peter and Jenny Abraham and Mel Scheefer from Williams. My dad, Bruce Bostrom, also came to meet up with us later on in the trip. We all had a really great experience out there. I got some good racing and skiing in, and met up with a bunch of people I hadn't seen in a while. There were some ups and downs but all in all it was a good trip!

Liz Parke, Sonja Bostrom
Liz and I got into Rumford two days before the races started. The first day we got there in enough time to ski around on the course before the sun went down. We were a little worried when we got there as the course did not look too far off from Battle Creek. They were hauling, making and spreading snow all over the place and were even dumping what seemed to be ice chunks on this huge hill called "high school hill". We were able to ski the course but not without getting some unique "structure" in our skis. The night before the first race we were blessed with a storm that delivered just enough snow for the races and for the Minnesotans to remember what winter use to be like.

15K women/30K men classical, Saturday, January 4th
This was the first race that was held at Chevy Truck Nationals. Liz and I were both pretty worried about whether we would be able to figure out the kick wax for the two classic races especially the first one. Luckily we met up with Liz's friend Leigh Mallory who gave us some of the best kick I have ever had! Liz's parents, Lauck and Libby also drove up from Vermont to watch this race so we had an excellent cheering section and we recruited Lauck to give us the feeds on the second lap which worked out perfectly. It was snowing pretty fiercely for the women's race but other than that conditions were perfect. The race course was three laps of a pretty challenging 5k. There was one sketchy sharp downhill left turn that had many people anxious.
I started early in every race because of the way we were seeded so there was over an hour between my start and Liz's. My strategy was to go out at a good pace and work on being efficient with my classical technique as I tend to freak out and start scrambling at times. The first lap went smoothly with no major falls or mishaps and as I lapped through Liz cheered for me on her warm up. The second lap was the hardest mentally because you are no longer in the beginning of the race but your not on the last lap either. You just have to keep your head in it and keep chugging along. As I lapped through the second time Liz was heading into ski marking and cheered for me. The last lap is the best because you know you don't have to save anything for any more laps and you just put what you have down on the table and make sure its gone at the high point of the course because the finishing sprint in an interval start race is to late. It felt really good to finish that race. I had handled the sketchy turn well all three times which pleased me because that is one of my weak points. As I was recovering in the finish area, Liz finally began her race. I ended up 20th in that race which I was satisfied with, especially as my classic skiing is not the best.
5K women/10K men freestyle, Monday, January 6th
We had a rest day between this race and the last which didn't turn out to be much of a rest because of all the preparation we had to do for this race. The 5k course, like most other courses on the side of a mountain, was pretty much down for 2k, up for 2k and into the finish.
By the time I got to the lowest point on the course I had lost a lot of time to other skiers and only had about 2.5k to make it up. I started the climb and gained time on the people who had started in front of me the whole way up the hill. Unfortunately there is only so much time I could gain back in 2.5k. When I finished the race, I was extremely winded and felt like I had just run a 400 or 800 on the track. I ended up 33rd which is a decent place but I realized that kind of course does not suit me well.
5K women/10K men classical, Tuesday, January 7th
The classic race was the same story as the 5k skate but with the added complication of kick wax and the fact that I was going out first. I didn't get a very good warm-up in for this race which I really needed as it takes my body a long time to get up to speed. I tried to be as efficient as I could on the downhill and then went as hard as I could on the uphill portion. When I finished, I was again really winded but happy to be done with the 5k sprints. The most people showed up for these two 5k/10k races -- more than for any other race the whole week. Many colleges turned out for these races, as well as high school teams and junior skiers. Many races had between 150-200 people finishing!
Sprints, Thursday, January 9th
The sprint races are always fun in that it is really a spectator event. There are so many people watching, so many people participating.
Since I don't consider myself a "fast twitch" person I really wasn't expecting much from the sprint race but it actually turned out to be one of my better races. We got there a little late so I was a little rushed but once I got my bib and skied the course at a good pace I started to feel warmed up and ready. I ran over to the start, did a couple of quick sprints and lined up. The course started on a nice uphill then a downhill and flat going into another challenging uphill, flat, a left hand downhill turn and downhill into the finish. My plan was to go as hard and quick as I could through the whole thing. I took off up the first hill V1-ing as quick as my legs would go. I skated the downhill and did the same on the last uphill. I had a little trouble on the downhill turn, went a little wide and lost a couple seconds but got back on track and sprinted it into the finish. When I crossed the finish line, panting, I turned around a saw that Sigrid Aas (UAF/Alta, Norway) who had started 15 seconds behind me was finishing right behind me.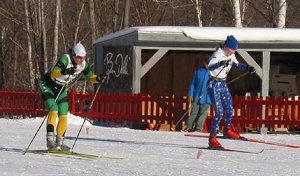 Williams and Aas duking in out in the quarterfinals

I figured that I hadn't done that well since she had beaten me by so much but Sigrid ended up 4th in the prelims and my 12 seconds behind her was good for 22nd place, 4 seconds out of qualifying for the quarterfinals which I was pleased with. Originally my dad and I had planned to go Telemark skiing after my sprint race but instead we decided to go the next day and stuck around to watch the finals of the sprint races. It was Lindsay Williams and Lindsey Weier vs. the world in one of the quarterfinals (that also included Sigrid and Katja Ivanova). Ivanova came in first in that quarterfinal (and also in the A final for 1st overall). Sigrid just edged out Lindsay for the last spot in the A final and went on to take 3rd overall. Lindsay had an impressive 2nd place finish in the B final for 6th overall. All in all it was a fun day!

The race coordinators also put on a banquet for the athletes, coaches, and parents where they gave out awards, named teams and just got everyone together. The best part was the comedian who didn't know what cross-country skiing is! To start off a joke he asked us how many of us were "black diamond" skiers and no one raised their hand. Finally someone yelled out "we ski UP the hills!" to which he replied "what's that a yellow triangle?"

30K women/50K men mass start freestyle, Sunday, January 12th

The last race of the week was the 30k/50k skate. All week long I had been asking my friends if they were staying until Sunday and for almost every one the answer was no. I knew this was going to be a small field of skiers but when I got there and saw the start list I was still surprised that there were only 23 women signed up for the race. The weather was pretty cold and windy that day, so much so that the volunteers were having troubling keeping things up right!

I headed over to the start line, hugged my dad and went through ski marking. My dad went up the hill at the end of the mass start area where he would be giving me two feeds. As we we were getting lined up someone informed us that we would have to postpone the race 5 minutes as there was a medical emergency up on the hill. Someone was having a heart attack! I frantically looked for my dad as the other racers ran off to get their clothes and go warm up. "There is a man in a blue and white coat who is a doctor, is he up there helping?" I yelled to one of the volunteers. He informed me that there were two doctors up there but I couldn't see my dad! I grabbed my warm-up coat and ran up the hill where I saw my dad, the NMU coaching staff and some other people kneeling by the guy. I felt a little relieved that I found my dad and people were there but was still worried as my dad was doing breaths and someone else was doing chest compressions which is not a good sign. I ran back down the hill to make sure someone had called 911 and to see if I could help direct the ambulance or anything but there were so many people willing and ready to help that there wasn't anything more I could do. Abigail Larson invited me into the Subaru trailer to stay warm where I was able to calm down a bit as we had a little "meaning of life" chat. After the ambulance left I ran out to find my dad again and gave him a big hug. He told me that the second time they shocked him they got a pulse back so there was hope. It was really weird to go back to the starting line after that.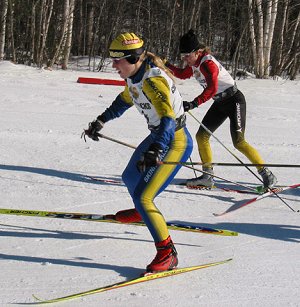 Sonja in the 30K freestyle race
They made us re-mark our skis and I think we lost another racer in our already small field during the events as the volunteers were all running around saying that someone hadn't been re-marked. The course was a 6k course that was a bit more mild than the courses we had been doing all week. We did it 5 times and the boys did it 8. This was the longest race that I had ever done with the second longest being the Korteloppet, which I haven't done in about 4 years, so I really didn't know what to expect. I think I was still in that 5k mind set as I went out pretty hard. I realized by the 3rd lap that I definitely went out too hard and hit the wall big time! My head felt funny and I was having trouble focusing my eyes. I needed some calories and was grabbing anything anyone would offer me to drink. Around the end of lap 3 beginning of lap 4 I changed my race goal from "do well" to "finish" and proceeded to drag my carcass around the loop two more times. I managed to hold onto tenth place which I was more than happy to take but it sounds less impressive when you realize that only 14 people actually finished the race. My dad met me at the finish and we went inside where the food at the downhill place actually looked gourmet I was so hungry! After we ate we went back out, cheered Owen Hanley of the Rossignol team around twice and then decided our day had been eventful enough and went back to recover at our B&B in Bethel.
All in all, I had a really great trip to Senior Nationals this year. Thanks to my dad for coming with me, my mom for letting us go, the Parke's for everything, Skinnyski and all the coaches from the midwest that gave a helping hand to the "ghetto team" with wax and such, and the volunteers at Black Mountain who were phenomenal!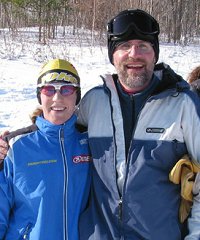 Sonja with her dad, Bruce
Photos

Photoset from Senior Nationals

The 2002-2003 Skinnyski.com Race Team is presented by Enervit America. Enervit produces top quality food supplements for sports and active life. Other sponsors include Toko/Yoko and Rudy Project.
Sonja Bostrom is based out of Finn Sisu.