Skinnyski Race Team Weekend Recap
By Bruce Adelsman
January 21, 2003
Hard to believe, it's late January and the first ski marathon of the year has finally been held. With the numerous cancellations this season, it was surprising to see that there was still a huge turnout for the Pepsi Challenge at Giants Ridge in Biwabik. Even sub-zero windchills and some recent (slow) snowfall didn't seem to dampen the enthusiasm of the skiers.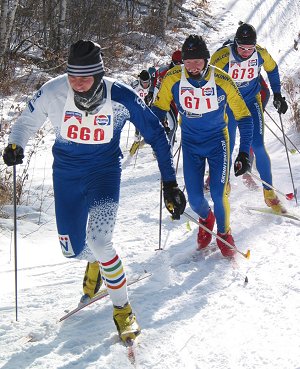 Piotr Bednarski with Dave and
Grant Nelson right behind
Before the start of the race, I was positive the classic skiers were the smart ones this day. I had been out skating on the trails earlier, and glide was at a premium. However, as the race unfolded, the skaters seemed to have the advantage, especially on some of the ungroomed segments of the course. In the end, I can't really recall seeing anyone finishing "fresh as a daisy", but most were happy to have finally logged their first big race.
Josie Nelson had yet another spectacular classic race, not only winning the womens 48K classical race by a large margin, but logging a time that would have placed her in the top 15 of the mens event! Grant and Dave Nelson hammered with the lead 48K classical pack before finally dropping off from the Classic King, Michael Myers, and a Norwegian from Illinois. Grant and Dave came in together, taking third and fourth overall. Meanwhile, John Munger was on his own, almost literally, skiing from wave two of the 48K freestyle race. Munger, whose training is competing for time with his duties as City of Lakes Loppet director, still managed to pull out a top 15 placing.
While Jill Troutner hasn't had many opportunities to race this season, she was in the action last weekend taking on race director duties at the Rainbow Rendezvous. The short-notice race showcased the numerous trail improvements Rainbow Resort has made in recent years, and opened the eyes of many skiers who competed that day (see results and photos in the Results section).
Race Team Results
January 18, 2003  Pepsi Challenge
  Josie Nelson     1st female  48K Classical
  Grant Nelson     3rd male    48K Classical
  Dave Nelson      4th male    48K Classical
  John Munger     15th male    48K Freestyle 


Team Member Race Reports
Race Report from Grant Nelson
Every year I have wanted to do the Pepsi Challenge at Giant's Ridge in Biwabik, but it is always during the same weekend as my favorite classic race, the Seeley Hills Classic. Even though I was disappointed that Seeley was postponed because of poor snow conditions, this was my opportunity to ski the Pepsi Challenge.

Saturday morning, we awoke to a fresh inch of new snow, temperatures around zero and a wicked wind. The classical race started thirty minutes before the skate race at 9:30 AM. I had a number of goals before the race. I wanted to beat the skaters to the finish, challenge my friend Mike Myers to the finish, feel strong throughout and have a good time.


Cold and blustery start line for the classic wave of the Pepsi Challenge

Even though it was cold and there was a strong wind, once we got in the woods, skiing was quite nice. Portions of the trail were freshly groomed and other sections had one inch of fresh, virgin, absolutely gorgeous, incredibly slow powder snow. The course consisted of two unique 23km laps and used just about all of the incredible Giants Ridge trail network.


Michael Myers, Grant Nelson, and Egil Nilsen

During the majority of the first lap, I unsuccessfully tried a number of times to break away from the big lead pack only to be swallowed up shortly after. As we entered the stadium with about 12km to go, Mike Myers and I took off up the hill and finally broke the pack for good.

As Mike turned up the steep ungroomed Cedar trail, something didn't seem right. I still thought I was feeling OK. I wasn't breathing that hard, but my legs just weren't responding. As Mike started to pull ahead, I looked back and saw an unfamiliar face. It was the guy who had the older skis, poles and suit, Egil Nilsen. Even though my tempo was about the same as his, my stride was so pathetically short that he glided by me like I was standing still. Who was this guy? (We got to know Egil much better at the awards banquet that evening. He was a super nice guy from Norway who has raced and skied there on a very elite level. He didn't want to take his good ski gear on the airplane.) I finally reached the top of the Cedar hill and concluded that my fuel tank was indeed on empty and I was hurting. As I turned the corner onto the Summit trail, I heard a skier behind me and assumed another classic skier had caught me. It turned out that the first skater, Corey Wubbels had caught me and gracefully and powerfully glided past.(Another unsuccessful goal) As I looked back, my brother Dave was closing the gap, but thankfully not as fast as Corey or Egil. Rather than blow by me, he slowed a little and helped me get a second wind. As we skied into the finish together, I didn't have to plot out my sprint at the end.

We were both so exhausted that we matched up our skis and glided into the finish. According to the official time, I slipped .3 seconds ahead of Dave to capture third place. After recovering with 3 bowls of pea soup, 6 orange slices, 2 bananas, 4 donuts, 6 glasses of energy drink, 2 glasses of apple cider, 2 cups of chocolates and an energy bar, I started feeling pretty good. The awards banquet had delicious pasties, nice awards, live music, lots of door prizes, great volunteers and a lot of fun skiers to enjoy it with. Well, I didn't beat the skaters, didn't challenge Mike for the finish, didn't feel strong throughout, but I sure did have a good time!
Race Report from John Munger
I think when I was asked to join the Skinnyski.com team, I was chosen for my ability to write more of a middle-of-the-pack type perspective than my fast Skinnyski peers. So far this year, I have not disappointed . . .

This year's Pepsi race started with a surprise or two for me. First, as my wife, Diana, and I sat eating breakfast in the Lodge at Giant's Ridge we started talking to this snowboarding family that had no clue what cross country skiing is about. "Now do all those skiers start out together?" they asked. Being the expert (at least in my own mind), I started to explain that the classical and skating races started separately, but within those categories everyone started together. Diana interrupted - "actually, the skating race has waves . . ."

I was suddenly alarmed. Diana had registered both of us the night before while I waited in the car with our daughter Ellie (who you might remember as the bad little girl mentioned in my previous report). "There are waves?" I asked, "which wave am I in?"

"I don't know," Diana responded, "I told them you would finish in three hours."

. . . So second wave it was for me. I consoled myself that I had only been planning to train anyway - the only reason to do the race was to get a little non-hamster wheel skiing in. Plus, I said to myself, I can go off the front and ski by myself for a while (after a few weeks on the skinnyski team you can convince even yourself that you are a good skier).

Sure enough, when the gun for my wave went off I quickly went to the front of the wave - "I'll show these guys," I thought. Sure enough, though, going up the first hill was my undoing. First, one guy and then another went past me (boy, do I need to start doing a bit of training). I stuck with the second guy and the top of the hill was the demise of the first guy (someone forgot to tell him that the race was 46 kilometers, not .46 miles). As it turned out, the second guy was Dan from Minneapolis - a pretty darn nice person. He and I skied together off and on for the entire first loop.

It is interesting to ski with new folks. Dan was a pretty good skier, but he clearly lacked the aggressiveness you generally see among the leaders in the race. As we began to catch skiers from the first wave, Dan would ski up behind and wait until a huge opening developed. I soon became frustrated with this approach and began coaching him: "tell them 'on the left,' tell them to move over - just go by . . ." But as we went along, things only became worse - it always gives you a sinking feeling to see a line of bright spandex as far off as you can see. Then the trail narrowed to six to eight feet wide. I decided this was no time for drafting off of the still-to-polite Dan. I went around him and began double-poling past folks whenever I could.

One of the nice aspects of my race was seeing lots of skiers. Everyone seemed to be having a good time. Pretty much all of us were having the best day of skiing of the year so far. It was a bit cold (especially in the stadium area), but it was sunny with plenty of fresh snow. On that note I must comment on Mr. Bruce - Behind-the-Scenes - Adelsman. Before the race I saw him for a minute and commented on the temperature and the fresh snow (something to the tune of "it's so slow and cold and windy"). Bruce's response: "it's getting faster and the wind is supposed to die down." That was reassuring to me as Bruce always knows the low-down on such things. It was only as I battled 40 mile per hour winds through cold slow snow at the end of the race that I realized Bruce had made up a fantasy weather report just to make me feel good. Thanks Bruce.

Anyway, back to the race. As I went along on the first lap I became happier with my second wave start and my relatively reasonable pacing. I realized that I was actually going to be able to enjoy the second lap - that is, if I ate enough at the end of the first lap. My plan was to eat my Enervit gel pack on the long downhill at the end of the lap. As I started my descent I came up beside Bill Baldus. "How's it going, Bill?" I asked as I skied by.

"I'm already hurting," he responded.

"I'm just about to eat my gel pack. Do you want some?", I asked as I struggled to pull the gel from the folds of my uniform.

In the tradition of all really bonked skiers, Bill responded with a grunt of affirmation. I opened the gel, took a little for myself and passed it to Bill, who obviously needed it more than me.

But after finishing my descent, skiing through the lap and starting out on the Silver Trail I began to re-think my generosity. I was getting seriously hungry and realized that the food stops, while good for liquid, really had no solids to speak of. On top of that, I began to wonder whether Bill was doing the 23 kilometer or 46 kilometer event. If he was doing the 23 k race, he only had about 3 kilometers to go when I gave him the gel - barely enough time to even digest the gel before he arrived at Pea Soup Central. This became an even more important question when I was unable to get anything at the next feed station . . .


John Munger finishing the 48K freestyle race

Fortunately, I finally found the little white capsules I had hidden in my sleeve as I passed Lynn Cecil Johnson. I was not quite certain what these capsules were, but they were in the race packet and the little adage on the packaging talked about winning the race after taking a pill. I shoved a few in my mouth and Lynn asked what I was eating. "I don't know," I responded, "I found these things in the race packet - do you know if you are supposed to swallow the capsules themselves?" Lynn didn't answer and I decided that swallowing the capsules whole would be a mistake. After chewing away for a minute, the capsules opened . . . and yuck - the capsules were filled with what tasted like pure salt - no wonder they were in capsule form!

My next problem was water. I had just passed an aid station so I knew there was no water to be had for a while. Fortunately, I saw Pete Moran holding a bunch of water bottles. As I approached, I tried to ask for a feed, but with all the salt I managed only a grunt (similar to Bill's request for a gel). By the time I managed to say anything articulate it was too late . . . Eventually the next feed station came and the salt episode was forgotten.

The rest of the second lap was uneventful for me. I began to pass more people I knew - most of them in various shades of disrepair. Feeling good myself, it was fun to chat away as I passed them. By the time I reached the wind-tunnel at the end I was getting tired but I was almost done. When I saw Josie finishing her classic race I tried to return her incredible cheering from 1 a.m. at the 24 Hours Race - but there is no re-paying someone willing to cheer so boisterously at 1 a.m. in sub-zero temperatures.

Anyway, that finished my day. The nice thing about skiing a negative-split type race is that you are raring to go for the next one . . . As a postscript, I guess Bill did do the 23 k - he is in some serious gel-debt . . .

The 2002-2003 Skinnyski.com Race Team is presented by Enervit America. Enervit produces top quality food supplements for sports and active life. Other sponsors include Toko/Yoko and Rudy Project.
Dave and Josie Nelson and Grant Nelson are based out of Hoigaards and are also sponsored by Fast Wax.