Skinnyski Race Team Weekend Recap
By Bruce Adelsman
January 29, 2003
As the race calendar massacre of 2003 continues, it's amazing that the team was spread out over three different races last weekend.
The Noquemanon was the big marathon on tap, and the race had a good turnout once again for this point to point course in the UP. This year, the course was back to its full distance and the competition was a little tougher as Brian May captured a strong 3rd place finish. Just as impressive, John Munger came off his first solid week of training to capture 4th place (although John and Brian didn't ski with or see each other for most of the race).
Paul Schoening and some other metro area skiers organized a short-notice race, appropriately called 'Hidden Lakes Hiihto' as it was held at Sweeney Lake in Golden Valley (located just west of Theodore Wirth). Per Nelson and Margie Tilman joined up with a turnout of about 40 skiers. Both finished very well, with Per coming in fourth in a tough pack sprint, and Margie taking second female overall behind the always strong Lynne Cecil-Johnson.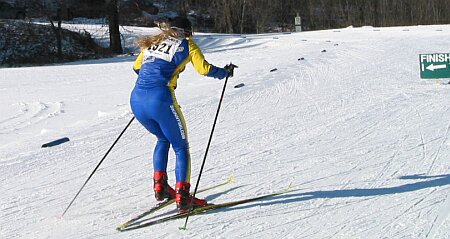 Sonja Bostrom heading towards the finish, Ski Games Freestyle Race
Finally, Sonja Bostrom hit some of her first races since Nationals by turning a few laps on the finely tuned trails at Troll Hollow for the Ski Games. Sonja posted the top time in the classical race on Saturday. Under some bright sun but very cold temperatures, Sonja accidently missed her start on Sunday but skied with some extra punch as she tried to make up some of the lost time (no official time or result posted as of Wednesday).
Race Team Results

January 25, 2003  Noquemanon
  Brian May        3rd male    55K Freestyle
  John Munger      4th male    55K Freestyle

January 25, 2003  Hidden Lakes Hiihto
  Margie Tilman    2nd female  13K Freestyle
  Per Nelson       4th male    13K Freestyle

January 25-26, 2003  Ski Games at Troll Hollow
  Sonja Bostrom    1st female   7K Classical
  Sonja Bostrom     ?? female   7K Freestyle


Team Member Race Reports
Race Report from Per Nelson
I had been planning to do the ski games all month, but on Thursday night when Bruce had the announcement for the Hidden Lake Hiihto to be held on Sweeney lake, I knew there could be no Ski Games. Sweeney Lake is a part of my roots. My grandpa and Grandma have lived across the street from the lake for about 50 years. I was taught to fish there. I have skied there, run, swum, biked in, on, or around the lake. I've even kayaked there several times.

Margie and I went out to get the feel of the snow Friday night via my grandpa's fishing trail (taking us by the yellow caution sign that says "Old fisherman Crossing"). The snow was thin. The ice, in many places, was not covered well enough to facilitate a good hard skate. In fact, several places the snow was not enough to give a feather soft wimpy push. We quickly came to the conclusion that this was not going to be a "legs" race.

Saturday morning, sporting the same bibs from the byob "Ridgenator", we signed the self service sign up, and made our way on a warm up quickly discovering that the dusting of snow that fell overnight had unfortunately not turned into a rock hard, lightning fast crust, but instead had the same consistency of the snow that had already been there the night before.

Roy Carlstad weighed in on the winter. One of our skiing grandfathers who needs no introduction, least of all by me. I figured he'd be able to put this winter into perspective, so before the race I asked him if he'd ever seen one this bad. His quick reply: "No." Said he's been skiing since '69, and downhill before that, and this one is the worst. Good thing we skiers are so tough.

The start was great. Double pole to the willow. I double poled past the willow because there wasn't much to skate off of. The pack took on the consistency of a long single file, I at the front. Had to put on a bit of a show since Grandma, Grandpa, and Uncle were cozy in a minivan that had a great view of the course. The LATBIYAGLATE principle in full effect (lead at the beginning if you aren't going to lead at the end). Sometimes the principle is self fulfilling, but I didn't have the luxury of knowing in advance. All I knew was there were some fast guys in the pack. Turns out I didn't know the half of it.

My grandpa and grandma are Sweeney lake legends. They build the first house in the whole area. Stop by for a visit, and you're sure to see the old photo of a new little house surrounded by nothing but tall grass. 1948 they moved in, and the fish have been running scared ever since. My grandpa has even been known to leave dinner guests with my grandma in order to get a little evening fishing in.


Per Nelson taking a turn at the front

I did my best to string things out in the first three laps, taking pulls as hard as possible, but it seemed like it wasn't until the end of lap three that things got going. By this point I was no longer in the lead. In fact, I was struggling to stay with the pack. Then John Erikson, one of those hot shots from St. Louis Park, decided it was time to start racing. This guy got out and nearly split the pack in half a lake, then hung on for a strong second. I managed to sprint to 4th position.

This is what skiing is about. Great turnout, a good tough field. Technically challenging (despite the lack of terrain). Thanks to the organizers, and Breadsmith/Hoigards. In this winter, it is great to get skiers pulling together to make the best of it.
Race Report from Brian May
After doing a couple of short races and then the 24 Hours of Telemark Relay, it was finally time for my first marathon of the season. I hemmed and hawed as to whether to do the skate or classic Noquemanon, but settled on the skate race with thoughts of Seeley Hills and Porcupine Mountains in my future. Checked the Toko wax recommendations on Thursday evening and waxed up my second-best pair of skate skis with the recommended combination. I knew my universal grind probably wasn't the best for the anticipated cold temperatures, but given the likelihood of finding the occasional rock on the Noque course, I wasn't quite willing to bring out my favorite pair of skis for the event. Nikolai Anikin, Erik Viken and I headed out from Duluth late Friday afternoon, arriving Marquette just in time to scarf a Subway foot-long and pick up our bibs. We crashed at a friend's house a few blocks from the Dome for the night.

The morning preparations went smoothly, energy bar and oatmeal for breakfast, then the bus ride from the Dome to the start. With relatively cold conditions (10 F), it was reassuring to have a warm place to hang out both at the finish (the Dome) and the start (Al Quaal Recreation Center). A short warm-up ski, then off to the start line. Sizing up the competition, I noticed many of the usual suspects ... fellow Skinnyski racer John Munger, the Riverbrook gang (Tom Krenz, Tom Meyer, et. al.), Mike Dietzman from Ely, Cory Wubbels fresh off a commanding win in the Pepsi Challenge, plus a few I didn't recognize. A relatively small elite wave, but plenty of competition - repeating my victory of the previous year would certainly not be an easy feat!

At the sound of the horn, Nikolai quickly jumped into the lead, with Adam Swank just behind. I slid into 5th or 6th place, just behind Cory. The first few kilometers went smoothly enough with Nikolai and Adam taking turns up front. The classic track seemed much faster than the skate lane and I tried to take advantage by using a lot of marathon skate (though I wondered how long I could keep it up given that I virtually never train the technique). The first major obstacle of the day came at the spillway ... up a steep slope (snow shovelled onto some hay bales!) and then down a steep twisty descent on the other side. Apparently there was a wipe-out somewhere behind us and our lead pack of 5 opened a gap on the rest of the field.

The next shake-up came at the first aid station. Carrying our own bottles, Cory and I skied through while the others slowed to drink. Cory didn't make a decisive move as I thought he might, but ever so gradually upped the pace looking incredibly relaxed and smooth out in front. Climbing one of many steep uphills in this stretch, Nikolai stumbled ahead of me and it was clear the pace was taking its toll. I skied by and tried to close the gap that had opened up to Cory ... but to no avail. Adam skied by me and surged hard to reel him in, but I didn't have the legs to go with. So, 10k into a 55k race, I was on my own, Adam and Cory leading the field up front and the chasing packs somewhere behind. I continued skiing hard with faint hopes of regaining contact with the leaders, but as we descended onto the Dead River basin I was able to look forward and assess the damage. Cory and Adam were about a minute in front and I wasn't gaining. Though I wasn't yet willing to admit it, it was now a race for 3rd place. I glanced back over my shoulder and was pleased to see a long gap behind me with nobody in sight ... at least I had a solid hold on that 3rd place slot!

Climbing the hills out of the Dead River basin, I reflected on the year previous when we had started the race on the basin. Feeling fresh, I had led the pack through those early climbs, putting the hurt on those behind. Oh, but what a difference a year makes ... now I was the one with the hurt put on. I continued to push hard, but slowed ever so slightly to look out over the basin as I crested one of the many climbs - who says racers can't enjoy the scenery! This stretch (like many on the race course) offered a series of fabulous climbs through open hardwood forests and equally fabulous technical descents.

With the leaders gone, I settled into a comfortable race pace, enjoying my solitary ski through the backwoods of Michigan. As I skied on, I began to encounter many of the classic skiers who had started before us. It was nice to be cheered on as I skied by and I was happy to have the company out on the trail :-). With 25k to go, I downed an Enervit gel to keep me going through to the finish. I continued to ski well and I'm sure the gradual downhill over the last half of the race course didn't hurt. With 6k to go, I looked up and could see the Dome off in the distance. The course was a little rough as we came into town, but they had done a good job with trucked-in snow to carve out a ski course through the city. Up the final straight, across the line and oh, so nice to be done.

Overall, it was a very good ski on a great course (though certainly a little lacking in snow in spots). Up front, Cory had gone on to win for the second weekend in a row, with Adam a few minutes back. I had hung on for 3rd place - a great result against a quality field. It wasn't long before team-mate John Munger sprinted in to win the battle for 4th place. Then, off to the Dome for refreshments, showers (what luxury!), and the inevitable rehashing of the day's events among friends.

The 2002-2003 Skinnyski.com Race Team is presented by Enervit America. Enervit produces top quality food supplements for sports and active life. Other sponsors include Toko/Yoko and Rudy Project.
Brian May and Sonja Bostrom are based out of Finn Sisu.