Skinnyski Race Team Weekend Recap
By Margaret Adelsman
February 5, 2003
The past weekend was another story of races that were and races that were not. Fortunately, several of the Skinnyski.com racers were able to compete in some great events, including the Ely Wilderness Trek and the brand spankin' new City of Lakes Loppet.
With Seeley Hills succumbing to a last-minute meltdown, Grant Nelson and Brian May packed up their bags for Ely to race in the 2-day event: 15k classic on Saturday and 15k freestyle on Sunday. World Cup skier Jan Jacob Verdenius paced the field both days, followed by Brian May and Grant Nelson in 2nd and 3rd places, respectively. The freestyle race found Grant nosing out Mike Dietzman and Doug Olsen, just a few seconds back in 4th and 5th place spots.
The City of Lakes Loppet debuted racing on a portion of the famous Minneapolis Chain of Lakes. With the minimal snow coverage, the original course scheduled to run from Theodore Wirth to Lake Calhoun was altered to 3 loops of Lake Calhoun and a portion of Lake of the Isles. Racers turned out for last-minute entries by the hundreds, and helped to establish a really fun as well as very competitive event. To kick off the festivities, elite sprints were held on Lake Calhoun Friday evening. Per Nelson and race director John Munger competed in the mens event, with Per making it to the semi-finals and John taking a fall in the quarter-finals. Sonja Bostrom and Margie Tilman made a strong showing in the womens elite sprints, with Margie finishing 4th and Sonja winning the womens overall sprint title against a tough field.
Saturday's race covered about 25k under warm but slightly windy conditions. Per Nelson cooked around the course, hanging with a strong group of top-10 men to duke it out for an amazing photo-finish with Fred Kueffer. Margie and Sonja also skied 3 strong laps, with Margie finishing as the 8th woman overall and Sonja in 3rd place behind the amazing veterans Jan Guenther and JoAnn Hanowski, after leading the women's field for the first lap.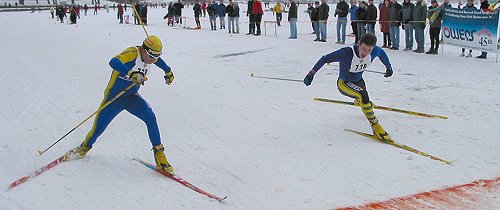 Per Nelson and Fred Kueffer doing their best Olympic finish
Race Team Results

February 1, 2003  Wilderness Trek
  Brian May        2nd male    15K Classic
  Grant Nelson     3rd male    15K Classic

February 2, 2003  Wilderness Trek
  Brian May        2nd male    15K Freestyle
  Grant Nelson     3rd male    15K Freestyle

January 31, 2003  City of Lakes Loppet Elite Sprints
  Per Nelson       Semifinals competitor
  John Munger      Quarterfinals competitor
  Sonja Bostrom    1st female  Sprint Finals
  Margie Tilman    4th female  Sprint Finals
  
February 1, 2003  City of Lakes Loppet
  Per Nelson       10th male   25K Freestyle
  Sonja Bostrom    3rd female  25K Freestyle
  Margie Tilman    8th female  25K Freestyle

Team Member Race Reports
Race Report from Grant Nelson
We were all packed up and ready to hit the road for Seeley, Wisconsin on Friday night when we got the call. A lump came to my throat when we heard the rumor that my favorite race, the Seeley Hills classic, was canceled.

After numerous phone calls we confirmed that the lack of base on the Birkie trail and Friday's warm temperatures had turned the south slopes into brown grass. As I mentioned in an earlier race summary, skiers have to be flexible. Because I didn't want to ski on a lake, I concluded that the only options were the Wilderness Trek in Ely or the Porcupine Mountains race.

The Porcupine Mountain race was my original backup to Seeley Hills, but I quickly realized that it would be quite difficult logistically. The race started at 9:00 AM ET which was 8:00 AM our time. When I found out that the Wilderness Trek started at 1:00 PM, it was an easy decision.

After a long, restful night's sleep I headed over to the May's at 9:00 AM and Brian, Abbi, Rachel and I headed up to Ely. We headed north through a winter wonderland of freshly falling snow and beautiful scenery (while Duluth managed to receive a bit of freezing drizzle). Saturday was a 15km classic race and Sunday was a 15km skate race.


Phil Rogers leading, Grant behind, Brian next to him
(Photo: Abbi May)

The classic race was fairly uneventful. Fresh snow and 30F made for difficult waxing conditions. My glide was good, but my kick wasn't quite as bombproof as I prefer. Jan Jacob Verdenius took off at about 3km up a gradual single track section. As I chased behind him for maybe a kilometer, I realized I was not relaxed or skiing efficiently and was basically flailing. As I let Jan Jacob go, Brian May quickly caught me and dropped me after a feeble attempt on my part to stay with him. I skied the rest of the race on my own and actually relaxed and felt quite good at the end. I was very happy with my third place performance.

Sunday morning was another gorgeous day in Ely. The skate race was run backwards on the same course and started at 11:00 AM. Jan Jacob and Brian May took off hard at the beginning. Learning from my mistake in the classic race, I relaxed early and was happy to ski in a pack with Mike Dietzman and Doug Olson. The three of us had a blast skiing together and pushing each other. Fortunately, I was in the lead heading up the final couple hills toward the finish line. I pushed all out and claimed third place by a mere three seconds.

As is often the case, the best part of the Wilderness Trek was the people. It's always great to talk to old ski friends and meet new ski friends. We always love to relive old races and typically talk about the point where we knew we hit "the wall." Before we left for Duluth from that magical weekend, Rachel May wanted to go for, "one more ski." As Brian strapped her "high tech waxless" skis to her boots, I noticed this crazy guy on skate skis wearing Hawaiian shorts, a T-shirt and carrying a boom-box. I had to see what was going on. Almost a hundred kids of all shapes and sizes started to form a circle. Even though Rachel was by far the smallest, she wanted to join the circle, too. Being a kid at heart, I couldn't resist, either. For the next half hour, we informally joined the Ely youth ski league which was a great conclusion to a fun weekend. It's neat to see such excitement and young energy in the cross country skiing community.

Race Report from Sonja Bostrom
This weekend I participated in the first ever City of Lakes Loppet! Unfortunately it had to be held on a lake; nevertheless, way more people than were expected showed up and had a really great time! The whole weekend kicked off with events on Friday evening including a youth race, elite sprints and skijoring demonstrations. I got the opportunity to race in the sprints, which were a blast!

In the sprint, the women had two preliminary heats and the men had four. I was pretty nervous for the prelims as this was one of only a handful of sprints that I have ever done, and I have never made it to the next round before. The loop we were skiing was about 600m and looked like a track covered in snow. My heat was going second so we got to watch the first heat which contained Sara Russel, Margie Tilman and Jan Guenther (finising in that order). Then my heat toed the line. Since the course was so short and flat I figured I would have to go all out from the get go and just hold on! So that's pretty much what I did. I took the lead right away and held onto it, but with Lynne Cecil-Johnson nipping at my heals, especially at the end. Kim Rudd was also in that heat and finished 3rd, close behind me and Lynne.

After the prelims there was a little confusion as to when our final was going to go, but since there were so many more men racing, they decided to have the the mens prelims and semi-finals first to give everyone as much rest as possible. The men had some pretty exciting semi-finals including one race that ended with Per Nelson and

Fred Kueffer lying on the ground after battling a toe to toe finish. After the mens races Sara, Margie, Lynne and I got on the line again. We all took off double poling as fast as possible when


Guess who's buying dinner -- Sonja!

the announcer yelled "GO!". We broke into a skate, and around the first turn it was Sara, me, Lynne and Margie. We sprinted down the back stretch, and I tried to keep my turn-over high as went around the next corner in the same order. Pulling out of the corner we had only the final stretch in front of us. I pulled out from behind Sara and I could hear Lynne right behind me looking for the same hole. We sprinted for about 50m that way and then I actually began to catch up and pull even with Sara! I didn't think I would be able to do even that, but I then began to hope that I might have enough time to pull ahead before the finish. I V2ed as quick as I could and pulled ahead right at the last second! I was really excited about doing so well and especially about getting to stand on the top of the podium with a big check, neither of which I have experienced before! My mom said it looked like I won the Publishers Clearing House!

The mens final provided some pretty good entertainment with Chad Giese pulling way ahead of the field in the beginning and Owen Hanley finishing a close second. After the races I wanted to stick around and watch the skijoring and other festivities, but it was already 9pm and I had to go prepare my skis and myself for the long event on Saturday.

I didn't get much sleep that night, but I showed up at the race on Saturday ready to go. I did a warm-up and cheered for Margie Tilman's brother Andrew (4th finisher) skiing the shorter race earlier. I headed over to the start and was suprised to see that many people had not only claimed their starting spots but were standing in them 30min before the race start! I then quickly claimed a spot with my skis in the second row. When the race start was approaching Margie and I ran over to the start line to put our skis on and get ready. I could see many of the top women in the row ahead of me, some in my row and some in the row behind me. The race officials came over to talk to us and then we were off! I wanted to make sure that I knew where all the women were and that no one snuck off the front early in the race, so I was looking and looking through the pack in front of me for the women that were in first line. I finally realized that somehow I had gotten in front of them without even knowing it! I was thankful that I had gotten such a clean start as I do not have an excess of poles at my disposal!


Sonja coming around on the first lap

I realized right away that it would not be easy to ski this race alone. Some of the course was calm and fast but then there was a tough wind on the other parts. Also, after intuitively waiting for a downhill where I could "snot rocket" I finally realized that there were no hills to come and that in this race I would have to sacrifice a poling motion in order to do that! The race organizers also provided feed stations along the way with Enervit at just the right temperature! Those were a life saver! I lead the first lap, sticking with a group of speedy men, but when I slowed down to take a feed on the second loop 3 women caught me. The first two (Jan Guenther and JoAnn Hanowski) got on a train pulling ahead while Lynne Cecil-Johnson and I were on the back of the train that they were leaving. I skied the rest of Calhoun with Lynne and then decided to try to catch the pack on my own which I was never able to do. After that I skied a ways on my own out in the open which started to get difficult, but I was still feeling pretty good. V2ing around and around is really relaxing if not mesmerizing. When I starting to get a little bogged down a speedy skier came up from behind and gave me a little encouragement. I'm really bad at sticking onto people but I decided that I had to try to try to stay with this guy all the way in as it would be much harder to let him get away and only a little harder staying behind him. I managed to stick with him the rest of the way and we even caught one more skier before the finish!

I am so used to the college race mentality that after the race I gave my bib to my dad and told him to make sure it got turned in, only for Margie to tell me at her house later that "of course we got to keep them and they will probably be a collector's item, being that it was the inaugural event." Thankfully they didn't let my dad turn in my bib, and I found it happily draped on a chair when I got home! The awards were held later and the age class prizes were beautiful hand made bells from Austria. After many people had received their bells they were all ringing them for the people who were still receiving them which sounded really nice! All in all it was a very good race for me along with a great event that I hope continues far into the future. I would like to thank Mayor R.T. Rybak for his support with this event and for his effort to make Minneapolis the "urban active sports capital of America." This event would not have been such a success without him if it had even "been" at all. Also, thanks to the race staff, volunteers, skinnnyski.com and Bruce Adelsman as well as Tilmans, and my parents and Gaute.

The 2002-2003 Skinnyski.com Race Team is presented by Enervit America. Enervit produces top quality food supplements for sports and active life. Other sponsors include Toko/Yoko and Rudy Project.
Brian May, Margie Tilman, Per Nelson, and Sonja Bostrom are based out of Finn Sisu. Grant Nelson is based out of Hoigaard's and FastWax.