Skinnyski Race Team Weekend Recap
By Bruce Adelsman
March 12, 2003
We might as well move the whole calendar back a month. The last two years have produced some of the best skiing conditions in March, and this year continues that trend. Even more remarkable (and unwelcome), it was one of the coldest racing weekends of the entire season with temperatures never rising out of the single digits. The Skinnyski.com Race Team was participating in two races: The Rainbow Rendezvous Deux and the March Madness.
The Rainbow Rendezvous Deux is the second short-notice race at Rainbow Resort this season, both under the fine direction of team member Jill Troutner. Rainbow's trail system continues to gather new fans as more skiers experience the wide trails and rolling terrain. Maplelag Resort is located less than 20 miles from Rainbow, and thus team members Jay Richards (one of the owners/operators of Maplelag) and Sonja Bostrom, who was attending the big Moosejaw Clogging festival at Maplelag, were able to join Jill for the racing action. All three had great races, with Jay winning the overall title, and Sonja and Jill taking first and second, respectively, for the women.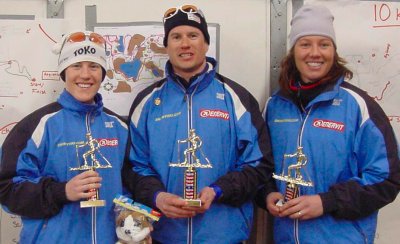 Trophies for everyone! Sonja Bostrom, Jay Richards, and Jill Troutner
(Photo: Rainbow Resort)
Minnesota Biathlon and the Elk River crew hosted a short-notice race on the vaunted Woodland trails last season, with Piotr Bednarski pulling away from Dave Nelson in the final kilometer to win. This year was a re-match of sorts, but this time the dueling was over second place as up-and-comer Matt Liebsch had wrapped up first. Piotr edged out Dave again, this time in a near photo finish. Josie Nelson and Margie Tilman wrapped up excellent second and third place finishes for the women, and Per Nelson pulled down a top 25 finish against a very competitive field. (Race team member John Munger was also ready to compete at Woodlands, but John pulled a muscle in his arm during the race start and had to immediately withdraw.)
Finally, congratulations to Brian and Abbi May on the birth last week of their second child, Trond Erik May!
Race Team Results

March 8, 2003  Rainbow Rendezvous Deux
  Jay Richards     1st male     10K Freestyle
  Sonja Bostrom    1st female   10K Freestyle
  Jill Troutner    2nd female   10K Freestyle

March 9, 2003  March Madness
  Josie Nelson     2nd female   20K Freestyle
  Margie Tilman    3rd female   20K Freestyle
  Dave Nelson      3rd male     20K Freestyle
  Per Nelson      24th male     20K Freestyle

Team Member Race Reports
Race Report from Sonja Bostrom
This past weekend my family and I went up to Maplelag Resort for the Wild Goose Chase Cloggers Moose Jaw weekend. While we were up there, my brother Arne Bostrom, Jay Richards and I went over to Rainbow Resort to participate in the Rainbow Rendezvous Deux event. Jay and I did the 10k skate race and Arne did the 6k classic as his first race ever. Both races were started in a mass start by a single shot from the start pistol…or should I say start rifle! Jay and Wynn Roberts took off hard with Jay eventually pulling away for the win. I skied most of the race by myself with a competitive group of skiers following quickly behind. Arne turned out to be the only male competitor in the 6k classic race and therefore had his first win in his first race ever! After the two main events there was also a "family fun" event that looked like a lot of fun! It included kite building, sledding, running and of course family fun and skiing! The chilly weather may have kept some skiers away, but those who were there had a great time! The course was beautifully groomed, great prizes were provided, the people were great and tasty treats were provided by the local Girl Scouts and Lake Grove Church Youth Group. After the race we went back to Maplelag to ski on the beautiful trails there, take a sauna and hot tub, and do some clogging and square dancing with the Moosejaw group.
Race Report from Jay Richards
This past weekend I did my second ski race of the year at Rainbow Resort. Like most races, it was the events leading up to and after the race that feel more like "the race" -- the actual race is the more relaxing part of the whole deal.

Rainbow is the closest race venue for me for whether it be for biking or skiing. I was probably one of the first ones to ski there when they first made their ski trails. They have some great hills and the 10k loop makes for a nice race loop. One of my favorite things about going over to Rainbow is talking to brothers Doug and Keith Schumann. Since we basically have the same weather as they do here at Maplelag, we can totally relate to the snow and weather and the challenges and excitement it brings to grooming. Those guys have a keen interest in grooming and it shows.

I was first informed of the race by Bruce during the Lotvola Cup. With 180 cloggers during the weekend here at Maplelag, I didn't know if I would be able to find the time to sneak over and do the race. I was even more skeptical after receiving 3" of fresh snow on Thursday night and then seeing more snow (3-5") forecasted for Friday night. I figured I would be grooming most of the early morning on Saturday. At this point I did not plan on racing. Well, the snow was a flop-a-rooney which meant I would only be grooming the trails I didn't groom Friday morning. The wakeup call was at 4:45am and I was in the comfort of the heated cab by 5:15am. I did everything I needed to do with the big cat then I took out the snowmobile to groom the singletrack and made a few passes on the skating loop. Man, was it cold. When I went out it was -7 but when I came in it was -17 so I was on the snowmobile just over an hour battling wind chills probably around -30. I was pretty numb and in deep chill so the few thoughts I had about racing went to the back burner. I eventually warmed up though and about the time I could feel my toes again my dad introduced me to Sonja.

Sonja clogging with her mom

(Photo: Jay Richards)

Bruce told me that Sonja was joining her family for the Moosejaw weekend but I didn't see her on Friday night because of their late arrival. My Dad knew about the race and we looked to be covered in the lodge so he encouraged us to head over to the race. This was 9:30am. Sonja said she was going to do one of the workshops then we would head over to Rainbow around 10:45am. Her brother Arne was to join us and it would be his first ski race ever!!

We have one of those fun car thermometers and when we left it was -5. When we arrived it was -4 and a healthy west wind. The consolation was the sunshine and I am a sun worshipper and the -20 windchills don't bother me as long as the sun was a shinin'. During registration I saw Wynn Roberts and I figured it would be a battle between the two of us. Wynn is one of the top underclassmen in the state hailing from the great town of Battle Lake, probably best known for the hangout "Stubs". He had just returned from Biathlon Nationals at Lake Placid and figured he was in good form. At the blast of the shotgun, Wynn and I broke away by the first hill but Sonja kept us in her sights the first k or so. Wynn and I took turns battling the wind however, good that was as we both were running on about the cheapest gas prices in the state right now. I felt a little stronger on the hills but I didn't want to make a move until the middle of the race. Once that point came, I attacked one of the hills and slowly put a small gap on Wynn and held that until the finish. After the race Wynn and I skied the 6km loop together and about half way through I realized the only thing I had eaten that day was a small bowl of hot cereal. For the first time this year I was getting bonky. I knew it wouldn't be long until we were back and I indulged in some BBQs in the maintenance shed and bought three boxes of girl scout cookies to bring me back to life.

We pulled out by 2pm and were back on the road. Pulling into driveway, I noticed at the end of the site, the "steamer" man was steaming out a another frozen septic line. Ahh, the resort life... No time to change as there was backed up sewer to mop up. The race was on again.
Race Report from Margie Tilman
I woke up Sunday morning not to the sound of an alarm but to the sun shining through the window -- it definitely did not feel like a race morning! With the temperatures in the single digits however, I was thankful that the race didn't start until 1:00 pm. Per and I arrived with plenty of time to warm up and bump into many friends. I did have questions running through my mind about why I was doing this race as the cold temps began to seep through my layers. One thing is for sure, Woodland Trails is a FUN place to ski. This course has a perfect mix of climbs and downhills that always keeps it exciting!

The race started and Corey Coogan took off just as we all expected. Josie Nelson, Claire Wilson, Katherine Himes and I skied together for a bit before the group broke up. After about 5k my fingers began to warm up again and it didn't feel so bad to be out racing (except for the burning in the legs). A train of about eight guys form the second wave passed me but my attempt to stay with them failed immediately. I spent much of the remainder of the race alone, wishing someone would catch me that I could actually ski with! I was glad when the finish line finally came, but did not enjoy the cold that hit almost immediately upon finishing.

This was a great race and cold weather is always better than no snow, so I am thankful for that! Special thanks to Minnesota Biathlon for hosting the race and letting us enjoy those beautiful trails!!

The 2002-2003 Skinnyski.com Race Team is presented by Enervit America. Enervit produces top quality food supplements for sports and active life. Other sponsors include Toko/Yoko and Rudy Project.
Josie and David Nelson are based out of Hoigaard's and FastWax. Sonja Bostrom, Per Nelson and Margie Tilman are based out of Finn Sisu.