Race Story: Hard Core 10K
I was not planning a race report for April, but with all that has happened in the last week, I couldn't resist. Who would have thought that on April 13, in 20 degree temps with over a foot of new snow, we would be ski racing. Looking outside, one would think it was January in the U.P. Our ski season here has never ended and we have been skiing continuously since November 15th.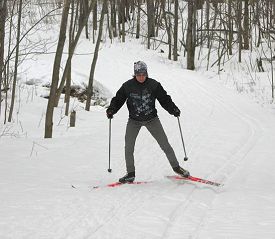 Last weekend, amidst the throws of Maple Syrup season at the Niemi home, I got out skiing both days, enoying 50 plus degree temps, sun, and some awesome classic waxless skiing in a t-shirt with my brother, Pete. On Sunday, with the warm temps and rain forecasted, I told Ray it was probably time to wax up and store away most of our ski equipment (downhill, x-c) which I didn't realize, but when I counted it all, amounts to 22 pairs of skis for 4 people! (would that be another qualifier on Ken's list of Hard Core Skier criteria??) Of course, not quite being ready to quit and knowing we still had a good base at Wolverine, I told him to leave out a pair of waxless and rock skis for both of us. While Ray was busy filing edges on downhill equipment and waxing up the family skis, the boys and enjoyed a little bike ride over to Grandma's house. Upon our return, I found Ken Hazel and Ray sitting in the garage having a beer and discussing the possibility of a low key, fun race the following Sat. Ken asked to me, "Are you in for a 't-shirt and shorts' race at Wolverine next Saturday as a way to celebrate the spring ski season and our extended winter?" I said, "Sure, why not. Sounds like fun," as I imagined myself racing in my t-shirt under sunny skies and warm temps. I log onto Skinnyski later in the week and see that the fun 10K race now has a new name-"Hard Core 10K" and some new criteria.
Fast forward to Thursday night. I have the Weather Channel on, which is the practically the only TV I watch other than the news (would that be another Hard Core criteria on Ken's list?) and am listening to a Winter Storm Warning for our area through Sat afternoon with up to a foot of snow predicted and some cold weather moving in. Now, there is good and bad with this. Good--maybe we will have a snow day tomorrow and get to stay home (a fringe benefit of working in the education system). Bad-Looks like we won't be racing in our t-shirts and shorts or possibly not racing at all on Saturday if we get too much snow or it is stormy.
Friday morning...my wishes come true and we indeed to get a snow day. I spend most of it shoveling out. Ken is doing the same and lets us know he is going to postpone the race till Sunday. Amidst all this, Ray says we should check our sap buckets since we have the "day off." Nothing like relaxing and enjoying a cozy day inside. This year he has put out over 80 taps and they are spread out up and down several ravines. What started 4 years ago as a family thing to do in the spring with about 20 taps has turned into a major operation, requiring my brother and nephew to travel here from the big city (Minneapolis) to help out. Of course, with all this bad weather, my brother calls to tell us he can't make it this weekend. I say, "No big deal, the sap probably didn't run with all this cold weather and snow." Boy, was I wrong on that... Ray gets on the old Ski Doo Nordik out heads out to make trails to the trees (normally we are walking on the bare ground by this time to collect sap). He comes back with the news that most of the 5 gallon buckets he checked are ¾ full. Up to this point in the two week season so far, the sap hasn't really run, but for some reason the sap has decided to run it the middle of the snow storm. We have to start collecting. I figure hmmm (80 taps times 5 gallons = 300 gallons of sap = almost 8 gallons of syrup once boiled off a the ratio of 40:1. Looks like we will be spending a lot of time at the evaporator.
At noon on Friday I head over to Wolverine with my snowshoes to see what if anything is happening on the trial. The place is deserted. I put on my snowshoes and head up the hill through about 8 inches of new heavy snow where I soon run into Donnie Slanzi (one of our volunteer Piston Bully groomers) out on his backcountry skis. We start talking about the snow and how good the trail could be if groomed and Donny decides right then and there to ski down to the chalet and jump in the Bully and groom the trail which he does. I head back down to the chalet and the trail where he has groomed is setting up nicely. Looks like we may have the race I think. Ken Hazel is in the chalet and we are excited about the possibility of the race happening on good conditions. A half hour later, our hearts sink when we see Donny coming back down the trail on foot. This doesn't look good and Donny confirms that the Bully has broken a track and he left it up the trail. What to do now, but call Ray who calls Todd ( our local Piston Bully mechanic from Mt. Zion. ) The brigades show up and the Bully track is temporarily mended so it can be brought back to the garage, but it won't be running anymore until the track is fixed.
Not to be a quitter, Hard Core Ken (who has mentioned to me before that he really isn't a "snowmobile" kind of guy) volunteers to finish grooming with the snowmobile. (I think this is his second time running the snowmobile, if I include his training lesson from Ray on Thursday night.) Only more trouble...the batteries to go dead and he gets it stuck. Ken calls Ray on the cell to tell him the snowmobile is stuck and Ray replies, "Just leave it there, they (the racers) can ski around it." Hard Core Ken doesn't give up and 3 batteries later, he has the trail groomed.
Only, Saturday night mother nature gives us another 6-8 inches of snow along with howling winds and drifting. Ken is out with the snowmobile grooming again on Saturday morning. He is not giving up on this race and is determined to pull it off-I have to give him credit!
In the meantime, I am working on my new strength training routine of hauling 5 gallon bucketfuls of sap through about 2 feet of snow up and down ravines to the snowmobile, where Ray picks them up and delivers to the evaporator. Ken drives up and picks up the charged up battery from Ray and heads out for a final grooming before the race. The skies are sunny and clear-we are sure no more snow is coming.
Saturday night, I am exhausted from my maple sap workout and fall asleep at 9 p.m. At midnight I wake up and can hear a strange sound coming from the garage. Ray is still up and I realize the sound is the rotobrush on his drill. I wander to the garage in a daze and ask him what he's doing waxing skis at midnight! Well, on his own accord he decided to take out some of our Atomic skis that we had just stored to "get them ready for the race." That would include 2 pair for for me and 2 for him (would that qualify him as Hard Core or just plain nuts??) . I had told him earlier that I planned to just use my soft flex Atomic RS11's and a quick coat of wax would be fine. You would think our little race had turned into the Birkie!

Well, Sunday morning finally arrives and at 9 a.m. I don my Skinnyski race suit (pulled out from storage) and head to Wolverine. The sky is sunny and temps are warming to the 20's. I arrive to find about 10 other hard core skiers at the chalet including Paul Haltvik and Borg Isaacson from the Fischer FX team. We try out the trail and it is unbelievably good-a bit soft, but Ken has done wonders considering he is a rookie groomer. My Atomics are running well with Fast Wax Tan on and I am now glad Ray stayed up till midnight waxing them for me. More skiers arrive, including one of our best downhill ski racers, Bob Burchell, who must be hard core to do an x-c race. In fact, as Ken is looking at Bob's x-c skis, he notices that Bob has not scraped them. I am standing nearby and hear Bob comment, "Well I thought I would just ski the wax off them in the race." Paul Vizanko, another hard core racer, offers to get his scraper and scrape them for Bob.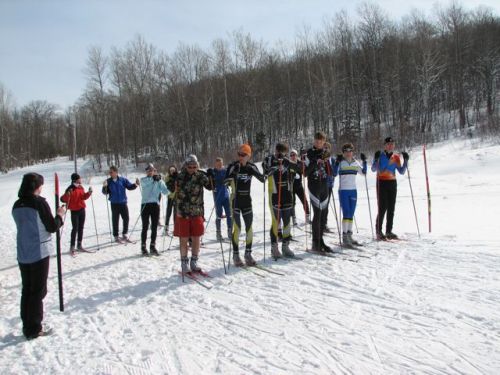 We line up at 10 a.m and there is about 20 of us, including many club members. We don't have any fancy gun go off but on the countdown from 10 we head out. I am in 5th position behind Paul, Borg, Ken and local high school racer Ben Noren. The trail is narrow and there is hardly anywhere to pass. Borg and Paul are pulling ahead and I know I have to make a pass so I can stay with them. I get around Ben and Ken (who is sporting shorts and a Hawaiian shirt) and finish the novice loop with Paul and Borg. I feel good and decide that since the race is so short I will make a move at the stadium near the chalet before the first big hill climb, which I do and I pass Paul and Borg. I figure they will stay with me and we will ski together which they do at first. But soon I am pulling away and gaining on them. I decide to go all out since I know the trail well and manage to put some distance on them. I end up skiing most of the remainder of the 5-6 km's by myself, looking back a few times, but not seeing anyone. The downhill finish is right up and I am the first one across the line. Soon Paul comes in and then Borg followed by Ken and Ben a bit after.
After the race, everyone has smiles on their faces and the talk is about how fun it was to race in April on conditions that could certainly have made anyone believe it was mid-winter. Thanks to Ken and all the others in the Club who helped pull off the race as well as to all those who traveled to Wolverine to ski in the first ever April race. And I guess we could call it the final season closer (unless Ken gets any more crazy ideas!).
P.S. After all his hard work waxing his skis, Ray missed the race having to instead tend the sap burner. We did eventually finish the sap and made 7 gallons of syrup. Now what to do with it all??