Midwest MTB Racing Recap
Racing this past weekend was highlighted by the Border Battle, the combined MNSCS and WORS race that pitted Minnesota and Wisconsin riders against each other at the Whitetail Ridge Trail just outside River Falls, WI. With early forecasts calling for rain, riders that were committed to attending were expecting a "mudder" with even WORS officials stating "it is going to be a muddy one" on a twitter post. But after a heavy early morning shower, the skies cleared and the sun to blared down nicely, allowing the course to dry out with only a few spongy spots. Or as Wisconsin Elite rider Jesse Lalonde described after the race, "I was expecting it to be real gnarly but actually the course was great and only up at the top, it was like riding in peanut butter, really sapped my energy". WORS series director Don Edberg reported just under 700 riders and said "might of been a 100 or so more if the forecast was different".
Jake and I headed down early morning, catching the start of the Sport races and taking notice that the Citizen riders looked clean and mud free, making it a easy decision on whether to use the mud tires or not. Halfway through the Sport race, the skies clouded over again, allowing the temperature to stay relatively comfortable and not as humid as we were expecting.
I was on water bottle duty, still recovering from an encounter with a deer tick earlier this summer but excited to watch the Elite races as the field was stacked with a solid group. Looking at the names, I figured between the Elite men there were at least a dozen riders on the line that have won either a WORS or MNSCS race so the racing was sure to be tight and exciting on the 20 minute laps. Caught most of the race on the longest climb on the course including the start and the pace was "hell bent for election" from the get go.
Off the start, MacIej Nowak got the hole shot and led the field up the hill. The field was flying as riders knew it would be critical to be in a good position before the singletrack. Jake was racing Jr X and their group started right behind the Elite men at the same time and reported: "Once we got to the first singletrack we had to stop and wait so everyone could file in". After the Elite men and Jr x racers scurried up, the Elite women and Comp men followed. Once the last Comp rider was up the hill, I figured only six or seven minutes until the top Elite men would be coming back through. Sure enough, the leaders came by, just under 20 minutes with a group of six just off the front, raging back up the hill, that included TJ Woodruff, Jesse and Mark Lalonde, Brendan Moore, Mike Phillips and Nathan Guerra.
This group of six would stay together for most of the race until last WORS race winner, Nathan Guerra, had to tend to a flat. On the last lap, TJ put in a "ferocious" attack according to Moore that split the group with only Mark Lalonde able to respond. Mark stayed with TJ until making a move getting around Woodruff and taking the win by just 10 seconds. Battling for third and fourth was Phillips and Moore with Phillips "cranking on the diesel engine" Moore stated after the finish, one minute behind. Jesse Lalonde rounded out the top five after "popping" on the last lap. Into the fourth lap, the riders had to deal with lapped traffic adding another dynamic to the race.
In the womens elite race, Jenna Zander moved her way up in to the Mens elite to build a gap of almost seven minutes over second place rider Abbigail Strigel with Holly Liske, Lisa Krayer and Anne Grawboski rounding out the top five respectively.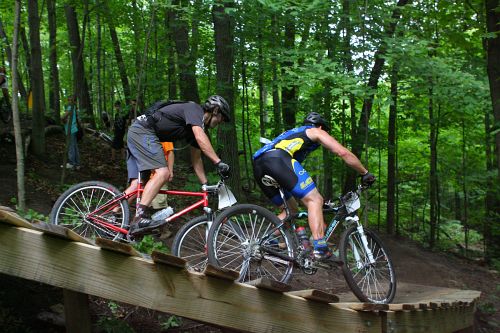 Should note in the Comp race, Minnesota legend and Chequamegon 40 winner, Gene Oberpriller, crashed late in race and had to be evacuated out. He was reported to have suffered a punctured lung, broken rib and one other broken bone. Eddie Karow, who along with Geno was featured on the front of skinnyski on Monday, stopped to help with the evac and rolled in after helping out and recorded a dnf. Hope you have a speedy recovery Geno and nicely done to Eddie and others who helped out.
Bruce Adelsman of this website, stopped by to catch the
Comp and Elite racers
after netting a trout or two earlier in the day on a nearby stream.
Leadville 100
A nice size group of Midwest riders made it out to Colorado for the Leadville 100 including at least a couple dozen Minnesota riders. The race captured a lot of attention, of course, with Lance Armstrong breaking the streak held by Dave Wiens and the course record as well. My good friend Steve Wenzel waved the flag nicely for North Dakota placing 615th out of 973 riders and reports on his blog:
"Lance had already helicoptered back to Aspen, had eaten and was sitting in the hot tub by the time I rolled through.
To sum things up, it was the hardest event that I have ever done but I had a blast! I was nervous big time all week beating myself up with what I should and should not have done to prepare. From my running and other crazy events I have done in the past I knew that the mental side of things played a big role in getting through this deal. I kept electronics to a minimum using only a trip computer, no HR monitor or GPS. I know my body well enough to realize when I am hitting the red line and when to hydrate and eat. Must have worked because my stomach was fine all day, I did not cramp and my legs stayed strong throughout."
Minnesota rider Heath Weisbrod tackled the race with a singlespeed and reports:
"My goal was to give the big buckle a shot again with 9-10 hrs reasonable. Well after fighting traffic on first climb with a slow cadence like abusive patience, the first forty miles went well enough(2:50ish minutes). Maybe I should have spun out the start like a hamster on a turbo wheel to avoid more of the first climb madness. Either way I have a feeling columbine climb would have crushed me with 32x19 29'er. The other SS'ers around me we're in a much easier gear no doubt! So at top of Columbine 45minutes slower than 2007 I knew the rest of the day was going to be a causual event for me."
Great job to everyone that finished, quite an accomplishment!
Tons of Leadville coverage out there,
Singletrack.com
providing some different viewpoints, and full results on
Velonews
.
Looking Ahead
A rare break from MNSCS and WORS racing this coming weekend. Lot of riders are taking trips out west for some mountain riding or chilling a bit before the final push of the season.
Couple races to note:
Reforestration Ramble
marathon events at the Reforestration Camp near Suamico, WI. The WORS event will be held next weekend. Contact Shawn Hauser for more info. stadiumbikeracing@yahoo.com
The
Sawtooth Challenge
near Grand Marais, MN. Course climbs 1000ft to the Pincushion ski area where Sport and Expert riders will race on the recently built singletrack. Jake and I rode this a few years back and was some good stuff for sure. Worth the drive up most definitely with the usual north shore excursions.
Keep the wheels moving!!
About the author...

Jay Richards maintains a very active lifestyle. He somehow finds time between managing a full-time resort (Maplelag) and bringing up a family of four boys with his wife Jonell, to compete in both mountain bike and cross-country ski races. Jay rides for Maplelag Resort, Giant and Paramount Sports (Fargo, ND) and enters his 19th year of racing mountain bikes and promoting mountain bike races.