Midwest MTB Racing Recap
July 20, 2010

Reports from Hillside Park, race #6 in the Minnesota Series, the USA Cycling National Championships plus a look at the upcoming WORS race in Franklin, WI. and Jack Hinkens heading to Europe to race in two World Cups, highlights this weeks report.

Reporting for the MNMTB series, Troy Melhus writes:
If ever there was a day when volunteers made an undeniable difference at a race, Sunday's Single Track Attack! in Elk River was that day.
Nearly two dozen volunteers were on site by 5 a.m. race morning, chainsaws in hand, to help clean up the trails after severe storms damaged several sections of the course Saturday night.

The volunteers -- many of whom would race later in the day -- spent more than three hours on the Hillside Park trails, methodically removing debris and cutting trees that were damaged by tornadic winds and hail less than 24 hours before.

"The volunteers made all the difference -- they made this race," said race director Rich Omdahl. "I had a crew of volunteers with lights and saws ready to be here at midnight, ready to work all night if we had to. We were here at 5 a.m., just waiting for the sunrise. As soon as we had light, we went to work."

And that was just the start of the volunteer presence. Nearly 400 racers turned out for the event Sunday, topping last year's turnout by five, Omdahl said.

"It was the perfect turnout," Omdahl said. "This is our capacity right here. And the weather probably kept some people away.""Everything seemed to go perfectly," Omdahl said. "It just went great. Everything worked."

Read Troy's full report

Coverage on Skinnyski.com


USA Cycling National Championships

Sol Vista Ski area in Granby, CO was the venue for the Nationals this past weekend. Racers competing for stars and bars in cross country, short track, downhill, Super D and mountain cross. A handful of riders from the Midwest made the trip west led by the jr team "Expo" from southern Wisconsin and the Maplelag/Paramount team from Minnesota. With the start/finish area situated around 9000ft, the majority of racers came from the mountain states. Midwest highlights below: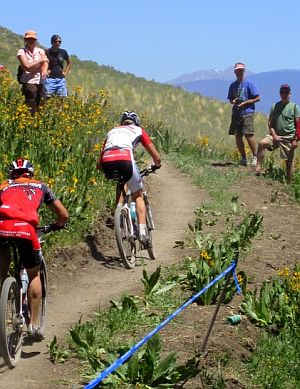 Cross country racing kicked on on Thursday with Cat 2 and 3 races. In Cat 2 15-18, which featured one of the largest fields on the weekend, Nathan Labecki nailed down a 6th place finish, missing the podium by 17 seconds. Other placings were Mitchell Bogardus in 9th, Chris Harrison in 24th, Theodore Peters in 30th, Ryan O'Connell in 46th, and Brandon Watkins in 51st.

In Cat 2 35-39 Jason Ruesch made the podium with a fifth place finish. Cat 2 50-54, Bob Boone was 7th.

In Cat 2 19-29 Women, Rachael Horstman took top honors for the National title in that division. Cat 2 Women 30-39 saw Tara Steel in 2nd.

Cat 3 racing action saw Chris Schmidt take the title in Men 30-39.

Friday racing saw U23 and Jr action. Jack Hinkens recorded a solid top 10 finish rolling across 7th in his first year as a U23. In Jr. 17-18, Team Expo rider Greg Krieger lead the flatlanders behind riders mainly from CO, CA, UT and NM with a 21st placing. He was followed closely by Jake Richards in 23rd, and Kyle Warras in 25th.

In men Jr 13-14, Nils Broberg just missed the podium by 14 seconds with a 6th place finish. Jordan Watkins was 11th in the same group. Jr Men 11-12 saw Caleb Schwartz in 16th. In Jr 10 and under, Andrew Schmidt made the podium with his third place finish. Jr Women 13-14 saw WI riders Emma Schwartz in 7th and Rachael Jensen in 8th.

Saturday featured the Pro and Cat 1 races. Pro Men saw Wisconsin born and raised racers TJ Woodruff post a solid 15th place finish. Cat 1 19-24 saw Lars Ellefson make the podium with a third place finish. Cat 1 25-29 saw the Oftedahl brothers race to 6th and 7th place finishes with Eric in 6th and Sam in 7th. Cat 1 30-34 had Brian Hertzberg in 13th and Chad Dean at 15th.

In Cat 1 women 35-39, Brenda Zimmerman Thorpe was 3rd to step on the podium and Cat 1 Women 30-34, Corey Coogan made the podium as well at 4th place and provides a recap from the weekend.

"My first trip to mountain bike nationals, and first time competing at over 9,000 feet, was everything I hoped it would be: lots of fun and a huge learning experience!
I fancy myself a climber (at least in Minnesota!), and have Nordic ski raced at altitude a number of times, so I was taken aback by how hard the XC course (1,800 feet of elevation gain times two laps) and altitude hit me. In Saturday's cross-country, I intentionally held back for the first big climb at the start, and then tried to "go for it" immediately thereafter. I learned the hard way that you don't "go for it" at that altitude! I pretty much imploded, and was passed by literally 10 or so girls in about 2 miles! On lap two, I found my niche (exactly how hard I could go without blowing up) and made a lot of time, moving up 5 or so places and onto the podium for my age group.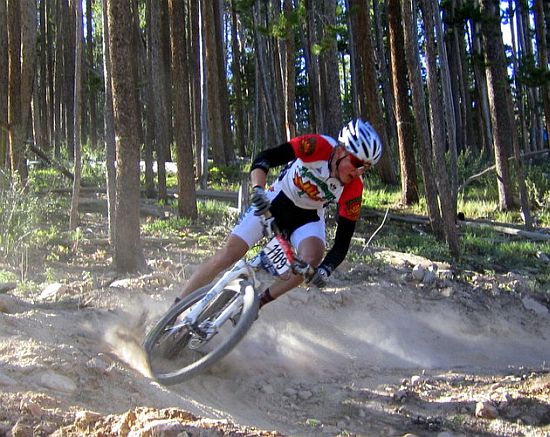 Given the fatigue from Saturday's effort, plus too much time spent out in the sun watching the pros, I was concerned about Sunday's short-track. As on Saturday, I tried to hold things back a notch from my normal 20-minute effort, yet I still approached it as I would at home: in my middle ring, and standing out of corners and over the tops of hills. That strategy lasted two laps before I hit the WALL. Then I noticed my competitors spinning away from me in their little rings(!), so I copied them. By spinning the climbs and sitting rather than standing, I started to make up ground again. Unfortunately, it was too late save the day, and I got pulled.
With such altitude-induced pain and suffering, one would think I'd walk away from the nationals disappointed, but it's just the opposite! I learned a ton, and quickly (in both races, I appropriately adjusted my effort mid-race) and feel that I've learned "my boundaries" and how to race both a long and short race at altitude. I have it in my mind to race a Mountain States Cup event next season!"
Probably the most interesting, most impressive result from the weekend, to me, was the top placing by legend Ned Overend to win the singlespeed division. If you don't know who Ned Overend is, google it and learn. Check out the
video on Cyclingdirt.
Racing wrapped up on Sunday with the short track and Super D. Placings in Super D had Jake Richards 14th and Myles Beach 23rd in Jr 18 and under, Lars Ellefson 2nd in 19-29, Chad Dean 9th and Brian Hertzberg 11th in Men Open 30-39.
Short track placings include a 26th by TJ Woodruff and 33rd by Jack Hinkens in the Pro men. In Cat 1 Jr 18 and under, 11th place by Jake Richards, and 13th by Corey Coogan in Cat 1 Women open. Minnesota born and raised, Peter O'Donnell scored podium in Cat 1 19-29.
Nice job to all riders who participated. It is a different world racing at altitude, especially at 9000ft-ish. Everyone reacts differently to the altitude and some can pin it on race day after being low the day before no problem while others suffer. It is very dry and the lungs burn and sun screen is a must. Many theories and ideas on what is best for acclimating but generally four weeks of acclimatization, especially at that elevation. Word is Nationals in 2011 will be in Bend Oregon which sits at a bit more respectable level at 4000 or so.
(photos: Jonell Richards)
Full results
Looking Ahead
Race #7 in the Wisconsin Off Road Series heads pretty far south to Crystal Ridge ski area in Franklin for the
Alterra Coffee Bean Classic
. Race directors report the course to have a burning switchback climb, dizzying single track, and fast fire roads all in the urban setting of Milwaukee County. The challenging five to six-mile lap snakes its way up, down and around the Crystal Ridge Ski Area. Racers of all levels get the chance to experience a little of everything, including "The Wall" climb, the "Small Intestine" single track, and the "Pavia Plunge", that forces riders to be dialed the entire time. This venue puts friends and family in perfect position to cheer on their favorite racers all day long.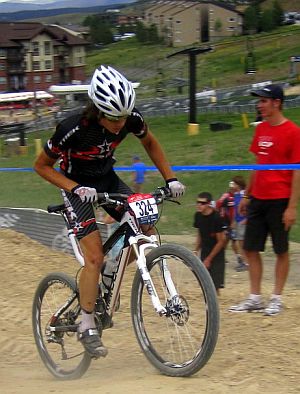 Hinkens Heading to Europe
Jack Hinkens will be heading to Europe this week with the USA Cycling National Development Team attending a USAC National Team Mountain Bike World Cup Trip. Jack will be racing in Switzerland this weekend and then in Italy on August 1st. Jack will be racing with the top Pros in the World. Coach Piotr Bednarski states " Jack's training has been going really well. We've done a few lactate power tests and progress has been really good- textbook actually. Anyway, the World Cup will be a good experience." Hinkens solid results in Europe in the Spring and top 20 finish at the Subaru Cup helped earn the trip and his ability to ride in technical mud courses, typical in the Midwest this year, is a huge benefit in Europe which often has similar conditions.
Looking way ahead!
A race later in the season coming in on the electronic waves worth mentioning because it sounds pretty unique and I don't want to forget is the
Cow Pie Classic
in the Hankinson Sand Hills in North Dakota. Riders will be racing through "one lap of cow crap" More information.
Keep the wheels moving!
About the author...

Jay Richards maintains a very active lifestyle. He somehow finds time between managing a full-time resort (Maplelag) and bringing up a family of four boys with his wife Jonell, to compete in both mountain bike and a few cross-country ski races. Jay rides for Maplelag Resort, manages the Maplelag/Paramount mountain bike team and enters his 20th year of racing and promoting mountain bike races.