Midwest MTB Racing Recap
August is big time month for mountain bike events and a lot of flatlanders heading west for some riding before things get cool and crunchy in the high country. Last weekend was no exception with the big Ore to Shore taking place in the UP of Michigan highlighting the racing in the Midwest. Also a report from Fargoan Matt Engen who was racing in Colorado at the Leadville 100 and look at Jack Hinkens huge accomplishment, qualifying for the Worlds team and will be racing the World Championships of mountain biking in Quebec Canada the first week in September. And a look at the series races in both Minnesota and Wisconsin this upcoming weekend wrap up this week's long report.
Ore to Shore
(Photo: Marquette Photo)
There are a lot of great people I have met in mountain biking and one thing that makes the sport so special is the camaraderie, bonds and friendly rivals that get established each year. If there is one rider I was super stoked to see get the win at Ore to Shore this past weekend, it was TJ Woodruff. TJ is one of the few Pro riders on the National scene that doesn't try to sound like Adam Craig. Ha! Seriously, the way TJ carries and presents himself at the races is something every rider can learn from. TJ dropped a note after the race to share his mindset about the race:
Wow, what a weekend in Marquette. Still hard to believe that I somehow pulled off that finish - it was the biggest rush yet to date and I somehow did exactly what it took, without even thinking about it while it happened (it was well thought out during the pre-ride however). No room for hesitation when you're going up against heavy hitters... Having family and friends there made it even better, certainly a breakthrough race. Ore to Shore was a big race on the radar and I thought about it often while training, especially during last month after completing US MTB Nationals. I had some personal best early season races, Nationals went great, and I knew that at Ore to Shore could be a chance to fight for a big win. Fortunately the race went very well and I was able to find the finish line first! There are always nervous moments during a race where mishap can happen, and Saturday had its fair share early on, but I was able to keep near the front and let the course make its natural selection once the terrain becomes more challenging. There's a sense of comfort felt when the race comes down to six or seven guys versus the chaos of the larger pack.
Read TJ's full report on his blog
TJ capped his racing in the US on a sweet note as he will be heading to Europe shortly to partake in a "live high, train low" program. Woodruff provides more info:
I will be heading to France for all of September and October as part of a research study being conducted on the 'live high, train low' altitude principle. They want us to train 'as normal' there and they will control the simulated altitude that we sleep at (staying in dorm style athletic facility). Half of us will be at normal elevation (control) while the test group will breath nitrogen enriched air overnight to simulate 8-9000 feet of elevation. They'll have set hours during the night that we have to be in our rooms too. They'll do a bunch of blood tests along the way and two muscle biopsies. Should be a cool opportunity to do some awesome riding there (in the Jura Mountains, just 45km from Geneva, Switzerland) and pick up some knowledge/experience in terms of altitude exposure. The facility we're staying in is setup to accommodate what I'll need to keep on coaching as normal with a shift of my 'office hours' to better line up with everyone in the US. Using a combination of Google Voice and Skype, I'll actually get to keep using my same phone number too so being there instead of here should disrupt business too much.
It was a tough call to make being that I love the fall races so much, but I figure this is one of those once in a lifetime chances that I need to go for. I've never been to Europe, so to have 8 weeks of riding there on someone else's dime ought to be a good first trip.
In the women's race, Jenna Zander crossed the line first for the big $2500 paycheck and also picking up her third win at the event. Jenna sent a recap about the race while making her way back to Minnesota, checking out the awesome trails in the Marquette area:
It feels great to get back on the mtn bike. I had the opportunity to do some big road races this summer so I thought it would be fun to try something different. I did Nature Valley in June and Cascade Classic in Bend, Oregon a few weeks ago. I had a fun time and it was a good experience but I still prefer the mtn bike. Coming into Ore to Shore I wasn't sure how it would go. I have okay fitness right now but not as good as the last few years. I had only been on my mtn bike once since June so I was hoping I would feel okay on the bike. I had a great start and got on a fast group of guys probably somewhere in the 30's. It turns out I was probably in too fast of a group for my fitness level as I then proceeded to blow up and have to soft pedal for awhile until I could recover a bit. I got passed by lots of people but finally found a group that I could hang with. I thought for sure I would get passed by another women but I never saw anyone. It turns out that Sara was within 5-10 seconds of me but I never knew it at the time. For the rest of the race I just focused on staying with the same group of guys and riding steady. Overall it was a great race and I'm happy to have one my 3rd Ore to Shore title.
Minnesota retired Pro rider, Kyia Anderson was on the sidelines at Ore to Shore and provides a nice recap of the race from her perspective.

Leadville 100
The town of Leadville was host to the Leadville 100 mountain bike race and a good size group of Midwest riders made the trip west to participate. I knew this years winner Levi Lepheimer had the goods to win the race but I was a bit surprised to see him pull it off, and totally crush the record set by Lance Armstrong last year, over the likes of Todd Wells and Jeremy Horgan-Kobelski who I was expecting to win. Deephaven, MN rider Cole Chlouber was the top Midwest rider who put an impressive finish at 49th place at 8 hours, 20 minutes 4 seconds. Other top 60 finishes include Kevin Ishaug of Bloomington in 51st and David Hasse of Fon Du Lac, WI in 60th. Fargo resident Matt Engen shares a recap of his experience.
1300+ riders lined up for the 6:30am start of this year's Leadville 100 Mt Bike race. It was a cool 35 degrees with clear skies at start time. No Lance but there were plenty of big hitters in the field including Levi Leipheimer, JHK, Todd Wells, Matt Shriver, Tinker Juarez, Ned Overend, Rebecca Rusch and Dave Wiens. The dry forecast promised a fast race. At 6:30am the double barreled shotgun sounded and the race was underway. With a helicopter overhead filming the sequel to "Race Across the Sky" we headed from town on a paced rollout toward the first climb over St. Kevin's. By mile 20 at the Powerline descent it was still a steady line of riders. At mile 40 I stopped at the Twin Lakes feed station, swapped bottles and kept moving. JHK followed by Levi flew by me on their return trip as I started the long climb up Columbine to the turnaround point at elevation at 12,500ft. I crested Columbine at around 5 hours and 30 minutes into the race and started my 51.5 mile journey back to Leadville. Ahead of me at the 80 mile mark, Levi made his move on JHK going up the steep Powerline and held the lead for a 6 hour 16 minute course record finish. JHK followed Levi by over 8 minutes. Todd Wells came in third, followed by the six time Leadville 100 winner, crowd favorite and all-around good guy Dave Wiens. A few hours back while climbing the Powerline, I hit the wall. I wasn't alone. Riders were standing on the side of the trail, dazed or laying under the shady pine trees to escape the now hot afternoon sun. I kept on truckin'. Eating and drinking as much as I could stomach. With a little under a mile to go you crest a paved hill coming in to Leadville and can see the finish line. You drop down into town and climb up the last eighth of a mile to the finish. Done - 10:58:00, 103.37 miles, 11,217 feet of elevation gain and 4,542 calories. A new record for me and buckle number 4! Finishers receive a gold belt buckle if they finish under 9 hours and a silver belt buckle if they finish between 9 hours and 12 hours. Of the 1300+ racers: 136 finished under 9 hours, 772 finished between 9 and 12 hours, 114 finished after the 12 hour cutoff and 306 did not finish the race.

No Mountains, No Problem. Hinkens to take on the World
Last week, USA Cycling announced the 53 riders that will compete in the World Championships at Mont Sainte Anne, Quebec, September 1-5. One of those riders hails from Minnesota, Jack Hinkens, qualifying for the cross country in the U23. Although Jack's performance at US Nationals (7th place) in the U23 might be question to some Jack explained it was more the results from the Pro XCT Wisconsin race, and World Cups that helped punch his ticket. It was good to see USA Cycling base their decisions outside of the National race, held in the stratosphere, since the Nationals course is completely different than the course found at Mt Sainte Anne, which is typically rock and root laden and muddy, conditions Hinkens excels at.
I talked to Jack last weekend, a few days after he was named to the team. "I am super stoked to have made it. I thought for sure they were going to take 4 riders and maybe 5. When I heard they were going to take 6, I knew I was on the bubble so I am excited." Hinkens will be heading to Durango this week, settling in at Fort Lewis College where he will be riding for the powerful college cycling team then heading east to race in the Windham World Cup before competing in World Champs.
Jack's coach, Piotr Bednarski, sent a exclusive report on his training: "I have been super psyched about Jack's progress this year. He's really learning how to monitor himself, recovery well, and make good choices about his training. He even listens to me sometimes! We focused on threshold development and volume all spring and most of the summer. We didn't want to do much Level 4 intensity in his preparation for US Nationals in Granby, CO because of the high altitude - over 9500 feet and up. Unfortunately, we didn't really have time to change gears and ramp up the high intensity preparation before he left for the European WC's in late July, seeing as he got on the plane to Europe three days after Nationals. Jack is an extremely aerobic athlete (99% slow twitch) so he can afford to do a fair amount of high intensity training. World Champs will be a chance for him to have a more controlled race experience than the World Cups because he'll be in a separate U23 category. He has some UCI points now, so he shouldn't be at the very back of 200 racer line up like he was at the August WC's. Even the Wyndham WC in New York should have a smaller field than the European World Cups, so the traffic won't be so crazy."
Bermy and Wormy at Movil Maze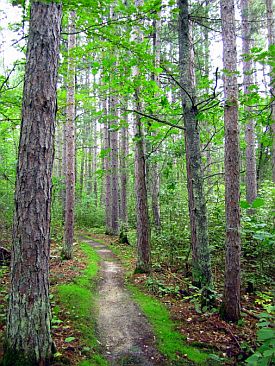 Over the weekend I had a chance to check out the singletrack being built at Movil Maze. Not a lot of trail has been completed yet but a great start so far and should be a nice compliment to the already fun trail system. There are some fun berms and turns with typical Midwest style riding on tap. I really like the deep woods feel with the big Norway pines among the other hardwoods. Like a lot of ski trails in the Midwest, including those in my backyard, there has been some big time erosion on the trails with the gully washer type rainfalls and so much rain, events have had to be canceled like this past weekend at Blue Mound. A future report will take a look what areas are doing to overcome the problem.
Looking Ahead
Both Minnesota and Wisconsin will be running series racing this weekend. Minnesota heads north to Duluth for a new venue, hitting the Lester-Amity Trails for the Great Hawk Chase. A favorite among the locals to ride, series riders will get a chance to check out the efforts by organizers who have been working hard to put on a great event on a sweet course.
Wisconsin heads back east to Suamico for the Reforestation Rambler at the Reforestation Camp. The course is more marathon format with a longer course and wide open fire lanes with some fast singletrack and few inclines to keep riders in check.

City of Lakes Loppet leaders John Munger, Craig Rudd, Bill Dossett, and Bednarski will be competing in the Breck Epic event this coming weekend. The Breck Epic is a 6-day ultra-endurance mountain bike stage race held in the sprawling backcountry surrounding the Victorian mining town of Breckenridge, Colorado. Athletes will contest 6 stages spending 4-8 hours on course each day, most of it over 10,000 feet. Look for reports from the Minne gang in next week's report.
Keep the wheels moving!
About the author...

Jay Richards maintains a very active lifestyle. He somehow finds time between managing a full-time resort (Maplelag) and bringing up a family of four boys with his wife Jonell, to compete in both mountain bike and a few cross-country ski races. Jay rides for Maplelag Resort, manages the Maplelag/Paramount mountain bike team and enters his 20th year of racing and promoting mountain bike races.