Fall Coaches Meeting and Nordic Ski Expo
October 23, 2010

The 2010 edition of Minnesota's annual Fall Coaches Meeting featured an expanded Nordic Ski Expo with roughly two dozen vendors and a large turnout of high school coaches and assistants in attendence.
Cloudy skies and a light drizzle made it a perfect day to spend indoors or under the tents viewing some of the latest products from manufacturers and checking out the fall high school package pricing from the area ski shops.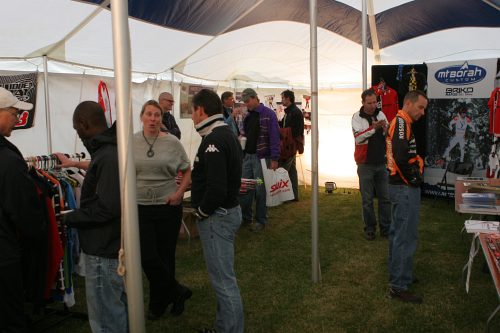 A few highlights from the expo products:
Rossignol: A new Rossignol Rottefella NIS X-celerator binding which trims nearly 100 grams from the weight with a fully redesigned, yet backward compatible NNN binding. One of the best features is a new single steel locking mechanism that virtually eliminates issues with snow/ice build up.



Hidden Bay Sports: Two new products were featured. A new versitile neck gaiter, called the Throat Coat, which can perform multiple functions, from neck warmer to balaclava and the introduction of their own custom warm up pants, complete with full zip off sides.



Fast Wax: Announced earlier this fall, Fast Wax had a selection of their new brushes on display as well as new ski binders made from recycled inner tubes.



Podiumwear: A new Proline jacket, design as a high-end jacket with multiple pockets (including a chest pocket) and an enhanced venting system.


After touring the expo, coaches gathered inside the Vasaloppet Nordic Center for the Fall Coaches meeting at 10 am.
This year's fall coaches meeting was highlighted by the absence of any major issues or changes for the 2010-11 season. Newly elected President Pete Tremaine led an efficient agenda that covered the major points and reminders.
Two of the more interesting items discussed:
An exploration of a webcast setup for simulcasting the State Meet, including possible on coursel camera locations. Watch for more details later this season.

After numerous coaches expressed their issues with the travel policy which greatly restricted travel out of Minnesota last season, the MSHSL board has revoked much of the restriction. However, this means that out-of-state travel falls back to a school board decision.
No major changes for the 2011 State Meet. The event will feature freestyle racing, individual starts, on the Silver trail at Giants Ridge in the morning, followed by a pursuit format classical race in the afternoon on the Gold/Cedar trail systems.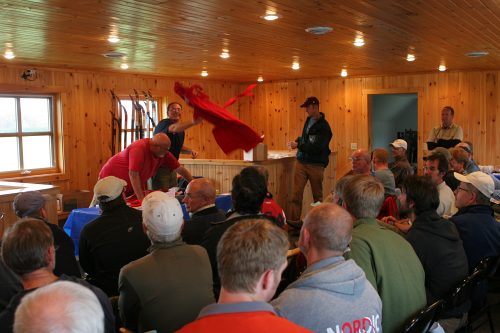 The meeting wrapped up with a big door prize drawing for all of the coaches with the prizes donated by the expo exhibitors.