Midwest MTB Racing Recap
Minnesota was the state keeping the mountain bikers dirty last weekend with an endurance event, the Sandwich 50, in Rochester, MN. and the Spring Fling at Hillside in Elk River MN. Race reports from both events plus a look ahead with the full run down on this weekends Cable Area Off Road Classic.
Sandwich 50
The trend in recent years is definitely the endurance and gravel grinding events. There are more and more races popping up on the radar that sometimes only see 50-100 participants competing for up to 10 hours. These races are not always run in typical fashion. Sometimes with no prizes, no entry fee and no support and participants often eating or consume interesting food sources but all for the glory of having completed the event. The Eastwood park in Rochester was host to the Sandwich 50, a 50 mile mountain bike race on a 7 mile lap. Reigning MN State mountain bike Champion Brendan Moore files a report:
This past weekend, I swung down to Rochester for a Mothers Day visit (my parents live there) and the Sandwich 50 race, aka the MN Marathon State Championships. The weather turned out to be much better than was predicted with near perfect 70 degree and sunny conditions by the end of the race. The race itself was on a tight twisty bit of single track (roughly 7 miles, 98% single track) on the East side of Rochester. This trail is old school, Maplelag, Farm, Mammoth style single track with lots of twists, turns, roots, a few rocks, and bridges but no big climbs. After a 70 person le mans style start I followed local favorites and race organizers Matt Kurke and Charly "Jo Mama" Tri into the woods. If one could create a course with a home field advantage, this would be it so I figured I would watch and learn for at least a lap. After a lap we had a small gap on a group of chasers, and I decided that I should give it a go at the front. Being my first marathon mtb race ever, I wasn't really sure how to pace myself so I gave an "almost" XC effort and got a good 3 min gap by the end of the lap. It was one of those courses where a lot of extra effort didn't always produce any significant gains, and I found I was better off controlling my braking and riding smartly than trying to kill it out of every corner. I rode a high but reasonable tempo for the rest of the race and my lead grew to 25 minutes by the end of the 50 miles. I was still feeling strong at the finish, which I hope is a good sign for the season. That said, I was sore the next day but only from the le mans start -- I haven't run in months!
In summary, if you like singletrack races, longer endurance style events, and a low key atmosphere the Sandwich 50 is tough to beat.
Oh, did I mention the bacon and beer handoffs mid lap? Yep, I did take a bacon handoff my last lap, and, no, it did not taste good.
Spring Fling
Hillside has become one of the favorite mountain bike destinations in the metro area and Rich Omdahl and the trail crew are always stepping up to the plate to fill needs of local shred heads.
Eric Oftedahl reports:
It was a nice Mothers Day morning for a race at Elk River. The trail was dry and fast and temps were perfect. Not a real big showing this year because I'm sure lots of people had their fair share of singletrack in Rochester the day before at the Sandwich 50. I had my usual start the last 3 times I raced here; slam all my gears and time trial it down the road to get to the singletrack first. I looked under my shoulder half way down the road to see my teammate Lars Ellefson pulling the rest of the field about 25 meters back. I led into the prologue section and tried to relax and recover a bit from the shock of the start. Starting into the first lap I took an inventory of who was around me. Josh Tesch, Barry Tungseth, and Nikolai Anikin were the main threats. Hillside is a course where if you stay relaxed, feel the flow of the singletrack, and can keep your momentum up the punchy hills, you'll conserve energy and do pretty good. Josh Tesch was stuck to my wheel like day old oatmeal. We were both suffering as the familiar taste of blood from my lungs welcomed me to my first race of the season. I led the entire first lap and we pulled a good gap on the rest of the field. At the beginning of the second and final lap josh decided to go around me after I took the "B" line and he took the "A" line up the log stair stepper before the bridge. This can be an advantage at times as it gives you time to study your opponent and decide on when the best time is to make your move. I sat on his wheel pretty comfortably and tried to relax. I noticed he was starting to make mistakes. Over time in technical stuff your mind starts to slow down and your reaction time increases. At the end of the race he also said the bottom bracket of his bike is lower to the ground so he was clipping his pedal in the corners more. I remember Nikolai commenting on this when he borrowed the bike in St Cloud last year. Anyway, at the end of all the longer climbs in section 4 he clipped his pedal and went down letting me by. It was good because this was the spot I wanted to make my move anyway. This part of the course has been proven to be my forte over the years. My plan was to get a little gap and hopefully make him give up on the chase since we had such a big gap on the rest of the field. I stayed efficient, smooth and kept the power down as much as I could which did the trick. I gained 29 seconds on him in the final 2 sections and took the win. Props to all my competitors out there. I was 3 minutes slower this year than last year when I won it with Sam and Jack sitting on my wheel the whole race. This kind of course suits me best and it's always fun riding Midwest singletrack. Thanks Rich Omdahl and volunteers for putting it on.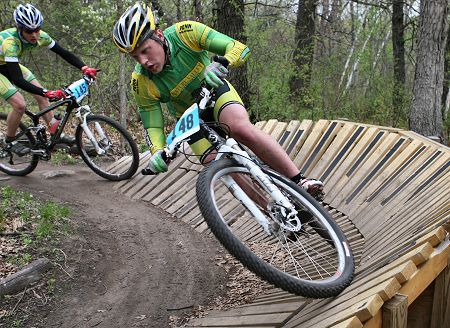 Report from Lars Ellefson:
The weather on Mothers day turned out to be pretty good. The rain held off and the temps were pleasant for racing. I was happy that my awesome mom was up for spending Mothers day going to a bike race -- Thanks mom!
Unfortunately, I didn't last long in 'race mode' Sunday. I had some pre-race shifting issues due to the fact the I broke the golden rule of not making changes to your bike the night before a race. DOH!
Right off the start team mate Eric O. took off fast and led through prologue, I was in second on the power line and boom a stick came out of no where caught up in my rear derailleur. Luckily it didn't break it but I stopped and had to get it out. My chain was already jumping on the cassette and this just added to the troubles. I did my best for about 1/4 lap and then got sick of the shifting, put it on one gear and worked on getting back into the single track rhythm and cruising! On the second lap I saw my dad (who raced the 1 lap) cooling down on the road and asked him if he wanted to ride out the rest of my lap with me. It was fun to be able to ride with him and just enjoy the awesome trails at Hillside Park.
Hats off to anyone who has helped build the trails and run races. Always top notch and well set up. Congrats to Eric for the win! I am excited to get the season started!
Looking Ahead
The popular
Thursday night races at Buck Hill
fire up this week. The races at Buck Hill have been great opportunity for riders who are not able to race on the weekend, racers looking to test or fine tune their fitness or riders looking to get in to racing for the first time. The focus is on having maximum fun for little dollar as possible, with good food and great prizes.
The Cable Area Off Road Classic (CAORC) kicks off the point to point race season with a great course from Lakewoods resort to Cable. Rumors were floating around of a course change because of the late winter but Cable chamber director James Bolen sent me a report on the latest course route and conditions confirming a regular course (like last year) with no changes planned regardless of any fun weather:
All is very well. The course is marked. The rain yesterday (Monday) went mostly south and we got less than 1/4". It was surprisingly dry in the woods so that moisture helped. The woods will be wet but not terribly wet. We have made a change in the beginning of the race where we had bottleneck issues last year. We will turn off Rock Lake Road earlier onto a slightly smaller driveway and then transition into single track. This should allow riders to thin out a bit before jumping into single track. The course follows essentially the same path as last year with the exception of that beginning. CAMBA has added a bridge on the course just before you come onto Spider Lake Road where a small creek has been. The course uses that bridge.
We have added a small reception for riders at Lakewoods on Friday night. We will have registration there from 4:30-8 p.m, food, maps and course insight as well. We have added a new trophy presentation as well. We will award the top male and female finishers the title of 'Dominator'. To win this race you need to dominate not only the competition, but also the course. We will have a trophy that denotes the name and state of the champions that will be on display at the Chamber year round. We are hoping that riders not racing WORS or the Minnesota series to come and try the Off Road Classic. This won't be a 'border battle' per se but along those same lines.

Keep the wheels moving!!
About the author...

Jay Richards maintains a very active lifestyle. He somehow finds time between managing a full-time resort (Maplelag) and bringing up a family of four boys with his wife Jonell, to compete in both mountain bike and a few cross-country ski races. Jay rides for Maplelag Resort, manages the Maplelag/Paramount mountain bike team and enters his 21st year of racing and promoting mountain bike races.