Midwest MTB Racing Recap
Wow, what a busy weekend of cycling. National champs for downhill, road Worlds, CX racing cranking up including USGP action in eastern Wisconsin and series racing in both Minnesota and Wisconsin. WORS riders were treated to a classic mudder, (lucky them) while MNMBS riders had beautiful fall conditions at the Jail Trail in St Cloud which this weeks report focuses on. Not much to look ahead to other than a few mountain bike related items to take note as the season is winding down....fast!
Singletrack Escape
Fast! Is what riders reported at the Jail Trail in St. Cloud as the Minnesota riders finished up their series racing on the tight and twisty track that was in perfect condition for blazing speeds. Light rain during the week helped tack up the course nicely and dry weather days following sealed the deal. Jake and I made the trip south which is the shortest race to get to, for us, in the series.
When we pulled in to the lot, the State Singlespeed race was just wrapping up. Brendan Moore, on an adjusted race rig running a 42x18, came rolling across first as riders rode two laps of the 2011 edition of the Jail Trail. Second place finisher Heath Weisbrod was all smiles and opted out of racing Elite later in the day "it's been a great year, but I'm tired and my son Duncan has driver's ed training to get to". Jennifer Nowlin took top female honors as new mom and coming out of retirement for singlespeed racing was Kyia Anderson, racing on a 1997 Schwinn Homegrown.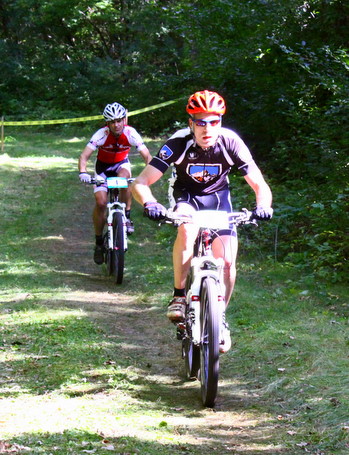 With a lap times running over 30 minutes, racers proposed to the organizers to shorten the number of laps for the Elite and Comp racers and the organizers delivered by offering one less lap after a initial prologue lap. "This time of year, we are ready for shorter races" stated state champ Brendan Moore.
The racing was fast off the bat as riders knew getting to the singletrack first would be key. In the men Elite race, Moore and Scott Kylander-Johnson got a small gap on two chase groups as those two riders would ride the entire race together, making for good viewing entertainment for the race fans. Scott was able to get around Brendan on the last lap and keep the pressure on, holding off Moore by just one second to take his first win in the series this year that has been dominated by Moore.
Racing solo most of the race, Joshua Tesch held on to his position of third place as local favorite, Lance Beuning fended off the chase groups behind him to nail fourth.
The battle for fifth might of been the most exciting element of the race as a group of riders including Devin Curran, Luke Nelson, Jake Richards and Barry Tungseth teeter tottered back in forth holding the group behind them at bay as Jake made a move on the last lap to put enough gap on the other riders and break apart the second main chase group, to complete the top five.
After doing her thing on the singlespeed, Jennifer Nowlin rolled to the line to do battle with the Elite women but finished just short of her effort on win #2 as out of towner, Roxanne Feagan from Omaha, NE took the win. Sophia Marchiando rode steady and smooth giving chase and not giving much ground to take third as Allison Tungseth recorded the fourth spot. Elite riders reported a super fun course but difficult to get gaps or chase down riders in front of them as winner SKJ reported "the faster you went, the harder you had to brake so it was a matter of just staying smooth, riding in control and keeping the gas on".
I ran the video off one of the cameras to catch the action and uploaded a video of the Elite and start of Comp races,
Cable Area Off Road Classic Receives Funding
The Cable Off Road Classic and CAMBA received a grant and a trail crew to help work on the new connector trail to maintain the consistency of the race and help with trail improvement. Due to new land use regulations in the Chequamegon-Nicolet National Forest, the 16-year-old Wisconsin race recently suffered the loss of some valuable single track. The $2,000 grant will help the Chequamegon Area Mountain Bike Association construct six miles of singletrack to enhance the racer's experience and alleviate safety concerns resulting from the race's current use of an ATV trail. Full story here.
Cheq Again
Helmet cam videos are up on YouTube from the Chequamegon Fat Tire Festival. The incredible Eppens ran a front and rear cam from their tandem to catch the 40 action including cool footage of hole shot action at Rosie's Field. Also a clip from the tandem in the Short and Fat.
Looking Ahead
With the Minnesota series done, cross racing running two races each weekend in the Minneapolis/St.Paul area alone, not much to write about. WORS has a off weekend before wrapping up its season at the popular Wigwam MTB Challenge in Sheboyagan which always pulls in a strong field.
One fun race to note is the Cowpie Classic. Race takes place in Hankinson, ND and features one lap on a horse trail of pure cow pie bliss!
The Deer Fly Chase will take place at the Hickory Ridge Trails and features a challenging mix of gravel roads, ski trails and singletrack. Race, or Tour, its up to you, state organizers. There is a 24 mile race or a 15 mile event with proceeds going to CORBA and Friends of Hickory Ridge.
Keep the wheels moving!
About the author...

Jay Richards maintains a very active lifestyle. He somehow finds time between managing a full-time resort (Maplelag) and bringing up a family of four boys with his wife Jonell, to compete in both mountain bike and a few cross-country ski races. Jay rides for Maplelag Resort, manages the Maplelag/Paramount mountain bike team and enters his 21st year of racing and promoting mountain bike races.