Midwest MTB Racing Recap
It was a wet weekend for mountain biking, and rainy conditions forced the cancellation of the Spring Fling in Elk River but the Sandwich 50 and the Bump and Jump still went down for some real mountain bike racing in Iola and Rochester under honest mountain biking conditions. Exclusive report from the 'Wich from Brendan Moore and Aaron Sturgis checks in from Iola. Plus, the usual look ahead including the rescheduled Spring Fling.
Sandwich 50
Race director told riders the race would be off if rainy conditions would create a complete mudfest but Mother Nature provided enough of a break for the Minnesota State Endurance championships. Brendan Moore added another title to his collection and provides an exclusive report: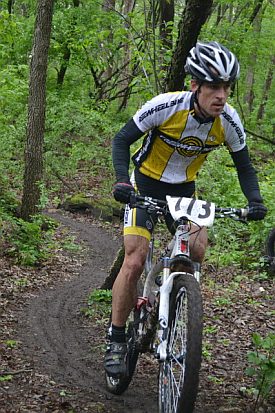 This past weekend saw the local kick off to xc mountain bike racing. I joined the fun down in Rochester at the Sandwich 50. The course consists of 50 miles (7x7 mile laps + prologue)of tight, twisty, and sometimes flowy singletrack. It is a demanding course when dry, but when slick and muddy it is even more taxing. With ~1" of rain the night before, all the racers had to work for every inch of that 50 miles. That said, if you skipped this one because of weather, you not only wussed out, you missed out!
The race started w/ a moderate paced prologue on grass/ski trail followed by an immediate entrance to the maze. Local hero and legend Charly Tri, who has had a great cycling career, slipped out on a turn not too much later and I took the opportunity to ride my own pace. Paul Hanson (yes he is still fit) followed me close behind. I felt totally outmatched with Charly, Kurke, and Hanson all on 29ers and me on my measly 26" wheels, but I made it work;) I rode hard for the rest of that lap, but this is a course where being smooth is better than just trying to kill it…especially for 50 miles. Anyway, I had a blast the rest of the ride and finished at the top of the podium. Paul rolled in 2nd with Kurke (Kuske to most of us) in 3rd. It ended up being a good leg burning way to kick off the year. (Photo: teamsilence1)

Iola Bump and Jump
Big time rain showered the Iola winter sports center but that didn't prevent racing as race directors were confident the wet conditions and the sandy terrain would shed the water nicely.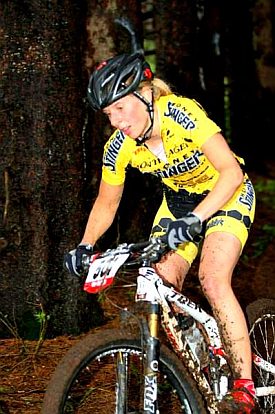 The buzz in the men's elite race, which had over 70 starters, was the return of Mark Lalonde rolling a singlespeed with a 39x17 ratio. Lalonde hadn't raced since Chequemegon 2010. Lalonde had a nice race posting the third spot as Brian Matter continues to build his Midwest legacy in claiming another victory. Abbigail Strigel started off where she left off in 2011 taking a convincing win by almost 4 minutes.

Comp rider Aaron Sturgis provides a recap of the fun in the mud:
I love mud. Riding in mud seems to bring out the kid in me. But racing in mud is a whole other ballgame. Sunday was about thunderstorms, rain, and more rain. All day rain was moving east across the state and so I knew what we were getting in Eau Claire was eventually going to hit Iola. But being the first race of the season I figured I had to get out and race. Besides Iola was all sand, right?
I arrived at Iola Winter Sports Area only to be greeted with a parking lot full of mud and cars stuck in mud. After some brief delays to the Citizen and Sport races, I warmed up and toed the line for the first WORS race of the 2012 season. GOOOOOO echoed through the pines and we are off. I momentarily forgot how hectic and crazy the WORS starts are and before I knew it we were climbing up the back side of the ski jump hill and descending down into a bowl full of mud and wet grass.
It didn't take long for the mud to take its toll on the bikes. Midway through the first lap I had a major case of chain suck and had to pull off and finagle my chain out. By then my race turned into chase mode and then into survival mode. I was never able to "settle in." Dismount, run, slide, ride, ride and slide, dismount some more, and ride a little bit more. No one seemed to pass anyone and everyone found themselves in a "war of attrition."
By lap three I had major chain skipping and was down to one gear. I thought for a moment to bail on the race just to save my bike, but the thought only lasted for a moment. After the final stretch of gnarly, slippery, greasy single track section, I rolled across feeling beat up from fight rather than beaten down by a race.
It was still a great day of racing because one got to hang with fellow races that you haven't seen since last fall. The elite race was no different. Matter took the win by almost a minute over Shriver. Mark LaLonde rounded out the top three…yea…you heard right, LaLonde broke out the bike to race for fun. First mountain bike race since the 2010 Fat Tire. For the elite women Abby Strigel took the "W" followed by Lisa Krayer and Diana Mcfadden to round out the top three. (Photo: Extreme Photography)
Looking Ahead
With Mothers Day on Sunday, the race schedule is a bit lighter but a couple events in the Midwest to take note plus the popular Thursday night at Buck cranks up this Thursday.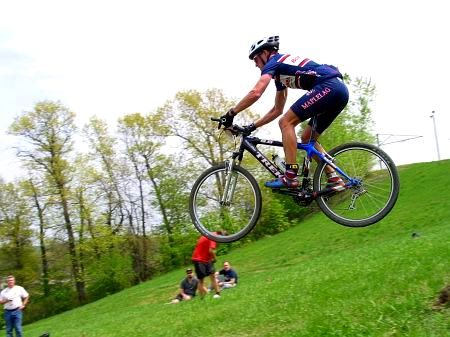 Buck Hill has probably provided more mountain bike racing opportunity than any venue in the Midwest. One of my first races I ever did back in 1990 was at Buck and is always a fun place to grip and rip and the b line with the lumber jump was epic. Penn Cycles is host and as mentioned earlier, Eric Guse and crew cut a half mile of new singletrack to throw in to the mix for the opening race series this week.
With over 3" of rain hitting the course at Hillside in Elk River, MN. race directors decided to pull the plug and postpone the Spring Fling race to this Saturday.
The popular northwoods Wisconsins event, Rasta Rally, held at the Tesomas camp near Rhinelander, offers grass roots racing on three different race distances including two kids events this Sunday.
Keep the wheels moving!
About the author...

Jay Richards maintains a very active lifestyle. He somehow finds time between managing a full-time resort (Maplelag) and bringing up a family of four boys with his wife Jonell, to compete in both mountain bike and a few cross-country ski races. Jay rides for Maplelag Resort, manages the Maplelag/Paramount mountain bike team and enters his 22nd year of racing and promoting mountain bike races.