Midwest MTB Racing Recap
A big weekend of dirt with multiple events including series racing in Wisconsin and Minnesota, point to point in northwest WI and another gravel grind with the cheeky Almanzo 100. Special reports from Doug Swanson from Afton, Aaron Sturgis racing the Cable Area Off Road Classic and Claire Cannon reports from WORS. Also, a couple events to note for Memorial Day weekend.
Cable Area Off Road Classic
Aaron Sturgis made trek to northwest Wisconsin to compete in the popular early season point to point race on the CAMBA trails, racing from Lakewoods Resort to downtown Cable. Despite series races on Sunday, a strong turnout enjoying unusually warm conditions (some years snow has greeted riders at the start line) with overall titles in the 25 mile race going to Tyler Gauthier and Sara Kylander-Johnson.
Aaron's report:
There is something to be said about the Midwest mountain biking scene. This past weekend it seemed like one could throw a dart at a WI and MN map and hit a dirt race. My weekend destination was in Cable for the annual Cable Off Road Classic. Give me small town, fast racing, and the Chequamegon Forest any day!
I rolled into Lakewoods Resort to blue skies and 75 degree weather. That right there made the race seeing as most years it seems to be windy, sleet, and cold. I grabbed my race number, chatted it up with some of Midwest's top riders, and spun the pedals for a quick warm-up.
After giving us a brief heads up about some new single track trials and some new changes to the course, the National Anthem was sung and we were off, battling the dry, sandy and dusty course.
The roll out steady and after the first gravel road section two large groups of about 20 riders formed. We turned right onto an old logging road and then we bottle necked into single track. The first single track sections wore on riders patience as the pace was dictated by the rider ahead of you. But before long we dumped back out onto a gravel road and began the chase.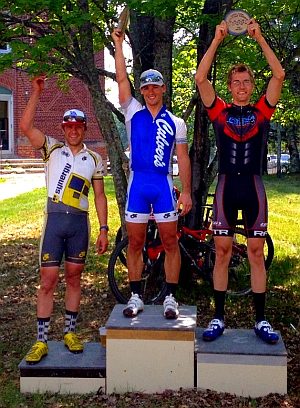 I rode with the same 4-5 riders throughout the 25 miles. We would pick up a rider here and there and would eventually drop a few. Each of us rotated through and took turns pulling, but by the time the last single track section came, the race was so strung out that we knew it was going to come down to a fun sprint within our group.
We all sprinted it out on Cable's main street and rolled across the finish line with smiles and congratulatory remarks for one another. It was a tough race and the heat added to the "pain cave."
Out in front of all the riders in the 25 mile race was Tyler Gauthier who, representing the UP, rode across the line a minute in front of Wisconsin's Chad Sova. Craig Faulkner represented MN on the podium by taking the third spot. For the women, Sara Kylander-Johnson put in an impressive race by toping the women's field. Diana McFadden took the #2 spot on the podium and Rebecca Sauber rounded out the top three.
Sova gave me the play-by-play action from the front of the field. Both him and Tyler took turns "putting the hurt on each other" until Tyler was able to put a small gap on Sova with a couple miles left in the race. Sova remarked, "The new singletrack trails made for an even better course that was fast and technical." (Photo: Aaron Sturgis)
Results
Freewheel Frolic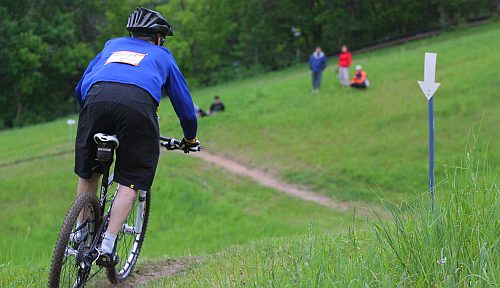 After hot and humid conditions on Saturday, a cold front moved through nicely Saturday night providing more typical early spring like conditions and a break from the typical heat often times found on the slopes of Afton Alps. Skinnyski made the trek to Afton to catch the morning races and second place elite finisher Doug Swanson provides an exclusive report:
The first race of the Minnesota Mountain Bike Series was at Afton Alps on Sunday. Afton is one of the oldest courses left in the series. I remember racing there in the 90's and the course was pretty much the same. Afton is old school with hard climbs, technical descents and plenty of open areas to pass and race. I clocked 5.2 mile laps with 1000 feet of climbing per lap, so it was going to be a hard day. It was also raining, but Afton drains so well that it probably made the course better. There were 41 experts on the results, so despite Cable, Almonzo and the WORS race, it was a great turnout. I was looking forward to this race. I've been riding the mountain bike a lot the last few weeks and made some pretty big changes to my position. I put on a longer stem which I felt enabled me to open up my lungs a little more and recover after hard efforts. Of course, this lead to a few big crashes while I got used to it, but that's how it goes sometimes.
The race started in cold drizzle and I hit the front right away, even though I told myself not to. I hit the first climb hard and soon Brendan and I were away. We opened up a pretty big gap and just kept on going. The course was fast with ton's of traction on the dirt with semi-slicks. A few slick rocks kept me in check on the descents though. After 2 laps Brendan took off and won by a couple minutes. It's interesting how different our styles of riding are. Brendan rarely stands up and just sits and pushes massive watts, while I get on and off the saddle all the time. I'd say it was the roadie in me but I've always ridden like that. It just goes to show there is no right way to ride fast. Jesse Rients rolled in third, followed by Kevin Ishaug. All 4 of us were riding on 26 inch dual suspension bikes, so apparently the little wheel is not dead yet. For me, it doesn't get much better than the conditions at Afton on Sunday. I didn't even have to unzip my jersey one bit.
Crystal Lake Classic
Claire Cannon sent in a great report from race #2 in the Wisconsin Off Road Series: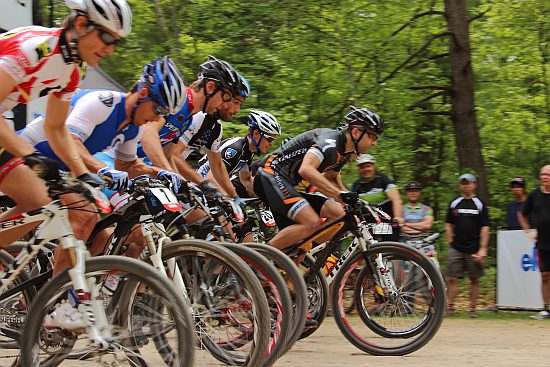 The second race of the Subaru-sponsored Wisconsin Off Road Series started fast on a parched, sandy course and sprinted to the line in a bracing downpour. Brian Matter (Gear Grinder / Trek) and Abby Strigel (Honey Stinger/ Bontrager ) rode through it all to take the win in their respective BelGiosioso Elite Series races. In total, 577 competitors raced on Sunday in ability categories ranging from First Timer to Pro, including 126 Juniors under the age of 17.
"It was very hard today, but I always love coming up to Rhinelander," said Matter. "It's one of the best and most physically demanding courses in the WORS series."
Even before the race began, the BelGioioso Elite men's start line welcomed back former WORS Elite Champion Jesse Lalonde. Lalonde (Lalonde Brothers Racing / T6), racing for the first time in two years, chose a rigged single speed, the same bike setup he rode to an undefeated season in 2009.
"It's a little tricky with the gearing here, with the wide-open stuff and the start," said Lalonde. "It can get pretty fast, so I kind of have to gear towards that."
Lalonde went with a 36:16.
"It's a gear I usually reserve for something like this, with a longer lead-out," explained Lalonde. "I can actually get on top of it better now than I used to in the singletrack. But rarely would I run something that big in the WORS Series."
The rest of the field also brought their big gears for Rhinelander's long, gravel lead out. The pace was high from "Go!", spurred on by Mike Phillips (Adventure 212 / Specialized) at the front. Soon after entering the singletrack, the lead group was reduced to Phillips, Matter, Nathan Guerra (Wheel and Sprocket / Vision), Lalonde and relative newcomer Joe Maloney (KS Energy Services / Team Wisconsin). By the middle of the second lap, only Guerra, Matter and Lalonde remained and a sudden, cold downpour had wet the course and passed.
In the fourth and final lap, the rain returned and Matter turned on the gas to ride away from Guerra and Lalonde.
"The last lap, I just kept going harder, and harder, and harder until I got a gap," said Matter. "The gap opened slowly, but then that was it."
Matter rolled in alone at 2:07:27, followed by Guerra (2:07:43) and Lalonde (2:07:57). Tyler Guathier (2:11:11) and Justin Piontek (2:11:20) rounded out the podium steps.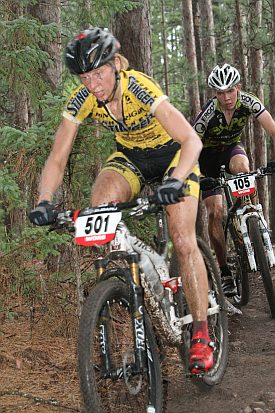 In the women's race, Robin Williams (Mercy-Specialized) challenged defending Champion Abby Strigel at the start.
"She's really fast, and a great climber," said Strigel. "She attacked on the first really big hill on the lead out and just dropped me. I chased after her and caught her in the singletrack. Then I just did anything I could to get rid of her. But there are quite a few climbs and she was hanging on. I know she likes the hot weather, too. So I was just thinking 'she's loving this!', while I was waiting for the skies to open."
By the end of her first lap, Strigel was alone and still hoping for rain to cool the parched, dusty afternoon. She got her wish midway through her second lap.
"Once it rained, that was just awesome," said Strigel. The rain may have helped Strigel to maintain her lead over Williams, who was careful in the rapidly changing conditions. Strigel finished three laps of the course in 1:50:16, nearly five minutes ahead of second place (1:55:15). Chasing from behind were teammates Lisa Krayer (1:57:37), and Sarah Agena-Wright (1:58:01; Adventure 212 / Specialized) with Lori Sable (1:58:19).
In the first two races of the Series, Matter and Strigel have seemed unbeatable. For the women, Strigel just might be untouchable. However, the next few races could shake things up for the men. Defending Champion Tristan Schouten has not yet raced. Mike Phillips and Nathan Guerra have challenged but left hungry for results. Perhaps the biggest question mark is the Lalonde Brothers. With Mark Lalonde's third place finish at Iola and Jesse Lalonde's third place at the Crystal Lake Classic, WORS Series fans wonder whether the singlespeed duo will return in force to WORS Racing this season. (Photos: Extreme Photography)
Ride the Woolly
The Wooly trail in St Croix Wisconsin will be host to the final race in the MNMBS. The local club runs a group ride on Tuesdays at 6:00 at the St. Croix Falls High School Parking Lot. "We do a couple of laps on the Single track-about 6 miles/ lap First loop is no fall backs and we wait for everyone (meaning me!) 2nd loop the faster riders take off at their pace" reports Dan Murphy. Murphy states the Wooly is a fun intermediate level trail and gives riders a opportunity to check out the course before race day or just hook up with a bunch of great people!
Chasing White Tail
The Kinnickinic Off Road Cyclists hold a Thursday night series at the White Tail trail south of Hudson for riders wanting to dial in the course before the MNMBS race on August 12th. Fast and flowy trails and club members are eager to help and introduce new riders to the sport of mountain bike racing.
Looking Ahead
Maplelag Resort is host to a Spring Opener mountain bike race which could probably be more a "summer" opener in conjunction with celebrating the graduation from high school their own Jake Richards. The low key event will feature one lap of the Citizen/Kids Comp loop for beginners and one 10 mile lap of the Sport/Comp/Expert loop for the advanced riders including the infamous lakeside drops and the new Twin Lakes singletrack.
The fourth annual CAMBA Festival of the Trails takes place this coming Memorial day weekend, with a hefty menu of trail-based activities set to kick off on Friday, May 25. "It really is an action-packed agenda," comments CAMBA executive director, Ron Bergin. "With several social events, multiple riding activities, opportunities to enjoy great food and drink from local restaurants along with chances to learn more about the sport and also win some great prizes, this is an event unlike any other in the Midwest," Bergin adds.
Ride the Keweenaw weekend also takes advantage of the Holiday weekend with multiple events one the famous UP Copper harbor mountain bike trails. Guided rides on the more popular trails are highlighted by a Flying Squirrel Demonstration with the Pro Riders Andrew Shandro and Tammy Donahue.
Keep the wheels moving!
About the author...

Jay Richards maintains a very active lifestyle. He somehow finds time between managing a full-time resort (Maplelag) and bringing up a family of four boys with his wife Jonell, to compete in both mountain bike and a few cross-country ski races. Jay rides for Maplelag Resort, manages the Maplelag/Paramount mountain bike team and enters his 22nd year of racing and promoting mountain bike races.