Midwest MTB Racing Recap
A full throttle, pedal to the metal weekend of racing with tight battles, all classes, up and down the fields in both the Wisconsin Off Road Series (WORS) and the Minnesota Mountain Bike Series (MNMBS). First hand reports from first time series rider in the MNMBS, Ian Fritz, Elite female and local favorite, Jenna Rinehart and a different perspective from third place Elite rider Mark Lalonde from WORS. Plus a look ahead to a couple events including a weekend of mountain biking on the popular Cuyuna flow trail.
Big Ringing
Once again the popular Nord trails in Wausau, know as Nine Mile, was host to race #3 in WORS, Big Ring Classic. A sprint finish was needed to decide the winner in the Elite race as Tristan Schouten and defending WORS champion made a spectacular return to racing with a win by a hair over Midwest mountain bike triple crown superstar Brian Matter. Abbigail Strigel continues her stronghold on the women field, taking another win in convincing fashion. Third place rider, Marko Lalonde shares a race recap on his blog, telling of the suffering to punch the third spot when on paper it looked easy.
"You know when bike racers talk about this out-of-body type of racing where they have awesome legs and feel no pain? My race at WORS #3 in Wausau was the complete opposite of that.
A super aggressive start had me in just so-so position hitting the first few bits of singletrack. This inevitably led to having to chase back on at every open section. The real killer was the uber steep hill that I had to run. Pretty sure i was drooling on my handlebars by the end of lap one, barely hanging on the back in 7th place.
Corey s blew the race apart on lap two. I struggled along in no man's land for a while before linking up with Tyler g for a lap. He was riding smooth and pulling me through the open sections. [side bar: was riding single speed on these open sections always this hard?]
Lap three I needed to share the work load. Went to the front for a bit. Surprisingly, we caught a glimpse of the leaders about 20 seconds up. Tyler checked out and I was off in pursuit. Managed to pull back Joseph, then tagged onto Corey after a crash. He was crushing the open sections and I was spinning the 36:16 as fast as my legs would allow. He pulled most of the next lap and a half. We caught another glimpse of the leaders on the long grade heading in the last lap. Shortly after catching Nathan with a mechanical, Corey relinquished his pacing duties a few miles from the finish. I put all my eggs in the basket and went to work. I managed to gap him quite a bit and roll in 3rd (in Corey's defense, he miscounted laps and thought there was another one left).The results make it look like I was probably fighting for the win, but I was really never in this race. I was too busy trying not to vomit on myself."

Charging the Bluff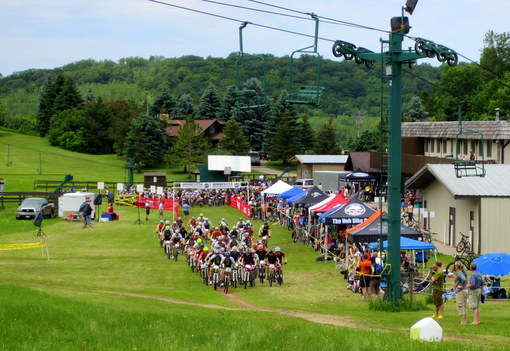 Another tacky track for Minnesota riders as racing action headed south to the punchy course at Mt Kato.
In addition to counting for points in the series, the race served as the single day State Championships and one of four "warm up" races for the high school scene which saw Hopkins Nordic skiers Harris Diernbieger and Sarah Benton toe the line to name a few.
Former U23 National champion and local mountain bike shop owner Jenna Rinehart provides a nice recap:
Race conditions were fabulous for Mt. Kato. Typically it is hot and dry for this race but we were greeted with cooler temps, overcast sky's and perfectly tacky dirt. Turnout was great with over 350 racers showing up. The race promoter decided to have us skip the Quick Release descent this year because it was a little dangerous with more of the roots being exposed. Instead we did the Luge descent. The expert women started 2 minutes behind the expert men. I got the hole shot and led the group up kato climb with Sara and Sophie hot on my wheel. About half way up the climb I noticed it was just Sara left on my wheel. Once we neared the top I realized that I had a little gap on her. Over the top I kept pushing the pace and used my knowledge of the course to my advantage to keep growing the gap. I could see her a few other times and noticed that the gap was still growing. About half way through the first lap we started to catch some of the expert men. It was fun to race with them and use them to keep pushing myself. I was happy to take the win with Sara in 2nd, and Sophie in 3rd.
I'm looking forward to making it to as many MN series races as I can this year along with Ore to Shore, Subaru Cup, and Chequamegon. Last year I ended up doing a little more road racing but hope to stick to the dirt this year. Justin and I have been keeping very busy with our bike shop (Nicollet Bike). We moved it to a new location in Downtown Mankato this past fall.
First time series participant Ian Fritz reports:
The Bluff Riders Charge was my second mountain bike race ever, right after a race at Maplelag last weekend. It was my first in the Minnesota Mountain Bike Series and I wasn't sure what to expect especially since it was the State Championship. We arrived at 8:30 and before I knew it, I was already lined up at the starting line. They had the call-ups and then the rest of the group was free to approach the starting line. I had a nice spot at the starting line. The gun went off and right away I had issues with getting fully clipped. By the time I was clipped in, I had lost some ground. I knew I had to make up ground on the first hill.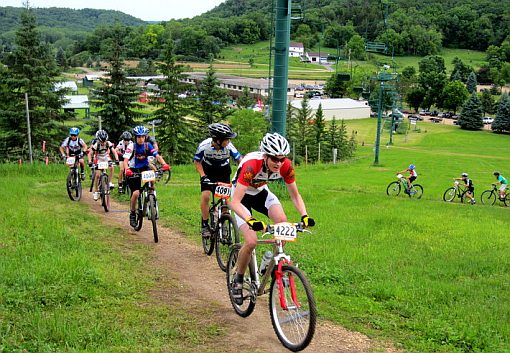 When I reached the top, my legs were on fire but the pain was worth it, I had passed a fair amount of people. The downhill portion was very exciting. The sharp, steep turns really got my adrenaline going. I had never been on a course with so much elevation change. During the first lap, on the second climb, I had a participant in front of me that I had been trying to pass for some time, luckily, I saw a gap in the single track and took it. When the second lap came around and I was climbing the hill, I spotted my next target. I pushed as hard as I could and passed him right before entering the woods. It was near the end of the race that I saw the next participant that I wanted to pass.
With about one mile left, I made risky turns that seemed to pay off at the time. With only about half a kilometer left, I saw the participant that I wanted to catch. I gave it my all on the last stretch but unfortunately I couldn't catch him. In the end I had placed second in my age group and ninth overall for the citizen race. The day was definitely one to remember and I am stoked to race again.
Looking Ahead
A relatively light weekend with no series racing. Cuyuna hosts a weekend of mountain biking with multiple events including a time trial and hill climb for racers to get their fix.
The biggest mountain bike event of the year for North Dakota takes place at Sleepy Hollow Park outside Bismarck with the Race to Sunset event.Registration is open until June 7th for anyone looking for an endurance racing fix this weekend. Hot laps the night before kicks off festivities.
Keep the wheels moving!
About the author...

Jay Richards maintains a very active lifestyle. He somehow finds time between managing a full-time resort (Maplelag) and bringing up a family of four boys with his wife Jonell, to compete in both mountain bike and a few cross-country ski races. Jay rides for Maplelag Resort, manages the Maplelag/Paramount mountain bike team and enters his 22nd year of racing and promoting mountain bike races.