Midwest MTB Racing Recap
A bit more quiet weekend on the racing front with no series racing to report but plenty of dirt ripping going on as riders were faced with some of the hotter conditions of the mountain bike season. This weeks recap includes a special report from Midwest IMBA Regiona Director Hansi Johnson, who led the Great Lakes mountain bike summit near Crosby, MN at Cuyuna and a recap from Sleepy Hollow where Steve Wenzel was catching rays all day with teammates in the 10hr Race to Sunset event near Bismarck. Series racing fires up again this weekend plus a link to mountain bike opportunties in the Three River Parks later this month.
Hansi's Cuyuna Report
Over the past three years I have been working diligently and passionately to create IMBA Chapters in the Upper Midwest Region. IMBA Chapters are partnered financially with IMBA and are what I consider the most organized, professional and driven off road cycling clubs in the region. Three years ago, I started with zero IMBA Chapters. I have since grown to 13, with numerous clubs looking to get in the near future.
Last year, as part of this process I realized that I needed to start bringing these Chapters together to start a dialog between them. I wanted to get them communicating and interacting and also thinking as a block of constituents who control not only their Chapters future but also the regions future in off road cycling. We called this gathering the IMBA Great Lakes Summit, mainly to keep being confused with the Midwest Mountain Biking Festival that his held every year.
This season we invited only IMBA Chapters, or prospective IMBA Chapters to attend. We had 8 of 13 established Chapters and several prospective Chapters attend.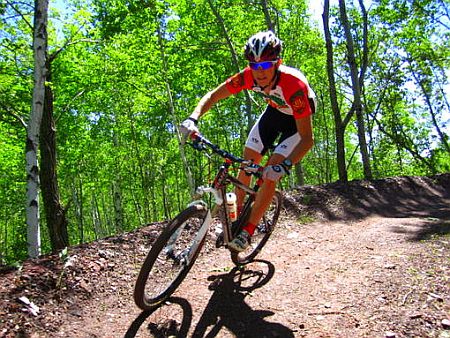 Our meeting took place in Crosby, MN at the heart of the Cuyuna Lakes trail System. That was done for a reason, to spotlight the system and its unique position as a world class off road gathering and riding spot. The initial part of our meeting was literally just hearing what each Chapter was up to, through personal reports from their leadership. We ended those reports with some more detailed presentations from our Chapters at Cuyuna and also Copper Harbor, which are both designated as IMBA Ride Centers and integral to our brand position (world class quality trail systems). The Chapter reports were great as they really highlighted the huge amount of successful work that IMBA Chapters are getting done across my region.
We also had a facilitated conversation on the future of our region and what our new association of Chapters considered valuable and attainable goals. We came up with quite a list and as a Regional Director I am happy to have the direct input from my Chapters as to where they feel it is valuable to spend my time and energy in gaining and maintaining trails here in the upper Midwest.
The final session of the Summit was on how to use professional contractors to build sustainable mountain bike trail systems. We had a great panel to do this, including Aaron Rogers of the Copper Harbor Trails Club and also an IMBA employee. We also had Reed Smidt who is both a MORC member and also a Land Manager for the city of Woodbury. Lastly we had Ryan Lieske who is MORCs current leader. Pro-Trail builder Tim Wegner was also invited but was unable to attend due to some last minute schedule changes. This was a great panel as it had a pro builder, a club leader who has used pro builders and also a land manager who has used Federal RTP funds to fund his project.
Once the final session was over we all gathered for a fun group ride on the awesome Cuyuna lakes trails. The day finished up by filling Ya Betchas bar and grill with a bunch of hungry thirsty off road cyclists! Most folks that attended the Summit also stuck around for a highly successful Cuyuna Lakes Mountain Bike Festival as well!
Thanks to all the IMBA Chapters that attended and thanks to all the awesome volunteers who are getting it done out there and creating an amazing region for off road cycling.
The weekend of June 8th and 9th was the 8th Annual Race to Sunset Mountain Bike Festival held at the Sleepy Hollow Park out in Bismarck, ND. This event is one of the premier races in the area drawing over 100 riders from all over ND and surrounding states. As in the past, this race was very well organized and definitely promotes a strong mountain bike culture.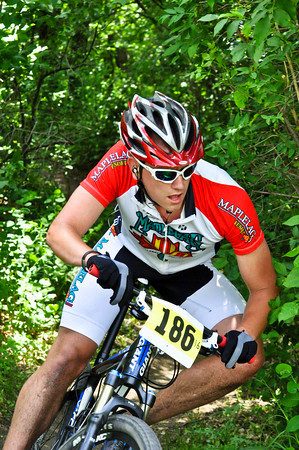 The race course is a mixture of prairie and wooded "hollows" that utilize all of the parks terrain in just under a 4 mile loop. Per my Garmin, elevation gain is just about 310 feet per lap.
The day was sunny and hot which added to the strategies of making sure you ate and drank correctly throughout the 10 hours. Always a good time watching the race unfold as the laps add up and team or solo riders start doing the math as to how much time they are ahead or behind. Everything is chip timed and there is a monitor to compare your lap times and see how your team is stacking up with the other competition.
The day ends with a meal, awards ceremony and a ton of swag donated by numerous Bismarck businesses.
I personally rank this as one of the top races of my summer. Both of my sons are on my team, I get to hang out with over 100 like minded mountain bikers from all over the state that have become good friends throughout the years. A big shout out to Nathan, Brian and company for a continued great job in making everyone feel welcome and for throwing a top notch race!
Looking Ahead
Point to point racing action in the UP of Michigan with the Keweenaw Chain Drive Festival featuring 16 and 32 mile races that traverse the Maasto Hiihto/Churning Rapids trail system in Hancock. The course includes miles of singletrack and lots of elevation change.. There are also kids events.
The Red Wing Classic, race #3 in the Minnesota Mountain Bike Series, takes place on the bluffs outside Red Wing, MN at Memorial Park. Different courses have been set up for each class to maximize the spectacular terrain and super fun trails here, personally one of my favorites in the series. This event is organized and promoted by the Red Wing Area Mountain Bike Organization (RAMBO). RAMBO has a wonderful and long standing relationship with the city of Red Wing to build and maintain sustainable trails that are available for everyone. RAMBO will contribute all the proceeds from this event back into the trails.
The Wisconsin Off Road Series heads to one of the more southern locales hitting up the trails at CamRock park near Rockdale, WI. for the Battle of CamRock. Capital Off-Road Pathfinders has worked for years to build CamRock Park into one of the hidden gems of mountain biking in Wisconsin. CORP is an official chapter of IMBA. The all volunteer organization with 90+ active members and over 300 registered forum member volunteers has been working diligently to make the Battle of CamRock
Elm Creek, part of the Three Rivers Park District, has started a weekly mountain bike time trial series and will also have a team competition later this month. There is also information on the weekly mountain bike series at Murphy Hanrehan Park Reserve on their website including the Murphy 50.
Keep the wheels moving!
About the author...

Jay Richards maintains a very active lifestyle. He somehow finds time between managing a full-time resort (Maplelag) and bringing up a family of four boys with his wife Jonell, to compete in both mountain bike and a few cross-country ski races. Jay rides for Maplelag Resort, manages the Maplelag/Paramount mountain bike team and enters his 22nd year of racing and promoting mountain bike races.