Midwest MTB Racing Recap
Much ado about mountain biking this past weekend with a full slate of events in the Midwest. If you weren't racing, one of your friends probably were. This weeks loaded recap includes firsthand reports from the Chequemegon 100, the Jamestown Pipestem Epic, the Lutsen 99er and the WORS Firecracker plus a look ahead to events coming off of Independence day including important information regarding change of venues for upcoming Minnesota races due to the heavy rain in Duluth last week.
Chequemegon 100
The Chequemegon 100 has quickly become an item to do on many a person's bucket list. An event utilizing most of the trails in the CAMBA trail system within the Chequemegon National Forest. Both a 100 miler and 100km course were available to lucky persons picked from a lottery type system. Doing multiple laps under two hours was no hindrance to Mark Lalonde who took the 100 mile win in 8 hours and 17 minutes. Female winner was Abby Watson who took 10 hours and 45 minutes to knock out 100 miles of sweetness.
Matt Engen provides a report from the metric version:
The race was a blast. I have not raced the Cable Classic but the Cheq 100 and Metric 100(62 miles) covered many of the same trails and ended at the Rivers Eatery as does the Cable Classic.
The event coordinators did a great job of hooking different loops of the CAMBA trail system together to get as much single-track riding as possible. The Chequamegon 100 started at 7:00am on Saturday, June 23 and the Metric 100 15 minutes later. There were approximately 100 riders in the 100 miler and 50 riders in the Metric 100.
My brother Mark and I raced in the Metric 100. The day started out sunny and 65 degrees. About half way thru the race we had rain for a couple hours. Not too heavy, but enough to get the rocks and roots a little slick. I'm not sure of the all the CAMBA trails we rode but it was awesome single-track all day. I would definitely do this again.
End product, Mark finished in 5:49 and 4th place overall, and I finished in 6:32 and 12th overall. Pizza and a few tasty beverages were enjoyed by all afterwards.

Jamestown Pipestem Epic
Unlike the Gear Grinder race in August which runs strictly on the Pipestem trail outside of Jamestown, ND. along the Pipestem reservoir, the "Epic" not only utilizes the Pipestem trail but includes a course going around the entire reservoir including on mowed grassy slopes, corn fields, barbed wire fence barriers, open field singletrack and mud holes. Jake hooked up with the Wenzel boys to make the trip west and test the form for 30 miles of fat tire frenzy. Racing the day before in the Exterra, Colorado tri pro Will Kelsay pushed the pace at the front en route to the win and a sweet door prize.
Steve Wenzel reports:
Saturday's activities included short and long course off road Xterra triathlons. Anyone that has ridden this area knows that the Pipestem mountain bike course used in the triathlons is a relentless 8 mile loop of single track that mixed in with swimming and a trail run, will always be a challenge.
Sunday's Xterra Pipestem Creek Epic MTB Race is a continuous 30 mile loop around the Pipestem Reservoir. Last year's race threw 2 inches of rain on the course as we started. This year's race was bluebird skies and drier conditions that were sure to make the day a fast one.
Arrow markers are located in such a way that you are able to see the next arrow from your current position. Single track, two track grassy, ATV trail, a bike over a fence, handle bar high grass with only an arrow to show you the way, stream crossings and everything in between, all added up to an "epic" event.
In knowing it was going to be fast, the pace was high right from the start. The 19 participants total formed into multiple groups of 2 or three riders working with each other to not only find your way but to draft/pace in the fast sections.
Pro Xterra triathlete and Saturday's Xterra winner, Will Kelsay, was off of the front for most of the race along with Ian Easton, Jake Richards and Asa Jacobs.
Steve Aesoph, Race Director and numerous volunteers do a fine job of organizing two days of racing, definitely an event to consider in 2013.
Full results
Steve Wenzel's Garmin data

Lutsen 99er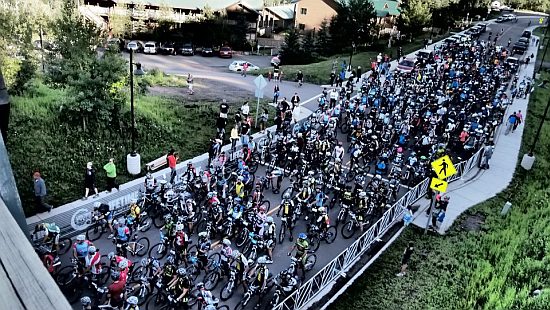 David Slovick provides a full report of racing on the north shore, Minnesota style:
With all the rain in the region I was curious how no changes to the course had been announced. Upon arrival and check-in on Friday at Lutsen Mountains we were greeted with course maps showing very significant changes to the 99er course. After mentioning to Peter Spencer that I'm on a singlespeed and geared for the old course he quick smiled and said "you're going to want to switch a much harder gear." Being my first year ever racing a singlespeed, and 99 miles at that, I was already on edge and now had to change again- singlespeeding is not exactly "simplistic".

7:30 AM starting by the main chalet, over 400 riders for the 39er and 99er rolled out down the mountain behind a fire truck holding us steady at around 20 mph before we turned onto Hwy 61 and the race was on! …although it didn't feel like it. I was sitting comfortably in the top 20 or 30 with my two teammates, John Reinan and Jon Sigerud, all the way up the first, and longest, climb up Caribou Trail- a paved CAT 3 climb. I glanced back a couple times and this strung out the rest of field for miles, but I was still holding steady in the top 30 pushing the heavier 34x15 gear. We ducked off into some tough and rough, but FUN, ski and snowmobile trail combinations around mile 12 for about four miles before we were back out on the road. Then…any hopes for a singlespeed podium went out the window.

I was in the middle of a group of about 10-12 that turned left a few miles before the first aid station. We get about two miles down that path and the leaders of this group stopped and realized we're not supposed to be on this section of the course yet! I had my head down and was focusing on staying with the geared bikes I was with so I had no idea! We turned around and blasted back to the road where indeed the arrows were misread – the course was marked very well, just needed to pay attention and not second guess the direction! Who knows how many spots I'd dropped now- it was disheartening and frustrating being so early in the race and had been holding such a good position. Then, it was obvious by mile marker 30 (34 for some of us) that I had pushed too hard to get back on track as I already had to battle my first leg cramps! I stopped at the next pass through the aid station (we all passed through this one three times with the new course layout) and I nearly pulled myself out. But, without telling them my mental battles at the moment, Jon Sigerud's wife and three kids: Renee, Caiden, Katie, and Cody gave words of encouragement and handed over the next round of bottles.
Without thinking I headed out for the second lap of this loop and just see what happens. I started pedaling the bike in different positions and paying more attention to my efforts as some sections had me riding for several minutes at a time in a 30-40 cadence going uphill - my legs were so pissed! However, I was able to stave off the cramps for that lap and pass several riders so I blew by the aid station for the third time (mile 59 of the race) and headed out to finish and make the best of this!

Luckily I did…up until mile 95 the race course was perfectly manageable while changing up some riding styles and my gear choice paid off big here. Mostly FAST but rough and rolling backwoods four wheeler and logging trails, dirt roads, lots of (all rideable-but deep!) mud-water holes- some nice little climbs mixed in there too! Passing the mile 95 marker gave a boost of energy knowing I was almost done…but, did not know some of the hardest (and most fun for me ) riding was yet to come! The singletrack of Lutsen was up and it was raw, rooty, muddy, and just some of the gnarliest stuff I've ridden since the Sawtooth Challenge race in Grand Marais last August. It was a blast to ride and made up three more spots in the mile or two of it. Then the last test- the last climb from the very bottom up to the chalet…which also was probably the toughest climb of the day…regardless of whether it was at mile 98 or mile 10.

My legs went into full on cramp mode and forced me off the bike for a few sections of it. One foot in front of the other walking, attempting to run- screaming "go-go gadget legs" and starting to run didn't even work- in fact I almost fell over and died- I had spent everything. I hopped on the bike for the last time getting towards the top and seeing the spectators lined up along the course and over the bridge we cross under…I heard someone say "look he's on a singlespeed!" – then a few extra cheers! Yes! Thank you- that was the little bit more motivation I needed to muscle my way up riding the bike the last 200-300 yards to cross the line under the banner. I got some "congrats" and was handed a medal- but my legs couldn't move anymore, ha! I sat there for about five minutes before my legs settled a little and I was able to move without any severe muscle cramp.

I met up with my friend John Reinan who finished about 11 minutes earlier and we headed back to our basecamp in Grand Marais. Muddy, totally exhausted, the bike was making all kinds of funny sounds…so was I for that matter- it was a full and fun day on the bike and I felt accomplished. I had almost forgotten the frustrations early in the race. The feeling of finishing races like this that are truly a battle to the end can only be understood by those that have experienced it…not necessarily 100 miles- but just a true battle with other riders and yourself- that part of your brain that says at some point "Okay we've done enough, it's not going the way you wanted, lets pull off and go another day". This was one of those days and in the end is why I love mountain bike racing. I finished with a time of 7:44:13 - 51st out of about 240 that started the race, and 5th out of about 20 that started in the singlespeed class! Just finishing was great but to get those results after a four mile detour with indecision efforts there I was pleasantly surprised- the race had some strong riders!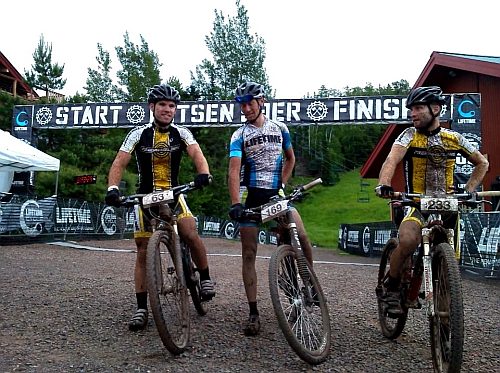 Bryson Perry took the "W" with a fast time of 5:52:44 followed by Adam Froeming (6:04:57) and Michael Woell (6:14:16) for the men and Lynn Cecil (7:52:05), Danielle Coffield Ness (8:10:53), and Patti Schmidt (8:20:27) for the top three women. In the 39er, Patrick Sheedy brought home the win for men with a 2:20:40, followed closely by Stuart Benson only seven seconds back, and Nathan Mielke six minutes behind them. The women's 39er top three: April Morgan (2:38:16), Kerrie Fabius (2:39:16), and Maria Benson (2:54:38)

As usual LifeTime Fitness put up a great event- anyone who has not participated in one of their events- you should. Everything worked so smooth from the packet pick-up to the assistance at the aid stations during the race. Peter Spencer and Adam Harju did a top notch job- especially having to deal with such major course changes of a 99 mile event literally the day before the event. I will race this one again.

Another course note….I was contemplating using a cyclocross bike for this hearing about all the gravel roads…thank you Adam Harju for talking me out of it- that would've definitely ruined my day- total mountain bike race for sure!
Early Fireworks
Once again the CORBA folks put forth a most excellent course, according to the social networks that were blown up by the rave reviews. Taking his first ever elite win was Tyler Gauthier who has moved up the list of Chequamegon favorites.
Also taking a win in the WORS series for the first time was Rebecca Sauber who provides a quick report:
"My husband Lonie and I headed to Eau Claire Saturday to pre-ride the course. We were more than pleased! The course had a mix of ski trails, tight and twisty single track, water crossing, and super fun burms. The race started out really fast. Michelle Pearsio, Lisa Krayer, and me were out front during the long roll out. The roll out consisted of fast ski trails and fun rollers. Then we shot into the singletrack. Lisa Krayer and I were back and forth for the first and second lap. Then Amber Markey passed us both on the third lap. I slowly reeled her in in the single track and passed her on the last hill. I was so happy to win my first WORS race by 6 seconds! CORBA did a great job on these trails! Super impressed!
Another Minnesota rider, Corey Coogan Cisek made the trek east and provides a report with some nice commentary:
The WORS Firecracker in Eau Claire has become an annual tradition for my husband and me. I really appreciate WORS racing for its consistently large female fields. With Eau Claire being only an hour and a half from the Twin Cities, it's a no brainer to take advantage of this racing opportunity.
Every year that I return to Eau Claire, I find the course better than before. This year they added two new elements: a set of 15-20 bmx style "whoop-de-doos" and a new climb that snakes along a side hill, crosses in uphill bridge, and then makes some S-turns before the top. Also, on lap one, riders skipped the rocky drop that used to be less than two miles into the race. Every year riders used to log-jam at this obstacle, making having a great start (being first to the drop) critical. Although riders now encounter the whoop-de-doos after about a mile, they are wide enough for two riders, and make for a decent transition from double track to single track.
From my perspective as a Cat 1/Expert rider, the most exciting change to Firecracker is WORS' addition of the new field, "Open Women." This class of women starts behind, but at the same time as, the elite (Cat 1/Pro) women. They then contest a slightly shorter race on the same course. (At Firecracker, they did two laps instead of three.) This class is designed to meet the needs of women who fit between sport and elite. They might be almost ready to move up to elite, or they might have elite riding skills but less time to train (say a mom who is great rider, but who is limited in her training volume due to the demands of being a mom). Logistically speaking, I found this worked great at the Firecracker. It gave all the women a large group to start out with and a couple of the top open riders were able to mix in with the elites for the first two laps. I am literally delighted to see WORS breaking new ground with this field! (Hint, hint, Minnesota...)
For myself, I went home perfectly satisfied with my result. I have been racing the road a lot this year, largely to work on my power on the flats. Eau Claire was the perfect course to confirm the training is working. For the last three seasons, I have been dropped from the lead pack on Firecracker's mile long lead out. This year, I not only stayed on, but the pace actually felt pedestrian. Sometimes improving is sweeter than winning!
Results
Interviews and media coverage
Note: Looking back at Elite men results in 2005, 10 of the top 20 riders in Elite were from Minnesota, nine from Wisconsin, and one from the awesome state of Iowa. This year, the race was dominated by Sconi with top Minnesota rider coming in at 28th.
Super D Superness
Last week I had correspondence with Chance Glasford who is one of us very passionate about mountain biking and wants to see it grow here in the midwest. He has made himself open to dialog with potential promoters and mountain bike community members about possibly starting up a midwest Super D series. This would include but is not limited to Minnesota, Wisconsin and Michigan's Upper Peninsula.
Chance reports:
"There seems to be a lot of interest in the style of racing and it appears to me that someone simply needs to step up and get the ball rolling. I am trying to do just that. I am currently contacting potential Mountain Bike Clubs with potential terrain, MNMBS and WORS series locations/promoters that hold races at these locations and anyone else that I think might be able to help get this series off the ground.
I feel that form of racing is truly the future of mountain bike racing as well as the larger format, Multi-Stage Enduro (which the mid-west is less conducive to) and that this style of racing is great for the Mountain bike community as a whole. Anyone can race these races as the terrain is typically only a bit more technical then a XC race so you don't need a full on downhill bike, however the races are short enough and majority downhill so that you don't to have super XC racing endurance.
This is a very large undertaking to start an entire new series here in the Midwest and would not be able to be completed by a couple people, so I am trying to rally the troops and get a group of people that would be committed to making this happen. I need to know if the interest with in the racing, promoting and mountain bike club scene is there. If you have a specific question for me, feel free to contact me directly or call me my number is 605-216-5676 "

Drilling the Skillz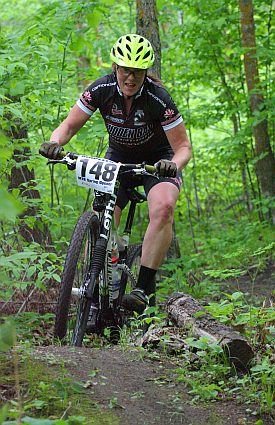 A women's skills clinict will be led by Kyia Anderson at the Woolly Trails, final race in the Minnesota series.
Alicia Fisk gets right to the dirt:
When: July 14th 9am-noon
Where: St. Croix Falls, WI
How much $: 0.00- FREE
Why: Because it will be awesome
There's more detailed information on the Woolly Bike Club's Facebook page.
Looking ahead

MNMBS-Venue Swap
With heavy rains last week, the onslaught of running water was not kind to certain trails in the Duluth area and a venue change has taken place for the next Minnesota series race. Overall, race directors are reported very little visual damage but mudslides at the Mon Du Lac area made it necessary to switch to Lester Park for race #4 in the MNMBS which will be held on July 8th. The course is one of the favorite trail systems in Duluth all along the raging Lester river with twisty and rooty singletrack and fast flowing berms.
US Mountain Bike Nationals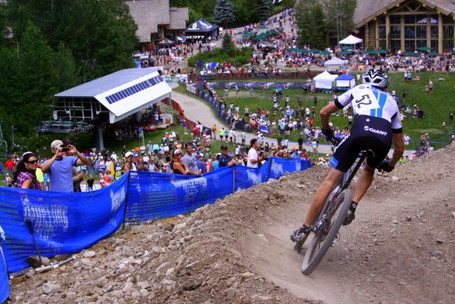 As the Olympics take place later next month, the US Mountain bike Nationals are running a bit earlier this year, and being held again at Sun Valley, Idaho. National champions will be awarded in a big range of age groups in cross country, short track, and Super D. If anyone is heading out, highly recommend checking with Power House Pub and Bike in Hailey for great eats, fresh brews and talk to Billy about the best places to ride including the sweet flow trails in the area.
With the Fourth of July next week, the Midwest mountain bike report will take a break until the week after. Have a safe holiday and.....
Keep the wheels moving!
About the author...

Jay Richards maintains a very active lifestyle. He somehow finds time between managing a full-time resort (Maplelag) and bringing up a family of four boys with his wife Jonell, to compete in both mountain bike and a few cross-country ski races. Jay rides for Maplelag Resort, manages the Maplelag/Paramount mountain bike team and enters his 22nd year of racing and promoting mountain bike races.