Midwest MTB Racing Recap
Another busy weekend of mountain bike racing as we move to the end of August! Reports coming in from the Murphy 50, Seeley Pre-Fat, The Flugly and the Black's Grove Crossing. Labor day weekend is upon as the race at the home place is on tap plus the popular Copper Harbor Trails Festival in the UP of Michigan.
Murphy Menace 50
Brendan Moore reports from the Murphy 50:
The Murphy Menace is in its second year. The turnout this year was light because of race overlap with MN24 (only so many endurance racers out there!), the forecasted rain, and the fact that it is late in the year when race attendance tends to wane (school, fall sports, State Fair, etc). That said, the race provided a good excuse for me to race 50 miles of singletrack only 5 miles from my house on a drizzly day that otherwise would have seen me at home moping around!
Seeley Pre-Fat
Aaron Sturgis reports from the Seeley Pre-Fat:
It's funny how each year you can forget what a racecourse is like. That seems to be the case for me with the Seeley Pre Fat Tire Race. It is the perfect Fat Tire primer because it is just three weeks out. It has some of the best single track in the state and it has some tough, lung searing climbs. Yet every year I forget just how taxing this 25 mile race is on the body.

On Friday I remembered just how punishing it was going to be as I pre-rode the course. And not only that, I ran into last years winner, Pat Lemieux, and then I ran into Chad Sova and heard that both the Woodruffs were going to be there. And lets not leave out the other top riders in the Midwest like Anikan Nikolai, Aaron Swanson, Matt O'Meara, Dan Schuetz, and Adam Swank, just to name a few. I knew it was going to be a fast and probably painful race.

Saturday morning greeted us with sunny skies and 72 degrees with a touch of humidity in the air. I toed the line second wheel behind O'Meara hoping to have a good start. At go, we left downtown Seeley for what would be some heart pumping, root and rock filled racing.

It was a calm roll out until we hit the ski trail section in which Woodruff and Sova worked their way to the front and began to pick apart the lead group of about eight that formed. Through the ski trail sections and up the climb after Old OO, we were stung out pretty far and groups formed pretty quick.

I found some clean wheels in a group of seven that included Tim Swift and Andrew Dahl. No one really cared to work hard at closing gaps so we ended up riding at a pretty conservative pace. We made our way through the first loop of the single track as a group. But the second time through two riders got away and then the real chase began.

I, however, developed a slow leak in my rear tire. I had hoped my tire would seal on its own but in the end I had to pull off and shoot some air into it....and well...once you stop you lose the group you end up chasing, and after 20 miles of riding I had little left in the legs for chasing back on. I rolled in 18th with about 13psi in my rear tire.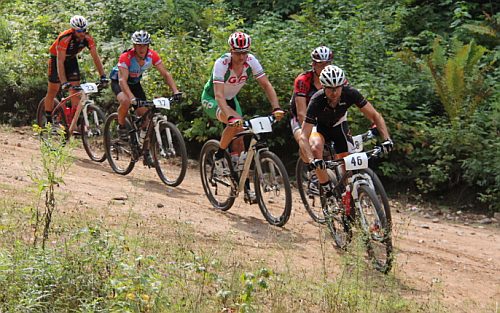 Out front Woodruff and Sova did their work on the lead group. They wanted to hit the first single track section #1 and #2. After the first section a gap formed and that was all they needed. Lemieux rolled across the line in third. Sova said to me after the race, "It was fun riding with and trying to hang on with my coach. Following him (Woodruff) is like following a motocross bike without the exhaust." (Photo: Gary Crandall)

The women's race had a battle brewing until Chloe Woodruff consistently turned the screws on her competition and rode away. I got the chance to be close to her wheel on the first single track section and to watch her flow through the single track was pretty amazing. Rebecca Sauber rolled across in the #2 spot and Diana McFadden rounded out the podium.

Like I said...fast wheels was what the 2012 Seeley Pre Fat was about.

Results


Flugly Race
Jake Richards reports from the Flugly:
The 2nd annual Flugly race was held at MB Johnson Park in Moorhead. Teammates Ian fritz, Ethan Brekke and I made the drive west and we ran into some rain and thunderstorms. We were thinking it could possibly be a mud race today but when we arrived, the sun was peeking through and was looking like a beautiful day. I raced the Expert race along with 20 others.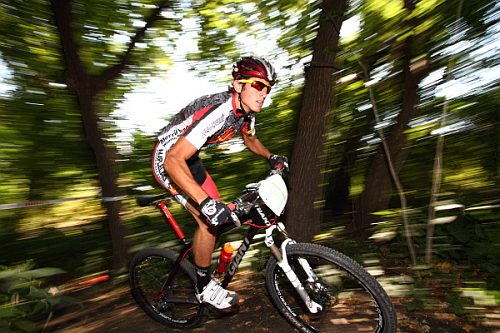 The race started fast and I was second into the single-track, it was hard knowing how fast to go because I didn't know when an unexpected sharp turn would approach. But quickly learned the course after 2 laps of a 4 lap race. The course was very twisty and flowed very nice. There isn't much elevation change but my legs were burning from the accelerations out of corners. The course was still very dry even after some rain. Some spots were so hard packed it was like riding on cement! I stayed between second and first place for most of the race, it was hard to gap on the local boys, as they knew the course from their local time trials and they were pinning the corners. I ended up 2nd to teammate Greg Ames who was flying in the singletrack. (Photo: Greg Haugen)
It was a great having a local race and a very fun atmosphere event.

Results
Greg Haugen Photos
Video


Black's Grove Crossing
Denny Barry provides a full, in depth report from Black's Grove:
The secret in the woods may not be a secret anymore, as it lived up to expectations from everyone that rode it as very fast with flow, slow with uphill grinds, fast down hills with flow jumps and berms, tight body lean flow, tight with track stands needed, scenic by the stream, smelling of pines in the pine trees, tough to not unclip and dab on a few switchbacks or dismount and push and also a lot of mountain biking fun tossed in as a bonus. We unfortunately missed a few details that kept a few from having the joy of racing at Black's. Our signage was not clear enough for every racer to be at full speed and be spot on with where to go. Although there were many smiles from the race we weren't happy with the experience we delivered for racers. We will make things right with everyone, leaving Black's Grove with a smile and a desire to come back and ride again is the key to our success.

The always smiling David Jensen came out of the woods first, pushing a bike that was upfront while being pedaled and powered by legs and lungs of a tri-athlete. David was the winner of the first race in 2010. This left the gate open for Thad Schultz to nab the overall win. No one would mention, he knew where to go, nope wouldn't happen. We were pleased to have Bemidji riders make the trek down to share burgers from the mayor and bring some hardware home. Cove Fylpaa was second overall just 4 tenths off the lead pace.
I'm looking forward to the matchup in 2013 when our signs are bigger and put everyplace, between 1 & 2 & 3 and whoever else rides a lot faster than I can to be up front. Jeff Schultenover from Minnetonka took gold in the 40-49 age brackett with a fine ride. Thanks to a wonderful mountain biking family for making our race an international event. We already have plans to play our anthem as well as yours next year! Kurt Penno from Sanford Manitoba at age 13 blistered the course in 1: 18: 11 taking 5th overall! The Penno family was making their way over to ride Cuyuna this week, with plans to be at Maplelag on Saturday.

St Cloud's Becca Hackensack rode a solid time of 1:20 to take the first spot in the womans'division, Pam Schmitt from Duluth zipped across the line a few minutes later, still smiling up the final climb and taking second in the womans division. Isaac Hale age 11 tore up his home course in a time of 1:40:33 taking home golden hardware and making a great picture for the new camera in the Hale household. Todd Hale riding a ss crossed the line in third place overall. Cory Tabbert came down from Grand Rapids to ride his old home trail taking the 4th spot. Croix Fylpaa from Bemidji was close enough in front of me to be seen, but fast enough to stay in front as well. Croix left me behind to finish 7th. Gary Taylor from St. Cloud tested the waters left over from the 8" downpour a few weeks ago: heard some comment about a hidden off camber bridge. Life jackets will be optional next year. I collected sea weed in one of Jay's ponds a few years ago, ride behind me next week for style point evaluation. Gary and I see each other often at the MNSCS races; notice the instructions to ride behind as chasing him is the usual for me. Chris Goodwin another tri man from Nevis was all smiles. Good thing he washed up in the creek and didn't cross international borders going home, smuggling dirt is forboten even if you are wearing it. Wadena riders Lance Sathmary and Terry Olson battled each other and battled bugs, No one else noticed the mosquitos. Kirby Harmon from Bemidji and Don Black from Park Rapids rounded out the field in good time on our challenging course. Everyone that races mountain bikes will be or has been in the DNF group: racers do all they can to avoid it, at times that's not enough. If for reason other things outside of our bike and body happens it dampens the fun. We apologize to anyone that had that happen. Thanks to Seth Carlson from Casselton ND, Zach Olson, Bemidji and Barry Buhr from Duluth for making the trip, hope to see you at the finish line in 2013.
Looking Ahead
The big
Laddies Loppet mountain bike weekend at Maplelag
is on tap and we are looking forward to another fun filled weeked. This summer we added a new flyover/bridge to better access the new Twin Lakes singletrack and added a bit more singletrack in the process. Saturday kicks off the racing action with a morning time trial and the always exciting short track in the afternoon. Sunday highlights the main cross-country event which will feature a 10 mile lap for Sport, Comp and Expert riders while Citizen and Kid Comp riders hit the 3 mile course featuring ski trail and a few short sections of singletrack.
The 19th annual
Copper Harbor Trails Festival
take place in the UP of Michigan on the IMBA recognized Epic system. Lots of great prizes for the 500 participants and sweet trails which is a must see area for Midwest riders.
Keep the wheels moving!
About the author...

Jay Richards maintains a very active lifestyle. He somehow finds time between managing a full-time resort (Maplelag) and bringing up a family of four boys with his wife Jonell, to compete in both mountain bike and a few cross-country ski races. Jay rides for Maplelag Resort, manages the Maplelag/Paramount mountain bike team and enters his 22nd year of racing and promoting mountain bike races.