Midwest MTB Racing Report
The mountain bike season is rolling along nicely. The trails are in perfect condition, (in between the frequent rain showers) there are numerous events to choose from and the temps have been ideal. This weeks report recaps a couple of events this past weekend and the usual look ahead.
Mt Borah Epic
Ogden Utah resident, Jason Sager, who has frequented races in the Midwest recent years including a top three finish at Chequemegon made a trip back to Wisconsin and Minnesota to capture a both of the wins at the Mt Borah Epic and the Bluff Riders Charge in Mankato, MN at Mt Kato.
Chris Jackson of Mt Borah sends a report from the Mt Borah Epic:
As the sun peaked through the trees the morning of race day, a level of excitement and anxiousness permeated through the air; it was finally time for the ultra-hyped inaugural Mt. Borah Epic.
Nearly 200 riders set forth to challenge their endurance over 30 miles of epic single track. Jason Sager of Odgen, Utah, and Sara Kylander-Johnson of Duluth, Minnesota, claimed the men's and women's overall titles, certainly contested by both man and nature to seize their top finishing spot.
The trails ran smooth, fast, and technical at times, providing riders with a tacky, yet dynamic ride. The finish line buzzed with excitement and exhaustion as each racer completed their first Mt. Borah Epic journey; thanks to CAMBA's incredible trail system and a group of volunteers that made the race experience a blast for participants.
"What a fun race it was, and wow did it hurt," said Eric Thompson, the men's 4th place overall finisher. "Definitely a race I'll have on the schedule again for next year," added Thompson.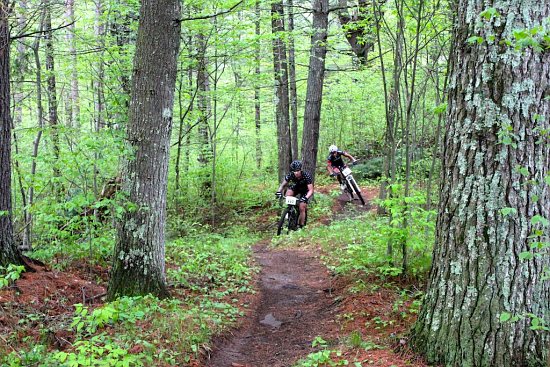 "For 30 miles, we rode some of the fastest, most intuitively laid out and rewarding trails of any course I've raced in 15 years. My perspective, enthusiasm, and respect for the trails, riders, and community of northern Wisconsin and the CAMBA organization was such that I couldn't wait to turn around and ride the whole course again, just for fun," said Jason Sager, the men's overall champion.
"The Mt Borah Epic is exactly the type of event that got me into mountain bike racing. Simply having the opportunity to come out and ride such an amazing trail was a reward in and of itself," added Sager.
The Mt. Borah Foundation will present their donation to the CAMBA board in the near future as post-race details conclude and the race staff debriefs. Results can be found at itiming.com and race photos and articles here.
Thanks again to all who paid Tribute to the Trails this year at the Mt. Borah Epic.
MNMBS #2 Bluff Riders Charge
Mason Bacso made the trek south to hit up hilly slopes of Mt Kato. Running in the top five at one point, he fell victim to a flat tire and recaps the day nicely.
This last weekend was the second stop of this year's MN mountain bike series at Mount Kato in Mankato. This was my first time racing this venue and I was very excited to race as I had only heard great things about the course and the organizers. A few other St. Scholastica students and I drove down earlier in the weekend and crashed at my family's house in the cities before heading south in the morning. The crew consisted of Kasey Bacso, Matt Lee, Peter Donars, and myself. This was everyone's first race of the season and you could feel the nervousness in the car. The weather was shaping up to be a perfect day for racing and as we neared closer to Mount Kato we began seeing more and more fellow racers driving down highway 169.
As we came into view of Mount Kato, the common phrase became, "I like biking!" We came upon a packed parking lot with hundreds of bikers out for Sunday strolls or warming up for their race. In the distance we could see racers switching back and forth up the climb and then fly across the bottom of the hill towards the finish. What an awesome scene.
We unloaded our bikes, luggage and headed towards registration. All I can say is what a great group of guys and girls mountain bikers are. We ran into many people from previous events and rides with all of them taking the time to say hi and to chit chat a bit. I even ran into some UMD cyclists I had met previously wearing huge smiles and medals around their necks—it was just awesome!
Everyone was outwardly friendly, which is one of the main reasons I keep coming back to this sport. The support at this race was huge as well, sponsor tents lined the area with people and bikes everywhere. We registered and my brother managed to get the coveted "420" number plate, so we knew he was going to have a great day. We all made some final preparations, went on quick warm up, and headed to start line.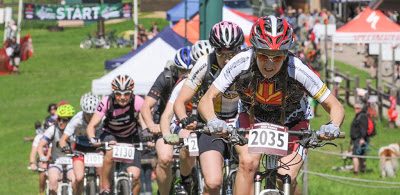 (Sport women start, Tood Bauer photo)
The start line was filled with new and old faces alike. It is always cool seeing people make the jump up in racing classes; I believe challenging one's self is what racing is all about. My brother and I were late to the start as usual, so we settled in near the back. The clock struck 1:10 and everyone was off and climbing.
The first hill worked great to spread the race out before the single track. I climbed my way towards the front and started to relax. All the great things I heard about the course were all true. What a blast. The course had a little bit of everything ranging from huge climbs, technical downhills, up hills, fast flowly sections, and even some "big ring book it" sections. I was having a lot of fun and found myself just excited for what would come around each bend on the first lap.
The pace the leaders set was hard but it felt great to race and push my body into the red zone once again. With Jason Sager and Jesse Rients off the front in first and second, I found myself in a nice group behind them with Devin Curran, Michael McBurney, and Josh Bauer. We had a solid gap on the racers behind us and continued to pedal hard. I was feeling really good when bad luck struck half way through the race. I felt my rear wheel getting softer. I was hoping the Stan's sealant would keep it at a reasonable pressure, but I was soon bouncing off my rim on the roots and rocks.
Getting a flat was a total bummer, but that's racing. I took my time and cautiously rode the remainder of the third lap, doing what I could to cheer others on and keep my spirits up. I talked to the USA Cycling official about the rules of grabbing a tube from the car and he said go for it. I sprinted across the lot, threw a tube in, and headed back out onto course. A high finish result was gone, but plenty of fun was still to be had.
I enjoyed the last two laps and made it to the finish. The finish scene was a lot of fun while I got to talk to everyone about their day and experiences out on the course. No matter the result, everyone I spoke to had a smile on their face. It was a great day and I think everyone stoked to be riding bikes and enjoying the weather.
Kasey, Matt, and I headed out for another lap. We wanted to ride the quick release section that was taken out at the start. It was a very cool section with steep roots and trees. As we got back, Kasey and Matt picked up their age group awards and Kasey even took home some prize money. I knew "420" was going to work out for him. All in all, we had a great day and a lot of fun was had. Thank you to all the race organizers and volunteers for making it such a great event and to all the racers as well. I look forward to seeing everyone throughout the rest of the season!
Saskatchewan Singletrack
This past weekend I made a trek with my son Jon to attend a prospect hockey camp in Prince Albert/Saskatoon area. I searched the area for possible mountain bike races and sure enough, there was an event in North Battleford which was about one hour from Saskatoon, the location of ice time on Sunday. The timing didn't quite work right but I was able to find some fun singletrack near Saskatoon along the river and south of Saskatoon in the Blackstrap Provincial park.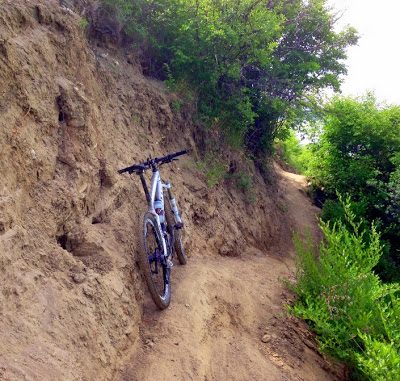 The Blackstrap area was a small Nordic trail system that had super fun rolling 5km loop with some long climbs and descents the equal. The singletrack was flowy downhill segments connecting the trail systems. Both areas the singletrack was not marked, no signage and very raw and what I call "uncensored" singletrack and a change from most singletrack that is built these days. In my opinion, off the beaten singletrack is the most fun due to the challenging and adventurous nature. Interesting enough, both areas were discovered using the Strava app which I felt was more reliable than the trail reports found on outdated message boards/trail finders. Bottom line, it is amazing the singletrack that exists in the world in places one might not think.
Looking Ahead
Probably the most popular mid week series in the region has been taking place on Thursday nights at the famous metro downhill area, Buck Hill in Burnsville, MN. If you are looking ahead to the race at Buck Hill in the Minnesota series and haven't checked out the venue, the Thursday night series races offer a great opportunity to dial in the course.
Elm Creek Mountain Bike Sprint Series
Another midweek mountain series in the Minneapolis St. Paul metro takes place at the newest mountain bike course in Three Rivers Parks: the Elm Creek Singletrack. There is 10.5 miles of racing in a time trial format. Helmets are required for all racers. There are three categories: men's, women's, and U-17 with awards and door prizes following the race. Races are held Tuesday evenings in June from 6:30-8:30 p.m., at Elm Creek Park Reserve, Maple Grove.
The popular purpose built flow trails near Aitkin called Cuyuna will be host to a mountain bike festival including a cross country race featuring 7, 14 and 21 mile races. The course will feature most of the trails in the Mahnomen unit and I sure hope the course is marked well as the number of trails segments involved is impressive.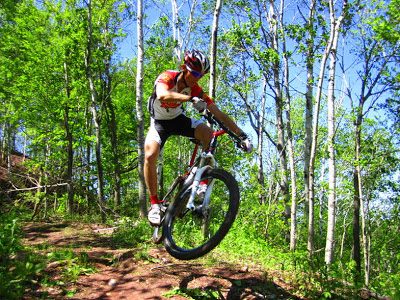 The most popular mountain bike event in North Dakota, the Race to Sunset, kicks off on Friday night with hot lap racing. The Race to Sunset weekend is held in Bismarck at the Sleepy Hollow Exchange Club Park. Saturday will feature the main event, a 12 hour endurance race.
Keep the wheels moving!
About the author...

Jay Richards maintains a very active lifestyle. He somehow finds time between managing a full-time resort (Maplelag) and bringing up a family of four boys with his wife Jonell, to compete in both mountain bike and a few cross-country ski races. Jay rides for Maplelag Resort, manages the Maplelag/Paramount mountain bike team and enters his 23rd year of racing and promoting mountain bike races.