Midwest MTB Racing Report
A full plate of mountain bike racing this past weekend with marathon type racing out of Lutsen, series racing in Minnesota and Wisconsin and even some good fun in the mountain bike leg of the City of Lakes Tri Loppet. Report from the Birch Bump at Buck Hill, race #3 in the Minnesota Mountain Bike Series, and a look ahead over the Fourth of July holiday weekend.
Birch Bump
When the series schedule first came out, I was stoked to see Buck Hill as the opening race and the planned date as it looked like it would work on the personal schedule. The first year I started racing mountain bikes, back in 1990, Buck Hill was the second race I ever competed in. Back then, the course was maybe 3 times longer than the current edition before giving way to development. I always felt the Buck Hill venue was one of the best metro locations given the proximity to the Minneapolis/St Paul metropolis and the extremely fun course. Back in the day there were always some man made jumps to make things interesting, located near the start finish area which allowed for riders to show off their skills and also some spectacular crashes. Despite the loss of singletrack, the ski area continues to provide weekly racing on a 2.5 mile loop. Mother Nature had different plans in early May with snow on the ground days before the event and the Birch Bump was rescheduled to the last weekend of June.
Being out of state for the week I didn't expect to be able to make it to Buck which was race #3 in the Minnesota Series. In Miami Sunday morning, ready to head home from a extended family vacation thanks to Jonell's mom, Jake and I left open the possibility to "race" on Sunday. A smooth and timely flight home with a few hours to spare put us in the clear to hit it up for some racing action. Going in to the race, we had no expectations on placing but the mindset to have fun and catch up with all the great folks in the series.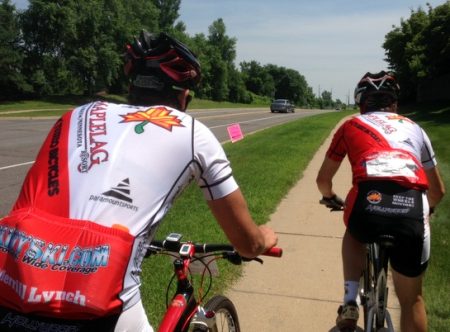 Jake and I hooked up with fellow team member Sam Oftedahl for a warm up ride on the road around the perimeter of Buck Hill and I reflected on the areas that once were tight and twisty. Racing conditions could not of been any better with temps approaching 80, a dry but not dusty surface and tacky fast singletrack. The start of the Expert race was a mad dash to get proper selection for the singletrack. The first lap had feelings of nervous energy and riders madly tried to make up spots or hold their position. It was like a ant hill disturbed with riders weaving back and forth in the tight and twisty as some sections of the course allowed the viewing of riders in three different directions, while you were riding.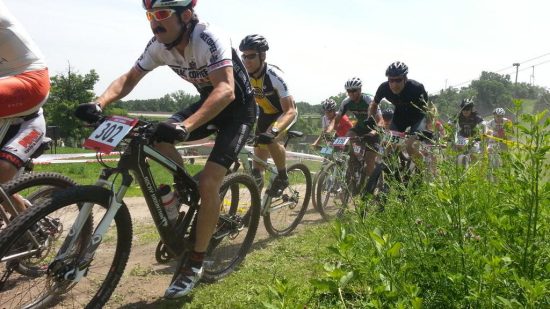 The body wasn't liking the high tempo and struggled to fight off the fatigue but the super fun course, in particular the quick drops made it all worth it. Both Brendan Moore and Sara Kylander-Johnson scored dominating wins in the Expert race. (Photo: Matt Johnson)
Denny Barry, racing in the Sport division in the 60+ class provide a quick recap of his race:
Zoom on the start. Get to the hill first in my age group - not being much of a climber. Settle in do my pace and lead the other old farts on lap one. But it all feels weird on lap 2. My superman cape quickly falls off with the effort vs the speed getting out of proportion. A couple of 60+ go past, I try to hang on and possibly overtake. A couple of sandy blind corners prove that Solquist, and Tom Bengal who ride Buck often, know the course and I don't. That leaves me in 3rd with more climbs to go. Jerry Taylor hangs with me going up and passes me going into the single. I buzz his back tire on few tight turns proving his 29 can't turn as fast. He laughs and then completely runs away on the top crossing of the ski hill. On the 4th and final climb some other elderly racer decides to pass me and tells me that they turn the parking lights out after midnight.

It was like the twilight zone - hot, and yet not. I didn't feel like I put it all out there once it was done and yet while I was doing it, there wasn't much more to give to the pedals. As they say, the dog that bites you may have rabies or not. It is truly a pleasure to have those other guys to mix it up with. The stories afterward are great.
Video and recap from Troy Melhus
Not Your Average Joe
Over the years, many Midwest riders have hit up the national series with the likes of Jeff Hall, Tristan Schouten, Brian Matter, Doug and Dan Swanson, TJ Woodruff, Jesse Rients, Paul Hanson, Mike Phillips, Chris Peariso, Kyia Anderson, and Jenna Rinehart, to name a few, dicing it up with the nation's best. The Midwest representation isn't as strong as it used to be but Joseph Maloney has hit up the last two National events, scoring a solid top 15 finish this past weekend in Windham. Joe highlights the Montana Pro XCT race on his blog and look for a New York recap soon.


Looking Ahead
A light weekend of racing on tap coming off the Fourth of July holiday. A handful of Midwest riders are heading west to compete in the Breckenridge Firecracker 50 which is always held on July 4th. We hope to have a report from one of them next week.
The Wisconsin Off Road Series and Nordic Mountain is gearing up to host the penultimate contest of USA Cycling's 2013 national mountain bike racing series in Wisconsin. The two-day Subaru Cup event July 13th and 14th includes pro races, a full slate of amateur racing, including the Legacy Cross-Country, Impreza Short Track powered by SRAM and the Outback Super-D presented by Element Mobile.
Keep the wheels moving!
About the author...

Jay Richards maintains a very active lifestyle. He somehow finds time between managing a full-time resort (Maplelag) and bringing up a family of four boys with his wife Jonell, to compete in both mountain bike and a few cross-country ski races. Jay rides for Maplelag Resort, manages the Maplelag/Paramount mountain bike team and enters his 23rd year of racing and promoting mountain bike races.