Midwest MTB Racing Report
A busy weekend of mountain bike racing with series racing in Minnesota and Wisconsin including the big UCI Pro XCT event, Subaru cup. Racing in the U.P. of Michigan with the Miners Revenge and a special recap from the Silver Rush 50 in Colorado tops off a jam packed report. Also a look at a couple mountain bike related items and the usual look ahead.
Miners Revenge
Wisconsin riders Casey Hildenbrandt and Ben Koening made the trek north to the UP of Michigan to partake in the Miner's Revenge festival. The Revenge featured a downhill race in the morning followed by a Sport and Expert cross country race. The race took place at the Adventure Mine in Greenland, MI. Part of the 6 mile lap went through an underground mine! Because of the total darkness riding through the mine, race organizers required riders to use a "good working light". Casey provides a recap:
Saturday Ben Koenig and I headed up to the U.P. for Miner's Revenge to try out the well-known race. As we approached the venue the rock ledges and heavily forested landscape set up for an ultra technical race. We stopped to check out the A and B line towards the end of the lap, but to my surprise the B line was much faster.
The race actually goes through a mine, so we threw some lights on the bikes and headed over to find the mine section. As we climbed up to the mine, the temperature started to drop. It was 85, but the mine was around 50 degrees inside, dripping water with puddles everywhere, and loose rock to really mix it up. There was a few turns and even a section where you had to get off and walk your bike through, which I actually hit my head on during the race. We almost missed the start of the race though, as the time change from Central to Eastern Time threw us off a little bit.
I lead out the start up the hill to the mine for a little before Koenig came around and started setting a high pace. He lead through the mine, I was second, and Pete Karinen behind me in third. After a few minutes of climbing the gap opened and it was us three. At the end of the first lap Ben took the A line, while Pete and I took the B line. We came through the start/finish not knowing if Koenig was ahead of us or behind, but he ended up being gapped off from how much slower the A line was. Pete and I were just taking turns on the front and shredding the descents. At the end of the second lap, I caught my tyre in some rocks and OTB'd pretty good and slammed into a rock pile pretty good. Pete, being the good sport he is, stopped to make sure I was alright. After a few minutes I could no longer ride with how messed up the bars were, so I stopped to straighten those and tighten up the headset too. I cut my tyre when I crashed, so I stopped to throw some air in too. That didn't work and my valve stem was broke too. Some lady was kind enough to give me a pump though, so I put a lot of pressure in to finish out the race. I ended up third, super stoked to finish there considering how everything went.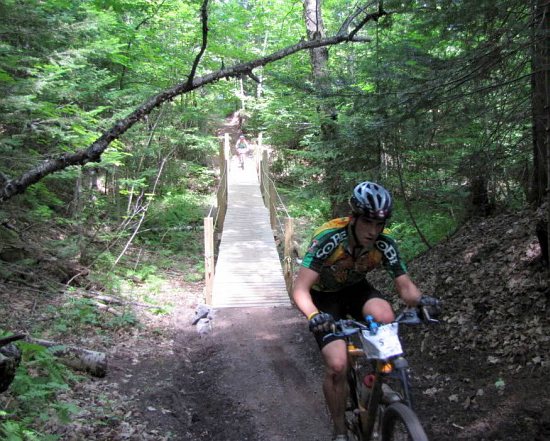 There was free food, a bike wash station, and the coolest awards I've ever seen and gotten before. It was a piece of the railroad from the mine that weighted about 2.5 pounds! This non-sanctioned, low key race was the most technical, roughest, but most fun I've ever had. The atmosphere was so rad, the course was wicked, and going through a mine was pretty sweet. Overall, a great day for sure. (Photo: Miners Revenge)
Silver Rush 50
Minnesota Native Mike Berkopec made the trip west to compete in the Silver Rush 50 held outside Leadville, CO and tune up for the upcoming Leadville 100. Race organizers explained the event as "nasty" and description of the course: Cut the Leadville Trail 100 in half, remove all the easy parts, throw in technical descents, burning lungs and wild animals and you'll have a good understanding of what you're about to get into"
Mike's report:
I did the Silver Rush 50, part of the Leadville series as a training race for the Leadville100. I had a great time. Since I had never ridden at altitude for any extended period of time I was committed to getting out to CO from some training. I didn't think it would be a race but that's how it worked out. Anyway, the SR 50 is easy to get into and had around 600 riders. The race starts with a 100 yard dash RUN, carrying your bike, up a STEEP hill. The first male and female to the top of the hill receive an entry opportunity into the Leadville 100.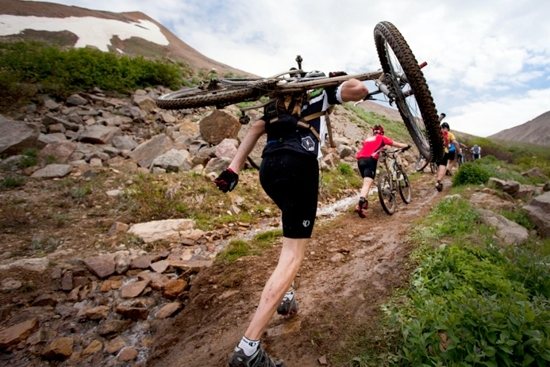 After the run up the hill, we had the typical jam up for the first 7 minutes or so as everybody was funneled on the trail. Once out on trail, it was a 10 mile climb on a rutted jeep road. Up, up and up. Some hike a bike, some water, all good stuff. The race is out and back so, everything that goes up, comes back down. This first 10 miles was also the last 10 miles and boy did I need that downhill at the end. Once we got to the top of the hill, it was a screaming 30 MPH plus race to the first aid station then more down, then some up and down and up and down. Finally, a turnaround and head back the same way you came. At just over 2 hours in it became a 2 way trail. That was hairy at times. (Photo: Silver Rush)
The trail is not a maintained mountain bike trail so loose rock, ruts and erosion threw you all over the trail. I did have a close encounter with a returning rider on a fast downhill, but we both made it through unscathed. After the turnaround around at about the 3hr 30 mark, it was hike-a-bike for a long time. Definitely the toughest part of the course. Everybody was pushing even the leaders. I rode my hard tail superfly which I love and in most cases I out climbed my peer group but it beat me up on the downhills. Some guys went flying by me and I never saw them again. I finished the race in 6:15 which was a great time, because I had a great time. I flew out from Minnesota on Friday and raced on Saturday but only suffered a minor headache. The Silver Rush 50 is a great introduction to Colorado racing and a great way to prepfor the 100. No worries about the 100 now, just more pain and suffering.
Subaru Cup
Nordic Mountain, new Wautona, WI was once again host to a Pro XCT event in conjunction with the Wisconsin Off Road Series, the Subaru Cup. The event held UCI status. Despite the leaders of the Pro men in the xc event getting off course for a short while, the weekend received rave reviews from the Pros, as cross country winner Todd Wells posted on Twitter: " Thanks Team WORS for putting on and supporting great MTB events. You guys do it first class". Casey Hildenbrandt made the trek back south in time to race the short track and provides a quick report on the race described as the "hurricane of pain" !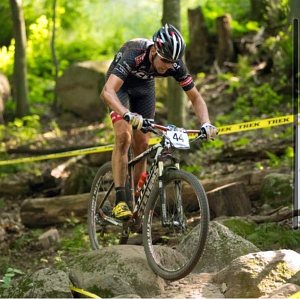 Sunday I headed down to Subaru Cup to do the Short Track race and get one final tune up in before I leave for Nationals. I was unable to get a call up, so I started dead last and had some fun with it. Of course, there was a good crash 50 meters off the line, but I was behind everyone anyways so I managed to stay upright. We did a half lap to start and the headed out for 16 minutes, plus two laps. There was around 40 racers so I started drilling it and making moves. I slowly moved up but couldn't catch the lead group. I ended up 6th overall, only 15 seconds back of the winner and 1st in my age group. Thanks to everyone going crazy out there and for all the support with my trip to Nationals this week. Much love.
Local riders placing well include top 10 finishes by Tristan Schouten and Brian Matter, 9th and 10th respectively. The two riders also placed in th top 10 in the short track and a top 15th finish by former JR National short track champion and Minnesota rider Eric Thompson in the Pro short track. Madison resident and fan favorite Abigail Strigel won the women's open Super D. (Photo: WORS)

Coverage on CyclingNews
Coverage on Cyclingdirt
Great Hawk Chase
Sunday I made the trek over to Duluth to compete in race #5 in the Minnesota Mountain Bike Series, the Great Hawk Chase at Lester Park. Friday night the venue received over an inch of rain and the course was closed on Saturday for pre-riding. The announcement was made if it rained again Saturday night, the race would most likely be canceled. Looking at the forecast in the evening, it did not look good for the race happening at thought it would most likely not happen even though I was prepared to have some fun in the mud.
Sunday morning around 6am I anxiously wondered if the race was on and than the tweet was posted.. the race was on! Driving over I hit heavy rain about a hour ago and wondered if it would move east. Series planner Matt Johnson summed up day exactly "Mother Nature must be a mountain bike racer, rain missed Duluth and Lester Park course conditions were tacky and fast!"Racing was fast indeed.
I hooked up with Jake for a pre-ride and we made our way to the start. I lined up next to singlespeed superstar Jesse Lalonde who gave me a update on his life happenings and racing plans, now living in Minneapolis and expecting a second child in September. The quick conversation transitioned to a fast start as Jesse moved his way to the left and up to the front as he would go on to take his second win in the Minnesota series in the year.
I had a good start but good went to instant pain cave as it felt like a fisherman from the shores of Gitchi Gummi made an errant cast and was pulling me back down the hill. The soggy energy sucking ski trail had me panting like a dog and hoping the singletrack would come soon. Once we hit the singletrack, the racing continued fast and furious as the field of nearly 50 battled for position.
I slowly started to come around and get into a rhythm and enjoy the incredibly snappy and tacky course. I spent a good portion of the race hanging on to the wheel of a Angry Catfish rider and exchanging workload with Josh Tesch as we would pass riders and get passed by a few riders, including Todd McFadden who moved up to record a solid and impressive 6th place finish.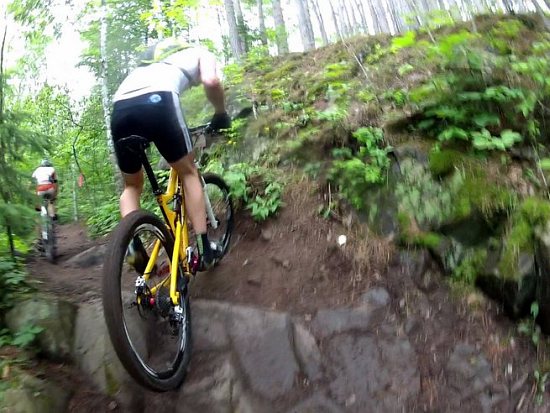 On the third lap, Jeff Colbert came flying by and we tried to hang on to his wheel but he ripped apart the course and thought he was long gone. On the fourth lap we bridged back up to Jeff as Tesch burped a tire and had to stop and get pumped back up. On that fourth lap I was able to get around Jeff and it was full throttle trying to put any type of gap. At this point, I was feeling great, the adrenaline was flowing like the trail and thinking this is what I love about cross country mountain bike racing. However, the gap plan blew apart when I went just a tad wide on one of the many bridges laced on the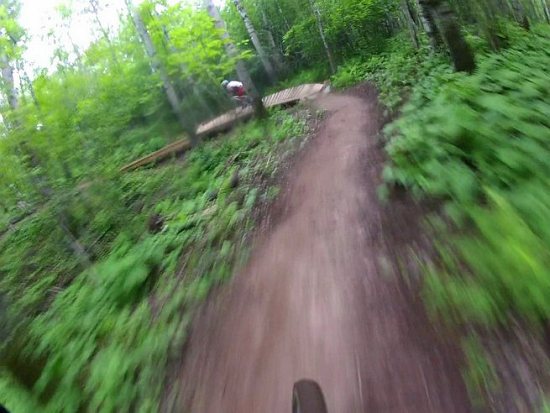 course and went down hard. Amazingly, my bike and body came through in one piece with only the GoPro receiving the worst damage but recording the action. I got back on track and went all out to try and "bridge" up to Jeff but he rode smooth and strong to hold me off. All in all it was a great race and helmets off to the course builders for laying down a super fun track.
Notes:
A check of results from the Great Hawk Chase in 2010 saw the finishing time nearly the same as this years version but the time gap from 2nd place to 20th place was around 20 minutes in 2010 to 5 minutes difference in between 2-20th in 2013. Faster course, faster riders and faster bikes!?!
The Horner family gets the family racing award with all members racing on the day! Dad Mat was 10th overall in Comp, Mom Andrea was 4th overall in sport where daughter Jordan took first, daughter Taylor was 19th and son Devon 9th in Citizen and son Wyatt was third overall in Kids Comp!
The Lester Park not only served up ideal surface riding conditions but a mix of weather from particularly hot and humid in some pockets of trail to a cooler almost drier breeze near the bottom which was not quite as refreshing as the jump in the river post race.
Looking Ahead
Things quiet down this weekend in the Midwest but Nationally things heat up with the USA Cycling National Championships for mountain biking going down out east at Bear Creek Resort in Pennsylvania. A handful of Midwest riders are set to compete and we hope to have a few firsthand recaps in next weeks report!
Keep the wheels moving!
About the author...

Jay Richards maintains a very active lifestyle. He somehow finds time between managing a full-time resort (Maplelag) and bringing up a family of four boys with his wife Jonell, to compete in both mountain bike and a few cross-country ski races. Jay rides for Maplelag Resort, manages the Maplelag/Paramount mountain bike team and enters his 23rd year of racing and promoting mountain bike races.