Midwest MTB Racing Report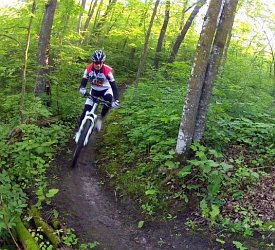 A great weekend of mountain biking with temps in the morning making it feel more like early October! Didn't hit up any racing action but enjoyed some great riding on the Maplelag Laddies Loppet course with Jake before he took off to Europe for a ski training camp with members of the St Scholastica ski team. The rare cool morning for end of July greeted riders on the hilly slopes of Afton Alps and at the Nine Mile trail system in Wausau as riders took on the Wausau 24. This weeks report includes a recap from Afton plus a look ahead to a busy first weekend of August!
Afton Avalanche
Dubbed as one of the hardest races in the Minnesota series, due to the tough climbing with little time for recovery on the fast and flowing descents, riders were happy to be blessed with cooler temps to help ease the pain on tough climbs of Afton Alps. Probably one of the largest fields to roll to the line in the male Elite class in recent years in Minnesota series racing as Minnesota Mountain bike legend Jeff Hall made an appearance posting a solid 3rd place finish among nearly 60 finishers." Erik Tonkin and Jesse LaLonde dished out a helluva pace. The rest of us fought for scraps." reports Kevin Kvalsten as Rick Erickson shared similar thoughts "Painful day at the Afton Avalanche yesterday. No place to hid on that mountain when your not feeling the best." Jenna Rinehart took a break from being bike shop owner to win the women Elite field as 6th place overall Sport female Rider Anne Ellefson provides a nice recap from the day:


Jack and I along with daughter Emma rolled into Afton around 9:30am. Partly cloudy cool and 55 degrees for the weather which meant great temps for racing! Citizens race was underway and as we made it through registration we stopped to watch racers come screaming down the hill through for laps. Looked fun!
I was not able to preride the course and had not raced this venue before which would help, yet the three laps and rumors of 'lots of climbing' settled me down.
Race starts are always so fun as the women go off in the last wave and the race starters start joking around and keep things loose!
It was like no other start with the Horner women and Meredith taking off hot..Small up hills and down a gravel road then onto small sections of single track until you hit the climbs....And climb we did! The women started to spread out as we climbed with a few of us trading positions before we went into the single track. A couple of Angry Catfish riders were ahead of me and I worked to get in a groove and not go over the redline too much...Very hard to do on those hills! Remindful of the Mountain riding in Colorado- just keep going!
One girl went down on a switchback and we made our way around her and settled in.
Lap 2 had us spread out yet on the long climb back and forth you could see the women up the hill ahead making their way on the zig zag...it felt like they were right there only to turn and see nothing. The climbs sent me to the redline and then I had to work and focus to keep it in check on the fast descents through the single track.
One unique climb had you riding a steep on what appeared to be rubber tire material. Very grippy and quite a climb!
I felt more confident my second lap and rode relaxed and kept looking ahead at riders to catch. By lap 3 I was riding strong and felt comfortable on the course. I worked up the climb for the last time and had a women a bit ahead that I thought I could catch. She would pass a few guys and I would work to pass and keep the distance the same or gain. You can usually tell when a rider is letting up yet she was strong and focused.The climbs were getting me and the passing before entering single track was taking effort that was leaving the gap the same.
I worked to bring it in strong and fly down the last descent as fast as I could with out hitting some hidden hole in the grass!
It was a fun race and I am always thankful when I can finish with no mechanicals and a smile on my face.
All the ladies were gathered near the finish and we swapped stories. What a fun group of ladies out there shredding the trails.
This years Sport women's group is stacked full in the 40-49 year old division and it is always interesting to see how things play out.
The young Jordan Horner proved to be the beast of the day with great climbing and hammering to 1st in Women and 28th overall in men! My hubby Jack stated she passed with such aggressiveness and rode so strong the men around had to respect it and move over for her!
Coverage on Skinnyski.com
Wausau 24
Staying up a full 24 hours for any reason is tough, but doing it while riding a mountain bike on single-track trails is even tougher.
That's just what hundreds of bikers were doing during the Wausau 24 mountain bike race, this past weekend. The event includes six-hour, 12-hour, and 24-hour individual and team races on a course that wound through a large section of Nine Mile County Forest Recreation Area in Rib Mountain. Full report on Wausau Daily Herald
Morgan at Nationals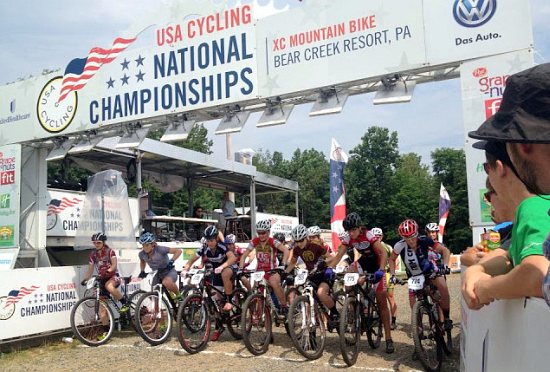 Minnesota rider April Morgan has been hitting up a few National events including the recent USA Cycling Mountain Bike National Championships. Catch the recap on her blog:
Looking Ahead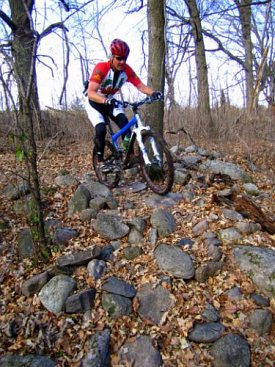 After some uncertainty if the race would happen or not, all systems are go at "Black's" a hidden gem for mountain bikers near Wadena off highway 10.
Free entry to all kids ages 7-18 to encourage riders to check out racing. The newly formed Brainerd cycling team, as part of the Minnesota High School League, is scheduled to attend.
Set in the heart of the Kettle Moraine, the Sunburst race course offers climbing and descending like no other course in WORS. Parts of the track present road race like speed, while others challenge competitors with tight twisting sections of wooded and rocky technical singletrack.
With a great mix of fast-flowing single track, roots and rocks, fast downhill sections, wide open fields, leg-torching climbs and a signature elevated wooden berm, Whitetail Ridge is fast-becoming a Twin Cities favorite for riders looking for an ever-evolving challenge as riders head across the border for race #7 in the Minnesota series.
Keep the wheels moving!
About the author...

Jay Richards maintains a very active lifestyle. He somehow finds time between managing a full-time resort (Maplelag) and bringing up a family of four boys with his wife Jonell, to compete in both mountain bike and a few cross-country ski races. Jay rides for Maplelag Resort, manages the Maplelag/Paramount mountain bike team and enters his 23rd year of racing and promoting mountain bike races.